Mentors: Suzanne Ciani Unites Generations Of Modular Music
When Don Buchla produced his first modular synth in 1963, he had no idea that his creations would become the bonding material for a working relationship and friendship between two American composers: Suzanne Ciani and Kaitlyn Aurelia Smith. Both initially used organic instruments before falling in love with the Buchla and becoming fixated on making music and exploring sound design with its variations. While Smith has yet to coin anything as widely spread as Ciani's "pop & pour" design for Coca Cola, she's provided panoramic sound bytes for the track "Boys Latin" from Panda Bear's fifth LP and produced some original material, including a collaborative record with Ciani, Sunergy.
They first formed a professional relationship at Ciani's house in Bolinas, California, a secluded beachside hippie hollow nestled in the headlands north of San Francisco. Suzanne found herself feeling like a mentor to Kaitlyn, who had become her studio assistant. It was during this time that they decided to work on a record together for RVNG Intl. that later became Sunergy. While they share many similarities, Kaitlyn's experience as a woman in the contemporary field of modular synthesis is very different compared to Ciani's memories of how it was for female electronic musicians in the '60s.
Suzanne Ciani: Kaitlyn sent me a copy of her album, EARS, and asked me to write a little blurb for it, and that was the first time I had heard Kaitlyn's music. I felt like a mentor towards her because she was very young and I wanted to encourage a young Buchla player. I liked the fact that her music had pitches in it and a nice energy, and she seemed to be very relaxed in relationship to the machine.
Kaitlyn Aurelia Smith: About eight years ago, I was lent a Buchla 100 from my neighbor—but at the time, I had no idea what a modular synthesiser was. My husband was well aware of what it was and sent me some videos of Suzanne playing one. I got really excited because Delia Derbyshire was an influence at that time, so to find a female who was playing this very unique instrument in front of me was really exciting. That was my first introduction to her; through Buchla videos.
SC: The Buchla 100 was the very, very early one. To me, the 200 was the peak, and now we have the 200e, which is the hybrid that's both analog and digital. The 200 was 100 percent analog, so it had no memory and a very lovely sound. The 200e, which is the modern version of the 200, is quite different, so now that I've come back to it, I've had to deal with a new reality there. It's not always as good as the old reality.
KAS: My relationship with the Buchla isn't as long as Suzanne's. I've used a Buchla 100 for eight years and the Buchla Music Easel for the past four or five years. That's the main instrument I perform with.
SC: You're so lucky, Kaitlyn! You're so lucky that you don't have to lug around this huge system. [Laughs]
KAS: I know—mine's a suitcase! It's my main performing instrument at the moment, but I also play other synthesizers.
SC: My experience with the Buchla goes back to the '60s, so for me, it was an early love. I spent ten years exclusively on that machine, and that was my sole possession when I moved to New York. Then half of my Buchla was stolen and half of it broke down, so I gradually weaned myself away from it. When I moved back to the west coast, I met [Don] Buchla again. We played tennis for ten years before the 200e found its way into my studio. I had no intention of going back to playing that machine, but there was a gravitational pull, so about five or six years ago, I got a new 200e. I've always had a very honoured place for Buchla in my heart, and he's been such an important part of my evolution, so now I'm concentrating again on the Buchla exclusively.
Don Buchla was a generation before me, and every generation has its cultural viewpoint. In his generation, men were men and women were…women. Women were not part of a man's professional world back then. They didn't know how to respond to a woman in a professional context. There was a lot of discomfort and it was really odd. This was also during the moment of so-called "women's liberation." I was in Berkeley, California where they were burning bras and making a lot of manifestos about women's rights, and all of this threw a wedge into the old paradigm. The old one didn't work because women were seen as sexual objects, and that was it. There was no definition of a woman as an independent, professional person. They just didn't know how to respond.
KAS: The only time that I really feel treated differently as a female is if I go to Guitar Center. [Laughs] That's the only time in my career that I've felt that. At [the University of California] Berkeley, when I was in the Sound Engineering department and when I was a stage manager, I never got treated differently. When I go to play shows, I don't feel different. So I feel it's a huge difference since when Suzanne was in studios and in Don Buchla's shop and getting that treatment.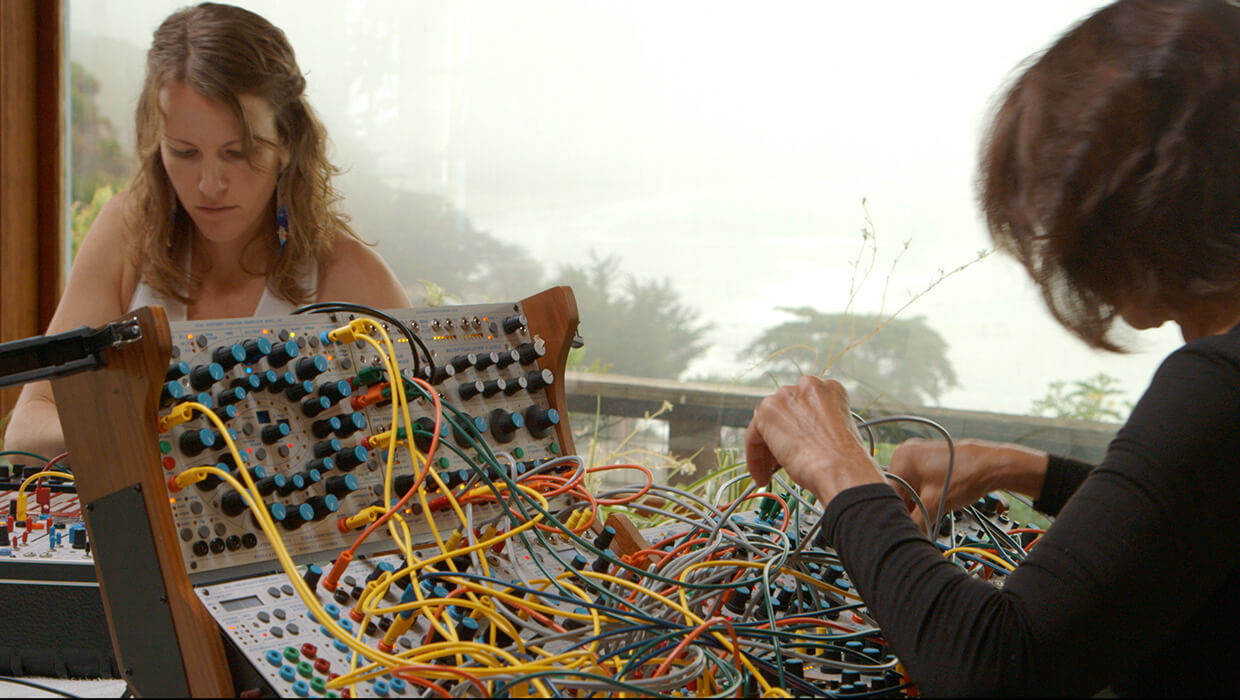 SC: Last year, Moog reissued the Model 15 using original parts from the '60s and built some new ones. Moog asked me to go to Asheville, North Carolina to demonstrate it because I'm still alive and had played the old one. Kaitlyn has played the Model 15, too.
KAS: They had a 35 and a 50 and something like 15 in the video that I was a part of, which I think is the same one you were featured in. It seemed like it was a combination of different generations. Suzanne and I had met in Bolinas a few months before that.
SC: In New York I wasn't a loner; I had a big studio with a couple dozen people working there. It was a different scene. I came out to Bolinas and suddenly it was just me. That was good and bad, but sometimes the energy level gets a bit low when you're generating it all yourself. Bolinas is kind of isolated, and I've lived out here since 1992, so I was excited by the possibility of having a talented, young musician to assist me in my studio because I'd had various studio assistants over the years. My current assistant drives all the way out from San Francisco, and that's a long drive! But here was Kaitlyn, right in Bolinas.
KAS: It's very remote. It's right on the coast.
SC: I say it's famous for wanting to be unknown. It's a part of town that takes down the sign so nobody can find it. It's had an isolationist mentality since the '70s, and they have a moratorium on building so nothing's changed very much and it's remained a community. That's just starting to change as it's being discovered. I have a studio right on the ocean, so I look out on the mountains and across the ocean to San Francisco. I listen to the ocean all day and all night. The birds wake me up. I came here from New York to escape from the city because I had early stage breast cancer and I found it very healing to be here—to leave the loud city and come to this gentle environment.
KAS: I grew up doing home schooling, so it was essential for me to be really self-motivated. I try to create a bubble around myself when I'm working, but the main difference that I notice between Orcas [Island], Bolinas and the city is that when I'm in a remote place, I can get refreshed and take a walk and jump in the ocean. In LA, I go outside and it's sweltering and there are cars everywhere, which is not as refreshing. It's similar to what Suzanne was saying about having that energetic level of people hustling around you. It's something you feed off of.
SC: I hired her to work here in Bolinas, and she was very professional; always showed up on time. She's a very sharp cookie. Then the project came up. Kaitlyn knows a lot more about what's going on currently. I'm not aware of all the ins and outs of the electronic world. There was a series of projects uniting younger and older artists called FRKWYS, and she brought [RVNG founder] Matt Werth out here and proposed that we do this project together. That's how it started.
KAS: We were focused mostly on figuring out the different patches and creating the memory for the Buchla 200e. We would go through each module and read the manual and be like "Okay, what's everything this module can do?"
SC: I was preparing for a tour and trying to focus. I get very distracted all the time because my life is very busy so it helps me to focus when I have a support system here to keep me on track.  I was working on putting together my Buchla performance with Neotantrik [Andy Votel and Sean Canty]. I was hoping Kaitlyn was going to teach me Ableton! I notice in my book keeping that it always says Ableton lessons, but I never got one.
Sunergy arrives September 16, 2016 via RVNG Intl. Read Suzanne Ciani's conversation with Donato Dozzy here and check out more Mentors columns with Jlin, Goldie and more here.
Published September 13, 2016.