Micachu And The Shapes On Animal Collective, Optimism And More
A as in Animal Collective:
We embarked on a trippy tour together. They were very foolish—before we even met them they let us travel on their tour bus. They'd start their live sets and this massive cloud of ganja would rise into the air. Their audiences were really peaceful, good-feeling crowds.
B as in Beats:
Making beats is a daily habit, part of laptop life. They're like sketches in a notebook. You can get into your own zone and lose hours getting into little grooves.
C as in Chopper: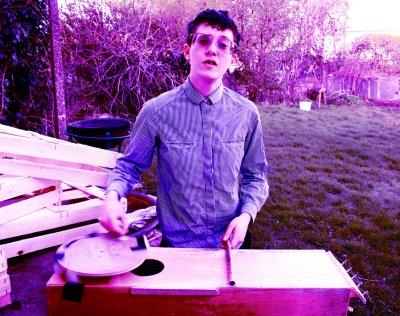 A wooden instrument created by Dave Sylvester and Mica. It has eight strings with a wheel and picks and you use a rod to play it. It sounds like the strumming of a guitar, but more constant, more mechanical, less human.
D as in Dancing:
Pulling shapes. At the same time as playing a gig you can get a sweat on. It moves the music forward.
E as in Englishness:
Sort of an old-fashioned term. We have such a shared culture online and those distinctions feel more and more irrelevant.
F as in Feeder:
Raisa: The title of an EP I put out a couple of years ago. It wasn't as fun without these two, which is probably why I haven't put out anything else since.
G as in Good Sad Happy Bad:
https://www.youtube.com/playlist?list=PLyNX27HJU3x1vOiowZNZdgVaNJHeDPD37
The name of our new album, but it could be the name of the band. The songs are either real downers or peppy uppers. The title says everything and nothing, which is ideal for us.
H as in Matthew Herbert:
A mastermind. He made an album where he reared a pig. For his live shows he'd have a chef on stage. Smelling bacon during his set was off the hook.
I as in Improvisation:
Improvisation is equal parts math and cosmos. We always thought that improvisation was this thing that you had to train many years for and we'd never be able to do. It felt satisfying coming together for the jam that became Good Sad Happy Bad.
J as in Joyful/Jarring noise:
Is this a description of our music? Otherwise, big up Sun Ra.
K as in Kwes:
An amazing soul and an absolutely natural musician. He's got an unbelievable set of ears, a beautiful voice and beautiful lyrics. Plus, his productions are tactile and personal. He's also a great facilitator of other people and he's very patient and committed. He can play several instruments to a really high standard, as well as use a computer. More often than not, you don't see those two skills together.
L as in London Sinfonietta:
We did a live performance with them called Chopped & Screwed that involved the Chopper. We were worried about it. These musicians are absolute virtuosos, specialists in modern music, and able to read and perform incredibly complicated notation. We gave them some written material, but the order of how it was played had to be committed to memory, which put them in a vulnerable position. We were surprised at how much risk they felt that involved, but we were all totally out of our comfort zone. Everyone had to risk something.
M as in MC's:
Brother May came up with the name Micachu, and he's the main MC that Mica works with. He's part of the much-treasured group around us who are interchanging roles and making music together. This community is the most important thing.
N as in Notation:
It's like a drawing, but a detailed drawing instead of a big sweeping thing. To compose with notation is pretty Zen, but we don't write out our stuff because we're talking to each other and have it committed to memory.
O as in Optimism:
Yes, please. It's not done on purpose, but if you hear optimism in our music, that's really great.
P as in Post-punk:
It felt like we were making punk music for this album. There's the driven, sketchy energy of the music but also our own explosive compositional attitude—it's full of sudden changes in direction and mindset.
Q as in Quantization:
We avoid it mainly, but every music technology has a place, even Auto-Tune. It depends on what the purpose is.
R as in Rough Trade:
We were choosing between labels, and [founder of Rough Trade] Geoff Travis listened to five seconds of Jewellery and said, "Well, I don't think I'll sell much of this, but I like it so I want to put it out," and we were convinced. He was truthful and unfazed. The whole ride with the label has been a pleasure, and we're very lucky.
S as in Shipping container:
We mixed our album Never in a converted shipping container. The studio was in a neighborhood of containers holding office spaces, homes and workshops. During the process another container two doors down became available and Mica went for it. Later, Kwes moved into another. The whole area is around East India Docks. It's right opposite the Millennium Dome and under the flight path of London City Airport. There's very little phone signal and no Internet, so it was a good place to write music and poetry.
T as in Tunings:
The moment in between songs. Non-standard tunings expand the harmonic world of the humble barre chord. We don't use many weird tunings anymore because half the set was spent getting in tune! Those tunings aren't patently unusual, just to Western ears. In Indian music, Western music scales would sound strange too.
U as in Under The Skin:
A film directed by Jonathan Glazer, starring one Scarlett Johansson, with a soundtrack by me, Mica. Has it changed how I work? I've gone back to my old ways.
V as in Vacuum cleaner:
Mica used to use a vacuum cleaner to distort her voice. It sounded like hell on earth and it nearly killed her. A Hoover is never a safe thing to put near your mouth while it's on, kids. Especially every night on stage!
W as in Withasee:
I, Marc, produce bands and artists as a facilitator under this name, and a few solo bits. The name was given to me by school friends who noticed I introduced myself as: "Marc with a 'c.'" I was named after Marc Bolan and I'm proud of it!
X as in Xylophones of light bulbs:
American composer/instrument builder Harry Partch created a tuned percussion instrument called the Mazda Marimba, which used Mazda light bulbs as keys.
Y as in "You Know" (from Never):
It's the story of a quick rejection at a long house party. For the video, we dressed up like our friends in colorful clothes and had them boogie to a drum 'n' bass track while drinking non-branded beer.
Z as in Tirzah:
Doesn't start with a Z—this is cheating! However, Tirzah is a chic goddess babe.
This article originally appeared in the Fall 2015 issue of Electronic Beats Magazine. Check out past ABC columns with Gilles Peterson and DJ Koze and read more from the magazine here.
Published January 15, 2016.