Mr. G — "I Always Put A Title For A Reason"
I will never forget how I learned about Mr. G.
It was early July of 2013, and I was meeting with a few music industry types at Geist Im Glas, a bar on Lenaustrasse in Berlin. One of them was Darwin, a local DJ with round eyes, a thread of slightly-grisly tattoos down one arm, hair so perfectly glossy and wavy that I was suspicious it might be a wig, and a zealous demeanor. She's the sort of person who makes a strong first impression, in part because she's super enthusiastic about every topic she discusses—and on that day, one of those subjects was Mr. G.
Her eyes were wide with fervent conviction when she explained that Mr. G is a legend, but hardly anyone knew of him until that summer. His real name is Colin McBean, and he's produced a steady stream of dance floor 12″s that date back to the 1990s, when he made fast-paced techno tracks as part of London's BMG-signed duo The Advent. Around the year 2000, he switched gears and started to construct soulful house grooves as Mr. G. His work from the new millennium has appeared under a labyrinthine collection of sub-aliases—which means dedicated fans have had to dig for his treasures—but they're united by the same sonic recipe: kick drums so taut you could bounce a quarter off them, rumbling blankets of bass, and rustling, jacking hi-hats. As an introduction to his work, she sent me a mix she had made using only Mr. G edits and tunes, and forbade me to share it with anyone.

Despite his tireless and influential output, Mr. G produced in relative obscurity until around that summer, when Radio Slave's prolific Rekids label released a retrospective compilation of some of the most potent jams in G's extensive catalog. Advertisements for the collection appeared on little TV screens in Berlin's subway cars—and I know that because I was in those trains at the time, taking pictures of the ads to protest the militant secrecy with which Darwin protected her mix.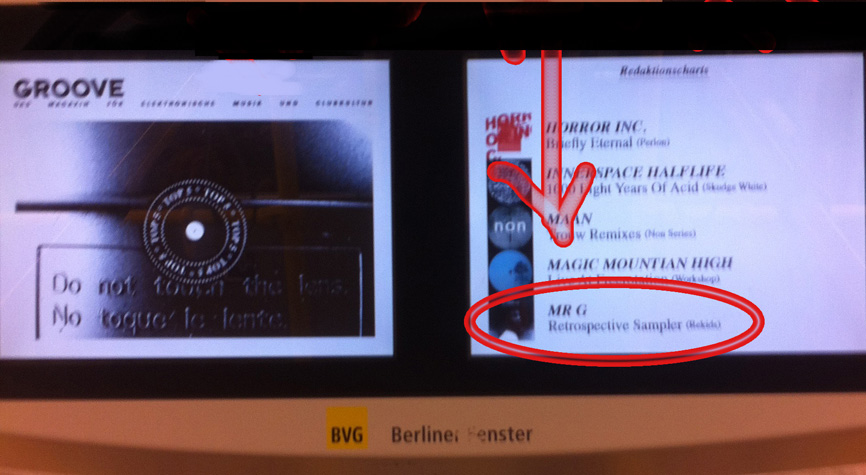 Despite the signs that his profile was growing, I kept Darwin's mix to myself, and I played it over and over again all summer. By the time I went home to New York, it didn't feel right to listen to the set unless I was feeling nostalgic for Berlin. Her Mr. G megamix became one of those pieces of music that acts as a time capsule for a certain period in life; it contains and revives a particular vibe and a distinctive emotional timbre.
It's been over a year since the set was passed along to me, and Darwin's resolve to protect her secret weapon has dissolved, because he's not such a secret anymore. In fact, he's about to release his first-ever solo full length, Personal Momentz, on November 10, and Darwin has allowed us to publish the legendary set here to celebrate the occasion—it's in the SoundCloud embed below. Each of the 12 tracks on Mr. G's forthcoming LP and beyond symbolize a poignant time in McBean's life, much the same way the megamix became a vessel for my memories of Berlin in 2013. That's what makes Mr. G's productions seminally brilliant and emotionally potent: they're infused with vibes and feels and remembers.
"I always put a title for a reason," he told me over the phone from his home in the UK. "I don't ever put something stupid—there's always a link to something. It's somewhere I've been, something I've seen, someone I like, or someone I dislike. There's always an energy in there."
I was calling to get the story behind my 10 favorite Colin McBean 12"s for the piece printed below. I guess I was able to sense which pieces from his catalog corresponded to particularly cogent memories, because at the end of the interview, he told me that the tracks I had chosen "were all quite personal, which is interesting." Perhaps that's proof that Mr. G records are like audio horcruxes—at the heart of every Colin McBean 12", there's a bit of his soul.
"Life (One Late Dark Saturday)" The Tolerance EP (Moods & Grooves 2003)
"The Tolerance EP is…I had shitty neighbors. I had no tolerance for them, and they had no tolerance for me, and we ended up falling out. That whole EP is a dig at them, for me to exorcise myself and say, 'You know what, I'm gonna be bigger than you.' This particular night, it was late and dark, and I was thinking, 'Wow, this is some dark vibe in here today—I'm pissed off at my neighbors for sure.' So that's why it's called 'One Late Dark Night,' because thoughts came through negativity, so I put them into the track. If I choose a line or a lyric, it usually says what I wanted to say. This one says, 'It's your life'—I can't tell you what to do, but you're not really behaving in an appropriate way."
"Daily Prayer" The Up Hill Battle EP (Phoenix G 2011)
"That one is really painful. 'Daily Prayer' was probably one of the first things I wrote after my good friend and mentor, Lex, died. I'd spent eight months looking after him—I gave up my career and everything to look after and care for him. He had a brain tumor. It was a good year later that The Up Hill Battle EP came out, and it was a way of me saying that I'll never forget him. I do that for a lot of things—if there's something important to me, I put a marker on a record, because then it's there forever.
It's a very serious piece. When people try to license it, I usually say no, because if it's not going to the right home—no. For me, it's not about just making money from something. If something's personal to you, why then thin it down and sell it on? I want to listen to that track, and the specific ones that touch me, every time and know that they're pure and they're doing the right thing. That track in particular, someone will email me every couple of weeks. It's almost like my friend is out there saying, 'Yeah, Colin, you're not doing too bad.'"
"Miss Nasty" Don't Let Shit Get You Down (Phoenix G 2005)
"I think both [the instrumental and the vocal version] of 'Miss Nasty' were done at the same time, but if I didn't use the vocal on the vinyl release, it was probably because I didn't feel appropriate. Sometimes, I use a vocal that says something about someone, and since that person's gonna hear it, I have to be sure that it's right or it's respectful. At that point, I was way too angry to put that vocal out. But years later, when the digital came around, I thought 'Yeah, why not release the old one now?' Things had passed, time had gone on. But that one there, that's a deep one. I can't go into that one—the person is still out there. These things come back and bite you in the ass."
"Spliffhead" The Eye Poke EP (Phoenix G 1999)
"That was just after the Advent days, one of the earliest Mr. G/G Flame releases we ever did. It was, again, someone I knew, and who I thought was just smoking too much. It was like, 'Oh, you're turning into a spliffhead.' The person knew who it was at the time. Again, I just like to mark things so I never forget. All the records I put out have some kind of message or something happened, so I can pick up anything and say, 'Ah yeah, shit, I forgot about that'—and that's 'Spliffhead.' That was me saying, 'Make sure you don't ever follow that route and get too stoned and compromise your music.'"
Tommy Atkins "Ice Cold Yelly" Icecold Yelly EP (Mango Boy 2005)
"Mango Boy is my Jamaican side. My parents are Jamaican. I love mangos. When I go back to Jamaica, I'm eating 10 or 12 mangos a day. The producer of the best mangos is a company run by Tommy Atkins. Anything that has 'mango' or 'Tommy Atkins' in the title will have a specific sound, taking it back to Jamaica. It's gonna be slightly more personal, and not so easy to get into, because I'm not doing that for the masses—I'm doing that for me. The 'ice cold jelly' is what they call it when you take the top off a fresh coconut and drink the water out of it. So that one's a really feel-good, because I'm in Jamaica and I'm having fun."
"Black Breds" The Soulfood EP (Phoenix G 2012)
"Again, that'll be Jamaican. Breds is a charity in Treasure Beach, Jamaica that works for the local youth to give them some kind of athletics program. I'd just come back from Jamaica and heard about Breds, so I thought, well, why not make it more specific, and make it 'Black Breds' rather than just 'Breds.' But that whole Soulfood EP is really quite—yeah, that's one of my most personal twelves, because it really—it works in a completely different way to the way I normally work. It's more with that reggae-like, twisted bassline, as opposed to what I would normally do. I would never normally release that, and I'm surprised it did what it did, because it is quite personal."
"No Sell Out" The Stylus EP (Metalbox 1998)
"Well, that says it all, you don't need to ask that one. We [The Advent] were signed to BMG, and then BMG started a label for us called Metalbox. At the beginning, it was Cisco [Ferreira] and myself; we were called G Flame and Mr. G. But then, as time went on—you know how you get older and different. He decided he'd like to keep the G Flame name if he ever wanted to do house, and I became Mr. G.
I think that's a German vocal that I got from some rare a cappella LP. Again, it's basically saying what I wanted to say, which is 'I'm Mr. G, and I'm making house music.' That was when I could hear many around me beginning to—in my eyes—sell out, and that's that's me saying, 'I ain't never selling out, man. No sell out.'"
"Do It Right" Da Playas EP (Metalbox 1997)
https://www.youtube.com/watch?v=liywqBT_EwI
"That's probably from when I was just going to America for the first time, or just coming back from America. I was so happy I just wanted to put down a nice disco vibe like, 'Yeah, we're doing OK, we're doing alright.' That's why it says, 'Dooo it right!' It's cheesy and happy, but it's saying, 'Life is not too bad, we're going the right way about things.' It was quite nice to have gone to the States and gotten the love and seen that people were interested in what we were doing."
"Song For My Cantor" The Atmosphere EP (Careless 2007)
"My friend was already ill at this time, so the quality of my writing wasn't particularly great at that point, because I couldn't put as much time into it, because my thoughts and mind were elsewhere. And then a friend of a friend said he worked with someone who had a label, they would do it right, they really love what I do. I remember saying, 'Well, at this point, I can't say yes or no, because I'm balancing my life on a knife's edge.' I didn't know whether I'd find time to do quality work.
If you've got a 12", they labeled it the wrong way. 'Balance' is the one with the vocal that says, 'So Good,' but I think the other side has been given that title. 'Balance' is more like a, a sort of tech-house-y track. 'Song For My Cantor'— there's something more spiritual and different going on in there. I had a friend who was the dean of Westminster, and when he passed away, I went to his funeral at Salsbury Cathedral. The people who sing those bits in a service are called cantors, so it's called 'Song for my Cantor.' I must have literally come home from the service and thought, 'Damn, all those lovely, soulful, choral-y effects,' so the record has a really soulful, smooth vibe in it. But I never noticed till years later that they had labeled the records wrong. I rectified it on the retrospective."
Published October 22, 2014. Words by Elissa Stolman.