Nicolas Jaar: An Interview
It was right at the beginning of 2011 that the 20 year old New York producer Nicolas Jaar began attracting attention with his precociously assured debut Space Is Only Noise. For a producer who somehow walks the line between a quietly mannered and organic approach to sound creation, the last few months must have been a bolt of static interference; his gargantuan tour schedule was, essentially, an intense and punishing victory lap broadened to include the festival circuit for the first time, while his Darkside side-project with Brooklyn sound artist Dave Harrington has also gained traction, with any developments closely scrutinised by critics and bloggers itching for their next Jaar fix. Now, as one of the busiest summers of his career winds down, we took some time out with him backstage at the EB Festival Budapest to find out how he's doing.~ Photo: www.myqua.com
You've had a hectic summer: touring with your band and performing solo, plus you also did a couple of gigs with the Darkside project. Of those setups, which is your favorite?
I like having the combination of things because just before I get tired of one thing I go and do something else. It keeps me interested. And they are all similar in a way, they're not that different.
Are there any plans for you and Dave Harrington – your collaborator with the Darkside project – in the near future?
We're finishing the album now. That's the next thing that I want focus on doing. It feels right for me at the moment.
Visual elements seem to have quite an important role in your production, a 'less is more' aspect. You used one of your father's original black and white photographs for the Space Is Only Noise album cover and you designed your own music player in the form of a sophisticated-looking aluminium cube. You're also responsible for the minimalist design of the website for your own label Clown And Sunset. Do you find it important to find the right balance between music and visual art?
I am a big fan of graphic design. Anything that's related to the creation of an aesthetic is really exciting to me. At the beginning, one of the main reasons why I started my label's site was because I wanted to be able to update the website, to change it and do nerdy things with it. I think there was a moment when very experimental music was coming out with really cool artwork and then more people listened to it. Now I feel like you can have really terrible pop music with really hip artwork, it's like trying to make the product cooler by the art.
Your father is a well-known conceptual artist. Have you ever thought about doing a collaboration with him?
Apart from being his son? In Berlin I played at a party after his opening, that was the first time. I played a lot of my father's favorite music and I also improvized a lot. I basically dedicated that show to my father.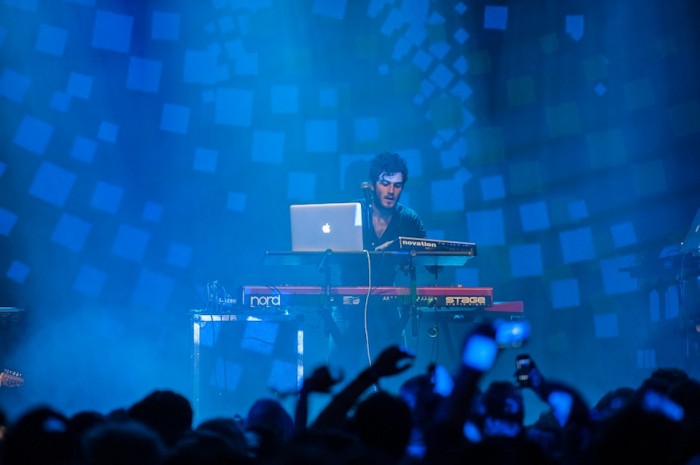 You have done several podcasts in the past for Resident Advisor, Tsugi, XLR8R and most recently the BBC Essential Mix. Do you have a specific vision with those mixes before you start making them?
I'm always making new edits because most of the time, if I like a song, I don't really want to just play it – I want to play it in a certain way. For the Essential Mix I had basically ten edits that I hadn't put out and I wanted to show these edits, therefore those were the basis for the mix. There is no conscious decision, it's just what feels right.
What I especially like about the Essential Mix is that every single time I listen to it I discover something new to it.
Nice! It's weird because it kind of felt like making an album to me. It felt like that's my album for this year, but it's weird because it's not anything official. I did put a lot of heart into it, I realized I had been doing it forever but I've never put those edits in a mix. It really says what I wanted to say. Two hours is a long time so you have to do something real and honest.
What you deliver in your mixes can be perceived as a musical education for our generation. Your music is heavy on jazz and soul influences and that might inspire the listener to look up the track list and do further research into those musical fields.
In a way I think the best thing that can come out of my mixes is when someone says, "Wow, I don't really like solo piano so much but I like this piano piece". Then they look up who that Keith Jarret person is or they might end up buying Gonzales' new album. That is a good thing because it's good for music.
Could you name an absolute favorite record in your collection?
Lately, something which has provided a lot of information and beauty has been Druqs by Aphex Twin. That album has either the most beautiful ambient pieces or the craziest, fast and agressive electronic music. It speaks to me because it's either church music or this crazy intense city drug club thing. I'm not saying one is better than the other, it's just really intense and they're both there. And in this record it's so clear, it just fits what's happening right now in an incredible way.
Any up and coming artists to look out for?
Will Epstein is pretty amazing. He not only plays in my band but he also makes his own music, he plays the saxophone. His music alone is probably the best music I've heard in a long time. He is definitely doing something pretty amazing right now. Also, Daniel Bortz is doing some good stuff. I recently played with him in Munich and I've heard some of his mixes; he's definitely interesting.
Have you ever had difficulties playing for an audience because the atmosphere just didn't feel right?
Of course that happens – that's the worst part. I wasn't expecting to play for thousands of people, my music was never meant for that. The most difficult thing about connecting with an audience is when the sound is bad. I think it hurts everyone but it hurts me a lot because half of what I do in a studio is making a sound. Being aware of my music, I'm pretty sure when we have a good sound then we can do whatever we want and if we don't we simply can't. All I want to do is to give what is in there, and when there are so many things stopping that from happening it's very sad, The most difficult part of being a performer is when exterior factors have an effect on the music.
And finally: do you prefer playing clubs or festivals?
It depends, but personally if I could play for a hundred people every time that would be great. Right now I'm doing this long tour, my first big tour with a lot of festivals as well, for two reasons: 1. I wanted to know what it is like as I have never done it before and 2. Now I want to make music for several months without going on tour. I'm very happy and excited about that. ~
Published October 01, 2012.