The Nightclub Meets The Gallery In These Famous Works Of Art
120 years ago, impressionist painter Edouard Manet made A Bar at the Folies-Bergére, a realist-impressionist scene depicting a barmaid at the eponymous Paris nightclub. Today, clubbing might be less about trapeze artists, chandeliers and prostitution, but artists' documentary urge hasn't curbed. Recently, art institutions' increasing interest in artist/DJ hybrids or curators who invite artists who lurk in nightclubs more often than museums has produced some interesting results. For instance, this summer New York's New Museum invited NON Records to perform in their lecture hall, and this year's Berlin Biennale is accompanied by a soundtrack, Anthem, which pairs artists and musicians for a series of singles, like Hito Steyerl with Juliana Huxtable and Fatima Al-Qadiri.
Some artists have made work specifically about their nightlife experiences. From capturing subcultural communities from the inside, to installations that mimic the electronic audio-visual sensations of clubbing, or the future of nightlife prophesied, here is a crash-course in contemporary art born of, displayed in, or inspired by the free and experimental space of the nightclub.
Wolfgang Tillmans
Tillmans is perhaps the most famous artist to be inspired by club culture. The German photographer began his career in the rave scenes of '90s London and Berlin, and besides having his work hang at Panorama Bar, he is allegedly one of the only people allowed to take photos inside Berghain. His status as an accepted member of the club community gains him access to spaces that might otherwise shirk photographic documentation, like New York's now-closed queer utopia The Spectrum, where he shot a candid scene at a monthly lesbian party called Dagger. Music, obviously, plays the central role for any seasoned clubber; Tillmans has been known to perform as a DJ in his own right, and in 2014, he turned his Berlin exhibition space Between Bridges into a "playback room" where visitors could hear a selection of pop records on a quality sound system.  
Daniel Wickerham and Malcolm Lomax
Baltimore artists Malcolm Lomax and Daniel Wickerham sent out a craigslist casting call for gay bears for their 2015 project Girth Proof. The chosen bears were digitally rendered into fictional hosts for parties at a made-up club called The Cave. The hyper-ornamented flyers advertise four weekly parties slated for 2018: "Insecurity," "Revenge," "Immaculate Conception," and "Anti-Gravity." They all project warped, anarchic views of the freedom of the nightclub and the sexuality of certain gay club spheres and are rendered in an excessive, illusionistic aesthetic that blurs the lines between the digital and the physical. For instance, "Insecurity" advertises the opportunity to lose yourself, while "Immaculate Conception" promises "lube as interface" and a "purification after party." "Revenge" touts apple turnovers, fisting, and the opportunity to club a police officer, and "Anti-Gravity" offers free DNA testing. The works were exhibited at Dem Passwords Gallery in Los Angeles, but they can also be browsed (with a chainsaw cursor) on a digital companion piece to the show.
Daniel Pflumm
Daniel Pflumm's career as an artist grew with his career as a club owner, DJ, and promoter in 1990s Berlin. In 1992 he opened the illegal spot Elektro, which was soon followed by a string of other clubs: Panasonic, INIT-Bar, and Galerie Antik, which closed in 2003. In 1995, he also a co-founded the label Elektro Music Department with Klaus Kotai and Gabriele "Mo" Loschelder, the DJ duo Kotai + Mo, and his graphic designs graced the covers of the label's records. His best works are in video, evolving from exhibitions he would stage in the chill-out rooms of his clubs. Fast-paced cuts, like Logo auf Schwarz, are loops of appropriated commercial clips, breaking down corporate logos into their most basic aesthetic elements and providing visual stimulation to match the club's audio.
Mark Leckey
Created entirely from found footage, the 1998 film Fiorucci Made Me Hardcore is an audio-visual collage of British dance and club scenes from disco to rave. Inspired by the magic of the music video, Leckey created a sentimental picture of the evolution of the British dance floor. The soundtrack, which has since been released on vinyl (and sampled by Jamie XX), is dissonant with the video, emphasizing the bizarre nature of the act of dancing en masse. The artist won the Turner Prize in 2008, the most British of all art awards, and today is known as one of the forerunners of contemporary British video art, but his connection to music hasn't faded. The artist is represented by PAN records, who in 2015 released Hecker Leckey Sound Voice Chimera, a joint production of Leckey and Florian Hecker, based on the vocal track of Leckey's 2010 GreenScreenRefrigeratorAction. Read our interview with him here.
MSHR
MSHR, a collaborative project by Portland-based artists Brenna Murphy and Birch Cooper, is an experimental series of installations, custom sculptural synthesizers and synaesthetic performances. The DIY synthesizers juxtapose natural elements like conch shells and driftwood against geometric forms and reflective textures, and 3D-printed, digitally imaged sculptural sets are inspired by sacred symbolic shapes. The project is contextualized in art galleries or festivals like Berlin's CTM-affiliated transmediale, but with their ritualistic performances, the artists intend to "place the human body into a dynamic relationship with sound and light, generating expanded sensory experiences." With droning sound and a sci-fi-shaman aesthetic, MSHR is totally the new age hippie of the party.
Wu Tsang
Wu Tsang's fictionalized documentary film Wildness (2012) is centered around the Los Angeles bar the Silver Platter, a historic meeting place for gay Latino immigrant communities that opened in 1963. In the '90s, the scene shifted towards a space for transgender women and drag performers, but it was still a Latinx local [Latino locale?]. Until 2008, that is, when Tsang collaborated with DJs NGUZUNGUZU and Total Freedom to launch a weekly party called Wildness, which drew a new, college-educated, queer, "hipster" crowd to the bar and attracted art-world attention. The film documents the clash in subcultural scenes and explores the idea of "safe spaces" with narration by the anthropomorphized bar that's voiced by Guatemalan transgender actress Mariana Marroquin. The film premiered at the Museum of Modern Art in New York in 2012, and the same year was featured in the Whitney Biennial and the New Museum Triennial.
Dan Witz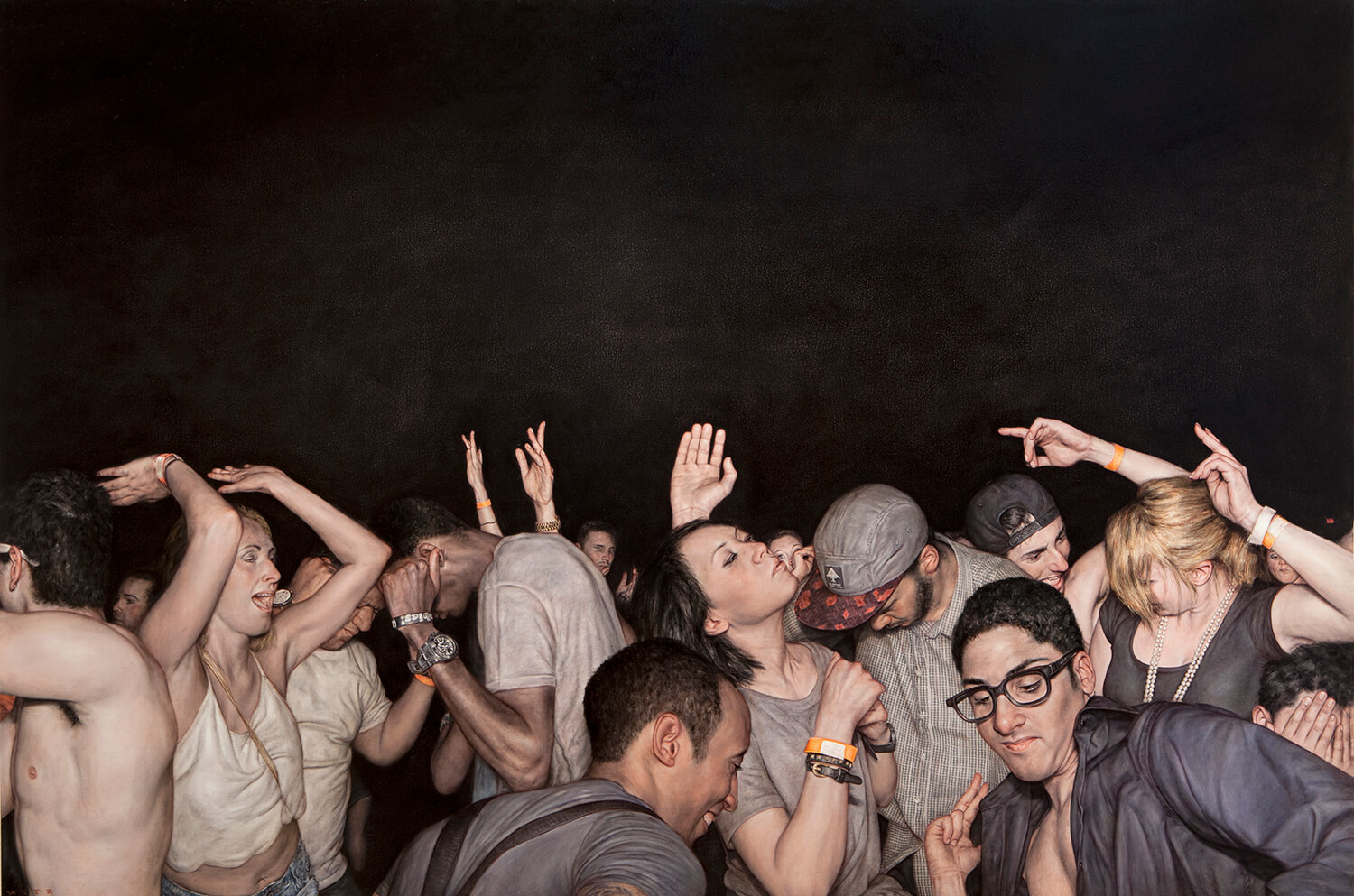 Dan Witz is best known for his monumental paintings of mosh pits, but a recent exhibition, Mosh Pits, Raves, and One Small Orgy saw his work extend to other realms. The artist styles himself as a 21st-century "academic realist painter" and expanded his exploration of sweaty, writhing bodies into (besides the orgy) scenes of dancers at an unidentified party in New York. In contrast to the aggression and masculinity of the mosh pit scenes, Witz' Brite Nite paintings present, in photorealistic accuracy, the euphoria of losing yourself on the dance floor. Using oil paint, one of the most traditional forms of fine art-making, the paintings preserve for posterity the fairly normie-looking party, elevating it to something a bit more beautiful.
Michael Alig
Notorious club kid-turned-murderer Michael Alig was released from prison in 2014 after serving 17 years for the murder and dismemberment of his friend and drug dealer, Angel Melendez. The party monster spent his time behind bars rehabilitating his drug habit, "suffering" and punishing himself, but also working on creative pursuits, like writing a memoir called Aligula, and immortalizing his club compatriots in a series of acrylic-on-canvas portraits. Besides masterpieces like Glowing Demon Baby and Michael's Cum On Hitler's Face, Alig painted Limelight legends like Amanda Lepore, Leigh Bowery, James St. James, and Lady Bunny. And one seductive Self-Portrait with Goggles.
Cory Arcangel
Once grouped with early net artists, Cory Arcangel's recent practice delves more into musical tropes. THE AUDMCRS UNDERGROUND DANCE MUSIC COLLECTION OF RECORDED SOUND is a collection of 839 underground trance LPs that the artist bought from retired DJ Joshua Ryan. Realizing that, at a certain age, both the records and the artist himself and would outgrow the dance floor, Arcangel's project was simply to create a catalogued archive for posterity. It's been exhibited at museums and galleries in Paris, Montréal, Reykjavik, and more, but the most endearing part of this work is Arcangel's personal narrative explaining his introduction to techno—or in the artist's words, "PURE, CHEAP, PLASTIC, BATTERY-POWERED MACHINE MUSIC"—and the experience of going to a Skrillex concert in his mid-30s, trying not to have a heart attack.
Bernadette Corporation
"I had barely even been to a nightclub when I was by some freak circumstance approached by the manager of Club USA to throw parties in the VIP room alongside Michael Alig, the king of nightlife back then," Bernadette Van-Huy, one founding member of the elusive Bernadette Corporation, told Dazed in 2012. The collective materialized in the club scene, evolving into a DIY, half-joke of a fashion line that got picked up by real stylists and was featured in magazines like Harper's Bazaar and Purple. Later, the collective went on to make a magazine, documentaries and more political work, but even at their 2013 retrospective at London's ICA, they never lost the subversive flavor of their nightlife beginnings.