Pictoplasma: The world's leading festival of contemporary character culture
A new edition of Pictoplasma, the world's leading conference and festival on character art, is going on in Berlin now until April 14th. Along the lines of its subtitle White Noise, the 2013 edition again wades through all sorts of graphic and animated design, illustration, and both fine and urban art, delving into the ever-growing cosmos of designed characters. Needless to say, characters are part of everyday communication—be it via TV, advertisement, or editorial content. In this day and age, where attention is currency, the need for effective communication through instantly recognizable designs has achieved its highest level to date. And as the white noise of images is getting louder, Lars Denicke and Peter Thaler, the project's founders and curators, offer a variety of panel discussions, lectures, and workshops on the topic. As well, all types of plump and petite, cute and crazy, bustling and bemused figures are inhabiting the streets and exhibition spaces of Berlin. Lars and Peter recently popped by the Electronic Beats office, and we asked them to share some insights into this year's program, picking one of their favorite artists each.
Lars Denicke:
Geneviève Gauckler will be here for the second time; we invited her to the very first edition of Pictoplasma nine years ago. Basically, what she does are little creatures that look like black eggs with long legs and two spots that serve as their eyes. In its total reduction, it gives a matrix of what a character in its purest original form is: just a little something that stares at you.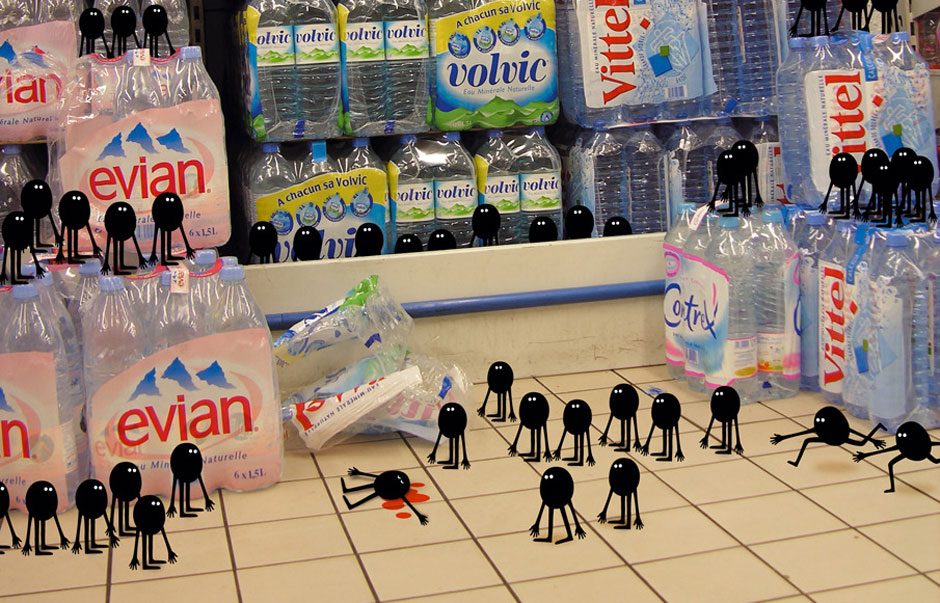 Peter Thaler:
This year, the festival's theme is White Noise, and we invited Osian Efnisie for the fist time. He's an artist who's intalling a three meter long paper roll, where he's painting with the cheapest ink pens you can get. Then, almost by accident, little characters appear within his scribbles, looking like a mixture of Mickey Mouse and Hello Kitty. In total, this atmospheric noise is exactly what this years issue is all about.
Click the links for info about the conference, the screenings, the exhibitions, and the club nights, and watch the trailer below:
WHITE NOISE – Pictoplasma Festival 2013 Opener from Pictoplasma on Vimeo.
Published April 10, 2013.