12 Essential Richie Hawtin Tracks According To Marcel Dettmann, rRoxymore, Tijana T And More
We asked some of your favorite DJs to share their favorite Richie Hawtin tracks.
Published on December 10, 2015 10:55 Berlin Time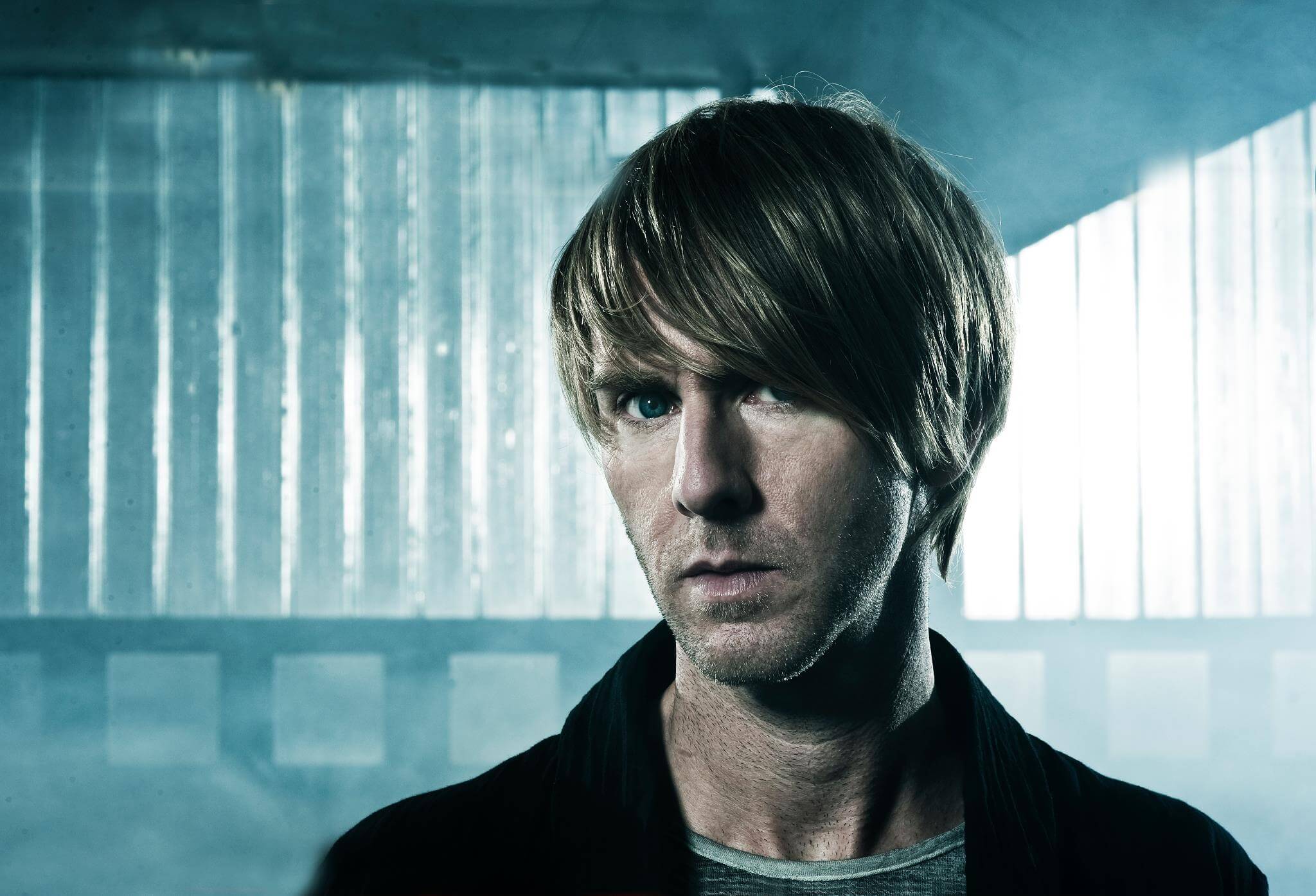 Richie Hawtin has traversed more peaks and troughs than your average career techno lord, and EB.TV's exclusive chat with the man himself revealed a new chapter to the story. Perhaps no other DJ/producer has inspired under- and overground types in equal measure; his early Shepard tone acid style is still highly prevalent in modern techno, while the vacuum-sealed minimal surgery of his later work remains fundamental to the dust and glitter tech house sound. In light of Hawtin's numerous aliases and stylistic shifts, it can be difficult to know where to begin in his towering discography, so we asked some of your favorite DJs to recommend their favorite Hawtin tunes. More often than not, these tracks are connected to out-of-time moments, be it Tijiana T raving to "Minus/Orange" during a bombing campaign in Serbia or Ricardo Esposito nerding out over IDing every stem in Hawtin's labyrinthine DE9 | Closer To The Edit mix. From Radio Slave to rRoxymore, these DJ's picks paint Hawtin in history-making colors.
Jimmy Edgar: Plastikman "Freek" from Plastique (NovaMute/Plus 8 1994)
"'Freek' is one of the best Plastikman tunes. Plastikman is a pioneer of sound for me because he used big-sounding equipment to deliver simple elements. It sounds so fearless. Richie Hawtin is always such a controversial figure, especially in Detroit, where you have people with Plastikman tattoos and other people who feel betrayed by his Ibiza parade. I'm indifferent. For me, he encapsulates the friendly Gemini energy, especially with his dual sides and midlife transformation. He's a friend and I have a lot of respect for his legacy and tenacity."
Electric Indigo: Plastikman "Ask Yourself" from Closer (NovaMute/M_nus 2003)
"My favorite Richie Hawtin track is actually a Plastikman production: 'Ask Yourself'. It really impressed me when it came out because of its sinister atmosphere, the sparse beats, little noises and the use of voice and vocal processing. It's still inspiring."
Ricardo Esposito: Richie Hawtin "(R)Edit #1 (Freek'd)" from DE9 | Closer To The (R)Edit (NovaMute/M_nus 2001)
"I've always been a huge fan of Richie Hawtin's DE9 series. My friends and I used to philosophize—or rather, nerd out—for hours on which part from which tune he used to either make an endless and seamless transition or simply compose that new edit or unique moment. What I loved in particular about DE9 | Closer To The Edit was that NovaMute released these so-called 'parts' (there were 120) on a double 12-inch as locked grooves, which gave you the chance to remix the whole thing yourself or imitate Richie in your bedroom or the club. '(R)Edit #1 (Freek'd)' and '(R)Edit #2 (Range'd)' were the only micro-mixes Richie elaborated into full tracks. They were both released on a 10-inch in conjunction with the Closer to the Edit 50-minute compilation. 'Freek'd' is my favorite here and by far one of the dopest tunes Richie has ever reassembled. It contains various loops and components from Hawtin's 'Freek', Pantytek's 'Into The Duster', Villalobos' 'Lunar' but mostly Dean DeCosta's 'Diminishing Returns (Bluetrain aka Steve O Sullivan – Special Edition Dub)' on Mosaic, which was recently re-released on Sushitech. These days someone would refer to 'Freek'd' simply as a DJ tool, but back then it was considered a great art to be able to strip techno down and make it sound so incredibly big and rough. That's the main difference between a DJ tool and minimal-sounding track."
Mihai Popoviciu: Plastikman "Rekall" from Artifakts (BC) (NovaMute/M_nus 1998)
"One of my favourite tracks from Richie is 'Rekall', which he released on the notorious M_nus Records label. I like it because it's the kind of music I grew up with when I started listening to electronic music. It's got that dark and mysterious Detroit vibe that I fell in love with in the late '90s."
Steve Rachmad: F.U.S.E. "F.U." from +8-PRO1 (Hi-Bias 1991)
"I like a lot of Richie's +8 stuff and the other alter egos he used, like UP! and Jack Master. But F.U.S.E.'s 'F.U.' gives me this special '90s rave memory feeling. Nice and trippy with lots of reverb."
Eric Cloutier: Plastikman "Pakard" from Artifakts (BC) (NovaMute/M_nus 1998)
"Selecting a favorite jam from Richie's pretty extensive career is difficult, though I knew instantly that I could at least narrow it down to something from Plastikman. The first rave I ever attended—Jak-o-Lantern in Windsor, Ontario, Canada, on October 28, 1995—featured Richie doing a Plastikman live set, and it forever changed my life. I vaguely remember them needing to cool down the generators with water or Halon fire extinguishers because it got insanely hot inside the party. It was also possibly one of the first times a Jak party featured his four-corner sound system, if I remember what friends told me correctly. Besides the fact I had absolutely no idea what was going on, on top of being almost in pain from how loud the sound system was, hearing what I later discovered to be 'Pakard' was, and still is, absolutely mind-blowing. I still get chills when I hear this track, and it's one of the few Plastikman jams I can listen to on repeat for hours on end and never get bored of. Runners up include 'Ethnik', 'Plastique' and another super-fav, 'Psyk'."
rRoxymore: Plastikman Consumed (NovaMute/M_nus 1998)
"Years ago, I used to have a radio show about electronic music at a local station, and the sound technician became so obsessed with the album Consumed that the title track became the show's outro. It introduced me to a new landscape of ambient techno music. Before that, I was kind of reluctant to get into the genre. But there's something intriguing about this album. The music is like a big vacuum that sucks you up. Time stops. You're totally enveloped by the driven basses and subliminal micro sounds. But nothing's dark here; on the contrary, I find it mysterious and luminous. It's fully cathartic. Plastikman managed to find the perfect balance between organic sounds or ambiances and robotic sequences. Although I haven't listened to it for a while, I hope to have the chance to hear it on a big sound system one day—even though it's not composed for dance floors."
Dino Sabatini: Plastikman "In Side" from Consumed (NovaMute/M_nus 1998)
"When I think of Richie Hawtin I have to turn back the years and remember him as Plastikman. More accurately, I am talking about the late '90s. It's not easy to define his best track because I like almost all the tracks from that period, but I can say without a doubt that 'In Side' is my favorite. I would call this track a monolith of minimal techno, deep, hypnotic and perfectly balanced, and the way he uses reverberations and TB303 is surreal."
Lucy: Plastikman "Consume" from Consumed (NovaMute/M_nus 1998)
"This track is an odyssey into a very deep corner of the human soul. It's a very long track that, like most of my personal favorites, is soft, round, organic and slow to evolve—but never too much. And yet, if played in the right way, it can make a dance floor explode (or implode, which is even better). It's the real meeting point between Detroit and European Basic Channel-related techno, which pretty much sums up why Richie has been so important for the scene."
Marcel Dettmann: FUSE "Theychx" from Dimension Instrusion (Warp/Plus 8 1993)
"Dimension Intrusion by F.U.S.E. was the first release from Richie Hawtin that I bought when it fist came out back in 1993. Contrary to his stark and minimal stuff as Plastikman, this album is full of rave and trance elements. Actually, it's really hard to choose a specific track off the album because they're all great. Trance-induced tracks like the title track and 'Theychx' really fascinated me. It was back when Harthouse and Eye Q were quite big and the first wave of trance had finally reached the countryside, even though a lot of that was a bit too cheesy for me. I bought 'Dimension Intrusion' at a local record store in my little hometown, Fürstenwalde, from an older friend, who worked there and who was also a DJ. He played in discotheques rather than in clubs, though, and he would play everything from The Cure to Sisters Of Mercy to more pop-oriented stuff. By 1993 he got into house and techno, too. He even played one of [fellow Berghain resident] Norman Nodge's parties. When he gave me the record I didn't know what to expect. 'Substance Abuse' and 'FU' are obviously the big hits and tracks that I still play today. But back then they were too wild and too harsh for me. I didn't understand or like them. Sometimes you need time to wrap your head around new sounds. So, looking back, 'Theychx' kinda stands out, because that was the track I really connected to at first. But as I said, it's an impeccable album that totally stood the test of time."
Radio Slave: Richie Hawtin "005" (Plus 8, 1997)
"'005' is one of those tracks that just gets in your head and grinds away. It's completely hypnotic but pretty nasty, and I can remember being completely blown away by this release back in 1997. It has no mention of Richie on the 12-inch, but you just know it's him because he has such a unique palette of sounds that are distinctly his but so alien and otherworldly. This release is such a standout piece of techno from Mr. Hawtin's immensely overwhelming catalog that's been with me everywhere from muddy outdoor free parties in Wales to Berlin's techno church Berghain, and it still kicks ass."
Tijana T: Richie Hawtin "Minus/Orange" (M_nus 1999)
"My special memories are connected to Richie Hawtin's 'Minus/Orange,' which was released in spring of 1999. I was a teenager then, and my country [Serbia] was such a mess. We were being bombed by NATO. It was a surreal situation, and also a time of intense partying. The legendary Belgrade techno club Industrija was open during the day, and since schools and universities were closed, we would go there instead. 'Minus Orange' is an anthem of that era, and my whole generation feels very connected to this track. As most of my peers have left the country in the years since, it's very touching to see them on the dance floor when I'm DJing internationally. For them, I always have this track with me."
Loco Dice: Plastikman "Glob" from Sheet One (NovaMute 1993)
"The first time I heard this track it blew my mind, and I knew it would remain in my DJ set for a very long time…or maybe even forever. Timeless track!"