The Land That Techno Forgot: The survival of Singapore's club scene
Above: Singapore as seen from the top of Marina Bay Sands Hotel, by Afiq Omar/Colossal Photos
What happens when a culture blooms, only to subside—leaving behind a handful of believers in a country where even chewing gum is banned?
Singapore, the small city-state off the southern tip of Malaysia, is a land of juxtapositions. Any indigenous population, Malay by geography, has been subsumed over a century of British colonialism to leave a mix of races, the majority Chinese, and four official languages: English, Mandarin, Malay and Tamil (while English is the common language, children are brought up additionally studying their 'mother tongue'). On this tropical island, Buddhist temples sit next to Hindu mandirs in an urban landscape that feels familiarly Western.
Less than fifty years after independence—in 1963 from Britain and in 1965 from the Federation of Malaysia—the country is in rude economic health, ranking in the top five financial centers and busiest ports worldwide, punching well above its weight in standards of education and healthcare, and recently coming in first as the most expensive city in the world. Shopping and eating are regularly described as the national leisure activities—more Western familiarity. The city has even boasted a small club scene since the early nineties, led by Zouk—still the most visible electronic music venue in Singapore today.
The four-room Zouk—the largest holds about 1500 people and the smallest is a lounge/bar—feels simultaneously hallowed and theme park-esque. Its décor is plush, the bars sell magnums of top-shelf champagne and original works by Keith Haring, Andy Warhol, Takashi Murakami and more adorn the walls. Its fantastic sound system cost about 1.3 million Singapore dollars (about €750,000), providing an appropriately aspirational locale for its primarily young, well-heeled clientele. On my visit, Will Saul keeps the dancefloor of the smallest club room (named Velvet Underground) busy, and recent line-ups have included Four Tet and a Cadenza showcase, but promoter Kavan Spruyt—who helms booking at the much smaller Club Kyo, and whose formative techno experiences took place at Zouk—bemoans the winds of taste that favor commercial / EDM as the current main attraction here.
"Joe Claussell in the main room [of Zouk] in 2007, this was actually the most important for me, personally," muses Spruyt—who turns 34 this year and has been DJing since he was 16—when considering some of the events at Zouk he's attended. "I learned it was not about just playing one sound in a set. Another was Crazy P's live band performance in the early 2000s. If it was not for Zouk, who did really credible bookings, I wouldn't be listening to or booking what I do now."
Kyo itself is swanky by usual club standards, although that might be the norm in Singapore. Its intimate dancefloor can hold about 150 people, with three times as much space for lounging. For anyone interested in underground sounds, it's here that you'll likely find the most intriguing artists. The Berlin connection is palpable—Exercise One and Redshape are headliners the consecutive weekends I'm there. And both acts obviously have some audience here: a row of people with phones poised for recording converge the front on each night. While there's a healthy percentage of expatriates, both in the city and in the club itself, the crowd are primarily local and ready to party.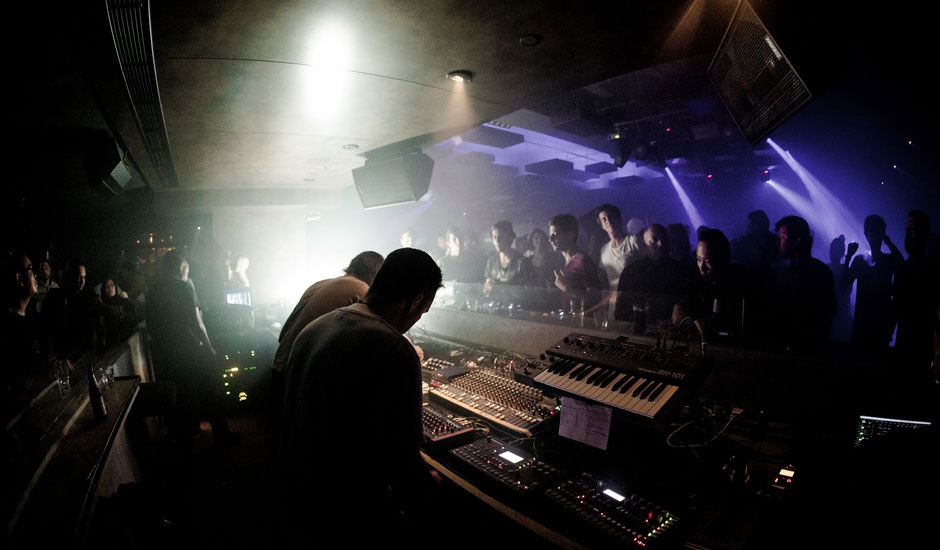 Exercise One in the booth at Kyo, by Afiq Omar/Colossal Photos
But the main difference in the Singaporean clubbing experience is the elephant missing from the room. Drugs, including marijuana, are heavily penalized here: corporal punishment by caning is a regular punishment for users, and trafficking can even carry a death sentence. Therefore the intoxicant of choice is alcohol, preferably lots of it, which can really change the dynamic of a night.
"It's a bigger challenge, definitely," states Kyo owner Godwin Pereira, a former DJ and longtime promoter in Singapore. "The energy levels are different; you have their attention span for three or four hours instead of six to eight hours. It's a completely different set altogether. You need to smack in straight with a little bit of energy and then you can take them on a different trip. You have their attention span for a good two hours at least, then the third, fourth hours are a little bit tricky. It's very energy-laden."
"The attention span of a drinking crowd tends to be shorter," Spruyt agrees. "The artist needs to vary his or her set to keep people interested." For their performance, Exercise One's Marco Freivogel recalls, "We were really unsure about how our music/sound of our live set would go down. I remember that the dancefloor was completely empty when the DJ before us played. But when the time arrived, the crowd was highly appreciative. The dancefloor lit up. Honestly, I didn't miss [the presence of drugs]. The atmosphere in the club was fantastic."
But Spruyt also recalls a time when drugs were more prevalent. "Drugs have always been illegal, but people were actually taking a lot of them in the nineties to the early 2000s," he explains. "In the club scene back then, a lot more of the crowd in any club [had them]." But some time in the mid-2000s, authorities began to crack down on drug use. As Spruyt explains, "The local authorities don't necessarily need a warrant to search your house, so they can just raid your house if you're suspected of taking or distributing drugs. They made an example out of quite a few people and it appeared in the news."
Consequently, the packed dancefloor of Taboo, Singapore's first gay club, definitely doesn't feel druggy, but there's no lack of vibes. It's louchely merry—common amongst gay clubs anywhere, it must be said—and while the local resident plays mostly pop-friendly EDM, it's listenable enough to energize the room. In contrast, Home—which generally plays host to the more 'bass' end of the spectrum—is nearly deserted the night I drop in. Their local DJ also has to contend with an awkward room layout.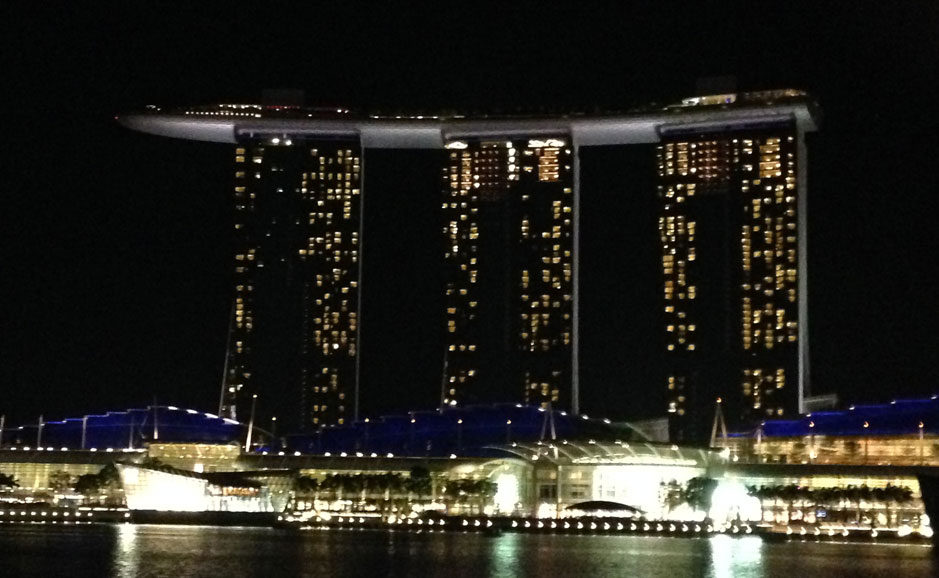 Marina Bay Sands Hotel, by the author
Perched on the top of the three towers of the Marina Bay Sands Hotel is a long swimming pool and Ku Dé Ta, a luxurious bar and club with an enormous balcony boasting the best 360 degree view of the island. Its tiny dancefloor invited Derrick May to the controls on opening night in 2010, although rumor has it that thanks to the crowd, he wouldn't care to repeat the experience. Yes, Singapore has perhaps more than its fair share of surroundings for the idly wealthy, but it wasn't always this way. As Spruyt recalls, "We didn't used to have so many VIP bottle service clubs. I'd say within the past three or four years, that all suddenly surged. They took the culture from Las Vegas; your minimum spend for a table is like 2000-3000 SGD. And everybody took pride in buying three-liter vodka bottles." And while that's surely tied to the fortunes of the country's economy, there are also less obvious links.
Back to Spruyt: "I remember spinning in 2000-02 [as a resident at Taboo]; during that time the clubgoers were more open to any kind of music and they were receptive according to the groove of the music rather than what was being played. Definitely, after 2004-05 [the crackdown on drug use], you started to have more people listening to commercial stuff, basically stuff that you recognize instantly and sing along to." While Spruyt is essentially tying the decline of underground house and techno with the decline of drug use, he's also quick to point out how the local scene didn't serve itself. "I remember the times I stepped into a record store and a guy from a club, any big club, would purposely buy five copies, or even more, of the same record so nobody else in Singapore could have it. And when you would go up to the DJ and ask what the track name was, they'd just give a fake name and title."
There's an honest lesson here about how the nurturing of one's own interests is often best served by sharing it with others. Underground dance music in Singapore once flourished, only to fall out of favor. But it left behind a handful of believers. Debbie Chia, Spruyt's wife and a DJ / budding producer in her own right, thinks that lesson might now have been learned the hard way: "Singapore is really small. Our population is what, five million? And for underground music, niche music like house and techno, you can imagine that the numbers are even smaller. So, it gets to the point where talent is limited in terms of even graphic design or videography or photography. We're all working with the same people. So if we've got a photographer, he could be working at the different clubs all in the same night because there's such limited talent. So there comes a point where we're all working with each other. There's no point in competing for one night when the next night you're put on the same bill with someone else."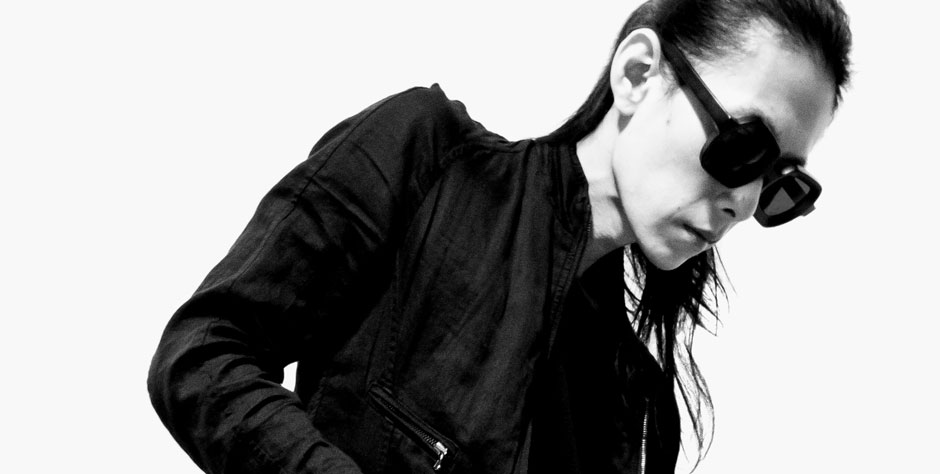 Xhin
But if that's been learned by some of the organizers, others may have yet to benefit. In underground electronic music terms, Xhin is clearly Singapore's breakout artist with releases of dark, sculpted techno, most notably for Stroboscopic Artefacts, and regular gigs across Europe. With acclaim coming from overseas and more bookings there than at home, he explains that he's more likely to focus on his own work than notice what goes on around him, describing any local 'scene' as mostly "drinkers and party goers," attending performances from "import talents." When asked what might improve matters locally, he replies, "I guess all we could do to is stop the politics crap amongst ourselves." Xhin saw one of his main influences, Ken Ishii, twice at Zouk during formative years. Last weekend, Ishii played at Home, which is about the size of Zouk's smallest lounge room.
But if Pereira and Spruyt's work pays off, a lasting affection for more adventurous music is within sight. Even Timothy Chia [no relation], head of marketing and events at Zouk, thinks the landscape is shifting. "Now EDM is huge. It's what we play in the main room [of Zouk] lots, but in the late 90s, even up to the mid-2000s, we were playing a lot of credible house and techno in the main room. A lot of it is global dance music trends, what a lot of entry-level clubbers are more familiar with. I guess after a while, for some of them, once they get past all that, they get better-acquainted with dance music and start moving into the more underground house and techno. Looking at the way music's going, we get the sense that a lot of the kids who have been really into EDM are starting to get a bit tired of it, even DJs like Tiesto are starting to play what they call deep house. You also get acts like Disclosure, who are a bit more credible, but they are pop artists as well. So with acts like that, I would say a lot of the kids are more interested in music that is not so commercial or EDM-ish. Very slowly, we're starting to feel it." ~
Published March 27, 2014. Words by Lisa Blanning.