Step Inside Darklands, The Berghain of Shopping
With music and art fueling its pitch black aesthetic, Darklands stands at the helm of Berlin's wearable avant-garde. Daniel Jones explains why the techno world and fashionistas alike flock to the showroom and chats with the store's owner, Campbell McDougall.
Not long ago I walked into a wide, open warehouse near Berlin's central station and I was greeted with the primordial sounds of Lustmord's "Babel." Five minutes later, I was hearing the new Objekt record. No, I wasn't at some mutant rave—I'd just entered Darklands, a high-end shop specializing in the blackest ever black clothes available. Much of its merchandise is in the four-digit price range, making it rather beyond my day-to-day means. But Darklands is as much a place to consume with your senses as with your wallet, and accordingly, it has nothing to do with high-end mainstream fashion. This is the frontier of the wearable avant-garde, though much of the clothes ride the border of wearability, hard. I often have the impression of being surrounded by textile sculpture.
Besides drooling at the rare beauty of the garments and jewelry hanging around the store from the likes of Ann Demeulemeester, Raf Simons, Parts of Four, and of course the demigod Rick Owens, Darklands itself is a pleasure to look at and listen to. The music playing as you peruse the store is carefully curated by owner Campbell McDougall and his staff, and their mixes change frequencies frequently, traversing terrain from jazz to industrial and—importantly for Berlin—ultra-current underground techno.
The atmosphere is almost that of an art gallery, and indeed central to the shop's identity is its use as a space for art of various kinds. On my recent visit, a few weeks after a Ben Frost solo performance to celebrate a sculptural installation by designer Boris Bidjan Saberi, the shop's cave-like basement was temporarily housing Anima-Sound, an exhibition by Evan Sugerman, who is the mind and hands behind the aforementioned Parts of Four. The space was filled with a patched modular synthesizer hooked to a massive black case of sub-woofers dubbed "The Beast." The hand-built rig functions as a display for his latest PoF collection, triggered through several variations of sound by the proximity of the viewer.
This marriage of art, couture and music makes the store one of the most unique shopping—okay, browsing—experiences I've ever had. These days, Darklands is often seen as a kind of Berghain for shopping and counts numerous musicians and famous DJs as regular clientele, among them Trent Reznor, Ben Klock, Function, Richie Hawtin, and Chris Liebing. As McDougall put it in the interview published below, "It wasn't that long ago that big techno DJs would just wear a T-shirt and jeans, but a lot of these guys are realizing that you have to up your game a bit. It's taken a while, but once a couple of those heavyweight DJs started to come in, word got out and eventually it took on an organic path."
Darklands has flourished due to selective purchasing, a keen sense of style, a deep love of art of all kinds, and that ever-so-important rule for a business: unpretentious customer service. Visitors inevitably seeking techno tips will be readily supplied, but McDougall is pleased to offer more well-rounded inquiries. "I see it as an extension of the brand that visitors can get information about a variety of things, be it an art fair, a Swans show or the new Nick Cave movie—which was excellent. Increasingly in this world, everything is driven by a bottom line, by numbers. We're about the craft."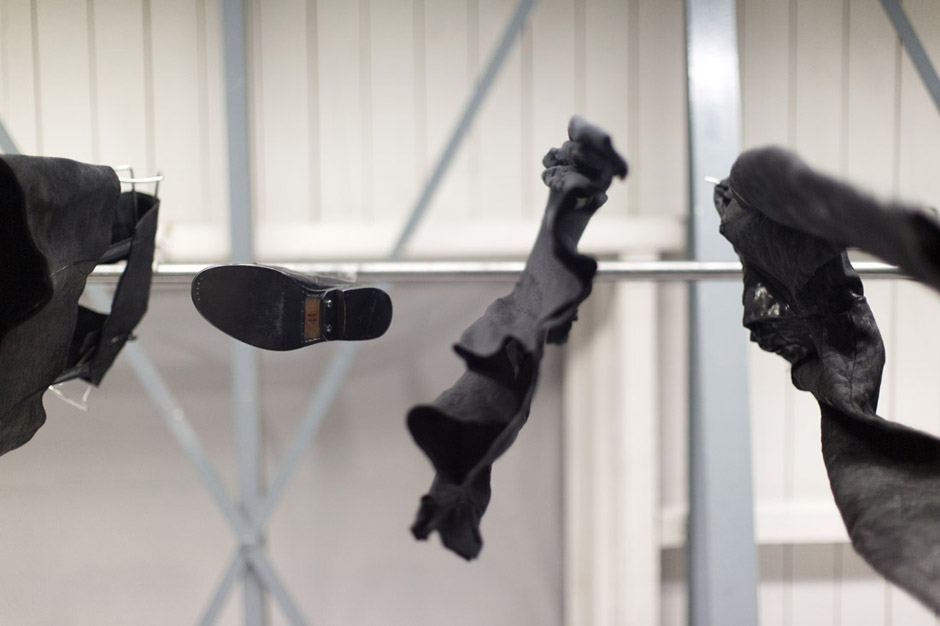 Next, Daniel Jones Sits Down With Campbell McDougall.
Daniel Jones: I saw Ben Klock play once, and he was totally wearing something that he must have gotten from you. It was a big, Maleficent-style collar, and something that looked like a bug's carapace.
Campbell McDougall: In the beginning, I thought some of these heavyweight Berlin DJs might shop with us, but it actually took a long time to happen. It's taken a while, but once a couple of those guys started to come in, word got out and eventually it took on an organic path. That's where we're at today. Ben Klock, Chris Liebing, Function—they all shop at Darklands. It's really cool. The competition is fierce, and for a lot of veterans, there's some cool young guys snapping at their heels, and I think they tend to be a little more ingrained with image and style. Even if you're just behind DJ decks, it's a show.
There should be some kind of visual aspect to it.
It's the same in the rock world. I've seen bands before, and they have that kind of rolled-out-of-bed look. You pay to see the band, and regardless of the music, it's really deflating when you get up there and they walk out and they're wearing a t-shirt and a pair of jeans and some ratty old sneakers. It's unfair.
It has its place, for sure. In the punk scene, nobody gives a shit about that, really—as long as you have the right non-uniform. But for something like Berghain, you're expecting to be blown away on all levels, especially if you're coming in from out of town. When I first went to Berghain, I was really disappointed, because it was so hyped. Everyone was like, "Oh, it's my church." I was actually way more impressed with the Atonal space, Kraftwerk. But when you have somebody wearing really cool clothes, that adds to the whole mythology of the experience, and to your mythology as a DJ as well.
I think most of these guys have realized this, and I've seen it have an impact on our business. It's really cool. Now we get visiting DJs. Mondays are, generally speaking, our busiest days. Everyone's been in LA or New York or wherever, they've been in the clubs all weekend playing, or maybe they're visiting Berlin. When Monday rolls around and they finally wake up and recover a little bit, they have a day or half a day in their hands, and they roll by, sometimes just to check it out, sometimes to shop. It's a really interesting part of the culture. When I lived in Canada, Monday wasn't exactly a day that you prepared for, but it's one of the strange aspects of Berlin. Tomorrow in the shop, I'll be talking to visitors all day long. We have to coach them on what to do and where to go, and you try to explain to people that yeah, you go at 10, 11, 12 in the morning or 2 in the afternoon. At first they look at you blankly, like they misheard you. They can't really grasp that.
Last time we spoke, I appreciated what you said about how you don't consider yourself a "fashion person." You're more like somebody who's curating something. I thought that was really appropriate for Berlin, because it's not a fashion place.
Definitely not.
It's more of an art place. Incorporating fashion and music into that makes more sense than simply trying to sell somebody something.
That's true. When I meet people in Paris that are in the same field as us, or sometimes even what people consider the same "genre" as us, I realize that we, collectively as a company, stick out a little bit. Generally, they, for the most part, are "fashion people." They live in a capital of fashion, read the magazines, follow the trends, and that's not how I spend my free time. For me, it's more about film, or art, or music. That is something that, at the end of the day, is really something that I think defines us and separates us from the other shops.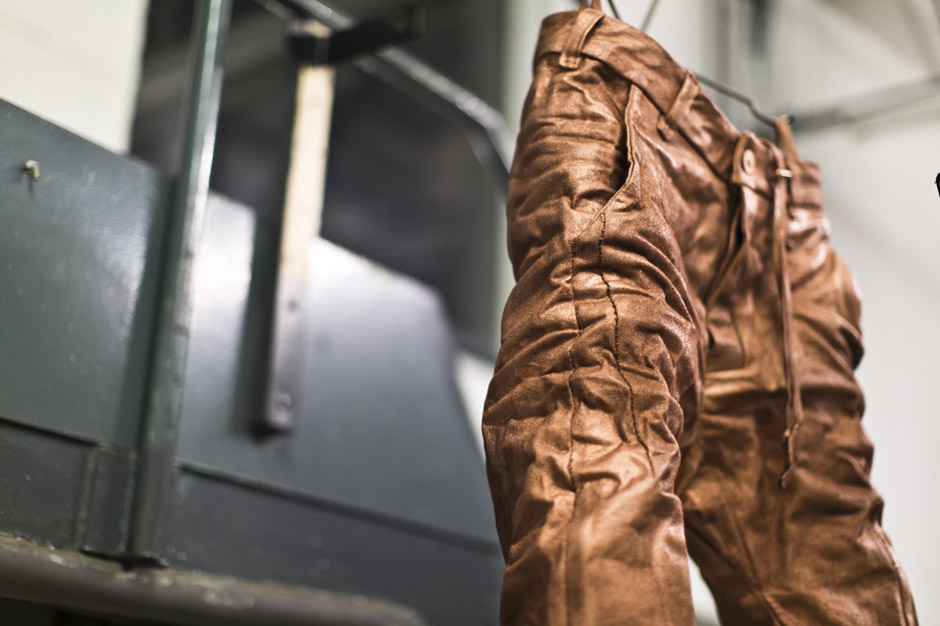 That's really rare, especially in the fashion field. It's really interesting when people twist their medium in a certain way, and make it about their own interests while still going down the same pathway. I like that I can go into Darklands and not feel like I'm in a shop, but rather an art gallery with a great soundtrack. Every time I've been in your store, I've heard great music, and I've been blown away by the displays and by how the clothes are arranged.
Darklands is really an extension of my direction and my personality, and that's not my personal orientation. We don't stand in front of the till having lengthy conversations and gossip about fashion designers—it doesn't interest me or us. I like to talk about Berlin. We're like ambassadors in our own small way for this city. If we're not talking about that, it's very common for us to stand in conversation with clients about film, or about whatever current art fair is on now, or music. Inevitably, a big part involves talking about music, because that's kind of the heartbeat of what Berlin is up to.
That's a passionate topic for me, and also something that benefits us. It's obviously in our best interest to try to contribute to people having a good experience in the city. If somebody leaves Berlin after five days and they really discovered that Berlin that they were hoping to find, they go back home to wherever and they start gushing about the city, and that causes five other people to book flights here. So we try to contribute to visitors having a good experience.
This article originally appeared in the Winter 2014/2015 edition of Electronic Beats Magazine. To read more from this issue, click here, and to read Counting With columns from Helena Hauff, Jackmaster, and more, click here.
Published January 16, 2015. Words by Daniel Jones.