ICAS Suite brings club music to Berlin Music Week, you can win festival passes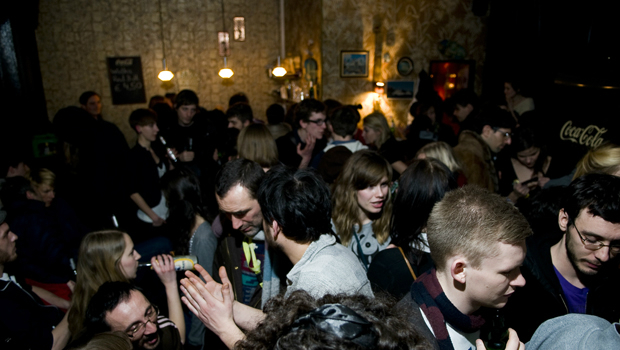 Berlin not only sees the fifth edition of Berlin Festival (for which you still can win tickets to) in a couple of days, a whole entertainment and information programme is built alongside the festival. In its second year, Berlin Music Week (BMW) will once again be hosting discussions on new trends in music and entertainment from a fan and professional point of view. Besides this, the festivals ICAS Suite in cooperation with CTM will be covering all aspects of electronic music.
The network ICAS Suite (an acronym of International Cities of Advanced Sound) consists of around 30 independent, non-profit organizations and festival curators from all over the world, focussing on the international development and presentation of diverse musical cultures and arts.
From September 7-10, ICAS Suite makes stop in Berlin for BMW, presenting a number of interesting showcases. Located around Berlin-Kreuzberg's 'Kotti', ICAS invites you to tiny, sweaty bars such as Paloma Bar, Monarch and West Germany or to bigger venues like Festsaal Kreuzberg and new Blumenbar Club (near Moritzplatz).
To name all of the participating artists would be blowing the space – don't forget to check out the full line-up. Worth mentioning however are the sets of Peter van Hoesen, 2562, Schneider TM, Groove & DE:BUG Magazine dj teams, Jacob Korn and Cuthead, Cosmin TRG, Deadbeat, Ossie, The Mole, Toy Selectah and Kassem Mosse.
Tickets for ICAS Suite are available here as (day) passes from 7 to 30 Euros, you can also merge ICAS Suite with Berlin Music Week Club Night. Or you can win two passes valid for all 4 days of ICAS suite. Simply drop us an email with your full name to win@electronicbeats (Subject: ICAS because you do) until September 2, 5pm (winners will be notified on saturday, September 3 via email).
Off The Shelf weekly in Berlin
Off The Shelf is a new weekly club night, which will be hosted at the recently re-opened Pigalle in Berlin's Neukolln district.
The weekly party will be a unique chance to see some of your favorite DJ's, producers and figures from Berlin's infamous music scene in an intimate surrounding but also playing the kind of music that they rarely get a chance to play.
DJ's who have been confirmed to share their musical passions in the coming weeks include Nick Höppner, Deadbeat, Exercise One, Bloody Mary, Mathew Jonson, Lee Curtiss, 2562, Disco & Mercy, Bill Patrick, Paul Surefire, Frivolous, Philip Sherburne, Maayan Nidam, Guillaume & the Coutu Dumonts, Heartthrob and more.
The next few weeks looks something like this:
17 Feb – Deadbeat & Exercise One play dub, roots, breaks, post punk, industrial, new wave.
24 Feb – Jeremy P Caulfield – Film Scores // Ambient // Post Rock // Spagetti Westerns // Hip Hop
3 March – Nick Höppner plays indie, post rock, electronica and hip hop.
10 March – TBC
17 March – Peter van Hoesen & Exercise One take us from sixties garage to post punk/ebm…. somehow.
24 March – The Mole & Deadbeat
31 March – Daniel Rajkovic & Exercise One play rockabilly, post punk, new wave and industrial.
7 April – Marc Houle & Dave Vega
28 April – Exercise One play the hits
5 May – Scuba
You can find Off The Shelf every Thursday, starting February 17th @ Pigalle, Sanderstr. 17, Neukolln 12047. Berlin. 20:00 until late.
2562 to head up When In Doubt
2562 aka Dave Huismans is not only a producer known for his obsession with numbers, but also for his perfected bass/techno sound. Producing music under various monikers such as A Made Up Sound and Doghaze he has so far released most of his productions on Tectonic Recordings as well as a clutch on his own imprint 3024.
Now a new label from the Dutch producer When in Doubt has become the exclusive platform for 2562's music with the aim of the imprint being to release "personal, formula-free music". The first 12" of this new partnership is 'Aquatic Family Affair' limited to 300 copies on blue vinyl that come in hand printed sleeves. There will be no digital release of this track. The flip side will be 'This Is Hardcore' and you can listen to both here. 2562 will release his full length in April this year.
2562 – Aquatic Family Affair
2562 'Aquatic Family Affair' When In Doubt (doubt000) a side by stholdings
When In Doubt will release 2562's first single Aquatic Family Affair on February 7th. Make sure you also check out his live set at Fabric over at Red Bull Music Academy Radio.