Eskmo to use almost every noise sources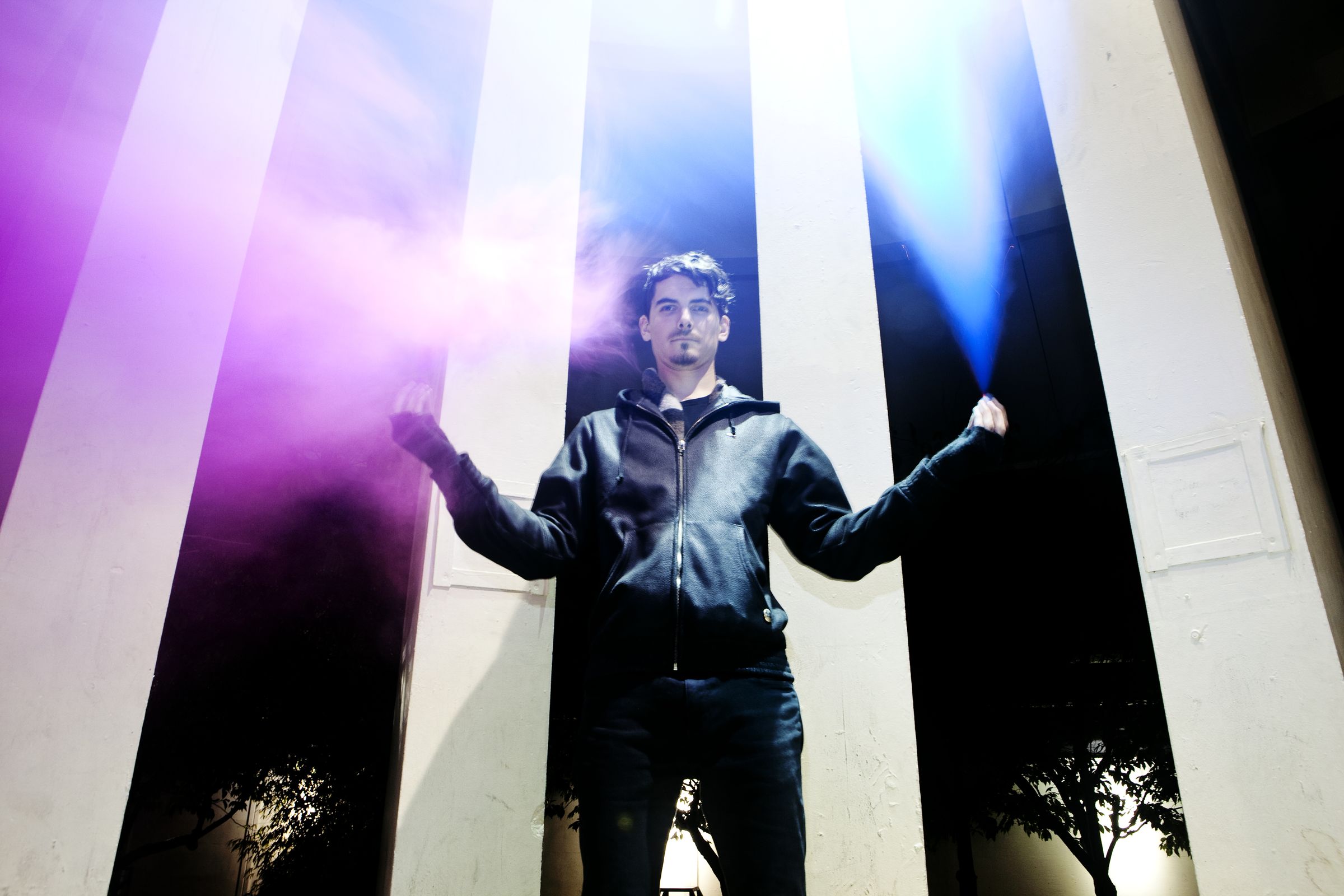 Seeing two Eskmo gigs on the same tour is a fortunate experience as you have the chance to discover the same tracks in different forms. Both at Sonar in Barcelona and at Hungary's Balaton Sound we were met with a massive, but tender, analogue rumbling from the Ninja Tune pioneer. San Francisco-based Brendan Angelides supplies the crowd material that stands apart from genres and is inspired by the sounds of nature. We caught up with him a day before his Balaton Sound show when he was hanging around and collecting some temporary "instruments" for his set.
Talking about the unusual sampling process you apply on stage, does it depend on the venue, or do you have a basic sound source collection for that?
Yeah, it depends on the venue. It's a kind of improvisation with a lot of tools.
How are you collecting the items?
I just walk around and search for random objects. Then I bring them to the stage and check if they fit into any part of my set.
And here at Balaton Sound how is your mission going?
I will start searching for them tomorrow, on the day of my gig. I'm going to walk around here at the festival open-eyed. Actually I don't need so much time for it, I know what types of stuff I could use.
Why do you turn your instruments towards the audience? It's not very usual.
I'm quite tall, that's the simple reason. I can reach everything easily from that position. And of course it is more spectacular.
It would be interesting if you would also record your hands with a camera to bring your live act closer to the audience.
I already thought about it, but I have to find the way to make it feel natural, back and forth. I'm responsible for the visuals, but the live camera would make the process more complicated. I have to figure out how to realize that.
Do you intend to record some of your live gigs to release then on DVD? As a fan of your last album I can say, that it could be even more fascinating than the audio versions.
I am not planning it for the near future. Maybe for the next album it would be great, but I don't know yet.
Do you already have a concept for next album?
Oh, sorry it is too early to speak about it. Now my focus is on the tour, and who knows what comes next?! Right now I am not writing anything.
Do you want to step forward in post-dubstep? This is a commonly used term to describe your sounding.
I don't even know the exact meaning of post-dubstep. I never wanted to make directly one style of music. It would be whatever I do, I don't know. I wouldn't even try to make dubstep, of course. Dubstep is like tempo, that's all.
It seems to me that you don't like calling your music dubstep.
No, no, no, I don't. It is just an element of it.
Could you mention some other elements?
What I produce includes dubstep and furthermore pop, hip-hop, for example techno and maybe 2-step; a bunch of genres.
In your sound, do you do anything especially for your label, Ninja Tune?
I always do original works, maybe you can discover something which connects me to the label, but I can't give you the answer.
Will you make another album for them?
Yeah definitely. We have been really good mates since we started to work together, and also they have a very strong company behind them, including the publishing team. So they make things easier when people don't actually buy as much music as in the past.
Balaton Sound: Break Rubik's Cube with Eskmo
At the beginning of July, the fifth Balaton Sound, Hungary's premiere electronic music festival, was held as before at the largest lake in Central Europe. The line-up was old fashioned in a way, with less upfront music, but this once again Balaton Sound had a record number of visitors.
Before the sunset, the extreme hot weather weakened people too much to dance or even move closer to the stages. There were far too many stages, so lazing around in the water wasn't the best way to concentrate on certain stages, only for listening to a flow of noises. The crowd sometimes melted together at the main stage for a huge rave with Tiesto or Underworld, but we preferred to visit our favourites like Magnetic Man, Azari & III, Simian Mobile Disco, Rusko, Portishead, who had their first ever gig in Hungary, local trip-hop talents Sadant, or Irie Maffia. The most anticipated hidden treasure of the festival was Eskmo from the Ninja Tune family. The San Francisco-based producer normally plays at prestigious venues, but here the organizer's focus was on more well-established productions. For us, however, Eskmo was the main attraction on the festival. His enthusiasm on stage is exemplary, as he uses random found extra instruments, even including dry shrubbery and plastic garbage. He delivered his unique post-dubstep wrapped in a pleasant but broken chilled atmosphere, crackling voices layered on a beautiful and extremely deep laid back mood.
Before the gig the EB team surprised him with a Rubik's Cube, a Hungarian symbol. Now instead of the mechanism of the puzzle, it's creaking sound as it was twisted became Eskmo's new weapon. His intense and passionate moves and sweeping gestures eventually caused the cube to suddenly break in his hands. Pieces exploded all over the stage, causing the audience to explode themselves….with applause.