Videodrome 106 – This week's best videos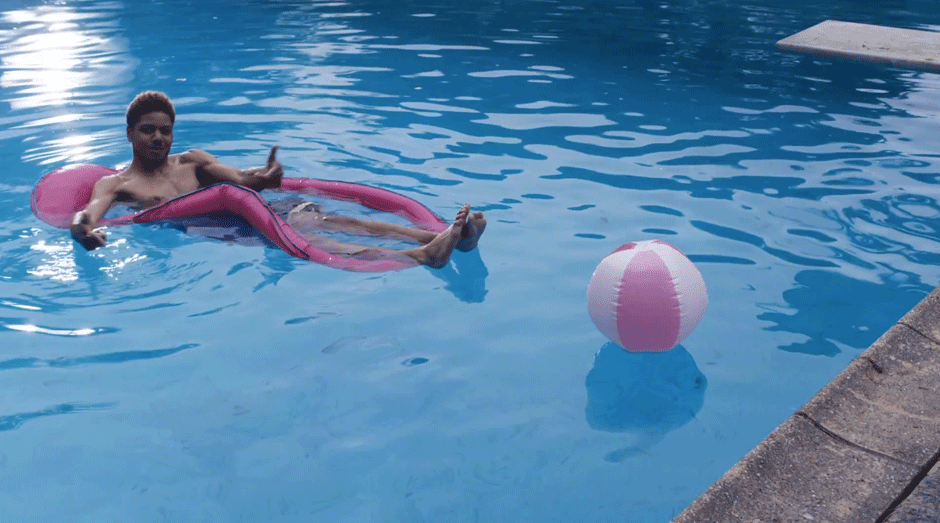 In this week's Videodrome: audio-visual joy from the likes of Kanye West, Pantatones, Westbam and many more to explore.
#1 M/M – "8 (Dub)"
A trippy video for an excellent track, M/M is Brooklyn's Michael McGregor, and I actually can't wait for more.
#2 DonChristian – "My Crew", directed by Sam Jones
The first time DonChristian appeared on our radar was back when Le1f was releasing his first mixtape. Watch the video and you'll feel the Le1f-vibe: high fashion, beautiful people and cool art direction.
#3 Pentatones – "Bonfire", directed by Kristin Herziger
Last month, Pentatones released their first full-length and "Bonfire" is the killer track on it. Watch the accompanying video above.
#4 Postiljonen – "Atlantis", directed by Ty Olson
In this video, which actually looks like a car commercial, you can learn what the music is like on Skyer, Postiljonen's soon to be released album.

#5 Real Lies – "Deeper", directed by Rollo Jackson
Real Lies' World Peace/Deeper 12-inch is just the first drop of an awaited trilogy of 12″ releases on the up-and-coming London imprint Sweet Exile. Here music video director Rollo Jackson, who has made videos for the likes of Hot Chip and Squarepusher, has produced a pretty decent clip.
#6 Samantha's Vacation – "Samantha's Vacation", directed by Christine Jones
Man, what's going on with these clips for 12-inches? Back in the day you needed a major label contract in order to come up with a cool music video on a little budget. Here's the second one this week, brought to you by the always inspiring L.I.E.S. imprint. Ace track!
#7 Westbam feat. Bernard Sumner – "She Wants", directed by Johannes von Liebenstein
Maximilian Lenz aka Westbam has released another full-length album this year which is packed with collaborations. One of these collaborations has Bernhard Sumner of New Order-fame on top. Can you handle this?
#8 Sigur Rós – "Brennisteinn"
Woah. Cool new Sigur Ros track off of their Kveikur album, which was released earlier this year through XL Recordings.
#9 Kakkmaddafakka – "Someone New" (Roosevelt Remix), directed by Erlend Øye & Marcin Öz
Some days ago the Norwegians dropped their Erlend Øye-produced album Six Months Is A Long Time, here's the Citron-esque video for the Roosevelt rework.
#10 Kayne West – "Black Skinhead", directed by Nick Knight
Cant believe this is the first video for Kanye's Yeezus album. Pretty low budget and flat idea—or is it a leak of the unfinished version?
The Big Pink release new single and album details
4AD electro-rock duo The Big Pink have just released the full details on their second album Future This. With help from Florence & The Machine producer Paul Epworth, the new record finds their trademark punchy tunes sounding more infectious and nuanced them ever, if the latest sample is any indication. Like the album's first single 'Stay Gold', the Laurie-Anderson-sampling 'Hit The Ground (Superman)' is a cinematic pop masterpiece that sucks you in from the first ten seconds. Future This is out on January 16/17.
Many record labels affected by London warehouse fire
Countless small record labels that are distributed by PIAS have suffered potentially devastating losses in a warehouse fire at Sony's distribution centre in North London. SonyDADC handles distribution for PIAS, who in turn supply records from the likes of 20:20Vision, 4AD, Warp, Border Community, Brownswood and Buzzin' Fly to independent retailers across the country.
The building was set alight during the disturbances that have taken place in London over the last three days. Many musicians, artists and label owners have taken to social networks to express their dismay at the situation, with some saying that this could send already struggling independent retails out of business.
A video of the fire can be seen over at the BBC.