Erol Alkan – Interview and exclusive track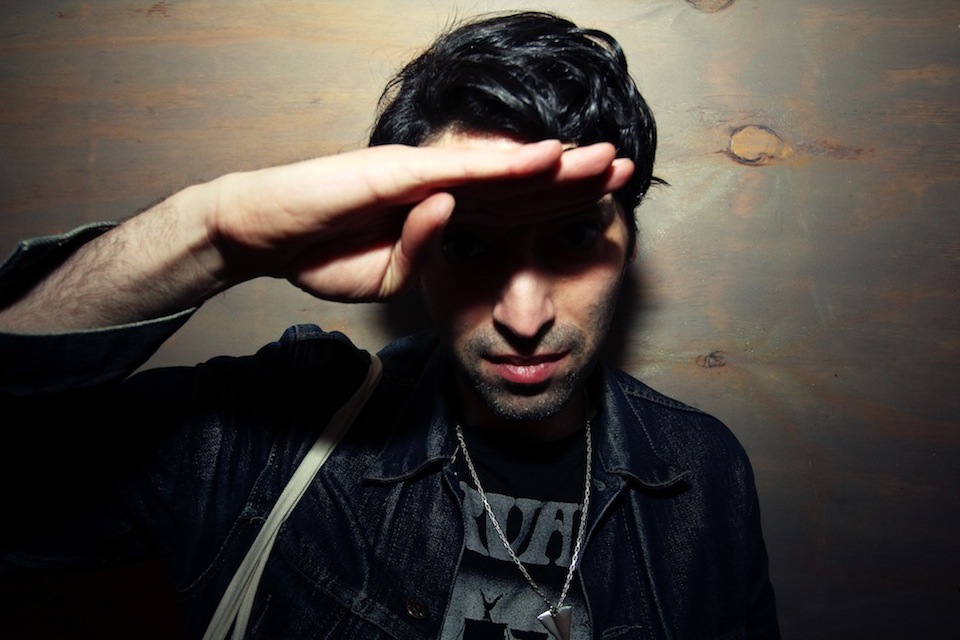 Erol Alkan was a demigod when I was a graduate in London way back when Monday nights meant one thing: Trash. His night, along with a handful of other alternative parties like Nag Nag Nag, helped wrest London's nightlife from ailing superclubs and beer-stinking discos. In 2005 he released his acclaimed Bugged Out mix, but, just when the mainstream was ready absorb him into its clammy embrace (Hello, Mixmag DJ of the Year 2006) he slunk off to produce indie bands.
That's not to say he's been taking it easy; this month sees a new collaboration with Switch due to drop on his label Phantasy and, intriguingly, he's also had a second pop at putting together another Bugged Out mix. To mark this occasion we've got an exclusive track from the Bugged In disc, a rework of Mickey Moonlight's 'We'll Meet Again'. We also collared him for an interview, ostensibly about the mix, but in reality it became something more interesting: a chance for the tastemaker to put the world to rights. Listen up.
It's been five years since Trash stopped running but it seems like the clubbing landscape has changed inalterably; there's less purism and terms like post-genre have gained traction. Is it something you've noticed as a DJ?
When people talk about what's happening in the mainstream it doesn't register with me, I don't really pay attention. Sometimes I do take a look and see what's going on and it horrifies me.
Horrifies you?
Distillations of what … I might have been part of a while ago and where it's led. I think just being a DJ in general is kind of … [long pause] I'm trying to be nice … The best way of putting it is that being a DJ has become almost like an option for people who want to be famous. I feel the same thing about bands though. There's a lot of a DJs, a lot of bands, there's a lot of everything. There's just a lot.
Do you think, now more than ever, it's important to have some kind of quality control?
There's too much shit out there, absolutely.
It seems to me that when we need those filters the most; they're buckling under the strain.
Yeah, the screen's too bright. You have the entire history of music on your mobile phone and as incredible as that is, it's dangerous. It puts the individual at a loss because you don't know what you want. Limitations are something to be embraced and celebrated; you then have to think on your feet. You can drive yourself into psychosis if you think about what you potentially have at your fingertips.
There was the recent news that teenagers' were mainly listening to music via YouTube. I wonder what the ramifications of that will be.
Well, it ensures that any music that is made has a visual accompaniment – which is one positive. Sonically, at this point, it doesn't sound good but that will change when bandwidth is wider. The negativity towards compressed audio will soon disappear. It could lead to audio and visual being approached in tandem, at the moment the visual is secondary, but how to make it less to? But whether or not kids are buying CDs? I understand if kids don't want to do that, it's not in their generation to do so, just like there were certain things in my generation that we didn't do.
I was going to ask you what you of what you felt about this movement towards outsider's making dance music – 100% Silk for example – the idea of this anti-purist mentality seems to align well with what you've done over the last few years.
Yeah, I have some of 100% Silk's records, I like that all this stuff sounds like it comes from a fifth generation cassette. It's quite skewered music and I've always loved that.
One of the things that has come out of this exposure to the entire history of music is that it's allowed artists to try and recreate processes without really knowing how.
I love it when people try and do something and get it totally wrong, that's how the best pop music is made.
I was intrigued to see that you mixed the latest I Love Techno compilation, it's not something I would have associated you with, necessarily.
It was a challenge. Track wise, there's stuff on there that you'd know from me but then there's a lot of other records like a new one on L.I.E.S called 'More Bad News' and Blawan. I mean Blawan isn't classically techno in a sense but he feels techno to me. That 'Why They Hide Their Bodies Under the Garage' track is like Chemical Brothers at their weirdest; strange, left field club music, as much punk as it is bass music or techno. That feels like outsider music to me. I don't know what people would expect from me doing an I Love Techno CD but I wasn't going to an 80 minute ascending synth tone with snare rolls. If I can go in and put these records out there of course I'll do it.
We're back to that idea of electing cultural arbiters.
We also need people to go out and stop being such fucking crowd pleasers. Be interesting.
Deadstock 33s vs Stopmakingme
Justin Robertson is a true pioneer, innovator and champion of house, techno and all kinds of electronic music in the UK. A Hacienda DJ and key figure at Manchester's Easter Bloc record shop, he has released music under his own name and a myriad of aliases such as Gentleman Thief, Revtone and Lionrock. Stopmakingme on the other hand is a new face, fresh on the scene and full of the manic energy you would want from a whippersnapper music producer. Recently they have come together to revitalise Roberston's Deadstock 33s project and together they have released a joint EP of stunning future disco that knows where it's coming from and yet has it's eyes set firmly on the future. Coming from distant ends of the dance music continuum we thought we would ask the duo to interview each other about whatever they want and their answers are entertaining and illuminating. You can check out a stream of their E.P at the bottom of the page.
Justin Robertson to Stopmakingme
What was the first piece of music that blew your mind and what was the last?
Watching Kermit sing 'Once In A Lifetime' on The Muppet Show as a child definitely affected my young mind in quite a drastic way. It remains my favourite song. Recently, the Legowelt remix of Wolfram has been knocking me out with its uber camp brilliance.
If we became stadium DJ's a la Swedish House Mafia, I would wear a diamond encrusted Inverness cape and silk deerstalker. What would you wear?
I was obsessed with Slipknot and Marilyn Manson in my teens so I'd have to take the opportunity to don masks and make up. That's not very bling,though, is it!? Maybe I can wear a diamond-encrusted boiler suit. Failing that, I'd definitely track down Paul Oakenfold's Chinese warrior armour (Google that shit!)
What is the job of a remixer?
All it ever is, in my opinion, is to put your own personal take on a record. To bring out and exaggerate elements of the original which work for you. If this means your remix comes out sounding totally different, then cool. I find it fascinating how everyone can interpret music differently.

What album or tune brings the sunshine?
Underworld 'Two Months Off'

Outside of music what gives you inspiration?
I studied English and Film at university so literature and movies mean a lot to me. Just listening to anyone who is enthusiastic and passionate about creating something out of nothing and working hard at their craft. That and Mars Bars.

If your music was the soundtrack to a film describe the movie.
That's a tough one. I have no idea. Although I'd like to cast Brigitte Bardot (circa '63) in it. And Bill Murray. Kevin Shields' soundtrack for Lost In Translation in unbeatable.
Is there still artistry in Dj'ing ? Does DJ software diminish or enhance the performance?
Yes, absolutely. I've been asked this question a lot recently. Anyone can tell a joke but not everyone can call themselves a stand-up comedian. In the same way, anyone CAN now play records in clubs but there is so much more to it than that. There is a passion and energy which I can see running through all my favourite DJs and it cannot be faked.
What was your "road to Damascus moment" when you realised electronic music was your thing?
There have been a few but the most vivid is listening to Mary Anne Hobbs' Breezeblock show on Radio 1 as a teenager. There was a Chemical Brothers special in which they talked about and played some of their inspirations. My eyes were suddenly opened to how club music is informed and affected by pretty much every other genre and that's what makes it so exciting. The moment they played 'Temptation' by New Order sealed the deal.

Do you have a favourite spot in London or anywhere in the world that brings you joy or stimulation?
In terms of clubbing, I still get excited every time I walk down the stairs of Fabric. The End (RIP) used to have the same effect on me too. As a city, New York has a special feeling in the air which I have not experienced anywhere else in the world.
If you had an airline what would you call it?
A-Very Special Airline…. what a cheesehead…
Stopmakingme to Justin Robertson
When you were playing at The Hacienda, were you aware you were part of something special? Did it feel different to other clubs?
Yes the Hacienda felt like no other club. It had a sharp design aesthetic – the whole factory package. Plus at that time you really didn't have any "cool" clubs, they were all shirt n tie Ritzy places. I think Peeter Hook said they started the club so they had somewhere to go that would let them in! By the time U was playing there it had become the most exciting club in the world in my view, totally unique, impossible to repeat, just a perfect storm of music, drugs and energy.

Who were your DJ heroes when you were starting out?
I used to listen to MP2, that was Mike Pickering and forgotten hero Martin Prendergast, and they were dropping all these early Chicago house tracks. Pre acid house, everyone was dressed up in suits and rare groove togs, but jacking to this alien machine music. I love Jon Da Silva too he was digging deep, mixing disco with house with dancehall reggae. I used to knock on his door in Moss Side and pester him to use his decks! I was selling them all records at eastern bloc, a magic time. Andrew Weatherall has always been an inspiration, always fresh and interesting .
It's apparent to me that one of the keys of your longevity is the amount of hard work you've put in. You've earned a huge number of friends, fans and followers (and maintained them) by consistently being able to 'rock the party' and show people a good time. Do you still enjoy it as much as ever? It definitely seems like you do.
Yes absolutely , as long as the music stays fresh, thats all the fuel I need! Its also all I've ever done!
I love how you give away free Deadstock 33s edits. When you listen to tracks, do you often think about how they could be extended or made to work for the dancefloor?
I sometimes try and find a track thats crying out for a more DJ friendly arrangement in some cases, but often I try and pick weird ones that you wouldn't think of in a club context, like Hawkwind's "Aubergine that ate Rangoon".
Your record collection is immense and you've told me it's a fraction the size of what it once was. Do you ever regret downsizing? Are there any records in particular you'd be keen to get again?
I'm on the hunt for a few Italo house piano anthems, but to some extent i'm happy having a great collection of stuff i love rather than a library.
What makes playing a night like Bugged Out so special?
The energy of the crowd and the fact you can play interesting forward thinking music. In fact people demand it!
I'm interested in the period when you first met Tom & Ed [The Chemical Brothers] in Manchester as they cite you as an influence. What kind of records were they most into? How did their remix of Lionrock come about?
They were always on the floor at Most Excellent and Spice and would pop into the shop a lot. I think they always dug the chunky 110 end of the night tunes the most – Renegade soundwave, My Bloody Valentine etc, we often found ourselves at after parties going through records. I think the remix came about after "song to the siren" came out. I loved that record I'd remixed and produced some tracks for Ariel, Tom's old band, and when Ness [Tom's girlfriend, now Wife], who worked at Deconstruction suggested it and I jumped at the chance. I think it may have been their first remix?

Which producers are getting your juices flowing right now? It seems like you're still delving into lots of genres.
I'm digging Golden Bug, People Get Real, moullinex, kink, mountaineer, Diegors, Die Vogel and Abstraxion today!
So, you've finished an album?
Yay! 13 tracks of drone disco, Balearic pop and space dance.

Do you plan on making any more music under your real name again?
Hmmm, not sure as I quite like my pseudonyms! Seems to allow me to express my schizophrenic self.
The Deadstock 33s & Stopmakingme by Daniel Avery/Stopmakingme