We listen to a lot of music. Like, a lot. It's pretty much the point of our jobs, of course, but there's another reason: we love music. We love buying records, we love going to shows, and (okay, sure) we love finding spur-of-the-moment leaks of heavily-anticipated albums, just like (we hope) you. Music is pretty much our lives.
Rather than operate as a music news source, EB.net operates more as a music information source. We want to share with you; we want you to know what we're hearing. Welcome to Editor's Choice: our weekly playlist of what's making our ears burn.
Walter (Community Manager / Editor)
HEALTH – 'Tears'
Never been much of a gamer, but HEALTH's score for Max Payne 3 might actually get me in front of a console (as long as someone hooks me up with a free Xbox 360 and/or PlayStation3).
Floating Points – 'Sais'
Originally released eight months ago, Floating Points 'Sais' got me going again during the last few days. And with today's sensational announcement at CERN's Large Hadron Collider, the music video by Will Hurt is kicking even more ass.
Daniel (Editor)
Fight Bite – 'Michael'
The leisure of luxury, cold-compressed into gauzed perfection. I dreamt an angel's touch washed over me.
The Cathode Terror Secretion – Purifier
"Bend your face to kiss", she said. "Bend your arms to hold", but she gives nihil back. This is the chorus. This is inspiration.
Max (Editor-in-Chief)
CAN – 'A Swan Is Born'
A perfect example of CAN's ability to write moody, hypnotic and timeless music.
Moritz von Oswald Trio – 'Fetch (Preview Mix)'
I admire Moritz von Oswald for never losing faith in his music and continuing to deliver inspired instrumental tracks. Listening to 'Fetch', I wonder how it would have sounded if von Oswald played it hard with Miles Davis.
Alex (Editor)
Otto von Schirach – 'Salpica (Miami)'
Hard hitting, easy listening Miami bass from Berlin. "Salpica" is Cuban for "Back the fuck off". I will not. More please.
Polysick – 'Flight 707'
Warm, analog sound travels, motorized by layers of utopic strings, acid bass and syncopated everything. B-side off 'Nightwalk' 7″ released by Big Love Records.
Michael (Duty Editor Print)
David Bowie – 'Let's Dance'
Last Sunday, 11am. In the Grantler, that unrivaled techno-club at the Fusion festival where they serve bavarian wheat beer and the hostess wears a dirndl. Twenty-five diehard partygoers just gave it up for Dirty Doering, who left me dizzy with a memorable eight-hour set full of sexy electronics and subtle techno peaks. Suddenly a new guy showed up and took over the decks with 'Let's Dance'. It turned the scene into a holy mass.
Dirty Doering – 'Dr. Nagel'
Speaking of: If you happen to be in Berlin tomorrow (July 5th!) you might want to check out Dirty at Kater Holzig, where he'll be opening the weekend at one minute to midnight.
Moritz (Duty Editor Online)
Planningtorock – 'Patriarchy Over & Out'
'Patriarchy Over & Out' is Janine Rostron's excellent new single, out on the first of August on her very own DFA imprint Human Level.
Luvian – 'My Life'
This intense highlight of Luvian's Jams EP is exactly the kind of dope summer track I like to listen to when cycling through the streets of Berlin.
–
photo by Viviana Druga, http://www.vivianadruga.com/
Audioccult Vol. 12: Magick Mirror Edition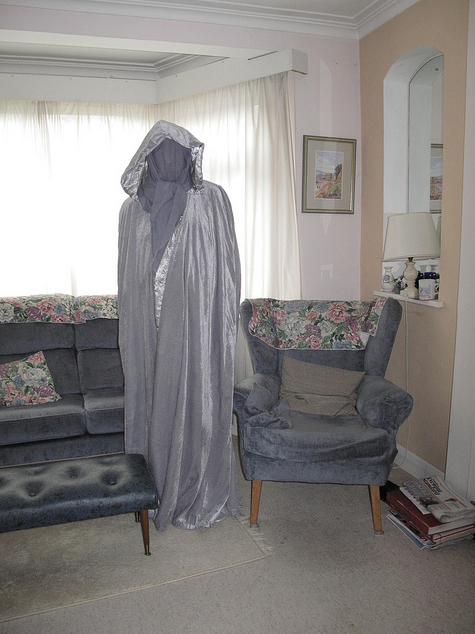 Light a candle. Draw the required sigils. Now, do you have your Magick Mirror? The secret of mirrors is: they're ALL magic, because they reflect the falseness of Physical Reality, rather than the truth of Spirit. Or some bullshit, who cares. This is Audioccult, and it's time to get low.
HEY KIDS!!! It's time for another AUDIOCCULT, featuring plenty of things to make you rage. You know the drill by now, it's as easy as
1. TAKE OUT YOUR MAGICK MIRROR
2. SIT BEHIND YOUR COMPUTER (SAFETY POSITION) WITH THE MIRROR FACING THE SCREEN
3. THE SECRET TEXTS WILL BE REVEALED BETWEEN THE LETTERS! LEARN THE SPELLS TO MAKE YOUR EARS ASCEND INTO THE SPIRIT REALM
_______________________________________
Have you ever entered a mental space where you suddenly, inexplicably need to listen to some weird-ass trance music? Well, I have, and for a person who's not very interested in clubbing, it's an odd compulsion. Don't send in any prayers or worried emails; two sick remixes have me covered for now. White Ring twist Armin Van Buuren's 'I Don't Own You' into an acid-flavored ballad, complete with those chunky-deep 'hey's thrown into the background and Pikachu punctuations on the chorus. Watch out for that third drop, boy. Ana Caprix goes even harder and hazier with a remix of 'Alien' by Ritualz. This is ForeverRave to resurrect ghosts.
A new obsession is a slightly older release, but one that is highly worth your time. Thee Source ov Fawnation's beautiful cassette I Missed You, Black Diamond came out in 2011 on Healing Light Records, and it's fairly rare and hard to get ahold of. Vocals alternate between wails of pain and blues-influenced chants, giving off a sort of Jay Munly-meets-Blixa Bargeld vibe that makes me drippier than a faucet. The nine-minute+ opener 'Hello Black Diamond' is my favorite, a ritualistic drone piece that evolves into a throbbing, industrial-flavored space jam.
SpaceghostPurrp's Mysterious Phonk is on repeat as well. The LP, essentially a better-recorded version of older tracks, dropped a couple weeks ago, and repeated listens have given me further proof that 4AD are once again one of the greatest labels in existence. 'Bringing The Phonk's claustrophobic, hypnotic flow is deadly, and I feel like a ghost. I'm already dead and this is my ringtone.
Hundebiss is another label that never seems to stop releasing nice things. Their latest offering is from the great and godly duo Angels In America, marketed under the moniker Angels USA. A no wave junk opera in the vein of John Gavanti, VH1 Drunk mostly features the voices of both members and a whole lot of spaced-out, noisy synth noodling. Best observed completely sober, as is literally everything in life.
The secret of the Magick Mirror is that it reflects the fact that you're trying to find truth in a computer screen…which I suppose is as good an explanation as any. Real truth is in music, and if you like a rich, creative music scene, you're probably more creative than rich. If you're local to Berlin, you should let GEMA know that you don't want them to dictate how much you should pay or charge for your party. I'll be attending this demonstration against GEMA's ridiculous tariff hike. If you care about independent music, I hope you'll also be there.
When he's not writing and editing for Electronic Beats, Daniel Jones is a music promoter and creator of the subculture reconceptualization & aesthetics tumblr Gucci Goth.