Perfect Ten: Diode and Rick Holland answer ten questions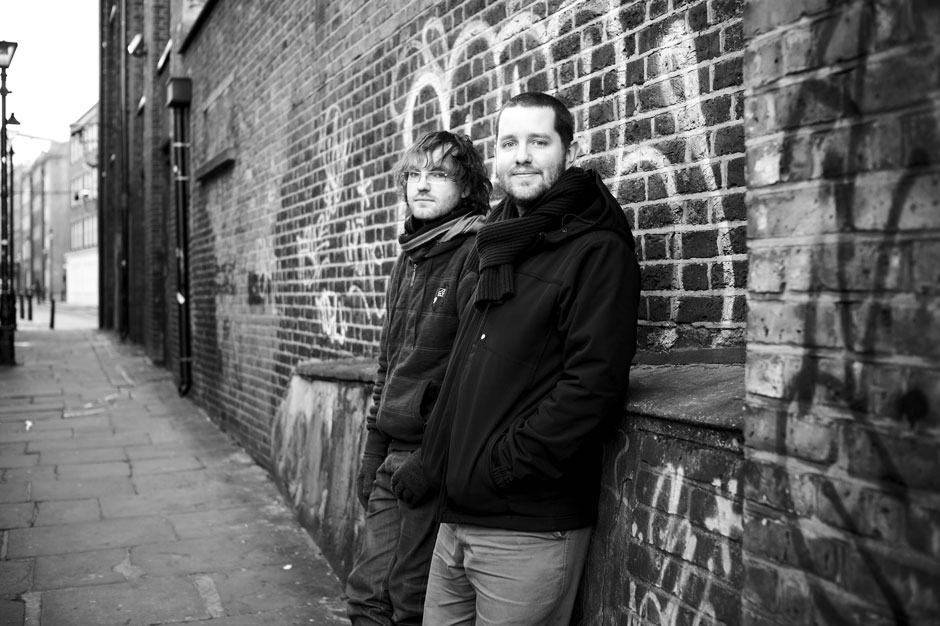 In Perfect Ten, we ask an artist (or artists) to answer ten questions. Today, we quiz the British duo of grizzly electronic scientist Diode and poet—regular lyrical collaborator with Brian Eno—Rick Holland. Together, the pair have enlisted the vocal talents of  I Am Fya, Beth Rowley, Chris James (Stateless), Onallee (from Roni Size's Reprazent)  and Andrew Plummer to create an unusual combination of digital production, soulful voice, and hyper-modern sensibilities. We're also offering you the opportunity to stream their new album The King Krill in full, at the bottom of the page, as well as a download of Om Unit's remix of their track "Open Blue".
Rick Holland:
What's your spirit animal and why?
A wolf. Exquisite hunger. Sometimes mis-channeled.
What defines your music-making process?
Imagination and vision, then usually intelligent compromise.
Latest find on Soundcloud or Bandcamp?
East India Youth (released on The Quietus' new label)
Do you have any predictions for the future?
We will become happier as we begin to fade.
Diode:
Your most memorable show?
Was with this project, playing at Mr Wolfes in Bristol: tiny venue, massive crowd. The place was heaving and the stage is so small you have the audience spilling onto it, dancing around you. Wicked vibe.
An album or artist that changed the way you thought?
Hmmm… tricky, there are so many albums/artists that have had a profound impact on me. Anything that came out in the '90s on Virus, their approach to synths and drum programming really got me thinking and got me into moving beats off pulses.
What does underground and mainstream mean to you?
I don't think there's a clear division between the two, things slide between various shades of gray. In a sense, I would say that the underground is freedom and the mainstream is foolishness (for me at least). It's not really about trying to be something that you're not—if you're not into music with a mass appeal, you're probably not going to be that good at making it.
Should music be free?
Potentially—I think it depends on the process. I don't think the current situation is very good, in the way there is a lot of freedom but the pressure is on the artist to give away as much as they can just to get a look in. I suppose the real answer is that it's never free, it's always a trade. The difference is now people pay in clicks, likes and views.
Latest find on Soundcloud or Bandcamp?
Itoa, badass dancehall tings.
One thing you can't live without?
Rick Holland calling me to sort things out.~
You can stream the entirety of Diode's & Rick Holland's new album The King Krill, released via WW Records on March 26th, below.
And listen to Om Unit's remix of Diode's & Rick Holland's "Open Blue" featuring Beth Rowley below. Click directly to their Soundcloud page for a free download of the track.
Rick Holland & Diode are 'Still Silver'
You might recall our recent feature with tech columnist Steven Levy and British blogger/poet Rick Holland. Since then there's been plenty of activity behind the scenes, including a new video from Holland. Shot in stark black-and-white, 'Still Silver' is the second single from his collaboration with Diode, and features the vocals of Chris James. Gloomy, beautiful, haunting…..all the keywords that make us sit up and beg. This is how you turn silver into gold: it's audio alchemy.
Coat of Arms very successful debut on Futureboogie
If you are not aware of UK-based duo Coat of Arms, then maybe they will be better described as Futureboogie's hottest new act consisting of Birmingham's own Chris James (founder of Dubnoir label) and Eats Everything (Pets Recording, San City High) hailling from Bristol. Together they have combined their deep house, disco, funk and soul influences to create what they call 'bumpin house', the kind that has the subtle power to keep you boogying on the dancefloor at 5 in the morning, whether you want to or not.
With just one track under their belts, the British boys have already risen to fame – boasting support from the likes of Claude VonStroke, Julio Bashmore, Catz N Dogz, Justin Martin and Maya Jane Coles to name a few. The debut single 'Is This Something?' features on Jamie Jones' new mix for 'Fabric 59' out in August, and has been dropped in countless sets surrounding its release last week. It also stars on Futureboogie Recording's Summer Riot EP along with fellow label artist's Lukas and Behling. Sampling snippets from a myriad of sources, including Faith Evans 'Love Like This' (check her out at 1min57secs in…"this is something I wanna hold on to"), and transforming it into a sexy Burial-like vocal with Detroit-esque synths and big bass. Put it all together and this is what you get:
Coat Of Arms – Is This Something (5AM Original Mix) (Futureboogie Recordings) by Coat Of Arms Music
With a forthcoming track soon to appear on Catz N Dogz label, Pets Recordings, these guys' spacious house beats are definitely the one to watch. Interview with the pair to follow shortly.