Videodrome 67 – This week's best videos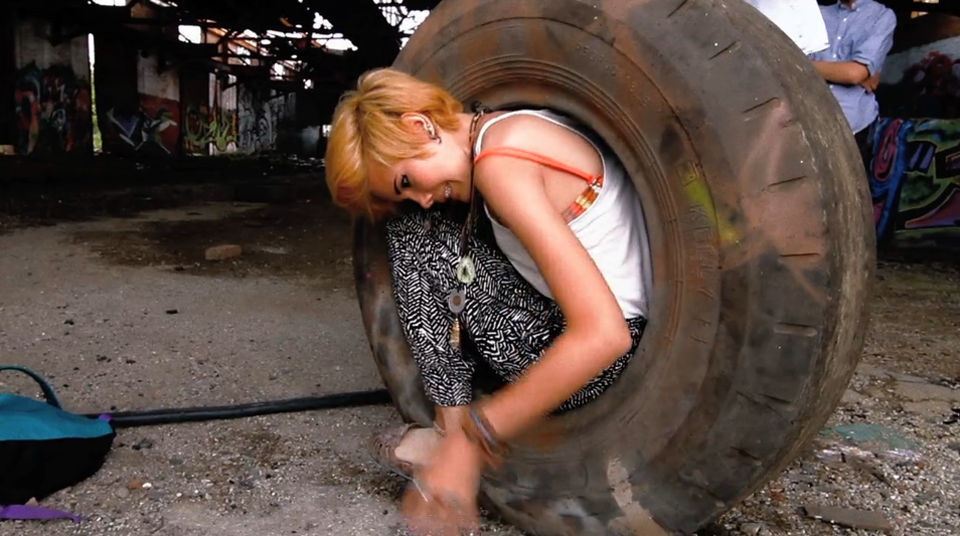 This week I can smell the teen spirit, again. There are some hazy post-blah videos to explore, which surprises me a lot since I posted this video last week. Which made me feel like finally smelling the rap spirit, but I was wrong. Explore with me:
#1 BLACKHOodS – LOW MELT, dir?
Instant classic tune from BLACKHOodS, which is a pretty slow and deep burner. Even the video loop is kinda fitting and entertaining. Their new album will be out soon via Baltimore experimental dark/drone label Attention Attention.
///
#2 Chrome Canyon – Branches, directed by Chrome Canyon
Chrome Canyon's new video for 'Branches' has some epic footage of clouds and sick beatsss. It's off their new Elemental Themes  album, out on October 9th via Stones Throw.
///
#3 A$AP Mob – Bath Salt, directed by Shomi Patwary
Ant and Rocky link up with that Flatbush Zombie for the video of their single 'Bath Salt' off their Lord$ Never Worry tape.
///
#4 Otto von Schirach – When Dinosaurs Rule The Earth , directed by Mark Thornton
Otto again, and again: great video and a rad song. Taken from his new Supermeng album, released through Berlin-based imprint Monkeytown Records.
///
#5 Azure Ray – Scattered Like Leaves, directed by Jonathan Tvrdik
Beautifully light but still so heavy: that's the new video of Azure Ray for 'Scattered like Leaves' from her album As Above So Below.
///
#6 Holograms – Fever, directed by Pau Suris
Post-punk? Anyway, this video is some flashin trippy goodness!
///
#7 Samara Lubelski – Jammage Cruiser, directed by Klye Clyd
Our friends over at No Fear Of Pop premiered this Super 8mm music video for a musician I honestly was not familiar with: Samara Lubelski. Thanks for the heads up, Henning.
///
#8 Metronomy – Hypnose, directed by Daniel Brereton
Here at EB I cannot share my enthusiasm for the crisp UK combo with many of my colleagues. Same story with Justice and Mr. Oizo… anyway, since I very much enjoy listening to their music, here's a video to promote this album, directed by the one-and-only Daniel Bererton.
///
#9 Joseph Arthur – Where Is My Van?, directed by Ehud Lazin
Re: teen spirit (and fun): this is the unbeatable Joespeh Arthur, who is searching for his van. Thank God to the Scrubs, the most amazing series with the most amazing soundtrack ever, now there also a music video.
///
#10 Twin Peaks – Stand in the Sand, directed by Ryan Ohm
Re: re: teen spirit. Pretty wild video for a pretty wild song. Is this what rock'n'roll looks like in 2012?. Into it if so.
///
MUERAN HUMANOS – Culpable, directed by Txema Novelo
Mueran Humanos (translated: Death To Humanity) are the duo of Carmen Burguess and Tomas Nochteff, two Argentine transplants to Berlin. Check their new video above and get more info on the rising duo through our 10×4.
Videodrome #37 – This week's best videos
Welcome to #37 in our video round-up V I D E O D R O M E. This week with Django Django, Santigold, Justice, Xiu Xiu, Frittenbude. Enjoy.
#1 Marsen Jules – Swans reflecting Elephants (directed by jutojo)
This is jutojo's very nice under water video for Marsen Jules stand-out track 'Swans reflecting Elephants' off Kompakt's 11th annual Pop Ambient compilation, curated as usual by label co-founder Wolfgang Voigt.
///
#2 Django Django – Default (directed by Daniel Brereton)
Most songs by Django Django just have so much going on and it's a credit to them that it all makes perfect sense. Their latest single 'Default' is another example of this new band's unique talent.
///
#3 Perfume Genius – Hood (directed by Winston H. Case)
Seattle-based singer/songwriter Mike Hadreas, aka Perfume Genius, has a new video out for his song 'Hood'. The video is shot in a very bleak, confessional style that suits the openness of the song. Hungarian gay-porn star Arpad Miklos also stars in the video…
///
#4 Justice – On'n'On (directed by Alexandre Courtes)
Awesome video for the standout track of Justice's second album, made by french director Alexandre Courtes, who recently quit Partizan for joining the Division production company hailing from Paris.
///
#5 Santigold – Big Mouth (directed by Cody Critcheloe)
Santigold is back with a new track and music video called 'Big Mouth'. The much hyped, rather crazy music video is half animation/half live action and is very very M.I.A. Santigold indeed. Listen to this club stopping tribal beat and prepare to be blown away!
///
#6 Frittenbude – Einfach nicht leicht (directed by Michael Maier)
This, my dear followers, is some really good shit. It's Frittenbude's new single 'Einfach nicht leicht' out very soon via Audiolith. Video made by iconic photographer Michael Maier, who also did this for the boys some years ago.
///
#7 Jesse Ruins – Shatter the Jewel (directed by Franck Deron)
Japanesse artist Jesse Ruins drops some airy female vocals with deep synths and drum machines. What a great appetizer for the upcoming release later this year on Cuz Me Pain.
///
#8 Xiu Xiu – Hi (directed by David Horvitz & Jamie Stewart)
Directed by David Horvitz and Jamie Stewart, the video for 'Hi' features footage shot on a crazed trip through upstate New York. Xiu Xiu's new album Always will be out in march.
///
#9 Nicki Minaj – Stupid Hoe (directed by Hype Williams)
Why is everyone giving Nicki Minaj a hard time about her 'Stupid Ho" song? I like it, I think it's catchy.
///
#10 We Have Band – Where Are Your People? (directed by Alex Turvey)
New Music from British Dance-Pop artists, We Have Band, released a video for their latest single, 'Where Are Your People?' Obviously inspired by Jodorowsky and The Holy Mountain.