Audioccult Vol. 44: Notes from the Veil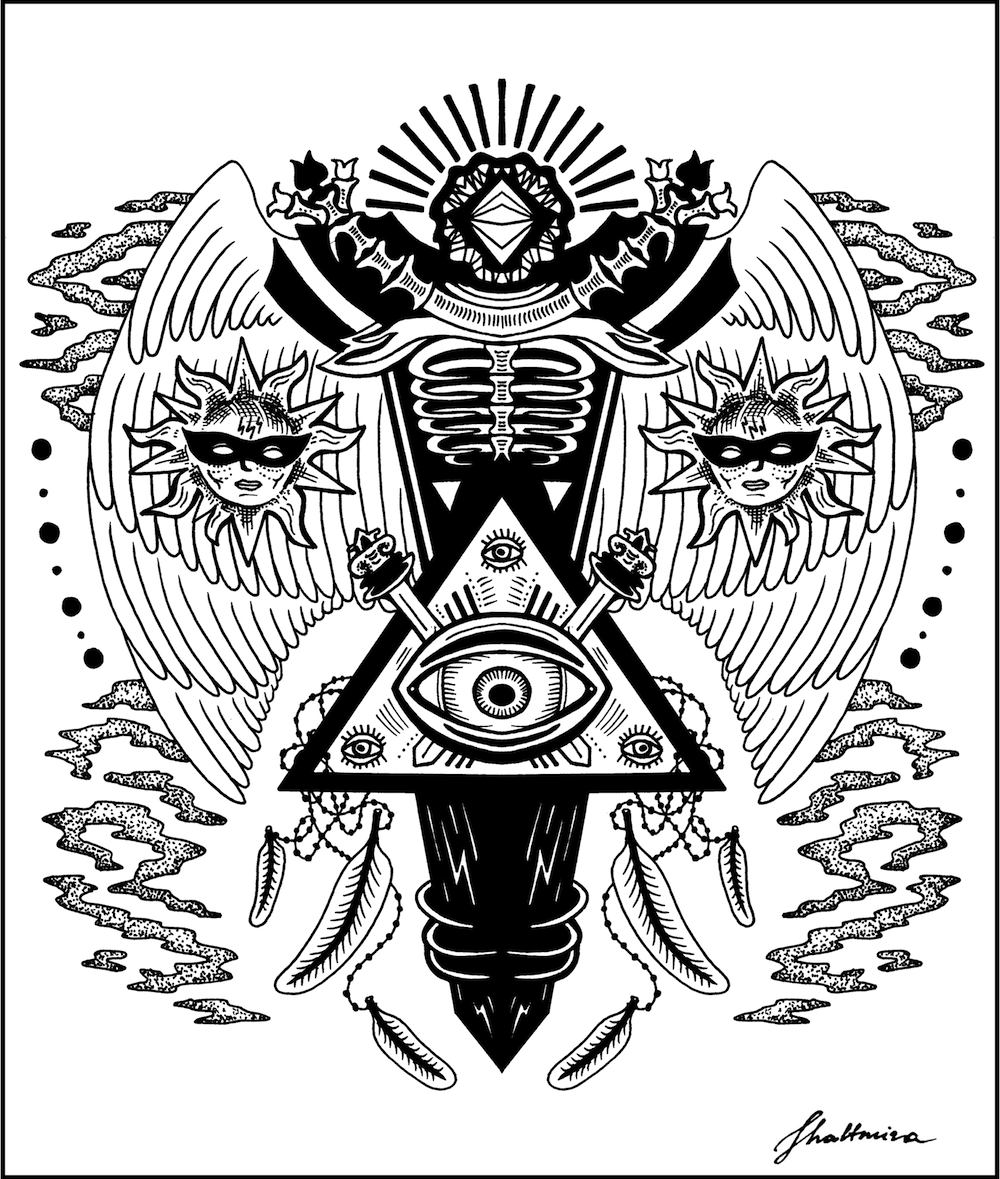 Light a candle. Draw the required sigils. Now, raise your arms above your head and slowly, gently, exhale your soul. You won't need it here. This is Audioccult, and it's time to get low. Illustration: SHALTMIRA
January 14, 2013
Scheduled interview with Brooke Candy. Got in trouble for marching up and down in front of her manager and loudly insisting that she was no John Candy. Snack selection in waiting room VERY impressive (deli meats, legitimate soda etc).
Janury 22, 2013
Supposed to cover BDSM convention and related music scenes; night before had dream that mistress was showing me the Disney version of Doug instead of the Nickelodeon one and telling me that I would never be a real man. Considered it bad omen, stayed home.
February 3, 2013
Looking over advanced copy of incredible documentary about German painter and photographer Sigmar Polke. Beautifully shot scenes using variety of effects evoke the magick captured in his Lens Paintings. Unsure why they chose to portray him as "an adult Dennis the Menace." Digitally-added freckles + slingshot take away quite a bit of the dignity. Excellent casting choice of Walter Matthau as cantankerous neighbor. Not really sure how they pulled that one off, but it's seamless. Selected quotes:
1. Matthau: "Uh-oh…this looks like trouble." [ SAID WHENEVER POLKE APPEARS ONSCREEN]
2. Polke: [SMILES MISCHIEVOUSLY]
February 11, 2013
Spent most of last week in court contesting Yung Simmie's claims that my co-authored review of his mixtape was poorly conceived. Sentenced to spend the weekend in Rap Jail and was only given Drake CDs to listen to. Momma, don't cry for me…
February 15, 2013
Range Rover limo has been cruising up and down the same block with the windows all smashed out. Powerful image somehow (marketing? authority?)
February 20, 2013
Failed interview with Snoop Dogg because I refused to call him Snoop Lion. Who does he think he's fooling? New Rastafarian image preposterous. Kept quoting metaphysical lyrics and offering me Hot Pockets as I ran out into cold streets. Method Man/Redman collab kicks on bystander blinding against snow.
February 23, 2013
Spent entire morning listening to new WMX EP, very pumped up about future. Phone call from accountant at noon telling me that the money I invested in Relevant Slogan beanies (third largest internet market in 2012) has been lost thanks to New Era CyberWars. "It's a New Era," I sob and turn the Evangelion soundtrack up.
Busy P lays into Daft Punk's project R3CONFIGUR3D
We all love a bit of a scandal around the EB offices, which is why we picked up on this juicy story which purports that Daft Punk had basically nothing to do with its own Reconfigured Tron remix LP.
Unfortunately this is something we kind of suspected, given Daft Punk would never allow Paul Oakenfold or The Crystal Method to remix their work nonetheless, it's great someone has come out and said something upfront.
Busy P off the back of his website posted this statement:
"TRON R3J3CT3D
Dear Disney people,
You know i love you (we all do)
But Walt! Come on! How can you take my robots friends so far away from good taste ?
I am 100% sure the Daft boys were not involved in this side (sad) porject
Of course some of it is nice, and you know there are some of my friends on this CD.
But this is not enough!
A masterpiece like TRON soundtrack deserved the best and I am sad to discover the A&R at Disney records is apparently buying most of his electronic music in airports stores…"
The strangest thing of all is that these original comments up at his blog have now been taken down.
So where to from here? Well, its feasible that we'll probably never hear anything about this again, as Disney probably couldn't give the slightest about this project anyway. But it's nice to imagine all boardroom executives sitting around the table hushing about some Daft Punk conspiracy.
However, if anyone knows what the real story is it would have to be Busy P – he managed Daft Punk for twelve years.