Audioccult Vol. 2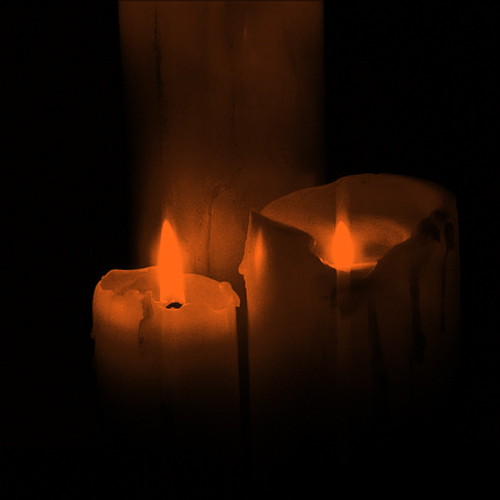 Another week, another chance to throw that shade at you. The last week gave us some essential and primary releases as well as a selection of visuals that will leave you saying, 'Damn! That was definitely a thing I just watched!' Are ya ready, boots? Start walkin'!
Night Slugs label boss Bok Bok is one of those guys whose work I can always save before listening, because I know that when I do listen I'm going to love it. His remix for Belgian group Arsenal transform a bleakly dull disco track into a virtual predator, thick with syrupy synths, slamming drums and some seriously necessary church organ.
My boy Jonny Teardrop released a new album entitled S H R U G, heavy synths and scuzzy guitar ballads. It's shit-hot, and a mere 7 bucks which you'd probably waste anyway. Stream it and pick it up here. Jonny's also formed a new imprint called BATHRXXM, which will be publishing his new book GASH. I'm hoping for something similar to Michael Gira's The Consumer; if so, I have my Christmas shopping sorted for 2012.
NYC's BLISSED OUT has recently been turning his hand at producing hip-hop. His recent work for Shady Blaze goes in deep, pulsating bass and chiming bells lurking beneath Shady's dro-flow. oOoOO's latest peek at his upcoming EP Our Love Is Hurting Us is on a similarly dirty tip, producer Chris Greenspan's love of hip-hop becoming more apparent than ever in his use of samples (recognize ASAP; they've definitely told you enough times.) You can download it for free here too!
Alex Mosko's guitar work might be better known in the dearly departed AIDS Wolf, but his current noisy explorations as Drainolith are making me fairly wet. 'You Paid For It' is a lunging, quivering beast of discordant notes and monotone vocals that feel like illicit peeks into some private journal; the sort of stuff you write when you're a raging hard-off of teenage nihilism and reality feels like a raw tomb. A thousand phones going off on a bus with this as the ringtone. Desolate vibes for post-after school specialists. His debut LP Fighting! is due out May 29th via Editions Mego.
Nicki Minaj's latest album Pink Friday: Roman Reloaded was a huge step back from a lot of her previous work, a vanilla pop-hop mess that made me want to toss it up and projectile-vomit-blast it into the future, where it will arrive as a stinking puke-pile that all the future people can look at it and go, 'Yuck! Gross, man; Chris Brown collab, eww!'. Thankfully, there's always the opportunities for refixes, 'fix' being the operative word here. What Total Freedom did for 'Monster', New Jersey's Physical Therapy does for 'Beez In The Trap', a bubbly piece of flotsam that even 2 Chainz couldn't save. Pitch-shifted and chopped into synthetic oblivion, 'Breaks In The Trap' is red fire and barbed wire, tempos up and souls out. M¥rr? Ka Ba also dropped a sick remix of Grimes' 'Visiting Statue', static-laden bass lending brutal strength to the melancholic, shimmering intro. Quite beautiful, actually.
How is Palmistry not a blog darling yet? Anyone who loves How To Dress Well and that sort of dark, white-dude R&B thing should be going nuts over this kid, yet his latest video for 'I Swear Fai Sai' has less than a thousand hits. Proof that God is a fake and outdated lie? Not so, for during Coachella weekend, Tupac himself descended from Heaven to hang out onstage with Snoop Dogg and Dre. The extremely dead rapper, whose post-mortem work includes Still I Rise and Tupac Resurrection, ran through 'Come With Me', 'Hail Mary', and 'Gansta Party' before once again ascending into a realm free of sin. Don't believe the lies. Hologram machine was found unplugged before the set, plus IRL 'pac never had cool Illuminati tattoo (visible if you were actually there). Check the facts is all I'm saying.
Finally, I'll completely invalidate this article by asking you why the hell you're listening to anything else when the new Death Grips album is streaming in its entirety. Tom Krell of the aforementioned HTDW said on his Facebook this morning that he can't understand why anyone listens to 'punk' anymore when he hears stuff like this. Actually there is literally no reason for you to play anything at all besides this album for at least a week. LITERALLY.
Daniel Jones is a music promoter and creator of the subculture reconceptualization & aesthetics tumblr Gucci Goth.
Videodrome #24 – This week's best videos
Once again regular Videodrome tyrant Moritz is out of the office, so once again our editor Daniel will be hosting Videodrome this week. Lean back, relax, and press play.


1. o F F – YING YANG…BOY BAND
The Parisian Prince of FogPop delivers not just a video, but a video mixtape. Containing cuts from Extacy, Min Ronnersjö, How To Dress Well, Sjur Nyvold, Cyan Kid, and of course o F F himself, it's pretty much the best thing we've seen (and heard) all week.


2. Drainolith – Lasalle Walks Out
The new project from Alex Moskos (AIDS Wolf) is seriously evil, and this shaky, bleak winter imagery captures the pagan-noise aspect of his sound perfectly.
3. Ñaka Ñaka – El Pequeño Edgar
It's funny how mindblowing old computer graphics can be when applied in the right situation.
4. Ga'an – Black Equus teaser
Despite how short it is, it was just too exciting to exclude. Watch the teaser vid for what will surely be one of our favorite albums of 2011.
5. Fatima al Qadiri – Hip Hop Spa
The newest video from one of our most-watched artists examines hip hop culture and the parallels of luxury solitude and imprisonment. Plus it's just so tropical-hauntingly good.
6. Captain Ahab – Girls Gone Wild
While perhaps not as awesome as their previous video 'Kingdom of Light', this one's still definitely high on the spazzometer. Might bring back memories of trying to watch scrambled softcore on HBO. Definitely not for epileptics.
7. Lil B – Unchain Me
Lil B on the beach rapping over 'Cry Little Sister'. Petite wordsmith delivering realness on top of goth music, beach beats and coral reefer. Lil B is cool.
8. M83 – Wait (Unofficial)
Anytime stuff has this type of visual and aural aesthetic it's too much like watching The Wonder Years. Just keep waiting for Daniel Stern to start talking about kissing Winnie.
9. Stingray Enters The Unknown – The Sadist Pt 1
This one's closer to watching some random Liquid Television short. Much better.
10. Xaver von Treyer – Lunar Rover (Utao Okami)
Life is a prism and I just wanna disco.
11. Alva Noto – Uni Acronym
Pretty much what the title says; this one's a whole lotta acronyms. The best part was the literal shoutout to money. Nice to see another non-jaded fan of cash; money owns.
12. The Brandt Brauer Frick Ensemble feat. Emika – Pretend
The single from forthcoming album 'Mr Machine' by The Brandt Brauer Frick Ensemble, out October 2011 on !K7 Records.