EB Festival Dresden: First names announced!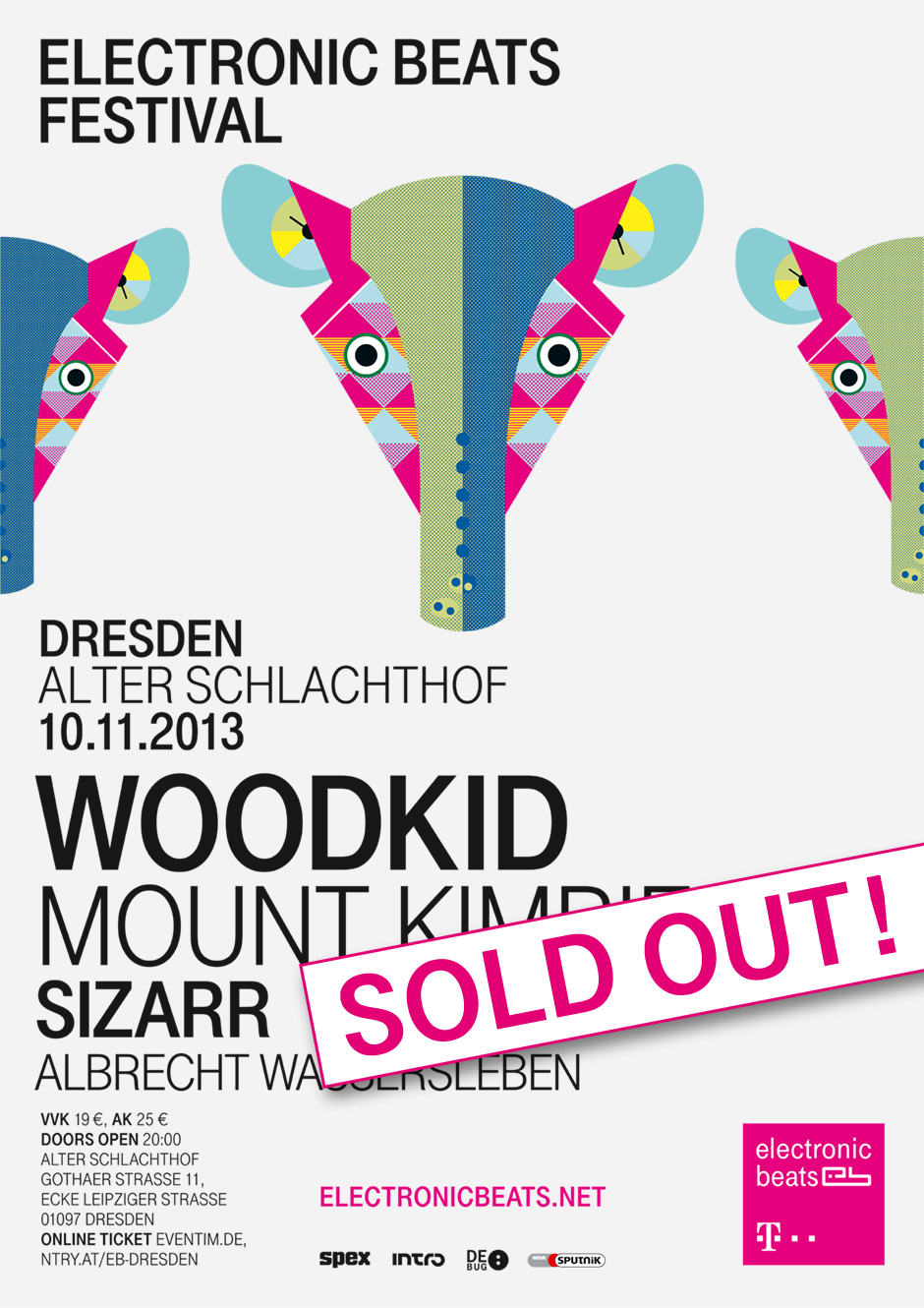 Everyone loves summer festivals, but personally we've always been a bit more hyped on Autumn. The sun has his hat on a bit lower, there's a delicious crispness to the air, and of course there's the return of EB's Fall Festival season! We've already disclosed the full info for our Podgorica date; now we're going to give you a bit of a tease. We've got a rather nice lineup for our Dresden festival edition, and we can reveal the first two tantalizing selections from the November 10th event taking place at Alter Schlachthof.
Returning to EB Fest for the first time since his 2012 appearance in Zagreb is Yoann Lemoine, better know by his stage name Woodkid. Lemoine's well known for his beautifully-directed videos; for those who haven't experienced it yet, we can tell you that his live shows are equally lovely and powerful. If you don't believe us, check out this selection of Woodkid's video highlights and see for yourself. Supporting the 'kid will be the German-based band Sizarr, whose skillful blend of post-punk and deep techno electronics have led to support the likes of These New Puritans and Bloc Party's Kele. As for the third act… you'll have to wait and see, but in the meantime we've put together a playlist at the end of this article featuring the best tracks from the acts. Buy tickets below!
UPDATE: Unfortunately, all tickets have now sold out.
[geotarget target="DE"][/geotarget] [geotarget block="DE"][/geotarget]
Electronic Beats' Fall Festival Season 2013 Adds Dresden Date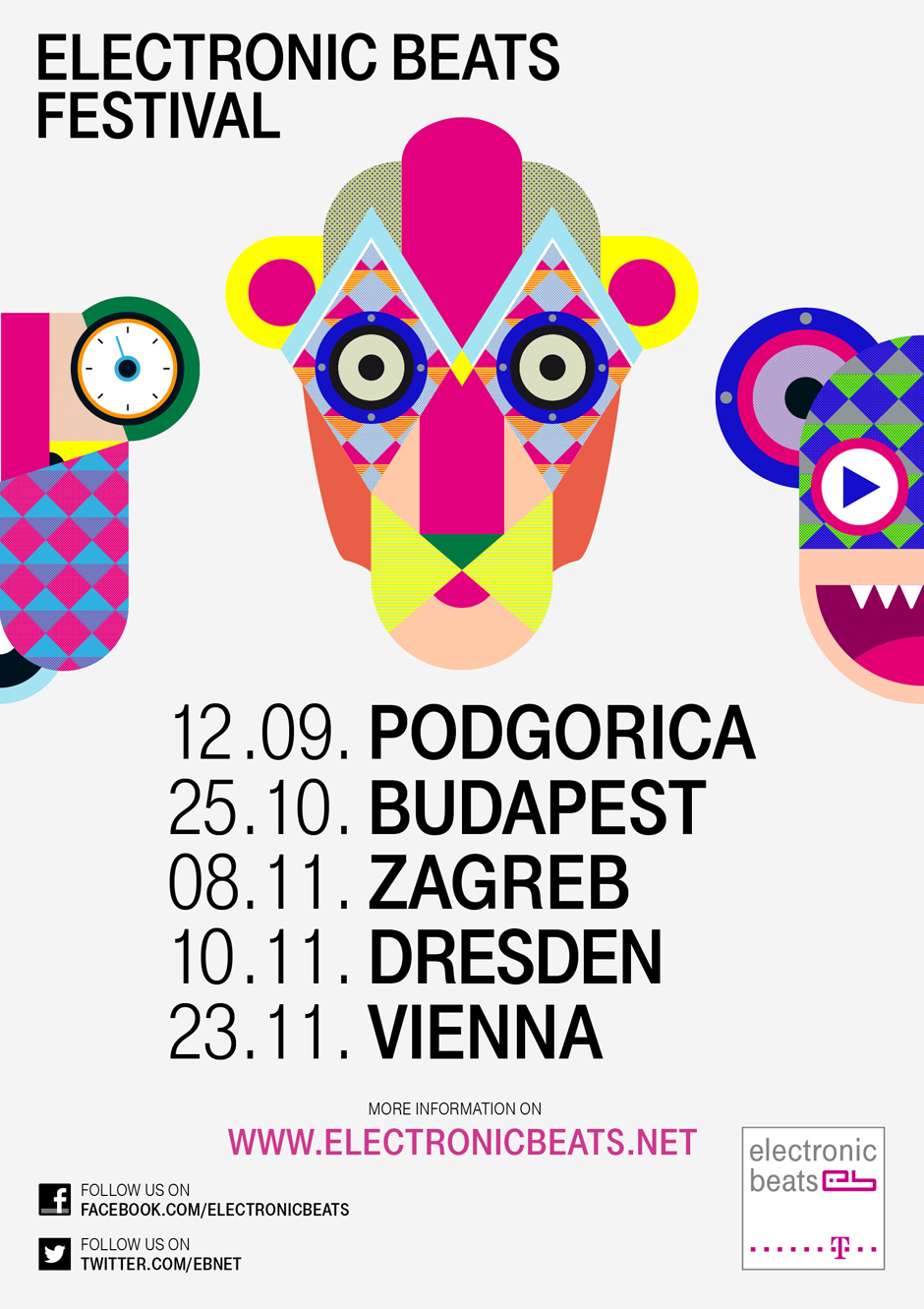 Update: New date added!
If you're feeling blue that Electronic Beats Spring Festival season has ended, don't fret—we've got news about our Fall editions! We have a thrilling crop of shows lined up for this year's hotspots of Podgorica, Budapest, Zagreb, Vienna and — for the first time ever—Dresden! See the poster above for the exact dates. While we can't reveal the line-ups just yet, we don't think we need to drop any more hyperbole on you to get you to connect your virtual self to our Facebook and Twitter for to-the-minute updates. If you're still unconvinced, check out the reviews from last year's Fall editions in Montenegro and Croatia, and our Spring events in Prague, Bratislava, Poznan, and Cologne.
To give you a taste of what to expect, watch James Blake live at our EB Festival Cologne earlier this year:
Lana Del Rey live from our EB Festival Prague earlier this year:
Jacob Korn to receive Dresden's furtherance award 2012
We already told you: this guy Jacob Korn is a talented fella! The Dresden-hailing producer was responsible for one of 2011's most irresistible techno tracks, and the video that came alongside his single 'She' left us rather impressed. And it seems as if the Uncanny Valley collective member won't slow down in the new year: his hometown, the city of Dresden, is now honoring his efforts with its furtherance award 2012.
The award includes prize money of 5,000 Euros and will be awarded on March 17th at Festspielhaus Hellerau. Since 1993, the prize honors the artistic works of people or groups that focus on the city of Dresden as their primary workbase. Jacob Korn, who studied media technology, stated: "I am delighted to receive this year's furtherance award. I feel that this is a signal for Dresden's cultural policy, with the prize not being awarded to the established arts (in 2012), but to a new art form." The jury honored Korn as an "exposed representative of a cultural scene which improved its image during the last years and is giving utterance to a young generation's cultural life."
Jacob Korn will be showing his talents during the next weeks with a bunch of dj and live sets, catch up with him and the whole Uncanny Valley crew at one of the dates below. Learn more about the label itself by watching our recent Slices feature or listening to One Day In Metropia's live set for Electronic Beats Radio.
Uncanny Valley live & dj sets:
January 19th DE Dresden – Sputnik 2.0 (w/ Conrad Kaden, Felix Meyers)
January 20th DE Berlin – Loftus Hall (w/ Jacob Korn, Albrecht Wassersleben, Mano Le Tough, The Drifter)
January 20th NL Amsterdam – Chicago Social Club (w/ Hombres Discos)
January 21st DE Leipzig – Distillery (UV Rallye w/ Jacob Korn, One Day in Metropia, CVBox, The Moroders, Albrecht Wassersleben, Carl Suspect)
January 27th DE Berlin – Salon zur wilden Renate (w/ Break SL, The Moroders)
January 27th DE Frankfurt am Main – Tanzhaus West (w/ Jacob Korn)
February 1st DE Berlin – Farbfernseher (w/ Jacob Stoy, Conrad Kaden)
February 18th DE Essen – Hotel Shanghai (w/ Jacob Korn)
March 3rd FR Nantes – tba (w/ Jacob Korn)
March 16th DE Dresden – Sabotage (w/ Jacob Stoy)
March 31st DE Dresden – Sektor E (w/ Jacob Korn)
May 19th UK Manchester – Future Everything (w/ Jacob Korn)
The author on Twitter:
Follow @wwwacht
//