EB Premiere: Dubai – Thieves (Shams Remix)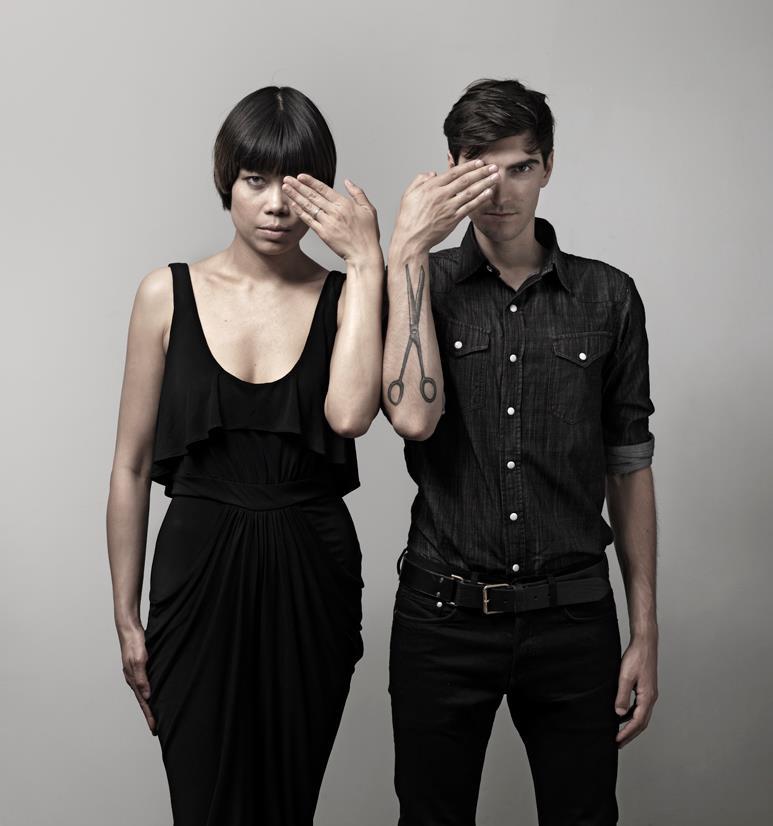 The London-based DIY label Clan Destine Records always surprise us with their releases; we particularly love the Ela Orleans/Dirty Beaches/Slim Twig/US Girls split LP. Happily, we get to reveal something brand new from the label today, courtesy of Dubai and Shams. The former, comprised of Anna Barie (ex-These Are Powers) and her husband Johannes Buff (damn, imagine being called 'Mr. Buff' all the time… you'd feel amazing), recently released a split cassette on Clan Destine with Ensemble Economique, from which Shams weirdo Jonathan Coward (whose Judge Judy appearance with Teeth Mountain reigns as one of the greatest things ever aired on television) has taken "Thieves". The resulting remix (a digital-only cut not available on the cassette) completely discards the noisy electronic tribalisms for a vibe not dissimilar to an indie-disco dance floor around 3am, when all sounds come filtered through a haze of cocktails and drugs. You sway from side to side in the crowd, your head packed with bass and alcoholic gauze, before stumbling into the toilet to make out with someone equally drunk (or, perhaps, a toilet bowl). This is the rhythm of the night.
Like a Phoenix that rose from the ashes, Jakub Wojciechowski decided to abandon his former musical context and embrace a lighter aural sonisphere.
Having cut his teeth in the Polish witchhouse scene (as well as on the label Cowshed Records), Wojciechowski went on to develop his sound into brighter, house-driven compositions under his nom de plume Lasariage, a project with echoes of Kirk Degiorgio's As One productions. Some of the witchy tropes are still present on his latest Dadaistically-titled offering !Crazy Food Try To Eat Me; for example, but overall it's a step towards light and sun.
We shall remain in the lovely Poland for our next subject as well. Jakub Adamec is an artist and member of the insane Czech band I Love 69 Popgeju, ear candy for the ADHD generation. Aside from his main "job", he moonlights with his solo career, which has been cemented by his latest release. The brilliantly cacophonic album Traveling In Time (out now on the left-field Polish label Mik Musik) is a collage of various samples and wacky vocal bits tinged with a memory of rave.
Lubomir Adam Grzelak is head of the reliably brilliant Sangoplasmo label, also home to the likes of Ensemble Economique, Aranos and Decimus. When he's not sorting through a plethora of crap demos, an equivalent of aural waste contemporary labels have to (should) sift through to arduously pick up the gems that end in their catalogue, Grzelak produces music himself under DJ Lutto Lento.
Another vid-tip comes from Hungary. Yvein Monq has no ecclesiastic affiliations other than his devotion to music, which tends to follow in the spaced out dimensions. You can find out more about his work in an EB interview here.
For more news from the Eastern Euro-hood, head to Easterndaze.
I'll start this column with a disclaimer: I'm not trying to reinforce Cold War rhetoric. It would be foolish to suggest that in today's globalised hyper-world, the geographical distinctions still matter – or do they? Online, we are supposedly all interconnected within a virtual bubble regardless of whether we come from Ohio or Opava. For most of the time, we in Europe are inundated by news about bands from the other side of the planet, which is fine, but it's good to keep things balanced. Hence, we will present some noteworthy bands, labels and acitivities from Central and Eastern Europe here, handpicked from a pool of resources courtesy of the Easterndaze project.
Sangoplasmo is an unassuming tape label from Poznan, Poland. Lead by the effervescent Lubomir Adam Grzelak, the imprint has been steadily releasing some of the best psychedelic-tinged synth-based and experimental stuff in the region. Although it has to be said that Sangoplasmo also embraces the international waters. Inaugurated by the wonderfully strange Aranos, Sangoplasmo has carved its niche with further releases by the likes of Burial Hex and Felicia Atkinson. Other noteworthy aural offerings include Katapulto's conceptual tape Animalia, a recording about animals in different languages, and the label boss' project Lutto Lento.
Sangoplasmo's latest batch of tapes is equally impressing: Ensemble Economique, the ghostly Decimus, Komodo Haunts debut album, and Polish musician Bartek Kujawski.
Another Pole, Piotr Kurek, has released his magical album Heat on Foxy Digitalis. Check out his latest Azerbaijan-inspired video by Moduli TV/Hobo Cult.
One more imprint to keep your eyes onto right now is Over9000, more of a free-form platform, open to artistic expression and collaboration. The Belgrarde-based label/collective is run by mangulicaFM, a musician in his own right. A red thread that runs through the label's sonic stamp is a certain recontextualisation of local – ex Yugoslavian folk music, mostly pronounced in the label head's output. mangulicaFM's latest release, a self-titled album, is an adventurous and exotic sonic offering. You can read an interview with this fledgling producer here.
—
Lucia Udvardyova is an EB correspondent one of the creators behind the always inspiring Easterndaze blog, which focuses on up-and-coming Eastern European music scenes