Golden Blonde: Travis Egedy on NU DEPTH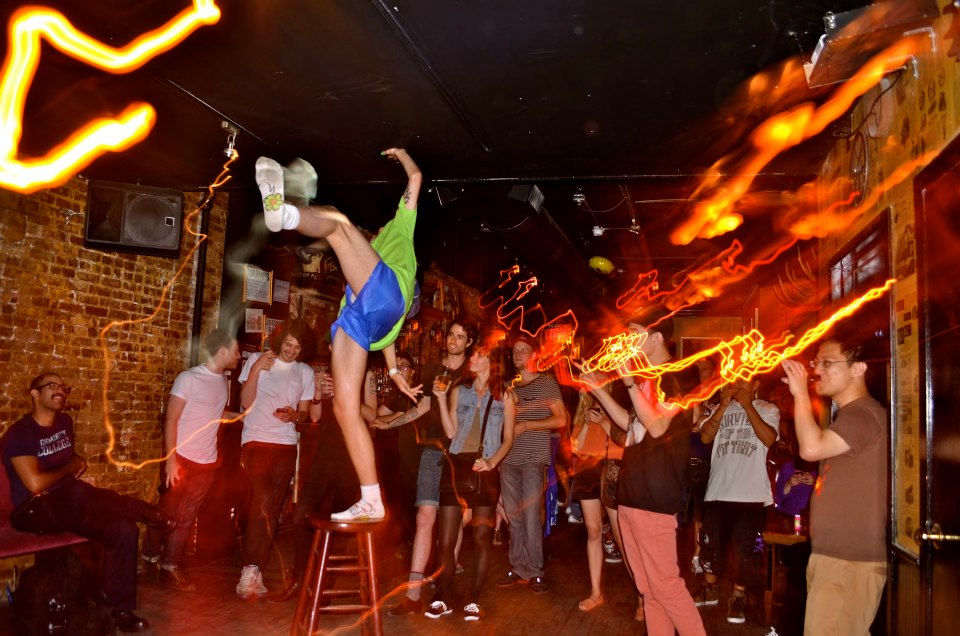 Travis Egedy's work as Pictureplane redefined the post-physical rave lifestyle. Now he joins us in a new column dedicated to the extremes of pop, weirdness and everything in between. Face a new Golden Blonde…
Welcome to my new EB column Golden Blonde, where basically every week I will be showing you something that has really captured my attention and imagination, whether it is music, art, a performance, a book, a film, or a story. I want to share it with you all. My tastes run the full spectrum from low-brow, fringe freak shit to delightful and colorful pop culture experiments—whatever that means. With that being said, let's get down to it.
NU DEPTH is a young and hungry up and coming performance artist by the name of Dylan Mulshine from Charlottesville, Virginia, whose "message is simple, continuous positivity." I have gotten the chance to see NU DEPTH, (who also goes by the name LIL Baby Positive) perform twice, once in the living room of a house which involved him tackling people, yelling at and calling out his "haters" through a delay pedal, and wearing a lampshade on his head. The other was in the back room of a Mexican restaurant in Brooklyn, where he stripped down to his underwear, danced on the bar, and rolled around on the ground covered in beer while screaming about being "extreme". It's safe to say he really takes it to a realm of full absurd Dadaist confusion in his performances. It is also safe to say I am a big fan!
L.C.D stands for "Liquid Crystal Display" and also "Lowest Common Denominator", and the song is a reference to Mulshine's relationship with the two. Shot all on an iPhone, the video is a collaboration with the contemporary audio/visual artist Shock Diamond. The video sees Mulshine hanging out, dunking basketballs in  what seems like an arcade in a mall somewhere in the void of the American landscape, mixed in between Shock Diamond's psychedelic hyper colored visual stylings. It's a wild ride into the strange, weird world of the Nu Depth experience. Mulshine has a cassette tape release called SL4V3 T0 TH3 R4V3 available through the Paris-based label Steak Au Zoo. The tape features collaborations with fellow art weirdos Extreme Animals, Diamond Black Hearted Boy, and Dustin Wong, and can be purchased or downloaded here.
Enjoy the world premiere of "L.C.D."! The song can also be downloaded for free here.
My name is Mykki: an interview with Mykki Blanco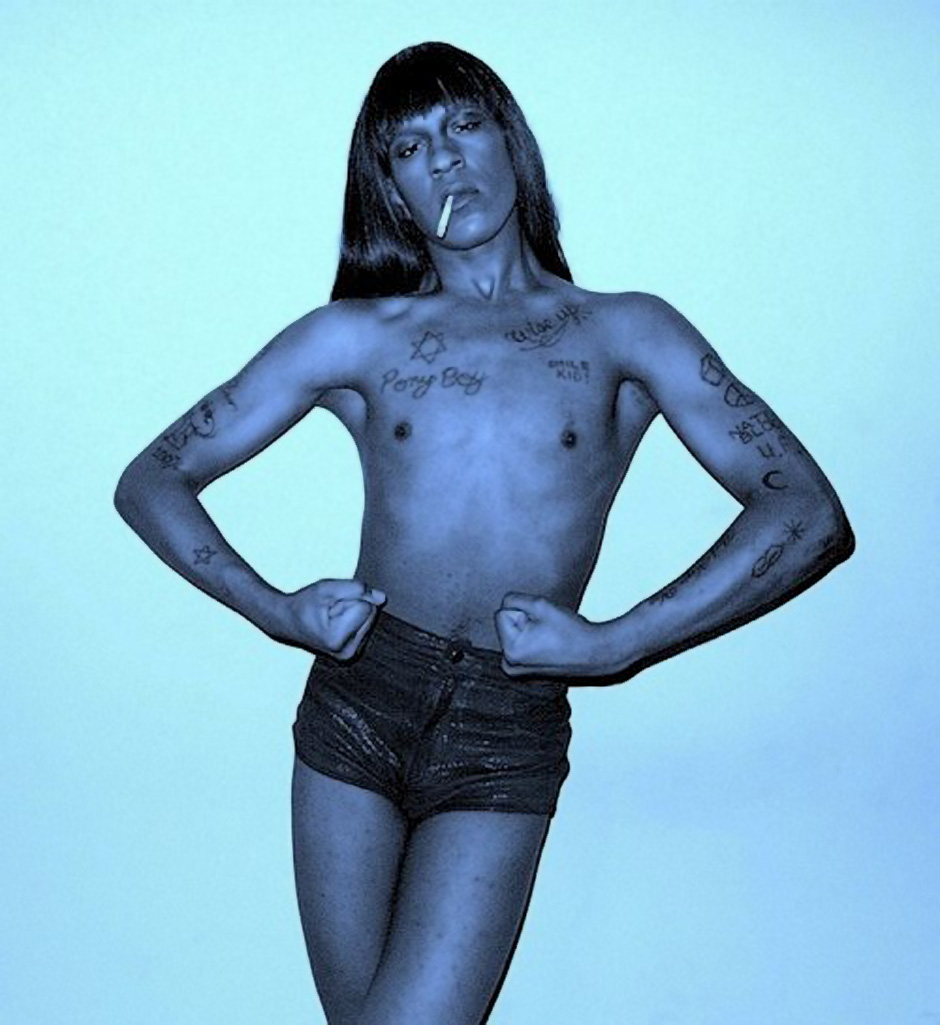 Fearless. Poet. Performance artist. Rapper. Punk. Mykki Blanco is all of these, and more. I won't say her debut EP  Mykki Blanco & The Mutant Angels is game-changing; the lethal, industrial-punk beats and jagged, take-no-prisoners flow within defy the game. Those who champion the silly idea of 'gay rap' group her with equally-intriguing East Coasters like House of Ladosha, Le1f, and Zebra Katz, but she sits just as closely with fellow noisemakers Sensational and Death Grips in shaping rap into something stronger, weirder and fresher than ever. With an LP planned for October, a slew of music videos in the works, and a tour prepped to begin soon, Blanco's reading us like fire. After an intense, grind-heavy show, I found out more.
I have to say I've seen the best crowd reactions of my life at your shows.
I'm working right now from learning from people how to keep my set high energy. I attended a DJ Rashad show and I tweeted "DJ Rashad changed my life", watching how he was able to keep the crowd on their feet and in this euphoria. I'm repositioning my set, starting to get deeper into the musicology of making people happy on the dance floor. The right show in New York can tear down a house.
Is New York your favorite place to play?
It is, but all I've ever wanted is an international career. For me it's never been 'I want this strong American hip hop fan base', or a highbrow fashion/art fan base either. A fan is a fan, and If I have kids in Ohio and kids in Belgium who like me, that's where I wanna go play. I will go wherever you want me.
Are you working with anyone right now?
I'm re-rerecording a song with Le1f called 'Fuck the DJ'. Le1f is an amazing producer, musician, and rapper. I have a lot of respect for him, and to work with him as a peer really means a lot to me. He's the only entertainer that I've worked with as a producer. I just finished a track with Gatekeeper, it's going to back to me rapping in an industrial tinge. I'm also going out to LA to work with Asma from Nguzunguzu. Jacob Cioccy of the art collective Paper Rad and the noise band Extreme Animals just sent me a beat that's amazing.
I've also done two tracks with Flosstradamus. I knew them in Chicago when I lived there and they're having this second wave of gaining notoriety, even though they have a huge fan base because they've been in the game for a minute. I did two tracks with them. One beat is 'Mykki Blanco' that they had sent me a year, I've been performing to that for a long time. It's a trappy kind of beat, my name over and over again chopped and screwed, and I'm rapping over it like crazy. I also just did a new track with them called 'Young Rhyme Assassin', really catchy but simplistic. There's no hook, no chorus. It was really important for me to do a song where people could know that I just rap on and on and on. I start and just go bar for bar for bar for bar. So I'm really excited about that because a lot of the tracks on the album are so club-focused.
Tell me about the album.
It's about the lifestyle that I lead when I go out, and this relationship that I have with DJs and producers. I'm trying to make happy music and music that makes people move. I don't want to write it off and call it 'party music' but I want to have people enjoy themselves. Right now this is looking like twelve to fifteen tracks. Then on August 24th we leave for a European tour with Physical Therapy. He also produced a track for me.
Your music videos are amazing. When's the next one coming out?
'Wavvy' at the end of July, which I'm highly anticipating, the video looks amazing. Brenmar and I are going to do another track together for the album. I think that video will take me to the next level, in an entertainment way. I don't have to be on a major label, though, or have high profile people direct or work me. What I'm doing comes from this raw place where I'm giving it my all as an entertainer.
Is the video for the next single?
My next single will be 'Virginia Beach', which is a song I did with Nick Weiss of Teengirl Fantasy. I'm really excited about that because it's a hip hop song in the most typical way of being a hip hop song: verse, chorus, hook, typical hip-hop structure. It's a bit nostalgic because I wanted to create a song for when I was in puberty. I was listening to So So Death, Atlanta bass, that kind of stuff, and for me bass music is almost a reflection of African-American rave music. I really wanted to make a song that was an homage to that. Nick created this beat that's a mix of happy hardstyle, bass and hip-hop. This beat is nuts because you think 'how can you actually rap over that?' I had a couple of my friends listen to it and they went 'this is future hip hop.' I'm actually doing two versions of that song, a version with Nick and then for the video I'm slowing down the original beat significantly, which takes the character of the song into that Southern rap tradition.
Your songs do carry that same kind of aggressive vibe.
I can't deny the fact that I'm an aggressive rapper. It's an exorcism of a lot of aggression that I may have pent up or received from people on the street. Cross-dressing is not easy. When you cross-dress people look at you and throw all their judgments about what they think about that onto you. They do it very blatantly and they don't mind staring. I was raised not to stare; I think that's a Southern thing. I have experienced what the power of being looked at can do to you, making this eye contact and having this exchange where all of a sudden someone else is in a place of control. From that, I learned this social psychology of how to be strong. If someone stares at me and I'm cross-dressing I stare them back in the face and I often smile. When you look people back in the face they turn away because we live in a culture of insecurity, and if you turn people's insecurities around on them, you're the winner.
I grew up listening to riot grrrl and punk, to Kathleen Hannah, Babes in Toyland, Le Tigre, Free Kitten. It's an attitude of not being defiant against society, but knowing that my non-conformist attitude and my lyrical content have nothing to do with rebellion— they just are. Usually conservative society sees this breakaway from the norm as a rebellion, and it's like… no one is rebelling. It's just how people are.
So a lot of your lyrics come from your day-to-day life?
A lot of it is personal experience. I've experienced so much in this short year. I do play on the braggadocio of hip-hop, and I'm always conscious of the gender play in my lyrics. When I use certain words, it comes from the hip-hop tradition, and when I use other words, it comes from a gay African-American place. If you know these worlds, it's not confusing because the pronouns and the metaphors intertwine. But if you're an outsider you're not necessarily going to get these references very much. I have fun with it all because I don't think my music is political, because I'm not a political person. If you want to refer to me as 'he' or 'she' go right ahead. I'm not someone who feels like I have to rebel against society's labels because they don't matter to me.
Pictureplane's 'Thee Physical' gets remixed into the next dimension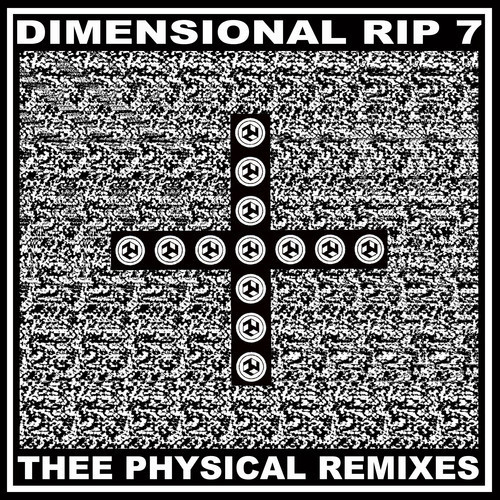 Travis Egedy, prophet of the Pictureplane Post-Physical reality, has just had his Old Testament reworked into the New. A plethora of friends and artists, in collaboration with DIS Magazine, have taken the dance conceptualizations from his work Thee Physical and mixed them into a new dimension of sound. With disciples ranging from Tearist and Shams to Grimes and Unicorn Kid, the selections here are truly essential pieces of our modern rave philosophy:
Pictureplane's "Thee Physical" was a conceptual work about how we, as humans, relate to our 3rd dimensional world by experiencing it physically through touch. and our experience of being human inside of physical bodies in a post-physical digital age. this collection of remixes is a continuation of these concepts, each remixer being hand selected by Pictureplane to work with the digital skeletons of each song, to carry out their own visions of what Thee Physical meant to them, and their physical forms. This remix double album, is the 7th Dimensional Rip. which is an ongoing conceptual art work by Travis Egedy (Pictureplane). Each Dimensional Rip is meant to be just that: a rip or tear within space and time. a way of putting something out into the universe that helps to alter perception and the very world that it exists in. past Dimensional Rips have been anything from group art exhibitions, a zine, a mix of slowed down happy hardcore, or a performance artwork inside of an art museum. the 7th Dimensional Rip is no different.
Along with audio, we are also given visual thanks to Extreme Animals. The duo of Jacob Ciocci and David Wightman have shaped a Twin Peaks-inspired video for their remix, featuring narration by the Log Lady and enough nightmarish imagery to send you hurtling straight into the Black Lodge. Adjust your Fear Fantasy receptors properly and stream yourself below.
Extreme Animals celebrate Halloween early
With Halloween just around the corner, the #1 costume contender (aside from Zombie Amy Winehouse, perhaps) is probably related to Harry Potter somehow. The rise of magick and occult-fascination hasn't been this strong since the 1980s parental panic over roleplaying games, and Extreme Animals are riding that witch-wave all the way to visual glory. Their video for 'Am I Evil?' is a thugged&drugged journey with young Harry as he traverses graphics hell, meets Christine O'Donnell, and learns that it CAN be cool to be a vampire after all.