Waiting for the Ghost: an interview with Freddy Ruppert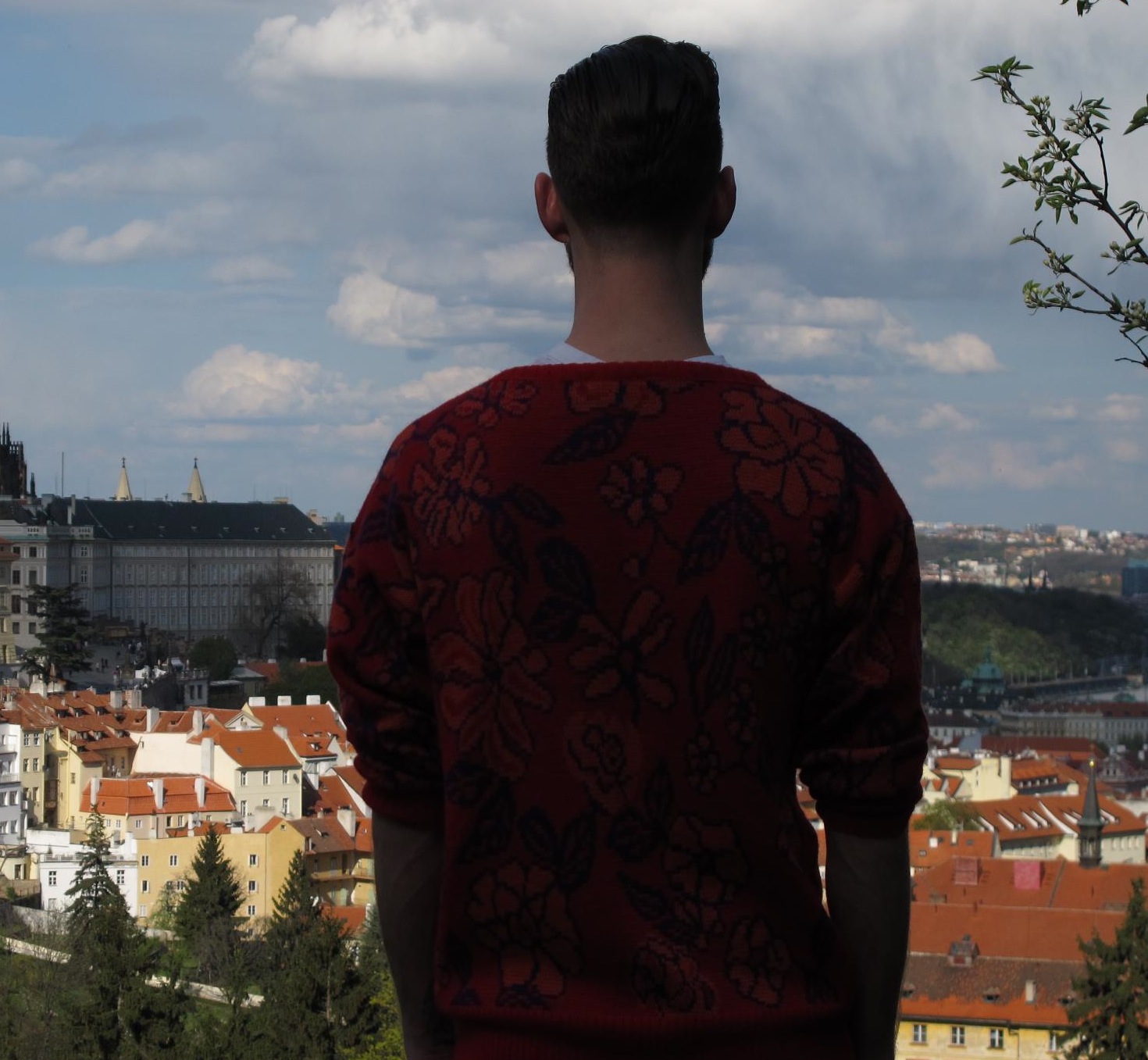 Music is a deeply personal thing for Freddy Ruppert, which could explain his departure from This Song is a Mess But So Am I for a cathartic solo initiation into the world of songwriting. Since then his pathos has created Former Ghosts, a collaboration with Jamie Stewart of Xiu Xiu, Nika Roza Danilova of Zola Jesus and Yasmine Kittles of Tearist. Last year he got married and moved to Prague, where he still lives, works and creates. His new release, a casette out now on NNA Tapes, is a dark instrumental journey about waiting.
How was your day?
It was pretty rough. I went to work at 5:00am, got off around 2:30pm and then went to the gym for an hour. Pretty standard and uneventful.
Where do you work?
I do IT/technical support.
Was it hard to adjust to office mode? Does it inspire you artistically in some way?
I had about two and a half years of where I didn't have a stable job and was making a living on touring Former Ghosts full time.  So it was definitely hard to get back into the routine of doing a regular job. But in a way I am grateful for it, because I think when music sort of became my job, it completely ruined it for me.
Do you think it's a good thing for artists to have day jobs?
I can just speak for myself. I know that whenever I create something, it has to come from a specific place, usually related to a personal need or reaction to create something. Once that merges with a 'job' then you start to compromise with what your original intention is. Especially in music nowadays where everything moves so quickly, it is expected you put out at least a full length a year, tour nine months of the year, while still putting out singles, EPs, remixes, whatever. That's unnatural and counter-intuitive to the process of creation. Once you are depending on that kind of lifestyle, it shifts your mode of creation. Once I started touring Former Ghosts full time, I really started to see what is behind the curtain in the music industry today. That was insanely depressing and I want nothing to do with that world.
So in this way you actually have more control and freedom?
It provides more freedom in this sense: I can create when I feel the absolute need to make something, which drives all creative processes for me. I can do whatever I want and not worry about any kind of expectations or reactions to what I am doing. It is less freedom in the sense that I have a lot less time to work on things. But I don't like feeling forced to do something and I don't like the way that the current music world operates so it is good to be able to still create outside of both of those realms.
Your music projects were often driven by deeply personal things. Is music a form of catharsis for you, something primordial?
Definitely.  It is a way for me to explore my fears, obsessions, and losses.
Was there a specific impulse behind your latest EP Wait as well?
I really wanted to explore this feeling/sense of waiting.  Not what comes after the waiting, not the conclusion, but the feeling of waiting itself and the anxiety during that period. The focus is exclusively on that. I think of waiting as often unknowing. We often tend to focus on what comes after the waiting.  But at the time of working on it and creating it, I was thinking about the feeling of waiting. Especially something as scary and heavy as asking another person to wait for you even though you live a million miles away and hoping they will.
Was it harder to express your feelings without lyrics this time?
I wasn't exactly sure how I could express that feeling vocally. So I started experimenting with these really low frequency tones and reverberating them, stretching them out.
Because it was something more abstract?
Yes, because it was more based on the feeling of waiting and not knowing the outcome. Previously, most of my work had dealt with myself in the aftermath of very specific events.
Maybe through not having to rely on words, the sombre moods are more clearly expressed through instrumental sound as a medium, where the focus is on building atmosphere rather than written words.
It was a new sort of exploration for me.  I am getting back to being interested in attempting to sing again, and am trying to explore the possibilities of a full-length record of vocals with very minimal musical backing—hums, crackles, some sparse piano.
Has living in Prague influenced the record at all? Many say it is a fairly dark, gothic place.
Not so much, as I recorded it right when I got here, so I hadn't really settled in yet to Prague; hadn't really explored it.
How do you actually like living here? What do you like and dislike about it?
To be honest, the times I had come here to visit, I really, really liked it. But after moving here, I really, really hate it. The music/art/whatever community feels too small, too incestuous. The weather is really harsh compared to Los Angeles. However, it is a very beautiful city, I think the public transportation is amazing, my wife is really supportive and amazing, and the beer is the best in the world.
I've read on your blog that you've been working on some short stories.
Outside of music, a big passion of mine is reading and writing.
I guess Prague is a city with a good heritage of that. What are the stories about?
They mainly deal with the death of mothers and self-sabotage.
Are you planning to publish them?
I'm not sure about future plans to publish them or not, I have only just started to submit things so we will see.  I'm not really planning on anything. I guess I should say I only recently have had the guts to submit anything.
Is writing lyrics and literary writing different for you, or does it have a similar impulse and creation process?
I think both come from a cathartic space and a drive/need to express something and in the end a drive/need for human connection and interaction.
In that sense, is Former Ghosts a mission accomplished for you, something that fulfilled this specific cathartic need?
Even after quitting This Song Is A Mess, I still feel like my mother looms over a lot of what I am even still doing and exploring.  I think a lot of the times I reach a cathartic moment and then I don't want to play specific songs anymore. To have to revisit them doesn't seem meaningful. But I also think in a way, I realize something else. In the beginning I always think that the songs are directly related to a specific outside event. However, in the end I find out that my music is always centered around myself and how I deal with things.
Former Ghosts and Josef Bolf: in the name of art and music
Josef Bolf is one of the most respected mid-generation artists in the Czech Republic. His uncanny characters, sometimes half-animals, inhabit a post-apocalyptic world devoid of hope and redemption. Death, gloom and doom are expressed in a menacing but playful way. A new English language documentary directed by Benjamin Hunwicke aims to capture the persona of this enigmatic auteur. Bolf's affection for music is made obvious in the film, but perhaps a lesser-known fact is his influence on bands like Former Ghosts (Freddy Ruppert's project which also includes collaborations with Zola Jesus, Xiu Xiu's Jamie Stewart or Tearist's Yasmine Kittles and is featured here alongside up-and-coming Czech project Mon Insomnie.) EB: What motivated you to do a film about a Czech artist? Benjamin Hunwicke: I first came to the Czech Republic to study for one month, and ended up staying for almost three years. I fell head over heels in love with Prague and the Czech people. I started attending art openings and underground parties, and was amazed at the talent here. My first thought was "Why have I never heard about this before?" In England, we hear a lot about Berlin, New York and Tokyo, but sadly a lot of foreigners have a problem even locating the Czech Republic on a map. Many people think it's just a place to come and get drunk for the weekend. There's so much going on here, such amazing art, music and culture, and a lot of it coming from this friction between West and Eastern Europe and Czech history. So I began thinking about a documentary. How did you choose to portray Josef Bolf, one of the leading Czech painters?? I first saw Josef's work at a gallery in Prague. It was everything I felt art should be – intense, visceral, surreal. I was eventually introduced to him by a mutual friend, just after I'd bought his book of art. It was a bit embarrassing, as I was looking at the book as we were introduced. I must have looked like the biggest fanboy in the world! But Josef is very friendly, modest and polite, almost the opposite of his paintings. I found this juxtaposition to be very intriguing, and we quickly struck up a friendship. Eventually I left Prague to study film in Brighton, and was given the opportunity to create a documentary. I thought to myself, "Who's the most interesting person I know?" Immediately I thought of Josef and his work, and the arts scene in Prague. I pitched the idea, thinking it would be a tough sell – some guy from Brighton going to make a film about a Czech painter? – but people loved the idea, and we were soon in Prague with a digital and Super-8 camera, running around like mad dogs for forty-eight hours. Why did you decide to premiere it online?? I decided to do the documentary in English. There is a lot of fantastic coverage of the Czech arts scene, but most of it is in Czech, which makes it very difficult for foreigners to learn about contemporary culture. I hoped by making the documentary in English that people from all over the world could better appreciate the exciting things happening in Prague. Could you tell us more about the music in the film?? Former Ghosts and Mon Insomnie are two of Josef's favourite bands, and I think they capture a sound that is similar to his visual art, a kind of intense melancholy. Many people have heard of Former Ghosts, but Tomas from Mon Insomnie is an amazing musician, very young and talented. What about your future projects?? I'm devoting myself to making music at the moment, but if the interest is there, I would love to shoot another documentary in Prague – but with better equipment and this time about the music scene. There is so much great stuff happening in there; the potential is almost limitless. Josef Bolf – The Documentary will premiere on the 6th of April on Youtube and Facebook, and will be available until the 13th of April. Find out more here.?