Audioccult Vol. 21: Goth, Ghetto, Gold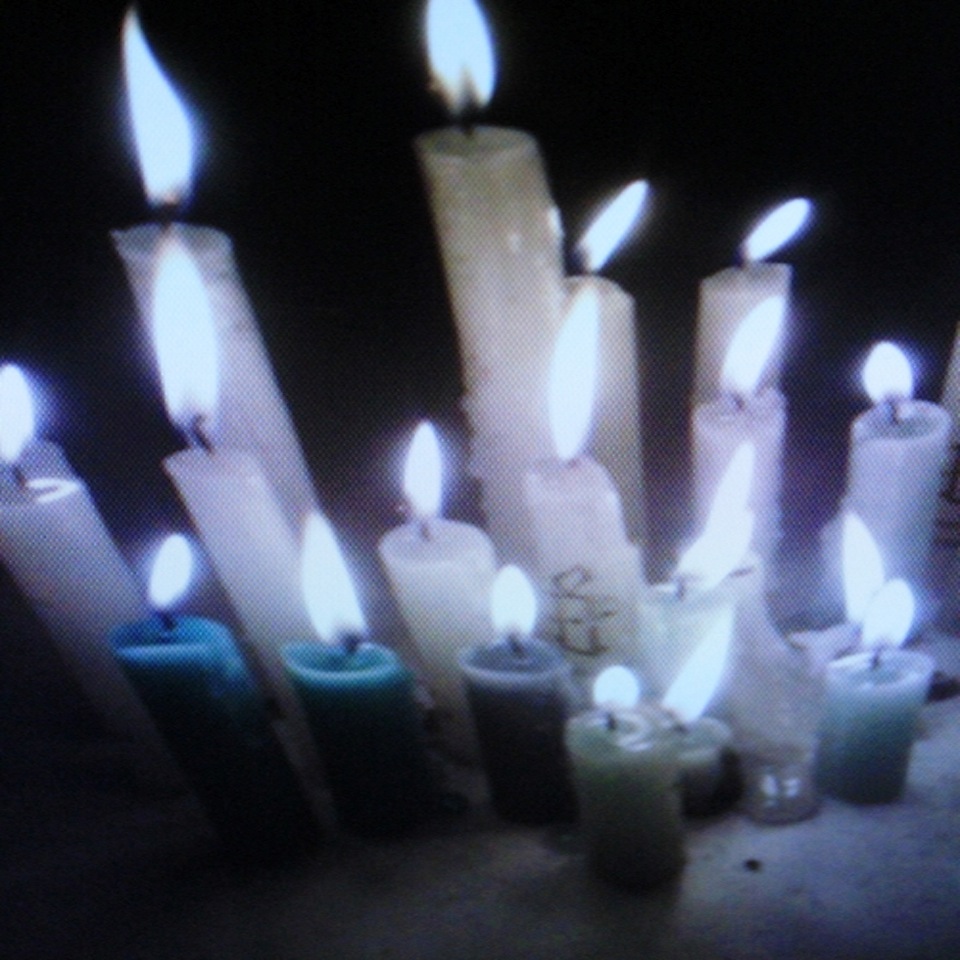 Light a candle. Draw the required sigils. Now, raise your arms above your head and slowly, gently, exhale your soul. You won't need it here. This is Audioccult, and it's time to get low.
I can't really count the number of times I've had to explain to people just what my 'deal' is, only to have them smash the MIND-DEATH button and scream 'NO DEAL'. When I started doing this column, the point wasn't that the music be centered around a specific format; rather it was to bring a more diverse sound to EB.net in the vein of my personal blog Gucci Goth (now BlackBlackGold). In my world of sound, the dirty R&B house of Brenmar fits perfectly beside the blackened noise-metal of Gnaw Their Tongues and the baroque breakcore of Nero's Day At Disneyland. This make sense to me, and this column is an attempt to make my sense sensual for you. Yet I still get emails sometimes asking me to explain myself: is this a goth column? is it 'witch house'? Is it meant to be ironic? These are questions people usually ask when what they really mean is 'I'm a really musically straightforward person and I don't get oddities.' Which is fine, if totally boring for me, but it does make me feel sometimes that perhaps I'm not being direct enough—especially if people feel that my style of writing is meant to be insincere or ironic.I promise you, the reader, that while I may be silly, or weird, or writing through a haze of mind-altering substances (or memories of them) that I am entirely sincere and entirely lacking in irony, which hasn't been an interesting social tool ever since people decided it was a good replacement for a personality. Audioccult, and in fact anything that I promote, is exactly this: things that I think are interesting, regardless of genre. I draw from my youth as a goth, my love of hip-hop and bass music, and my experience as a music promoter and musician. I hope that the past twenty entries have been interesting for at least some of you, and that, in some way, I have turned you on to my aural world. Twenty entries from now, I hope I still do.
With that in mind, here's a bunch of goth shit.
A$AP Rocky's LongLiveA$AP is high on my list of anticipated releases; even more so after hearing A$AP Mob's latest mixtape Lords Never Worry. The best cuts do tend to be the ones that feature Rocky, with 'Thuggin' Noise' at the front both literally and figuratively. The laid-back, casual grimness of both the lyrics and beats make this one of his most memorable since…well, anything he's done with Clams Casino, I suppose, but that's more on Clams. I will say that I was disappointed that 'Bangin' On Waxx' wasn't a Blood & Crips cover. Meanwhile, A$AP's current #1 beef SpaceGhostPurrp made his fans salivate with the free release of his Mysterious Phonk instrumentals. I remember how pissed off a lot of 4AD lovers were (and are) about his debut being released on their beloved label; to them I say listen to these beats and tell me they're not as dark and underground as anything 4AD has ever released and I'll laugh and clap that Lil B x Cocteau Twins atcha.
Melding hip-hop with dark beats is hardly a new phenomenon. Pretty much anything to come out of the South has a sinister vibe that would make Andrew Eldritch shiver (possibly even more than looking at his mess of a career), but it's more recently that reconceptualists have been incorporating the heavy dancefloor cyberpanic of industrial dance. Fostercare's last mixtape for LONG Clothing featured a fantastic mashup of Distorted Memory's 'Black Fields' and Lil' Kim's 'The Jump Off' that's been unstoppable in my iPod these last couple weeks. I really need to do a mixtape entirely made up of this sort of stuff… or someone else does (hint hint). Speaking of mixtapes, Liver Diet just dropped a brand new one. Curated by High Park, it's packed with plenty of sounds that should be familiar to regular EB readers including Gesaffelstein and LOL Boys. It does err a bit close to techno for my taste, but it still has enough divergence to keep me interested.
If you saw last week's Skrot Up recommendation, you probably also found out about Submissions (if you didn't, then do; nearly everything on that label is gold). Normally I don't go in so much for vocalists who sound like Ian Curtis and aren't Ian Curtis, but these kids are very much 'inspired by' rather than not 'ripping off'. 'Get To Dying' is the perfect blend of industrial-tinged post-punk sounds reminiscent of early Godflesh and the like, peppered with squawking shrieks and submerged in layers of chugging guitars and reverb-laden drum machine. It's all extremely satisfying. Recent discovery Hirsute Pursuit creeps closer to the post-industrial acid of audio warriors Psychic TV, and it's no wonder when you consider the group's alumni. The bear-centric project features legends (however you chose to think of such a term) of their scene including sadly departed Peter 'Sleazy' Christopherson of the great Coil and Boyd Rice, whose cheez-shock tactics and suspicious White Powerisms I've never really been fond of (if he means it he's a douche and if he doesn't that basically makes him the industrial Marilyn Manson). Here, however, he delivers an explicit and thoroughly enjoyable cover of David Bowie's 'Boys Keep Swinging'.
There's more, of course; there's always more. But for now I'll only say: be open. Be weird. There's enough one sided-music fans in the world, and there's enough wonderful and fascinating music to change them. The days of playing an US vs THEM version of social musical chairs should be left for the past. You don't have to like a single damn piece of music that I've posted here, today or otherwise, but I hope that you allow yourself to experience it (and the vast variety of other non-commercial music that exists) on some level. Otherwise, how can your soul breathe?
Audioccult Vol. 19: The Beat of The Law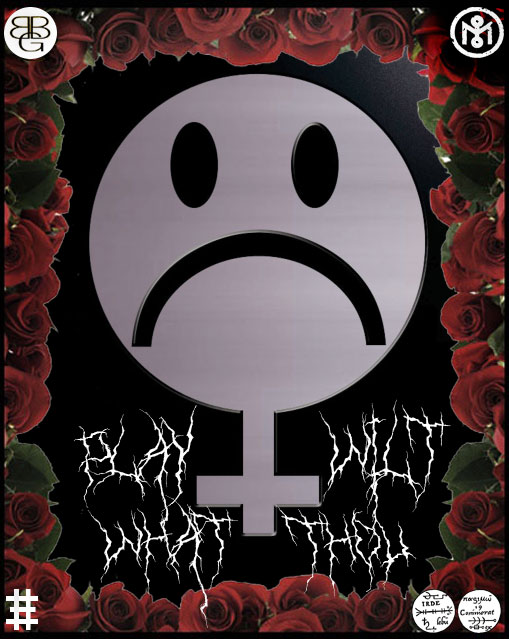 Light a candle. Draw the required sigils. Now, raise your arms above your head and slowly, gently, exhale your soul. You won't need it here. This is Audioccult, and it's time to get low.
With no PURGE to bend my thoughts to, and freely entombed by rising heat, I find myself withdrawing into a realm of icy sounds, icy smoke, and icy chains (for my icy game). The newest CVLT Nation mixtape Blackened Everything vol. VII, for example, is keeping my mind grimly frosted with raw black metal and crust via Black Breath, Church Whip, and a bunch of other shit I haven't really heard before (just got fixated on Gnaw Their Tongues and Bone Awl and kinda hung out there) but am furiously downloading/tape-finding. Perhaps they'll pop up in a future mixtape from myself, although hey, I just dropped one. Collecting the intensity of PURGE with my other collaborative post-goth party #gHashtag, it's a combination of culturally contrasting sounds and blendings of old and new: Virgin Prunes meet Sinister Souls, Dead Can Dance and Rihanna sit side by side, and Sunn O))) is twerked into dance music. You'll like it, maybe… play what thou wilt.
In a slightly more calmer vein is the soundtrack to the 1970 Czech film Valerie a týden divů, which a friend recently passed me and which I subsequently became obsessed with. Composed by Luboš Fišer, it's at times soothing, but more often spellbindingly eerie, if somewhat less subtle than other favored soundtracks (but really, what can compare with Suspiria?). You can play the entire soundtrack here.
My boy Triple Six Sound Club just dropped his debut EP The War to Own The Internet, and you should be picking that up any second now. Sinister club is extremely my shit, nobody's owning my ears right now more than Triple Six. Well….maybe Total Freedom, actually. Ashland doesn't release nearly as often as I wish he would, but whenever he does it's a day for celebration. Even when it's a collection of older tracks, seven of which he just posted on his Soundcloud. They're all worth a download but the Bok Bok remix is my favorite. This dude and House of LaDosha need to get on those debuts already. I'm dying.
There were an excessive amount of good videos as well recently, including ones from Clams Casino, U.S. Girls (her poppiest yet; haven't decided if I like it), and SpaceGhostPurrp. My favorite, however, is a new discovery: Skumstar, who is also apparently the sound guy for LA party Lil Death. The video is actually a film with three songs tying it together, and it's very aesthetically pleasing. When the bass kicked in I painted my bong black and named it Rick Blowens.
A few days ago, some construction men came into the EB office. They set up a huge drill, and warned everyone that they would be making some extremely loud sounds. As they penetrated and hammered the concrete floor, my colleagues put on headphones or held their hands over their ears, expressing annoyance and discomfort. I had to restrain myself from standing nearby and rocking back and forth with my arms crossed. I do wish I could book them for a party, though. They sounded a bit like SHIFT, who I found via my friend Andy Black Forest. 'Hope & Massacre part 1' comes off a cassette titled Nyrkki & Kyrpä Vol. III, a series of noise and power electronics releases that are making me very happy and those sitting nearest to me very annoyed. I suppose I'm kind of a bad ass rebel, huh? Sorry, gramps, me and my noise and my new Ash Borer LP are going to sit on this side of the train, so I can see how freaked out and messed up you are by my weird music and skinny jeans and hyper-sexual libido. What's that, old man? You're a human being with thoughts and ideas and general sense of being just as relevant as mine and I actually avoid mirrors so I can't see how insufferable I usually look? Fucked up if true. Macbook Pro.