Denver DIY: an interview with Nicholas Houde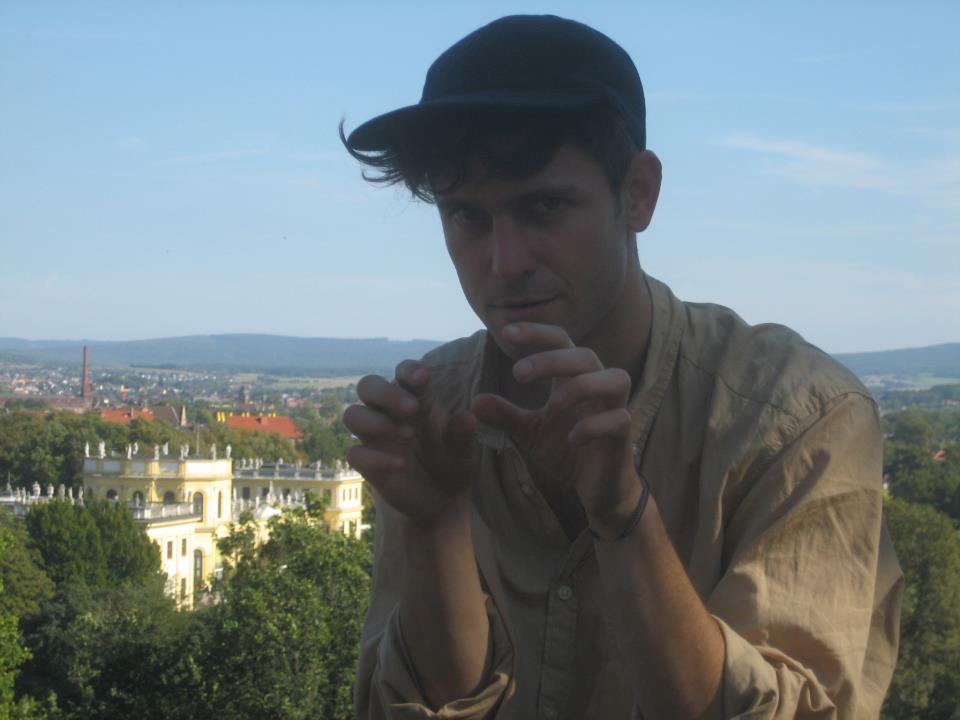 This interview was conducted by Daniel Jones and Michael Aniser.
There's a certain mythos that has surrounded Denver in the last six or seven years. Bands like Dan Deacon and Pictureplane have made the name 'Rhinoceropolis' something of a legend amongst underground music fans, leading to the idea of a thriving music community akin to the hype surrounding experimental venues like The Smell. But, as natives will tell you, this isn't the case. We sat down with former Denver native, musician and Rhinoceropolis promoter Nicholas Houde.
There's this myth about how Denver is this cool zone and everyone's going out to shows and everyone's a musician.
During the time when I was living and we were trying to do a lot of shows it was very antagonistic. We were ostracized by a lot of people in the media, by the proper clubs, by the people who ran the bars in town.
Why?
They didn't take us seriously. There were messageboards saying stuff like "it's just a bunch of assholes smoking a bong, playing a delay pedal."
That doesn't strike me as the Denver sound at all. It's less of a psychedelic hippy vibe, more of a mutant vibe.
Yeah, but that was just their poor articulation and because it wasn't alt-country. That's big there.
Like what, Jay Munly, 16 Horsepower and that sort of thing? 
Nooooo, haha. More like Wilco.
It sounds like that scene from Ghost World where Steve Buscemi's character was this blues fanatic who had all these ragtime records from the 1920s and then he was taken to a sports bar to see these white bros performing some blues-rock. 
It's a complicated thing. There's a long history of alternative spaces in Denver but they've always been really separate. There was a period, maybe 2000 – 2005, where Friends Forever were doing Monkey Mania, and then Denver got actually really big. Any of us that got involved withRhinoceropolis, the stuff we were doing was a direct response to that and it was also tied into Fort Thunder in Rhode Island and all these other spaces, Load Records, all these things were happening around the same time. It was big for a minute and then we were like the aftermath. As a result, for some reason it wasn't cool, especially in the beginning. No one came to shows by Rhinoceropolis in the beginning.
That seems weird. Who was playing?
It would be like Dan Deacon, Pictureplane, Married in Berdichev, and there would be like 15 people there. At first the clubs would never let us play and if they did they would specifically stiff us because they knew that we didn't care about money. There was a lot of that going on. People at large didn't really take it seriously but then, as things grew and people were doing more and more shows they was more of a buzz around it with Rhinoceropolis, there was the obvious people coming from Monkey Mania but then after that …
When do you think it started to change?
It begun in 2005, I played the third show there ever. I had moved to Denver a week prior and got asked to play this show. I would say the first year was really shaky because they were doing a lot of harsh noise shows and then some dance nights but there wasn't really a consistent spine to the promoting. Especially considering Monkey Mania was still open but then it changed hands to these other kids who were full of shit. There's a lot of history, how do you put it all together? Around 2007 and 2008 things really picked up and around that time it was really fantastic. I was booking a lot of shows there at that point too and it was like HEALTH, Dan Deacon, High Places, dudes from Wolf Eyes… these constellations of people. Around that time things started to change.
That's when I started to discover all this Denver stuff, I got really into Hideous Man and Pictureplane and Married In Berdichev and then I started talking to this local kid Colin a little bit.
Colin does a project called Alphabets and I met him for the first time when he was 14 years old. I used to book shows at my house and I had a lot of shows going on, and he knew me from that. He handed me a CD in a coffeeshop and said "Can I play at your house sometime?"After that he was always around, he was always involved. He also brought his friend Nick Peeler and this series of high school kids into Rhinoceropolis and that was a huge lifeblood push. These were kids who were really searching for something … people to take the torch.
Did you ever play at Silent Barn in New York? The way you talk about Rhinoceropolis reminds me a lot of that kind of scene.
Really similar, except I think the difference is that we were really naive. Buddy and Warren had toured a bit because they were in this band called Zombie Zombie, who were a really big deal for a minute in the west and that spawned the Ultra Boys. So they had been going to LA to The Smell and a few other really famous spaces around, but for the most part people in Denver had no clue about what was cool in New York. They had no idea about what was cool in LA. Most people were coming tabula rasa.
I like that it had its own natural influences instead of outside influences.
I think that's why things have gone to shit. For a few years people into this sort of music were really paying attention to Denver, which is detrimental some ways but also really beautiful because people were focused on what was happening there. Meanwhile these musicians were doing what they wanted because nobody thought they could get famous. Their aspirations weren't "we're going to create a band and get famous", rather "I'm going to make a band and make weird sounds because it's what I want to do because no band from Denver could get famous!" This mentality preserves things in a way. That's what was happening, all of us were doing really weird shit and having fun wearing goofy clothes and being really irresponsible because none of this matters. There was never any careerist pretention, no image to save, no PR. It was the opposite: "come to our house and have a show!"
I wish more people in music were like that; more community-oriented about music.
I think that was an amazing asset of the mid- to late 2000s in the US, but I'm a firm believer that fame plus the level of moneytization in the music industry crushed people, especially smaller bands. There was a threshold right around 2009 or so where suddenly it wasn't bands emailing directly but booking agents. We were like "we don't do guarantees, we can barely scrape any money off the door". Rhinoceropolis sustained itself from people living there; it had no economic imperative and people then were very bad about paying for shows. Around that time a lot of bands got famous and developed this attitude. The one that didn't act in this way was Dan Deacon. Everyone else started getting booking agents, press agents, PR dudes.
What do you think is Denver's future now?
It's hard to say. I only have a few friends there, everyone left. I'm not very excited about what's going on right now. The last couple of times I went there because there were a lot of people trying to dress like Travis Egedy and a lot of very uninspired bands.
Audioccult Vol. 1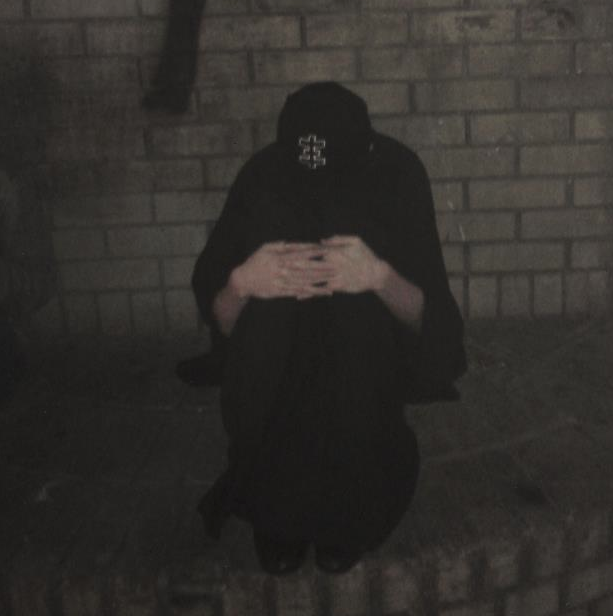 This is an open letter inviting you to explore a special selection of audio/visual pleasures culled from my own musical and artistic associations and associates. This is the cult of audio.
The NYC duo CREEP opened the week with an ethereally beautiful remix of School of Seven Bells' 'Lafaye', taken from their beautiful new album Ghostory. When CREEP's now-familiar plaintive guitar and mournful synth claps hit around the four-minute mark, it lifts the clouds away and sends the mind into a world of crystalized pleasure. Meanwhile, on a similarly mournful tip, Wild Beasts (who you might remember for their 2011 remix of Lady Gaga's 'You & I', which actually rendered it listenable) recently released a new remix for London-based sisters 2:54. 'You're Early' is a dreamy alt-pop pleasure, but Wild Beasts drape it with a slow-crush vibe thats enhanced by frontman Hayden Thorpe's added 'duet' with Colette Thurlow. The result is something that feels more like a stalker's death-threat than a love letter.
School of Seven Bells – Lafaye (CREEP Remix)
2:54 – You're Early (Wild Beasts remix)
I was beginning to wonder what Gatekeeper were up to. The NYC-via-Chicago duo have been fairly quiet since 2010's stunning Giza EP. But it seems they weren't just sitting at home watching Tenebre on repeat, because on July 17th we're getting a full LP. Exo is twelve new tracks of what will likely be some extremely fucking cool industrial-flavored electronics. No surprise there, but the band have also announced that the album will be accompanied by a first-person gaming environment "in which one explores various worlds inspired by tracks on the album." I wanted to make some kind of pun about video games here, but then I realized that I haven't touched a controller since I got pubics.
Denver is home to some of my favorite musicians, including the angelic noise of Married In Berdichev and the post-physical prophecies of Pictureplane, but people are definitely going to start noticing my boy alphabets more. This kid is mad prolific, frequently releasing albums (often one a month!) for free. His latest album Jeanjets just dropped for a mere six bucks, and it's highly worth your time. Experimental tropical-influenced dance sketches for post-genre pleasure. Former fellow Denverites Hideous Men seem to be on a bit of a break, but member Ryan McRyhew is currently releasing new tunes as Thug Entrancer. His analog soundscapes can be heard on his Ready To Live cassette, and you can download his latest remix album Tropic Mind Vol. 3 for free. Which you should.
There have been a good chunk of other free releases recently. Hype Williams' work has always been fairly interchangeable; get one release and you essentially have them all. That doesn't mean they aren't enjoyable, however, and when The Guardian announced an exclusive download of a new 'album' I didn't even hesitate before saving it. The Attitude Era is a collection of outtakes, rejected and unfinished demos and remixes that never made the cut. I'm not sure why, because they all just sound like regular Hype Williams stuff. Amongst the bits of fluff you'll find some true grimy gems, like personal favorites 'Schadenfreude' and 'Millennial Turk'. There's less than a week left to download it, so grab it fast! Berlin-based black magickians reliq also released their debut for free download, and if you're in need of soul-transforming shrieks, you won't find better. Speaking of thrash-rackets, filthmaster general Getter hit 10k on his Facebook page the other day. To celebrate, he dropped a free EP, featuring collabs with Barron and 50 Carrot. Dubheadz will be feeling this one. Fade To Mind's Rizzla technically released his free EP this week, but I can't sit on this one and neither should you. It's cunty as hell, vogue house for the Now.
Finally, in random news it seems that EB favorite Chelsea Wolfe has left her home at Pendu for LA-based Sargent House, which is connected to the rather essential Terroreyes.tv. After last year's equally essential ?????????? (Apokalypsis), I'm lighting a candle at the altar for some new spellbinding sounds.
______
Daniel Jones is a music promoter and creator of the subculture reconceptualization & aesthetics tumblr Gucci Goth.
'Woman' is not a genre of music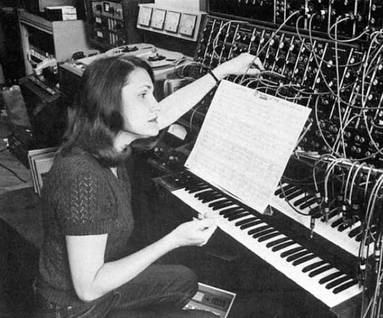 Women making electronic music. If recent articles would have you believe, this is something new, something fresh that's only starting to happen now. It's as though these wacky gals only encountered synthesizers after La Roux decided to slap some gel in her hair and take a photo. This is, of course, nonsense. Women have pioneered an exceptional amount of electronic music's history, from the musique concrète techniques of BBC Radiophonic Workshop co-founder Daphne Oram to the NDW of Malaria. The hands of these woman move over the pulse of electronics more so than ever, their methods and creativeness still being used and expanded upon today by artists like Brittany Gould, Kathleen Hanna, and Jessica Rylan, whose modular synthesizers are used throughout many genres of modern music. To state that electronic music is endowed with a 'masculine aura' presents a history re-write that not only marginalizes the contributions of past, present and future female electronic artists, it also novelizes it.
"The problem isn't a cult of masculinity in electronic music." says Mollie Wells of dark pop band Funerals. "It's the cult of masculinity. People tend to think of electronic music as this monolithic whole, but there's a vast difference between scenes. The dudes I know making minimal synth would never tell you it's a masculine place. But, if I'm being honest, techno sometimes is. There's a compulsory masculinity in that world, the assumption that if you're making something club-centric, you must be a dude. But Star Eyes, Lauren Flax, Anja Schneider, AGF, Ellen Allien, ADA …they don't make feminine music. It's not male or female. When Apparat collaborated with Ellen Allien on 'Orchestra of Bubbles,' the music was no more feminine than when he made 'Walls' on his own. Arguing that any of those songs are gendered says way more about the writer making the argument than the musicians making the music. Arguing that the sex of the person making it has anything to do with it, unless the songs are clearly about that…it's just futile. Delia Derbyshire, Daphne Oram, Wendy Carlos, Doris Norton, Suzanne Ciani, Cynthia Webster…..even Goldfrapp and Add N To (X)'s Ann Shenton. These women weren't on the periphery of electronic music…they pioneered it. "Woman" is not a genre. Stop acting like we're a passing fad."
Kristi Schaefer of Denver experimental group Hideous Men agrees. "I think this trend in the mainstream about noticing that women are making electronic music is another way of pointing out that when women make any kind of music, it's going to be viewed differently. I feel a lot of conflicting ways because part of me is like – yes, women should be praised for battling the additional restrictions put on them by sexism when they make music, but part of me is like, get over it, we don't use our genitals to play our synthesizers. In my experience women are often thought of as sidekicks or accessories in the music world, and electronic music is often treated as "less-than" rock, or easier than playing string instruments so being a woman with a keyboard is like one of the most easily dismissed ways of making sound. It's another fight women didn't ask for. I wonder if people are surprised that women make electronic music because people assume it's more complicated than acoustic music? Like they're impressed women have the capabilities to understand synthesis?"
The fact of the matter is that women are not experimenting with electronics 'now more than ever'. We just have the technology to find out about it easier. While this gives wonderful underground festivals like TITWRENCH the possibility to flourish, it also makes it easier for writers to group them under the faux-genre umbrella of 'female-fronted music'. So should we never speak about 'women in music'? Rather, let's speak about music. Let's discuss talented artists and bands that are impressive because of what they're doing, not because a woman is involved. New York City/Kuwait artist and musician Fatima al Qadiri perhaps summed it up best when we spoke: "Yes, music production is overwhelmingly a boy's club. That's a boring fact. The only thing you can do is deliver your vision. At the end of the day that's what really matters, not gender. Case in point: Wendy Carlos was born a man and became a woman."
Daniel Jones is a music promoter and creator of the subculture reconceptualization & aesthetics tumblr Black Black Gold.
Stoned Boys drop new cassette
We've been following Stoned Boys ever since we heard their remix of Burzum's 'War' which, regardless of any moronic political affiliations the black metal legends might have, is fairly fucking cool. Now the Moscow-based mutant ravepop group are dropping a brand new cassette on Laser Palace, the Chicago-via-Denver label that houses EB faves like Modern Witch, Pictureplane and label heads Hideous Men. It's a beautiful little album that captures both the manic weirdness of the group as well as their love of pop. Stream album cut 'Africa' below, and order the cassette here.
Pictureplane wants to party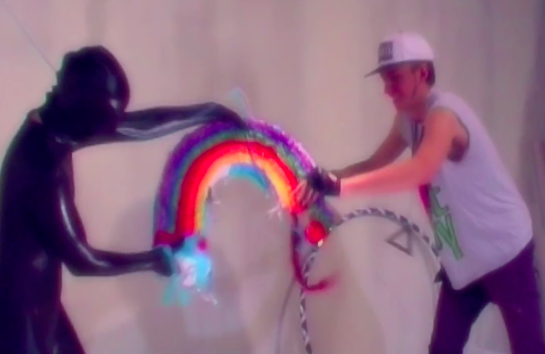 There's no stopping our boy Pictureplane. A week after releasing the track 'Real Is A Feeling' off his upcoming new album Thee Physical, the Denver king of Realness gave us a video to go with the song, a bouncing thing full of slime, balloons, hula hoops and alien masks, as well as cameos from other Denver music-magicians like Modern Witch and Hideous Men.
Just like his shows, this thing is a banging party that's over too soon. You're invited too; just click and feel the real.