Philip Sherburne recommends DJ Koze's <i>Amygdala</i>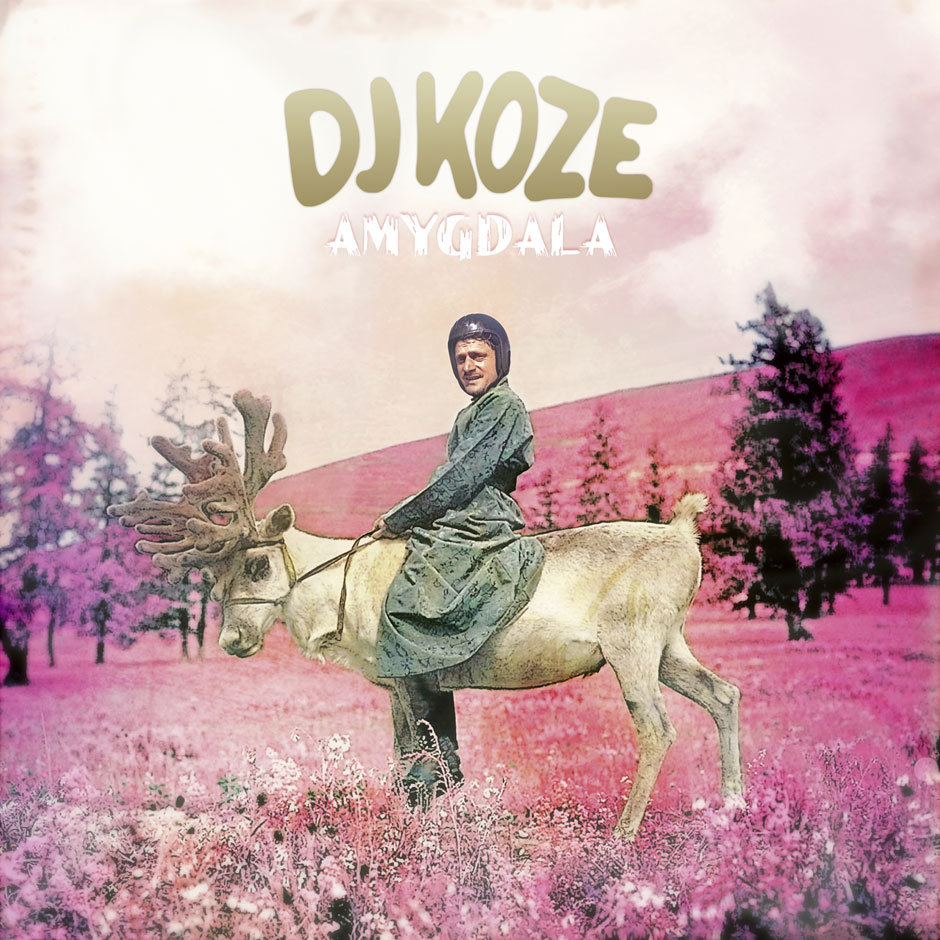 Hamburg's premier sonic prankster and dance music auteur has released his first album in seven years. It turns out that many wrongs really do make it right.
There's a hidden message stuffed deep inside the folds of DJ Koze's lush, at times disarmingly lovely new album Amygdala: good taste is overrated. That message is right there on the surface, in fact—just look at the cover, in which the German producer's face has been photoshopped onto the body of a man sitting astride a caribou; the wilderness a violent shade of algae pink. The rider wears a long robe of what looks like silk brocade and, for reasons unknown, a motorcycle helmet. This is not a "serious" image, and Koze's is not "serious" music—not, at least, in the way that so much underground (or "underground") dance music tends to be, with its shadowy affect, dour atmospheres, and tough pretensions.
That might sound counterintuitive, given Koze's uncommonly dulcet approach on silky, shimmering cuts like "Nices Wolkchen", featuring muted vocals from the emo-as-ever Apparat, or "Homesick", a campfire round (sung by Ada) masquerading as a shuffling R&B slow jam. The opening song features Caribou's Dan Snaith singing in typically limpid fashion over delicate kalimba plinking, and the closing "NooOoo", featuring Tomerle and Maiko, is a Mellotron lullaby in the style of Tujiko Noriko's blissfully naïve electronica. The whole album brims with understated house grooves, jewel-toned samples, and contemplative melodies.
But Koze, who came up in the hip-hop group Fischmob and the wisecracking trio International Pony before establishing himself as one of the Kompakt circle's most unfailing party DJs, is too clever and too irreverent to get stuck in the rut of tasteful house—the kind of milquetoast, two-chord plodders that have become all too common in the latest deep-house revival. So he balances out all that seductive prettiness with subversive gonzo strokes. On "Magical Boy", that means cartoonish jaw-harp twangs and Matthew Dear practically gargling his way through his cameo. On "Nices Wolkchen", it means strange, dissonant bleeps that worm their way through Apparat's velvety vocals. "Ich Schrieb' Dir Ein Buch 2013" takes a song from the German chanteuse Hildegard Knef and suffuses it in feline mewling and wailing. "Marilyn Whirlwind" is a full-bore rave-up of tension-building guitar riffs and nagging, dentist's-drill buzz, while easy-listening kitch garnishes the warbling "Das Wort", which finds Dirk von Lowtzow muttering indistinctly like a B-movie villain before crooning, "We are all sensitive people, so much to give," his voice breaking for added effect. In fact, Amygdala is a profoundly sensitive album; it's just cheerful enough to be able to poke fun at its own sad-sack tendencies.
The record opens with a nudge and a wink at electronic music's druggy connotations, sampling a snippet of film dialogue in which two men ooh and aah: "That pill should be kicking in right about now, is it?" "Yeah." "Yeah?" "Oh, yeah." "Can you feel it?" "Oh, I can feel it. It feels like I'm leaving my body." The reference is surely tongue in cheek, but the brilliance of Koze's class-clown behavior is that you're never entirely sure when he's joking or not. That the album's title refers to a portion of the brain that's central to memory and emotion suggests that Koze's real interest is in the neurochemical reactions sparked by song and sound; the brilliance of the album is in his ability to tweak our synapses in such a way that even the wrong notes—especially the wrong notes, in fact—feel like "Eureka!" moments.~
DJ Koze's Amygdala is released today in Germany and early next week in the rest of the world via Pampa Records.
Erobique pays his tribute to Ritter Butzke
Do you like disco? Do you like house music? Are you in Berlin this weekend? Are you free this Saturday night? Then you might want to visit Ritter Butzke in Kreuzburg to see Prince Erobique who will be bridling his party pony at the great Butzke gardens.
Erobique aka Carsten Meyer, the Munsterlandic hailing, Hanseatic living emperor of live disco editing, comes all the way from the shires of Hamburg to Germany's capital, paying the rank and file citizens of Berlin a tribute from his treasure chest of live disco pearls and other edited jewellery. Joking aside: there's probably no other musician in Germany that can keep the balance between a dj and live set as well as entertainment such as Erobique does. Check out this live recording of Erobique covering Marshall Jefferson's club anthem 'Move Your Body':
And then there's his take on Joe? Smooth's 'Promised Land':
Brilliant! Besides one of Erobique's rare shows, Ritter Butzke will be opening its doors for live sets by Odessa and The Oakwoods and dj sets by Matt John, Empro, Martin Dawson, Shir Khan, Cocolores (all three of them Exploited Records), and many more.
Photo: CC | Zeitfixierer / Flickr
Here Comes Wruhme x Erobique
EB regular Robag Wruhme has teamed up with musician Carsten Meyer aka Erobique. The Hamburg based artist – together with DJ Koze and Cosmic DJ most renown for one of Germany's greatest alt pop sensations, International Pony – has built up a massive reputation as the disco music entertainer extraordinaire. Within his often hours-long live sets, Erobique used to play a take on George Harrison's compositions for The Beatles, 'Here Comes the Sun'. Erobique's twist was a kind of Babel fish'ed version of the original, but always funny and self-ironic.
Just some weeks ago the track started to show up in Robag Wruhmes DJ sets. It therefore didn't come as a great surprise to see Robag posting a note on his Facebook page, stating that the track will receive a proper release via Leipzig based label kann records (b-side comes with a new track by Leipzig's Map.ache). The 10" vinyl will be available exclusively during this year's 14th installation of Nachtdigital (ND14) in Olganitz. Festival tickets are completely sold out since the end of last year, which means that the 3.000 festival guests have to try getting their hands on a copy (or more) of this release limited to 700 copies. Possible leftovers will be distributed through Nachtdigital shop and selected record stores.
As with every year, ND14 will offer up a creative playground for it's guests. Fittingly, the cheeky titled track 'Hier kommt die Sonne' comes without artwork: buyers are being asked to create their own artwork on the ND14 compound. So don't forget to bring your stamp, glue, wax crayons and whatever you'd like to see as an artwork for your copy of ND10".
Listen to a crappy quality live recording of Erobique x Wruhme below, catch up with Robag playing some music all over Europe.