The Book's Cover: Chippy Nonstop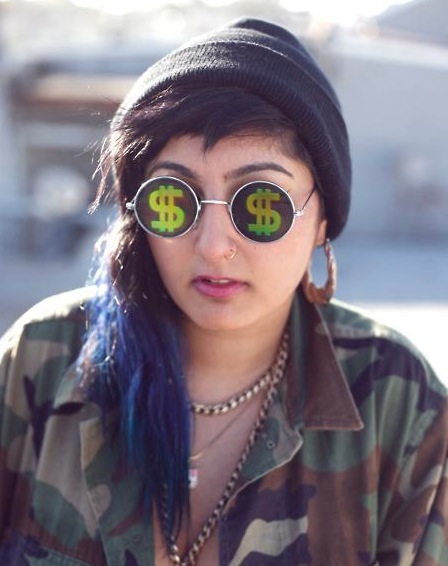 Every time I hear the phrase "Don't judge a book by its cover" I cringe.
Though well-meaning, as an idiom it stopped making sense when most books (and people) ceased to be covered by whatever old piece of brown sacking happened to be laying outside the village weaver's hut. Of course you can judge something by surface appearance. That's why we have graphic designers. Rarely do people have time to read a book before purchasing to determine the contents; in the same way, who has the chance to read a person before having any thoughts on the subject? True, the contents are the most important things, but what makes you discover those contents in the first place? Your eyes; your sense of aesthetics. A good cover speaks volumes, and The Book's Cover gives voice to those who wear theirs well.
This has been a big year for Chippy Nonstop. The rising young Oakland rapper got into the game as a writer and designer for Trap House Collective, helped found the Internet buzzcrew Yung Klout Gang, and is currently on an East Coast tour with Kreayshawn (who also directed the video for her track "Kicked Out Da Club") and Rye Rye. In between, she still finds time to tweet, twerk and drop mini-mixes for the kidz. Chippy's music is unabashedly fun: this is the sound of underage clubbing and backyard partyswag, being doused in equal amounts of vodka and Flamin' Hot Cheetos. Once you've seen her wile out onstage, your URLife will never be the same.
What's Chippy's ideal cover? Let's find out.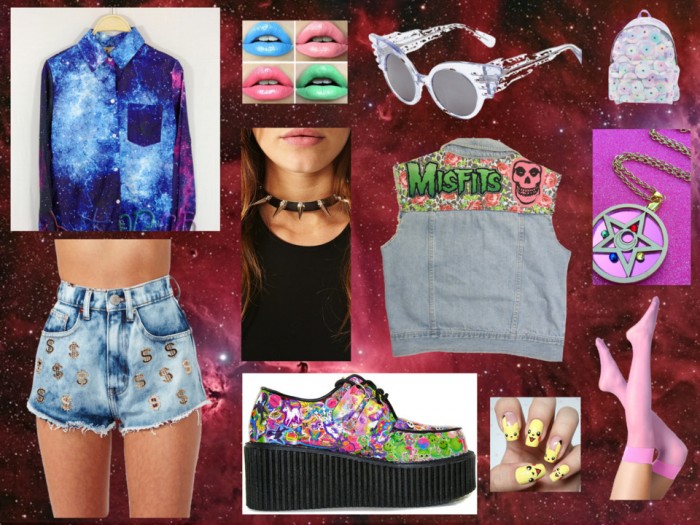 1. Galaxy shirt 
"Because it's a massive part of my life and keeps me balanced – and helps maintain gravity!"
2. $$$ Shorts
"So I can do the Money Dance in them!"
3. Lisa Frank creepers
"Because they're fucking Lisa Frank creepers."
4. Jeremy Scott winged glasses
"So cute!"
5. Pikachu nails
"How is this even! These are so amazing."
6. Misfits denim jacket
"Adds that essential bit…"
7. Sailor Moon necklace
"…and this completes it!"
We need to talk, world. I was all ready to be sooooo over fashion this year thanks to a fairly uninspiring selection of visuals over the past four or five months. But you were all 'Fuck no dude, check this shit out' and BAM. Jeremy Scott doing Bartman sweaters and Fifth Element couture. Ashish going acid. Daniel Palillo somehow hitting that perfect combo of future-goth army and Walmart Halloween costume. It's been like the IRL personification of all my tumblr desires.
None of it quite compares, however, to Kokon To Zai. The Japanese/Macedonian collaborative design team were already on my radar thanks to their SS12 collection, but their Mens AW12 made me audibly gasp. A New Romanticised crossover between Scottish drag queen and okkvlt monk is pretty startling to begin with, and it isn't perfect (what can I say, I'm not crazy about pinstripes) but the little failings pale against the strengths of the embracing symbology, flattering unisex silhouettes, and clever accessorizing. And those shoes.