The Book's Cover: Sean Bowie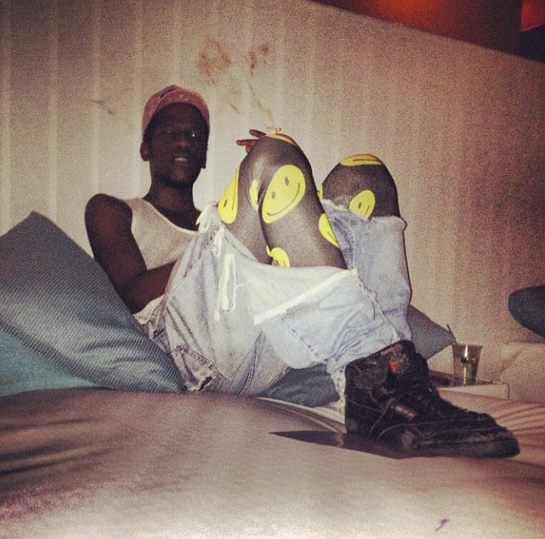 Every time I hear the phrase "Don't judge a book by its cover" I cringe.
Though well-meaning, as an idiom it stopped making sense when most books (and people) ceased to be covered by whatever old piece of brown sacking happened to be laying outside the village weaver's hut. Of course you can judge something by surface appearance. That's why we have graphic designers. Rarely do people have time to read a book before purchasing to determine the contents; in the same way, who has the chance to read a person before having any thoughts on the subject? True, the contents are the most important things, but what makes you discover those contents in the first place? Your eyes; your sense of aesthetics. A good cover speaks volumes, and The Book's Cover gives voice to those who wear theirs well.
Sean Bowie is a man of many talents, both audible and visual. Aside from his advanced fashion powers, he's been crafting a brittle-sweet brand of disco-tinged electronic weirdness under the guise of teams for a couple years now, landing a spot on the equally and delightfully odd Czech label AMDISCS and touring around the world. I'm honestly never quite certain when and where he'll pop up, though rumor has it he's forsaken his current home of Los Angeles for my current home of Berlin. His upcoming album Sierra City Center (a demo of which you can preview at the bottom of this piece) is a completely new direction for Bowie; the strange electronics are still present, but with a psychedelic, surf rock-inspired flavor. Life in LA definitely has that effect on people. What's Sean's ideal cover? Let's find out.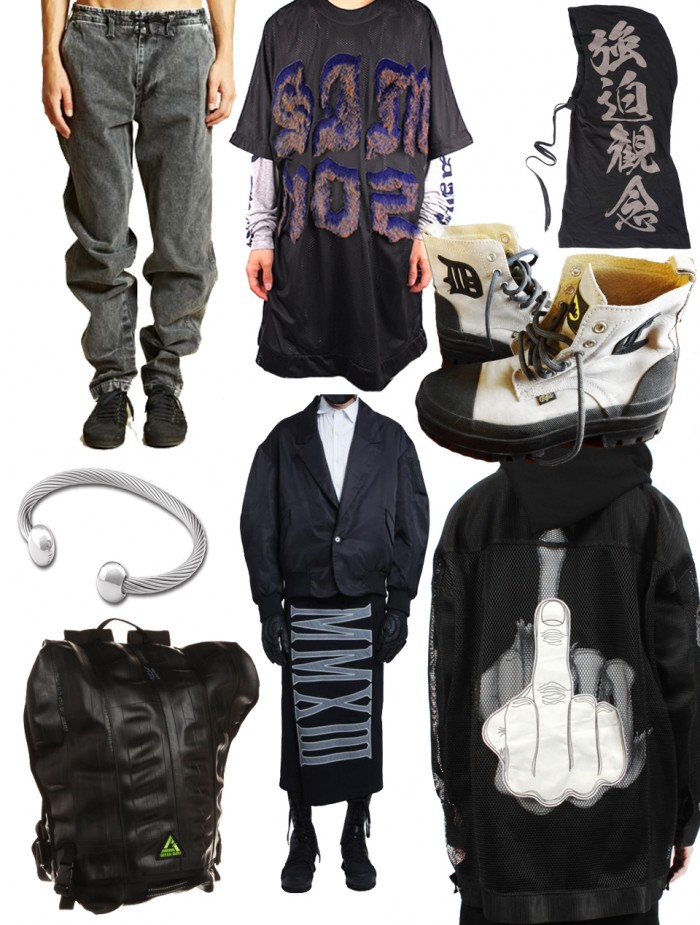 1. Yohji Yamamoto Men's Pre-Washed Jeans
2. Shaun Sampson t-shirt
3. Bernhard Willhelm hat
4. Buffalo boots
5. Daniel Palillo Finger jacket
6. KTZ AW 13/14 skirt
7. Q-Ray magnetic bracelet
8. Green Guru Gear Ruckus Bike Tube Backpack
Photo: Miller Rodriguez / PrettyPuke
Audioccult Vol. 31: Daggers & Dodecahedrons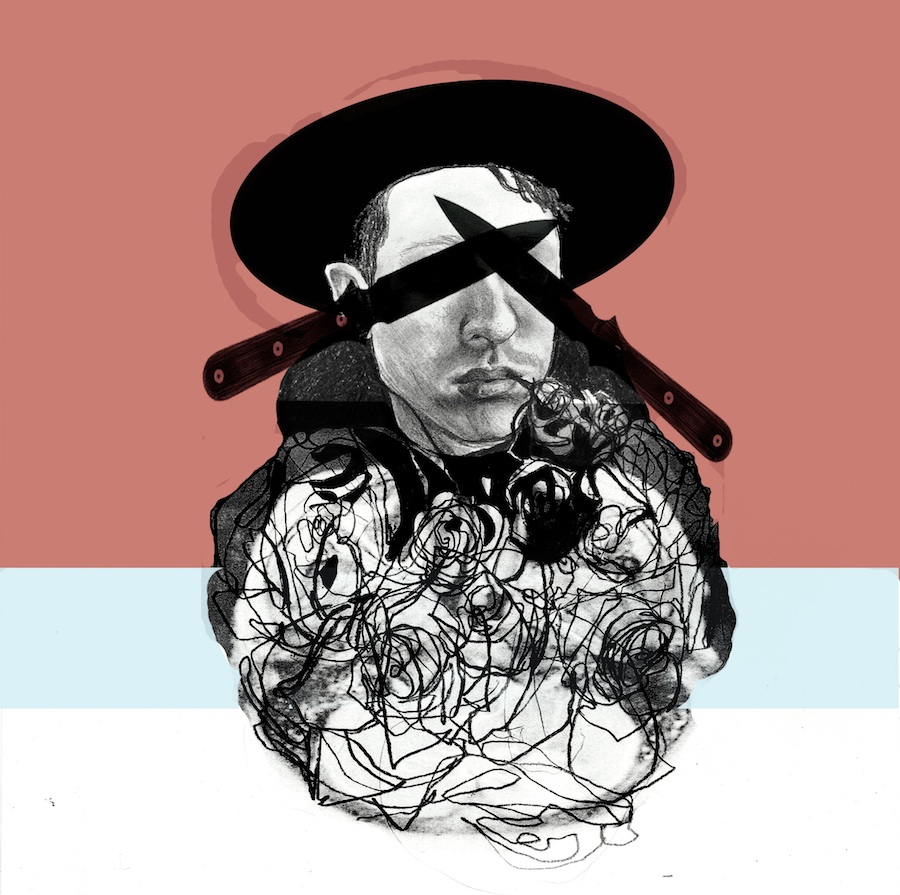 Light a candle. Draw the required sigils. Now, raise your arms above your head and slowly, gently, exhale your soul. You won't need it here. This is Audioccult, and it's time to get low. Illustration: Simone Klimmeck
Everything feels like it's happening lately. Seeing Le1f finally blow up this year has been a delight. Vatican Shadow has filled a musical void I didn't even know was in me. The Rihanna Plane situation has provided laffs aplenty thanks to crazy fun + spoiled popstar, though I legit hope the plane lands at some point and they open the door and a slurry of bones pours out because I haven't seen X-Files in a while. And, of course, all that other stuff.
As I've been writing this column for something like half a year now, I've presented various genres of music and odd bits of writing to the ever-vague Reader, which I suppose is you. Hello, you. I hope you've been pleased or repulsed by this column. One of those, or something else. I hope for a response, on any level, because it's Cool to Feel. Even if it's just via standing close to the speaker during a hot bass rumble.
I've been editing music more than I've been listening to it these last few weeks. As this year has progressed, so too has my career as a DJ. Yes, anyone can do it, but not everyone can do it well. I suspect my secret has more to do with my tendon-stretched, hyper-alien dance moves and penchant for occasionally taking off my clothing than any great technical ability, but having a weird way of looking at things is another good tool. I'm more inspired by the idea of mashups than proper remixes: the idea of taking two things and making something new and unintended is very appealing to me. This is also why I have so many kids. Bad dad.
The next edition of Audioccult will be a live mix from my debut appearance in Budapest, where I'll be DJing for the launch party of the fashion-as-art magazine NERO Homme. This marks the first occasion I've performed at a fashion event. Although the aesthetics of KTZ, Damir Doma and the like are all very much my shit, I'm not really a fashion person. Give me a nice piece of clothing and in two days it'll have a pizza stain. The few fashion people who've shown up to my parties usually stand off to the side for a bit, then leave once the clothing starts coming off. I'm sure it will be fun, however, and I always aim to please. I have a very ritualistic set planned, pieces that are introspective and deep and personal to me. I'll probably just play R&B and trap, though. It's all about that fast money, baby!
We need to talk, world. I was all ready to be sooooo over fashion this year thanks to a fairly uninspiring selection of visuals over the past four or five months. But you were all 'Fuck no dude, check this shit out' and BAM. Jeremy Scott doing Bartman sweaters and Fifth Element couture. Ashish going acid. Daniel Palillo somehow hitting that perfect combo of future-goth army and Walmart Halloween costume. It's been like the IRL personification of all my tumblr desires.
None of it quite compares, however, to Kokon To Zai. The Japanese/Macedonian collaborative design team were already on my radar thanks to their SS12 collection, but their Mens AW12 made me audibly gasp. A New Romanticised crossover between Scottish drag queen and okkvlt monk is pretty startling to begin with, and it isn't perfect (what can I say, I'm not crazy about pinstripes) but the little failings pale against the strengths of the embracing symbology, flattering unisex silhouettes, and clever accessorizing. And those shoes.