10 x 4 – Voyeur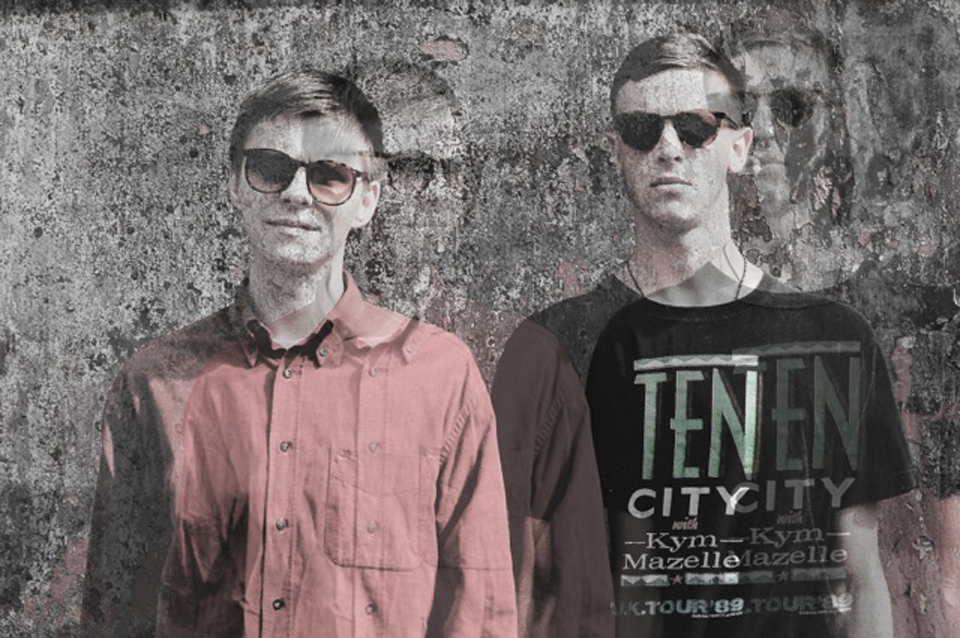 Kerris Chandler's latest signing on his new MadTech imprint is the Leeds-based house duo Voyeur, consisting of Benson Herbert and Leo Picking.
Their acclaimed Blame It On The Youth EP was released this week, and that's why we caught up with the boys to flash through our small but perfectly formed interview series 10 x 4. Time to get acquainted, then.
1 . Your most memorable show?
Gottwood Festival, playing in a caravan on a beautiful day with beautiful people!
2.  If you were still in high school, which clique would you belong to?
The Grungers.
3. An album that changed the way you thought?
Benson: Diggin' in the Crates – Buckwild
Leo: NYC – Steve Reid & Kieran Hebden
4 . Should music be free?
A difficult question to answer… I'm all for artists giving away free tracks; it's a nice idea and a nice thank you to the people who support them. But not everything should be free, people work hard and when you buy something you tend to value it more. It makes you listen more considerably to the music.
5 What defines your music-making process?
In general? Listening. Lots of listening. To as many different styles of music as possible! The mood we're in always has a strong bearing on the style of music we make.
6. Latest find on Soundcloud?
Kahwe
7.  Name three essential artists.
Detroit Swindle, Robert Glasper, Smallpeople
8. Indispensable outfit?
Leo: Brogues and string vest!
B: Hawain shirt, gold chain.
9.  A film or book that greatly influenced your music?
Book: The AB Guide to Music Theory
Film: 24 Hour Party People
10.  Your current favorite song?
Leo: Patti Page – Old Cape Cod
Benson: Smallpeople – Salty Days
Voyeur 'Blame It On A Youth' EP is out this week on MadTech Record.
Welcome to our new short interview feature – 10 x 4. First up is Leeds' Ghosting Season perhaps best known until now as experimental drone outfit worriedaboutsatan. Exploring similar metaphysical feelings, the duo of Gavin Miller and Tom Ragsdale have coaxed their reverberating specters and misty half light out of the corners and into the club with a sound that is as much concerned with rhythm as it is with eerie atmospherics – no surprise then that they have recently supported both Shakleton and Apparat. With their debut EP – Far End of the Graveyard just about to drop, ghosting season is most definitely upon us.
Read on to find out if there is any madness behind their method and at the bottom of the page you will find an exclusive download of a Sam Willis (Snortex, Allez Allez, Walls) remix of the EP's title track.
Biggest break?
Tom – It has to be a recent gig offer we had – supporting Apparat at the Scala in London. For us, this isn't really a break for the band in terms of "let's sell more records", it's more of a 'Oh my god, we get to see Apparat AND play a gig'!
Favourite part of the day to create?
Tom 2- 4am always brings some great sounds out. It feels like you're out at a club too, so you start writing quickly and more spontaneously. You can really get the mood right.
Last musical love?
Tom – Has to be Sun Kil Moon's Admiral Fell Promises album. A real grower, but worth every second. It's not a recent album or anything, but then again why does it have to be? Old music is just as good as new music, and I think a lot of the older sounds are unfairly forgotten about. Basic Channel, Chain Reaction, Deftones – it ALL still sounds amazing.
Favourite instrument?
Tom – I love my guitars. I have lots of them ranging from 12 strings, to flamenco. Classical guitar was my first instrument. When I heard 'Asturias' by Isaac Albéniz I knew that was it for me. It's an incredibly difficult piece to play though.
A place to create?
Tom – We're old skool in that we like to jam, so getting a room for four or five hours straight is a lot of fun. I think that's what a lot of electronic musicians are missing – the band element. It was great for some people but you can tell when an act is feeling isolated and uncomfortable on stage. They need to go nuts for a few hours and then have burgers together.
Favourite Tumblr?
Gavin – Gotta be hipsterpuppies.tumblr.com – amazing stuff.
First musical love?
Gavin – Ahh, well the first real band I absolutely loved was REM. They led me on to other amazing music when I got older – Radiohead, dEUS, etc. but when I was young, I absolutely loved them. Maybe it was because all their albums sounded completely different – the fun pop of Green against the dirty grunge of Monster, for example. I used to collect all their albums on cassette, as I had an old hi-fi that didn't have a CD player, and even though I didn't really understand some of their songs, I'd still faithfully track down all their albums, even the not-so-good stuff. Their early stuff is really quite odd as well – you'd have these really scuzzy post punk tunes sat next to really bittersweet country numbers, and their harmonies and sense of melody are just amazing too. I still rate Murmur as one of my favourite albums – it has this really cold, desolate feel, but at the same time feels quite homely and warm. It's very tough to describe! You can totally picture them making it too- a young, awkward rock band in 80's America wanting to just play some tunes.
Secret tip?
Gavin – Stay humble. No-one likes a smartarse.
Eureka moment?
Gavin – Years ago, I used to mess about on music making software, just to sketch demos out for the band I was in at the time. I think a great eureka moment came when I thought "hang on, these aren't really band songs anymore" and I decided to start worriedaboutsatan – the other band we do. It was funny, I think I'd subconsciously been making these songs fit a more electronic template than a band one, and then one day I listened back to the demos and thought "these are something totally new… this is something else" and so I started this little project, just collecting the random doodles I had stored on my hard drive. I showed them to Tom at his house one day, and we decided to do it as a duo as he could produce a lot better, and he had way more equipment!
Method or madness?
Gavin – Madness is a big part of what we do I think! In a sense that when we're writing, nothing much makes sense. I didn't have any musical training or anything, so didn't really know which notes went where, or what keys work together. Of course, that can lead to some absolutely unlistenable crap, but sometimes you'll get that one little flash of inspiration, just because you never learned what's supposed to go where! Tom's really good at the theory side of things, so can work out easily what I'm trying to get across a lot of the time – I'm terrible at that sort of stuff, but sometimes it comes in handy when you can strip all that stuff away and just try something out.
Ghosting Season – Far End of the Graveyard (Sam Willis's Death May Die remix) by Electronic Beats