Videodrome 96 – This week's best videos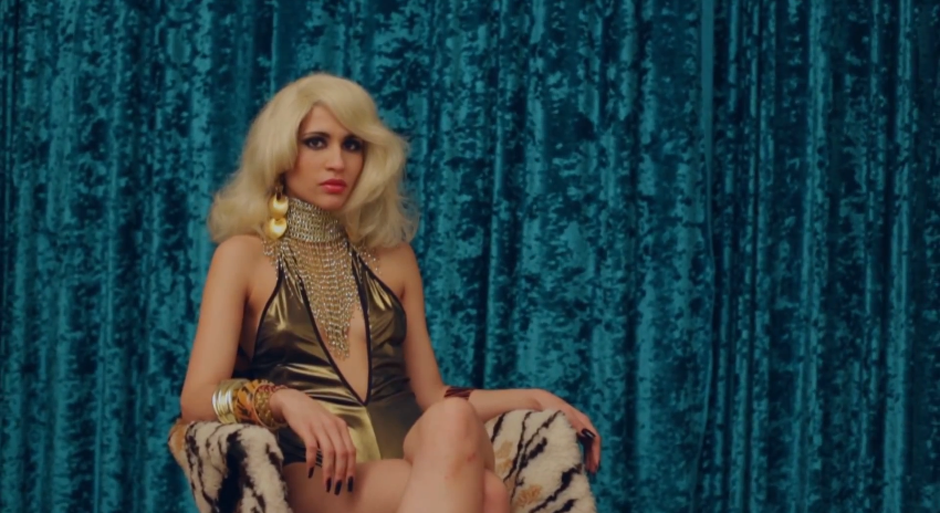 Welcome to our latest episode of music video goods, this week with Only Real, Mohammad, Stefan Goldmann, and more. Check it:
#1 Dj Clap – "Unbelievable", directed by Dj Clap and Matt Gerber
When it comes to editing skills, you better ask Matt Gerber! Check his unbelievable editing techniques in this mind-blowing video for DJ Clap's "Unbelievable" track—taken from his last month's Best Night Ever album, released via Magical Properties.
/
#2 Mohammad – "Sakrifis", direcetd by Beben Films
If you're a sucker for animal movies, this might be just up your alley. Though PAN definitely sets the bar high, as the video effect strays almost into x-ray.
/
#3 Gobby – "Slick Boi Gel"
You might have realized that I am the biggest Gobby fan on earth. And yes, now with his brand new Fashion Lady full-length, all the other suspects start coverage. Question: what would be Gobby without UNO?
/
#4 Tricky feat. Francesca Belmonte – "Does It"
Tricky's new album will be out May 28th via his own False Idols imprint, and here's the second peek at it called "Does it", which sounds—thank God—very much like the good, old Tricky.
/
#5 SFV Acid – "misto_prono"
UNO has the next great artist with a brand new album. If you have been following VIDEODROME for a bit, you might have already stumbled over this rising artist. If not, do yourself a favor, check this video and go and buy The Dwell, which drops on May 28.
/
#6 Co La – "Deaf Christian", directed by Andrew Strasser
Man, I am with Co La. Although spring is not coming to Berlin this year, in my mind I am already chilling naked, outside while listening to Co La's Moody Coup LP, which will be out 6th May, 2013 via Software Recording Co.
/
#7 Stefan Goldmann – "The Outness Queens", directed by Peter Vulchev
German DJ/Producer Stefan Goldmann has a new cool video inna David-Lynch style, which teases his 17:50 album, which is out now through Berlin based imprint Macro.
/
#8 Findlay – "Off & On"
Manchester's Findlay are giving me a sort of a Sons & Daughters feel. You can grab the four track free EP at www.findlaymusic.com
/
#9 Liars – "The Exact Color Of Doubt", directed by Markus Wambsganss
German film director and producer Markus Wambsganss just unveiled a pretty spectacular official video for Liars' WIXIW release from  last year.
/
#10 Only Real – "Blood Carpet", directed by Fred Ellis & Only Real
London-based Nial Galvin aka Only Realmade this VHS-like video with friend and filmmaker Fred Ellis for the track "Blood Carpet", one half of a double A-side with "Backseat Kissers", out now via ASL Records.
Peter Kruder on Elektro Guzzi's <em>Parquet</em>
Peter Kruder is a Vienna-based musician, producer and co-owner of the label G-Stone Recordings together with longtime collaborator Richard Dorfmeister. As a duo, Kruder and Dorfmeister's downbeat soundscapes and inventive continental trip-hop would become some of most celebrated electronic music of the late nineties and early noughties.
It's fascinating to me how far some musicians will go to get away from the stock, generic sounds of electronic presets and plugins. These days, sound design and sound architecture for electronic musicians has replaced melody and harmony as the backbone of writing music. It's not like people don't write catchy melodies anymore, but these aren't really considered predictable factors of success or popularity. As somebody who's well acquainted with the preset sounds of both software and hardware, one of the first things I noticed when listening to Parquet is how hard Elektro Guzzi have worked to modify their instruments—guitar, drums, and bass—in order to find sounds that are their own. That effort has paid off, because this record simply sounds different than the rest . . . even though it still operates within the context of a very specific style of techno; a kind of reduced Berlin-Detroit "minimalism", if you can call it that. "Minimalism" here is maybe a misnomer, because most of the tracks—from the opener "Affumicato" to the pulsing "Moskito"—build into full, charging tunes. Nevertheless, you can still clearly hear all parts of the machine working individually, and in superb sonic clarity.
I would guess that's also the result of working together with producer Patrick Pulsinger, whose contribution to this album shouldn't be overlooked. I always especially liked the music Pulsinger did that was heavily influenced by Detroit and Berlin techno. But he's really done so much. Like with Easy to Assemble. Hard to Take Apart, re-processed and reinterpreted tracks that he had recorded with these incredible Viennese jazz musicians. For me, the album was proof of the size of his musical vocabulary. But one of the most important things a producer can do is to adapt to a band's musical impulses. When I was helping to produce DJ Hell's Teufelswerk, it was no different. Instead of trying to squeeze and force him into my own scheme, I decided just to add my touches to Hell's own ideas. And not only as a sign of respect, but also because what you end up with is usually better. Knowing Patrick's work in the past and his affinity for jazz, it seems to me that he was able to rein in and direct Elektro Guzzi's instrumental virtuosity towards ultra-straight, unwavering results, while still giving them space to breathe and improvise. And everything on this record just sounds really good, with the gates and compressors used to maximum pumping and breathing effect.
Twenty-five years ago, almost all music was played by people who had mastered their instruments—electronic or otherwise. Today, people have become fascinated by electronic musicians reintegrating that mastery back into dance music, especially through live instruments—from Hercules and Love Affair to Brandt Brauer Frick. But with Elektro Guzzi, maybe even more than other artists, you hear a band that refuses to rely on the "novelty" of their musicianship. In fact, they do quite the opposite: instead of dwelling on the uniqueness of playing live electronics, they've decided to get busy with experimentation, pushing both the boundaries of their instruments and, in the process, techno as a genre . . . or should I say rock? Rhythmically, most of what you're hearing is machine-like four-to-the-floor, but the songs were played live. Parquet really made me wonder if man is not the better machine. ~
EB Listening: Elektro Guzzi's 'Parquet' album streaming in full
Elektro Guzzi's line-up might resemble that of a traditional rock band, but their music doesn't sound like anything you would expect from a guitar/bass/drums three-piece. Rather than using machines, the three Viennese musicians Bernhard Breuer, Bernhard Hammer and Jakob Schneidewind become machines themselves, creating precise, pattern-oriented pieces that resemble techno tracks rather than rock songs. Produced by fellow Viennese Patrick Pulsinger, Electro Guzzi have been signed to Berlin-based Macro label for their latest strike called Parquet. Check our Slices Feature here and head to our exclusive EB Listening below.