Videodrome 77 – This week's best videos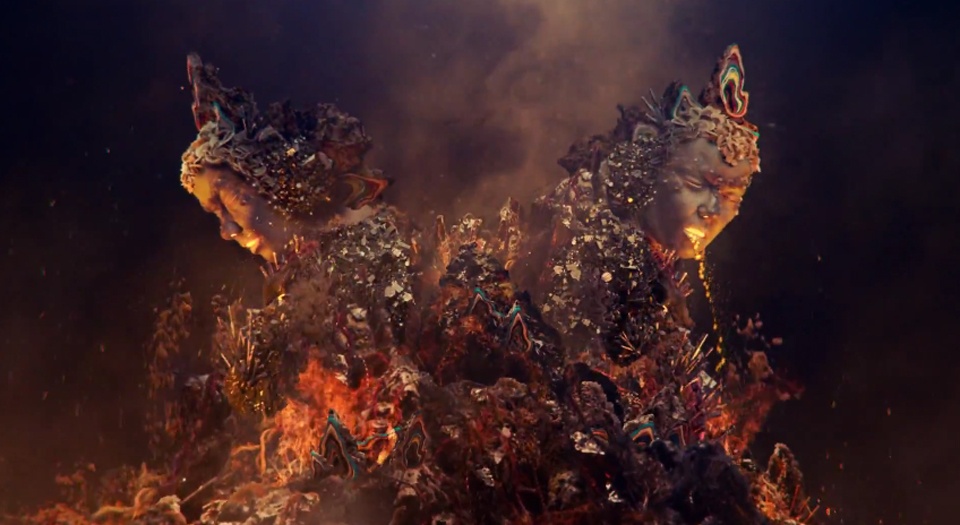 Here we are once more with the latest dose of cool new music videos from around the globe. This week features the likes of The Crystal Ark, Nicki Minaj, Boody&Le1f and, without a doubt one of the standout videos of the year, Björk's infamous "Mutual Core" extravaganza:
#1 Bjӧrk – Mutual Core, directed by Andrew Thomas Huang
Björk's "Mutual Core" clip is a truly badass video with a dangerous beat and stunning visuals on top. I can see why so many folks see this as video of the year.
///
#2 Fun Adults – Sap Solid, directed by Dan Jacobs & Huw Thomas
Leeds-based 4-piece Fun Adults have unveiled the video for "Sap Solid", taken from their Sap Solid/Acacia 7inch single, out now on Tough Love Records. Lovely.
///
#3 The Crystal Ark – We Came To, directed by Viva Ruiz
Gavin Russom and Viva Ruiz's project The Crystal Ark doesn't stop moving. Here's their latest strike, a post-sci-fi video made by Viva herself.
///
#4 Nicki Minaj – Freedom, directed by Colin Tilley
Nicky says: "I wanted it to feel timeless and classic, so it was important that we established a very intense backdrop for all of the setups." Enjoy above.
///
#5 Dominik Eulberg – Die blaue Sekunde, directed by decollage.tv
According to the director's website, it's a projection inception: "visuals projected onto a wavy sheet of Aluminium, filmed and then again (digitally) projected onto 3D metaballs and bubbles."
///
#6 Sebastien Schuller – Nightlife, directed by Emily Kai Bock
Director Emily Kai Bock and cinematographer Evan Prosofsky team up again after previous collaborating on Grimes' Oblivion music video and the latest Doldrums vid. In this new video the visuals match Sebastien Schuller's song perfectly as we follow two girls through the nightlife of Miami.
///
#7 Wundercastle – What's going on
Mark Wundercastle's new album Straight Up Leisure Time is now available online at bandcamp and is giving us fantastic 808 State and Altern-8 flashbacks. Addictive.
///
#8 Clean Bandit – Nightingale, directed by Clean Bandit
Clean Bandit are a collective of musicians who mix elements of classical, hip hop and electronica.  And surprisingly it works extremely well. Oder?
///
#9 Boody & Le1f – Soda, directed by Sam Jones
Massive talent coming from Le1f. New collaboration on BNR… Watch above.
///
#10 Gaslamp Killer (ft. Dimlite) – Seven Years of Bad Luck for Fun
Here's the trippy, sick and very surreal video by Los Angeles hip hop and electronica producer Gaslamp Kiiller. It's off his debut full length Breakthrough.
///
#11 Angel Haze – Love Of My Life, directed by Arnaud Muller
Up-and-comer Angel Haze reworked Erykah Badu's "Love of My Life", taken off her Classick Mixtape: moody track and video – love the VHS effects.
///
#12 Maxxi Soundsystem feat Name One – Regrets We Have No Use For
Hypercolor strikes back with the latest video from Maxxi Soundsystem, here collaborating with Name One.
///
#13 Profligate – Videotape, directed by Robert Beatty
Not not sure. Without a doubt NNF was one of the most inspiring labels two years ago. Now, it feels like we've seen enough screensaver vids and revisited enough 90s music to last a while. New identity needed.
Videodrome #32 – This week's best videos
Welcome our 32nd video round-up called V I D E O D R O M E. Jonas Rathsman, Julia Holter, The Russian Apartments, Prince Rama and many more
#1 Beaty Heart – We're All Friends Here (directed by Calvin Cordozar Broadus, Jr.)
Beaty Heart's chilled out song now has a new beautiful airy video, which is set against images of psychedelic hues and close ups of anemones wafting around. Erase any festive stress and watch this beauty.
///
#2 Jonas Rathsman – Feeling You (dir.?)
Winter? Get ready for some dope sounding summer viiiibes from Swedish producer Jonas Rathman! It's all about foxy dudes + nice beats + retro house vocals = win.
///
#3 Julia Holter – Sea Calls Me Home (directed by José Wolff)
For fans of Juliana Barwick, here's another release from Julia Holter. Ethereal, dreamy, classical sounds blending into something beautiful. Plus: the b/w video by José Wolff is fitting perfectly.
///
#4 SIINAI – Anthem Part 1 & Part 2 (footage from Holy Mountain)
It's early in the morning and I'm still pretty tired, so I may not be able to trust my judgement. That being said, I think this is the best thing I've ever seen or heard. Jodorovsky owns and we are very excited for their album with Spencer Krug.
///
#5 Morphosis – Too Far [Marcel Dettmann`s Definition 1] – Delsin (directed by the29nov Films)
After Newworldaquarium and Just For One Day already reworked some choice cuts from Morphosis' What Have We Learned album, we now get a new re-interpretations of a cut from the LP by Ostgut-frontman Marcel Dettmann.
///
#6 Leila ft. Mt. Sims – (disappointed cloud) anyway (directed by Ladypat)
Bizarre objects designed by Andy Cox move in time to the twisted track. No wonder Gilles Peterson hailed Leila as "way ahead of her time". Really digging this joint.
///
#7 Maxxi Soundsystem – Make or Break (directed by somethinkmotion)
Nu-disco! Catchy classic vocals and powerful house grooves sum up Maxxi Soundsystem's sound on his first solo EP on Needwant. The video for the title track was made by former EB-Collaborator Kazim Kazim Kazim.
///
#8 The Russian Apartments – Gods (footage from Chronopolis)
This tune played during my walk to work this morning. Prefect soundtrack… Love it. Download The Russian Apartments EPs and Singles for free here. And follow on Tumblr.
///
#9 Clubfeet – Fall From Here (directed by Alex Goddard)
Check out the brand new video for Clubfeet's 'Fall From Here'. It's the latest installment in the band's Gold on Gold video project with Sydney videographer Alex Goddard.
///
#10 Prince Rama – Summer of love (directed by Prince Rama)
'Summer Of Love' is one of the most compelling tracks on Prince Rama's latest album, Trust Now, and this new music video feels revelatory, an Indian and Hare Krishna-inspired celebration of glitz and glamour. Amazing!
EB OFFICE FAVOURITES – February 2011
Spring is in the air and the speakers at the Electronic Beats office are crackling with anticipation of a year of new and exciting music. In fact, there is lots of new music already that has getting has our feet tapping and heads nodding in the office – new bits from Hype WIlliams, Quadron, Deniz Kurtel and Charles Levine of Soul Clap. And of course this would not be the EB favorites with out some older gems – in the form of a tribute to The Guardian Angels and a killer edit of ALexander O'Neal. Enjoy!
The EB Office team is: Carlos de Brito (CDB), Gareth Owen (GO), Kazim Rashid (KR), Ari Stein (AS) and Agi Zelei (AZ).
Golden Flamingo Orchestra – The Guardian Angel Is Watching Over Us
(Taken from the 12" The Guardian Angel Is Watching Over Us (1979) on Golden Flamingo Records)
I wonder that I didn't stumble upon this earlier as I've been exploring the world of the two underground disco geniuses Peter Brown and Patrick Adams in the last years, but it seems I haven't been diggin' deep enough. However, I discovered this tribute to the Guardian Angels (a volunteer organization of unarmed citizen crime patrollers originally from NYC, more information here) lately, which is true gem just in between the late disco days and the very early b-boy and hip hop culture that would rock any block party today. (CDB)
Hype Williams – Businessline
(Unknown release 2011)
Like many I am well and truly under the spell of Hype Williams – though I don't have the desire to find out if they are real or not or what they are trying to convey. "Businessline" is widely available as a free download but I cannot tell you what album it comes from – if it comes from one at all. "Businessline" displays all that which is intangible and fascinating about this Berlin based duo. (GO)
Deniz Kurtel – The L Word (feat. Jada)
(Taken from the forthcoming album Music Watching All Over Me (2011) on Crosstown Rebels)
I haven't been much in clubs lately as I've been on holiday, but if is this is not a massive banger in good house clubs around the world right now, then I should retire from going out. Deniz Kurtel is the next Wolf + Lamb protégée going big, this time with a soon-to-come album on Crosstown Rebels, which sounds very, very promising to me. You can preview it here. (CDB)
Maxxi Soundsystem – Criticize
(Taken from the 12" Criticize/His Hat Was His Home (2011) on Kojak Giant Sounds)
<p></p>
Picked up this 12" right at the start of the year and haven't stopped playing it since. A seriously infectious edit of Alexander O'Neal's original from way back in 1987 – only this version is fatter, deeper, chunkier and will murder any dancefloor. (KR)
Janka Nabay – Eh Congo
(Taken from the EP Bubu King (2010) on True Panther Sounds)
This track was played to be my house-mate, who if I don't credit for introducing me to it, will never let me live in peace again. Having said that, it feels like it has been a long time since I heard a track with quite so much groove. In fact, this track is the definition of 'riddim'. (KR)
PhOtOmachine – Technicolour (Throwing Snow Remix)
(Taken from Technicolour EP on Super 2011)
I have actually been enjoying all of the mixes on this record – the Rafferite remix and the original are both killer and the fact that this is the debut release of PhOtOmachine makes me particularly excited to hear what's coming next for this young producer. Forget trying to put it into a genre – it's a simple, brilliant piece of 21st century electronic music. (GO)
Quadron – Day
(Taken from Quadron (2010) on Plug Research)
I just wrote a Ones to Watch piece on these guys. Very talented and very special, you'll be hearing a lot more from these Danish kids in the future. This song is so enriching and poignant, the string section in the chorus just kills me. (AS)
Wendy Rene – After Laughter
(Taken from After Laughter (Comes Tears) EP (1964) on Stax)
I have come across with Wendy Rene's classic track in a recent mix by Nicolas Jaar and haven't stopped listening to it. Like many old classic songs, this track has several times been remixed, covered and sampled by ones like Lykke Li, Nicolas Jaar or Wu-Tang Clan; yet, it is still the original version, which gets me goosebumps every time. (AZ)
Soul Clap (Charles Levine) – Lonely C
(Taken from the upcoming DJ-Kicks mix CD Wolf + Lamb VS Soul Clap (2011) on !K7)
"Lonely C" is taken from the first collaborative DJ-Kicks ever: Wolf + Lamb vs. Soul Clap. Charles Levine is one half of the Soul Clap duo, and with this track he tries out his vocals chords, keeping the entire track on a slow burn. This track works as much on its own as it does within the compilation which consists of 27 tracks and comes out on March 28th on !K7. The dreamlike vocal of the song is a perfect match with the title "Lonely C". (AZ)
Young Athletes League – Jag älskar dig, Phil Collins
(Unreleased Demo (2010) from Soundcloud)
Jag ?§lskar dig, Phil Collins by YOUNG ATHLETES LEAGUE
As it turns pout, I stumbled across these Dalston youngsters last week, really exciting new sound. This turns out be cheesy but also a kind of fun new way of looking at a classic. These two boys are just starting out but already they have started to garner hype and noise from the Eastend. (AS)