True Faith: an interview with Trust
Seeing Robert Alfons of Trust perform at the Music Hall of Williamsburg in NYC was equally as exciting as it was infuriating. After I elbowed everyone out of my way to get to the front, I turned around in ecstasy only to see a huge, slightly-bobbing crowd of people with their iPhones out, instagramming the night away. Alfons, who describes his music as 'emotional dance', was jumping around the stage with his soul-piercing vocals, the bass reverberating through my bones, and the most excited the crowd got was the fist-pumping couple next to me. At one point a single brave soul tried to crowd-surf in the center, but that turned out to be a quick fail. Oh, gothsters. Will you never learn?
Electronic Beats: So tell me how the project started. It was initially with Maya Postepski?
Robert: We were both writing music separately, and we just decided to start writing together. That's the birth of it.
I noticed she's not here tonight.
Yeah, she's busy with Austra now.
You have a very lush production in your sound. How much was Maya responsible for?
I don't want to speak much on her (Maya) behalf. I'm not a wizard in the studio at production techniques or recording. I think that kind of naiveté allows me to take a weird take on pop music. I listen to hilariously shitty music, or music that I find really interesting; I'm a big fan of heartbreaking music like Nick Drake and Brian Eno, people who have written the most unbelievably gorgeous music I've ever heard. Then adding that element of electronics or Top 40 and then just trying to play around with it. That's just my take on how production works, what I think sounds right.
How did you two meet?
We met in Toronto, through mutual friends. I'm from Winnipeg. I don't even know if people know that about me, but Toronto has been my home for maybe five years.
And 'Candy Walls' was your first song?
It's the first song we did together.
It's one of my favorites. Are the lyrics available anywhere?
I hate, and this is something I do and have done in the past, buying an album and flipping through the booklet for pictures, and there are lyrics just right there. I listen to a song for years and years, and then get attached to the lyrics that I thought they were. If find out that they were different, I don't really know what that feeling is…maybe disappointment. Whatever that song made you believe you were feeling, whatever you thought it was telling you…it's just gone then. There may be a point when I let my lyrics out, though.
In the past you've described your lyrics as sexual.
It's more about sexual repression and gazing and being not so much 'in it'. I don't think they're intentionally sexual, or overtly sexual.
How did you get into music?
I played music as a kid. I have an older sister and an aunt, and the pop music that they listened to shaped what I listened to. I played hockey and listened to pop music in the arena. They play like 1995-era Eurodance, which is like crying on the dance floor. Super emotional, lots of diva-esque vocals. They still play the exact same music. I always liked to sing, I played the piano and I was in choir, which I hated…that "conform your voice, make it nice" style. It was boring. I could always sing higher than all the other boys.
Tell me about the album cover of TRST.
It's a picture I took at a club, her feeling everything in that moment. I think it's a man in drag. I took it and fell in love with it. There are people who hate it. They think it's awful, terrifying. But I like it. I'd rather people have a reaction to it.
Can you talk about the next album going to be like?
It's fun because I think it's a new direction. I think I'm taking risks with vocals, and certain instrumentations, and sounds I hated in the past but now embrace. I think I'm experimenting with my voice a lot more. On the record I definitely have parts where I am going higher but I think I'm writing music with only that voice and with different attempt at trying things with vocals. With TRST, it only makes you hit a certain level of emotion, a certain height. With the new album,I want it to feel like you're hitting the stars.
Interview: Austra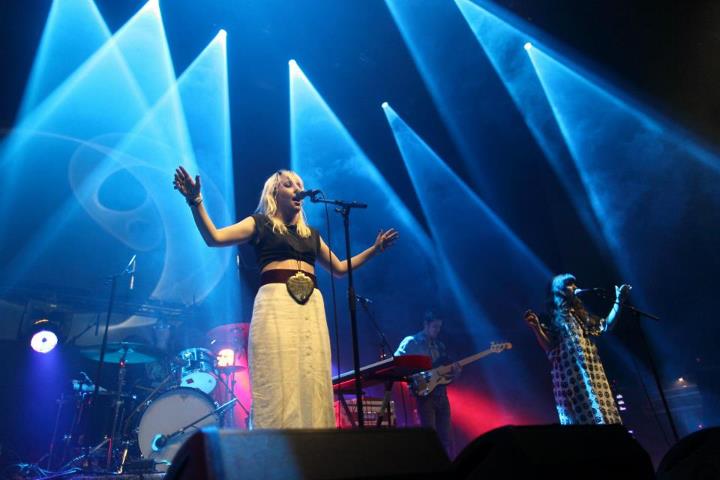 Austra have proven to us time and again that their dark electropop is just as engaging coming out live as from the studio, and when they took the stage at Electronic Beats Festival Cologne they showed us how real spellwork is done. We talked with Katie Stelmanis and Maya Postepski before the show.
Electronic Beats: How important is it to be really good in something, when it comes to writing music for example? To be trained as an opera singer for example, how important would you say it was that you went through a certain school or academy?
Katie: For the type of music that I make, I don't think it's very important at all. The background that I have in classical music helps. I think I have a different way of hearing harmonies or hearing voices. I think when you are writing music, especially in a time like this when anybody can just get a computer, get a guitar and kind of figure something out and write a song. I think that the difficulty is more about writing music creatively. Often, to me, it's about being an artist, treating music like an art and you don't necessarily need to be trained. Can you create something different or create something new?
What I mean is that sometimes you can be spoiled by learning grids and patterns, how to do things. I wonder how you got rid of it, because on your first album it's obvious that you did something on your own.
Katie: It's interesting because when I was actually studying music, I was learning all the theory, learning all the scales but I don't think that I actually processed what I was doing; I was just learning it because I had to. Now that I actually write music I'm so much more aware of chords and structures, and I'll go back to some of the old songs I used to play on piano and I'll suddenly understand them in a way I never understood them. "Oh this is so simple" , it's just these chord progressions, these things are happening.
Its mathematics.
Katie: It's kind of like mathematics. It's like the way jazz musicians make their music, they know the chords, and they improvise on the chords. Basically that's the root of all music.
It's interesting that you mention jazz, because Duke Ellington for example, he was known as someone who was always looking for the unexpected chord change, basically the one that was not supposed to be in the formula, but still fits. Is jazz and improvisation also a part of your interest?
Katie: I don't really take much influence from jazz, to be honest. I never listened to it. I never really enjoyed it, until I started to write music, and listened to it in a different way. Even now I'm more interested in a lot of older jazz stuff. Like, what's his name, the guy who wrote 'Blue'?
Maya: Miles Davis.
Katie: Yeah, like Miles Davis' 'Blue'. Like I heard that record, I listened to it in a different way, and suddenly I totally appreciated it and loved it. I was listening to that and suddenly so many other bands made sense to me, like Björk for example. Like this makes so much sense. This Miles Davis records, the harmonies. This is what Björk sounds like. So I think that, now, I've been learning to like actually take a lot more from jazz then I had in the past. I'm starting to understand it a lot more.
By what means do you consider yourself as part of an international scene, like contributing to sound that can exist in Tokyo and in Berlin and in Toronto at the same time? Or by what means is it something that could only be started and developed in Toronto?
Katie: My main objective in music has kind of always been to do something very different. I was always interested in kind of like pushing boundaries and exploring territories that other people weren't exploring. When I made Feel It Break, at that time nobody in Toronto was making electronic music.
So you were quite disconnected?
Katie: I was completely disconnected. Literally for years I was the only person that I knew.
Maya: We would plays shows and our friends even thought it was weird what we were doing, you know.
Katie: At the time it was very, very folk, indie-rock-centric scene. People would always, always, always tell me that I should replace my all electronic samples with real instruments. All the time, all the time.
It's funny, I spoke with Martin Gore the other day, from Depeche Mode, and he said exactly the same. He said that he was actually very happy that electronic music somehow has become mainstream You don't have to defend yourself being a musician who uses a laptop, or electronic sequences or whatever, but they understand that this is also an instrument.
Katie: Yeah, exactly!
Maya: It's still developing, I would say. I still think that being an electronic musician is still a little bit strange. It's much more powerful nowadays, but I think it still needs a lot of development in electronic music. It's still an outsider's music.
Why do you think so?
Maya: It's just how I feel in the whole experience of playing electronic music. We still show up with our computers to some places and the sound person kind of looks at us. Oh, these guys aren't a real band. It's better in certain parts of the world, like in Europe it's very mainstream and you still end up going some places and feeling a little bit uncomfortable.
I experienced that in the late '90s. People started to listen to white noise as if it was the most normal thing. And I thought "Wow, this is close to Paradise now", in the sense that everything is possible.
Katie: When I started I was thinking about Toronto, because that's all I knew. I actuallydidn't read Pitchfork, I didn't know about any of these blogs. I had no idea what was going on in music, in the world. I was just living in this city and had my own influences and wanted to make something different that people were making in the city. So that's what I did. And I put out a record and then suddenly we reach this global scale and I realized that there were so many artists that we were compared to, so many other artists that we were similar to. "You sound like Fever Ray, you sound like Zola Jesus". For me, I didn't know about any of these acts. Essentially I still have the same objective of wanting to make something different. Now we are operating on this global community. Now I know about these bands, and I know about these blogs and I know about all this new music that's happening. I think the future objective its going to be trying to figure out how to stand out on a larger scale.
Which person would you like to collaborate with? There is always this idea that there is someone who influenced or impressed you. Now that you are in the position that you can travel and you can even do it over file sharing or whatever. Are there people you would like to meet and work together?
Katie: Personally I am really inspired by a lot of DJs and electronic musicians. I would love to collaborate, there is a lot of people I would love to collaborate with, a lot of people that I would love to put vocals on their music. So many artists out of the UK right now are blowing my mind.
Maya: Whenever I try to write a song, Katie's voice blends itself well to electronics, I find, because it's so full and rich. It just works so well.
I recently met James Blake, whom I actually didn't like that much before, but then I saw the concert and it basically changed my mind because I thought "ten years ago nobody would have dared to sing something into a microphone where you don't hear what he sings. Then he fucks around, twists it, tweaks it, then he plays it into the music and everyone can see he is not singing." He is like a worker on sound files. I think this is a sign of our times, which not everybody has fully realized that "what you see is what you get" is not a law anymore.
Katie: I like that. I think its very progressive and exciting time to be a musician. And the tools are better now for electronic musicians there are so many possibilities. You can have fun on stage now. That's another reason why I would say electronic music is somewhat similar to jazz. In the '50s and '60s, a lot of the Motown musicians and the jazz musicians, they would specifically try to play music that the white people couldn't play, because they wanted to stay on top. So these musicians would play stuff that not everybody could play or do stuff that nobody else could physically do and I find with electronic music its all about what you can do with technology. Like you have someone like James Blake, or you have someone like Grimes who is totally DIY.
Maya: I was just about to mention Grimes. She loves Marilyn Manson, by the way. I feel like it's the most progressive music right now because anybody can do it, with a certain amount of small money to start, I guess. It just seems very exciting. Picking up a guitar is so boring to me right now. I'm a drummer, but that's something concrete and very square to me. There is only so many things you can do with a fixed instrument. I'm only starting to discover how exciting it is. You really have a new palette. You can do anything you like.