Win a Prince of Tennis vinyl
Prince of Tennis are hardly novices on the Czech music scene. Seasoned musicians David Volenc, the singer of the now legendary Czech dreampop band Sebastians and Colorfactory and Honza ?echtický from the renowned outfit Ohm Square joined forces and created their new project Prince of Tennis out of "pure joy and without any ambitions".
Their debut EP Camping in North Ikea appeared in 2010 and two years later, their papal LP Urbi and Orbi sees the light of the day courtesy of the Prague-based label Starcastic. Prince of Tennis make unadulterated and light-headed electro-pop, recalling the likes of Hot Chip in their melancholic guise or bands of Scandinavian origin.
You can now win their Starcastic-released LP Urbi and Orbi on vinyl. Simply fill in the form below by Friday, 23 March, 10am.
Prince of Tennis play tonight (21.3.2012) in Prague at the MeetFactory alongside DFA's Prinzhorn Dance School in what must be one of the most semantically noteworthy lineups:)
– – – Competition is closed, winners have been notified – – –
Lunchmeat's tasty offering
The Lunchmeat Festival, contrary to its name, is an event that has higher aesthetic aspirations. It's not an event which extolls the aural or the visual but strives to merge these two senses in an audiovisual journey that brings together fans of either medium. Usually, a musician performs with a visualist in a special live set.
The third installment of the fledgling festival, is set to take place between the 23rd and 24th of March in Prague across various venues. While MeetFactory will satisfy your ears with the custom-made soundsystem, the OKO cinema will titilate your eyes. A mutual project by Hyperdub's Steve Goodman aka Kode9 – who will perform twice at the festival, in both club and art contexts – and the visual collective MFO will deliver a special audiovisual homage to the classic scifi La Jetée, a dark claustrophobic journey that first premiered at the Unsound Festival in October. DMX Krew, Author and Hecq will perform alongside a leading crop of VJs at the MeetFactory.
Check out a documentary about Lunchmeat Festival featuring Ikonika among others (and the teaser for this year's installment here):
Machinedrum and Hudson Mohawke wish Czech Radio Wave a happy birthday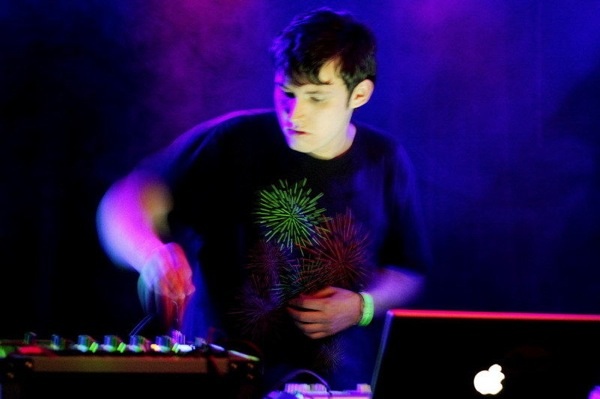 Two heavyweights of modern dance music are set to take the Prague audience by storm as they are due to perform at the birthday bash of Czech Radio's alternative music station Wave, the only Czech station that plays black metal during the day. A Czech Republic premier for both HudMo and Machinedrum, the night will also feature locals WWW and recent Red Bull Music Academy attendees Fiordmoss.
Machinedrum has created waves with his 2011 Planet Mu album Room(s) a sonic mélange of house and remnants of rave as well as with his increasingly popular side project Sepalcure, while Mohawke, the beatmaking prodigy, needs no introduction on these pages. A night of blissed out beats & dancefloor killers, dark experimental hiphop and even electronic pop awaits partygoers.
The event, a collaboration with the Stimul Festival, is planned for 14 January at the Prague MeetFactory.
Hudson Mohawke photo by Stanislav Soukup (Radio Wave)
Win tickets to see Jamie Woon in Prague
His breakthrough single 'Night Air', co-produced by the mighty Burial, thrust him into media spotlight and eventually earned him the fourth place in BBC's respected Sound Of poll. Born to a Malaysian-Chinese father and a Celtic singer, Woon's career was foreshadowed at a young age, even before he started attending the famous BRIT school, also attended by the likes of Amy Winehouse.
His typical R'n'B style singing is not dissimilar to an army of other UK based soul vocalists, thus his "trademark" style encompasses a heavy use of samplers and programming. Although he has yet to establish himself in the music scene – without the help of the master of hauntingly beautiful tunes Burial – Woon continues to swim in the turbulent waters of contemporary electronic pop (with a MOBO award nomination and a remix for the Youtube starlet Lana Del Rey under his belt).
You can now win two pairs of tickets to see him live in action. He plays at the Education series of parties this Friday, November 18 at the Meetfactory. Simply fill in the form below. Good luck!
Loading…
Win tickets to see Bibio in Prague
Stephen Wilkinson´s musical path has been rather adventurous. An alumni of sonic arts and producer of folk songs, he developed his aural signature merging found sounds, electronics and modified synth and guitar sounds. His latest release Mind Bokeh on the iconic UK imprint is only a testament to this. Imbued with a sufficient amount of nostalgia and displaying Wilkinson´s penchant for catchy melodies, it's not too difficult to understand why Warp –home of Bibio's sonic forebears Boards of Canada – decided to sign him.
As part of a new club gig sequel Education, Bibio will play live alongside local talent Dné, a "chillwave" and drone-folk producer at one time signed to Prague label AMDISCS as well as the fresh-faced Slovak eletronics duo Ink Midget&Pjoni on Saturday 8 October at the Meetfactory in Prague .
– – Competition is closed, winners have been notified – –