Readers Poll 2012- Best Venue –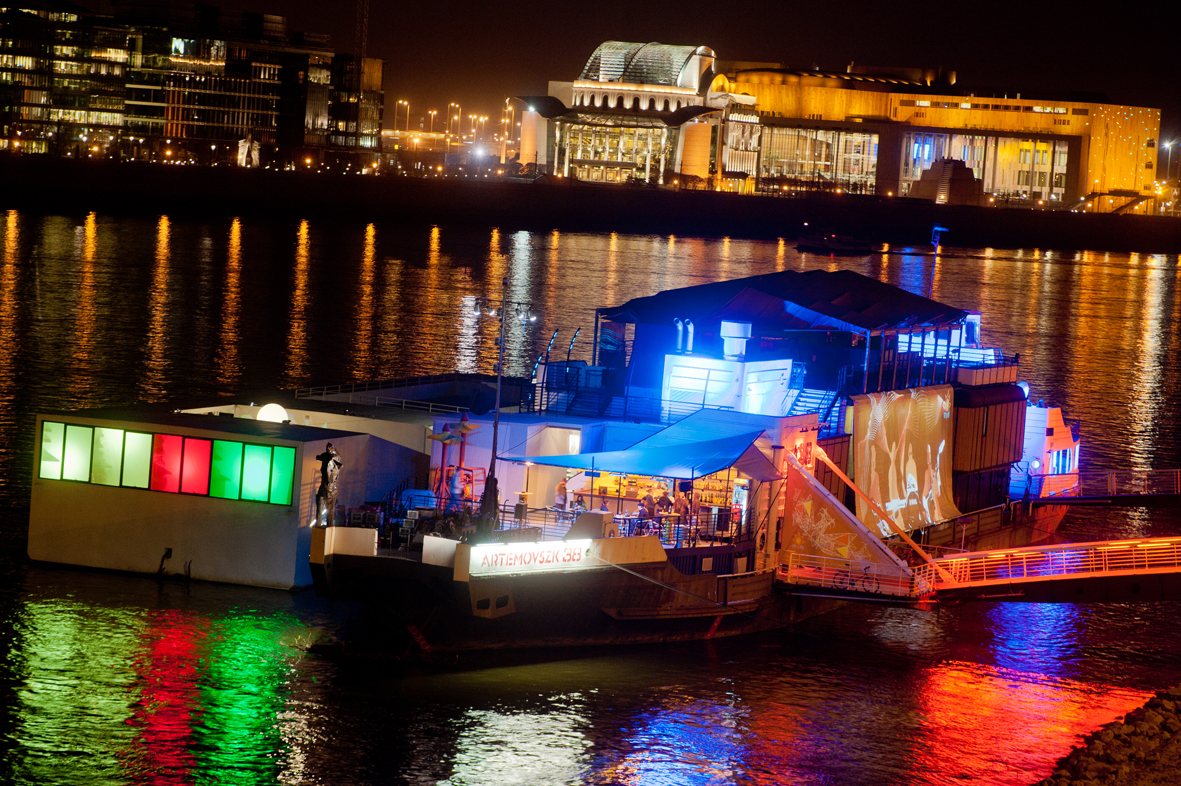 When it comes to live or social music pleasures, the quality of the venue is often paramount. Is the sound good? How's the lighting? The staff? But, above all, how's the atmosphere? This quality can make or break a space—believe us, we know. We've been all over the world in a variety of different spaces. But this isn't about us, it's about you and where you love to go to hear music and bands you love. Apparently, where you love to go is on a boat—at least if you live in Budapest. The floating venue A38 has quite a few fans, and as a result it topped our poll as your first choice for partying.
In second place was Berlin's famous Berghain, of which much has been already written… Odds are that if you've ever visited the German capital city, you've payed a visit into the huge ravespace, hovering around the booming Funktion-One speakers, and got up to all sorts of illicit fun around the bathrooms. Perhaps you wandered over to the smaller Kantine, where a host of fantastic live show regularly take place—we ourselves saw quite a few this year, including Chelsea Wolfe and Purity Ring. Whatever you did, it was most likely fun—unless it involved one of the notoriously long lines to get in.
Third place goes to one of New York City's longest-running DIY venues, The Silent Barn. The rough-n-ready space saw quite a few problems last year after being raided by police (due to it also being a home for the artists who worked there), vandalized, and robbed. However, they've recently relocated from their former home in Ridgewood, Queens to the more centralized Bushwick. The new space is properly zoned for living and commercial use, so we're hoping this means a beautiful 2013 for a beautiful project.
Yet another Hungarian space comes in fourth, the Millenáris Teátrum—which leads us to wonder: do we have a ton of Budapest readers or what? Or maybe you just have very fond memories of our 2012 Budapest EB festival? Whatever the case, köszönöm!
Tagging behind the Teátrum is another DIY space, again located in Berlin. Raum, the series of warehouse-based spaces that operated in the rising artist's quarter of Neukölln, hosted some of the year's wildest and heaviest parties from some of the weirdest locals, including Sameheads, PURGE, and Noisekölln. If you were an ex-pat, weirdo or just in need of something different, you probably showed up here at least once in 2012.
Electronic Beats Readers' Poll 2012 — Best Venue 
1. A38
2. Berghain
3. The Silent Barn
4. Millenáris Teátrum
5. Raum
6. Boiler Room
7. MoMa PS1
8. Your bedroom
9. Westgay
10. Fabric
The 7th prize—a premium Spotify account—goes to Lukas Nickel, Münster, Germany.
Your favorite music video of 2012 will be following on Wednesday, December 26th. Find all poll results in here.
Juan Atkins on Kraftwerk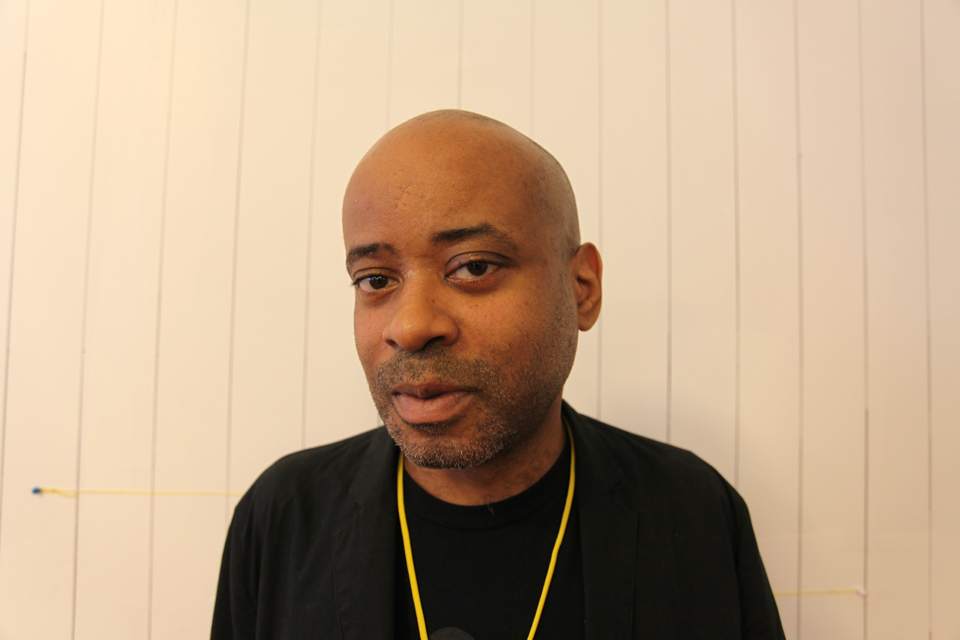 The first time I heard Kraftwerk was on The Electrifying Mojo's radio show in Detroit in the late seventies. This is when FM radio was still young, and there were only, like, three stations. There really was no specific format for FM radio at the time—DJs were allowed to do what they wanted. You heard them play entire albums when they felt like it, which couldn't be more different from today's radio format. Mojo used to play 'Trans-Europe Express' and 'We Are The Robots' pretty regularly, but the first time I heard 'Robots' I just froze. My jaw dropped. It just sounded so new and fresh. I mean, I had already been doing electronic music at the time, but the results weren't so pristine—the sound of computers talking to each other. This sounded like the future, and it was fascinating, because I had just started learning about sequencers and drum programs. In my mind, Kraftwerk were, like, consultants to Roland and Korg and stuff because they had these sounds before any of the machines even appeared on the market.
Needless to say, Kraftwerk definitely influenced my sound, because when I heard their music I automatically knew I had to tighten up what I was doing; I had to make it cleaner and better—though not necessarily more minimal, because what I was doing was pretty minimal for the time. A lot of people think that I was copying Kraftwerk directly, but that's absolutely not the case. For me, they weren't any more of an influence than, say, funk—P-Funk especially. I actually had a chance to talk to Florian [Schneider] when we played Tribal Gathering together a few years back. We met up behind the Detroit stage and chatted a bit and I was really surprised to learn that Kraftwerk were hugely influenced by James Brown. Of course, P-Funk was made up of at least half the JB's first line-up, so somehow Detroit techno was a very natural, even "fated" progression. I mean, there were other funky electronic bands around—Tangerine Dream and Gary Numan and all that—but none were as funky as Kraftwerk­. I mean, you could actually play the stuff on black radio, and that wasn't a small feat. You could go to an all black club in Detroit and when they put on 'Pocket Calculator', everybody just went totally crazy.
Kraftwerk's minimal lyrics were part of their overall concept, and definitely contributed to their special blend. I can say for sure that they put Germany on the map for me. When I was a kid in school in America, the only thing we learned about Germany was World War II. Also, I always had this impression—independently of the war—that Germany was very logical, very machine-oriented. And without a doubt, when I went to the Man Machine show at the MoMA retrospective, I could definitely hear the way they combined the machine-driven syncopations with a more human take on improvisation. And the visuals were phenomenal. I had only heard after the fact that Ralf Hütter had played an important role in choosing both Francois K and I to do our DJ sets for the Kraftwerk exhibit at the geodesic dome at PS1. I'm proud to have been a part of it.~
Earlier this year we where reporting from the Kraftwer Retrospective 1 2 3 4 5 6 7 8 at New York's MoMa, where we collected a lot of interesting takes on the legendary techno innovators from the likes of Juan Atkins, Afrika Bambaataa, Klaus Biesenbach and more – Read them here.
Photo: Luci Lux
Day Six
April 15, 2012
At the subway entrance, Schneider picked up a copy of the New York Post.
SWILLARY—Hill knocks back brew as scandal rocks summit!
Secretary of State Hillary Rodham Clinton yesterday slugged back a beer and kicked up her heels at a Cuban-themed nightclub in Cartagena, as the brewing Secret Service prostitution scandal stunned the Summit of the Americas in Colombia. America's top diplomat was all smiles as she… (cont. on page 4)
Next stop: breakfast at Joe's Coffee (9 East 13th) with Steven Levy. There was music in the café at noon and revolution in the air when Levy mapped out the future of the music on the Internet. "We will soon have live streams of every single concert all over the world. We'll be able to share not only the live experience but also to browse through endless stream archives. Our perception of time will change, as will our understanding of music. I could even imagine that the format of the album will be replaced by the format of the live show."
Levy couldn't have known that V2 Schneider was eagerly expecting the kick-off of Bob Dylan's spring tour later that night in Rio de Janeiro—constantly thinking about the patterns of set-lists and how even the slightest changes can mean the world to caring audiences. Just ask any deadhead.
His mind swimming with ideas, Schneider took the Q Train to Queens to meet the inimitable François K at PS1. At the entrance of the museum, he bumped into Klaus Biesenbach, Hans Ulrich Obrist and Ralf Hütter—the latter wearing his black pants 1940's style, like Humphrey Bogart in Key Largo. As it turned out, Hütter had chosen this sunny afternoon to do a joint DJ set together with François K inside the Kraftwerk exhibit's "Performance Dome". Hell, this was inspiring. To the matching beats of Kraftwerk's 'Numbers' (manipulated by Kevorkian on laptop), Hütter played melancholic melodies on both a Mini Moog and Korg MS20 and even sang live—his voice treated by a heavy vocoder effect. The crowd went berserk as K mixed Afrika Bambaataa, Kraftwerk and various obscure electro grooves into a single pulsing entity.
Unfortunately for Schneider, a planned interview with François K didn't take place. Schneider wanted to discuss K's influence on the mixing of Kraftwerk's Techno Pop (originally Electric Café) in 1986, but Kevorkian, when asked, simply replied: "I haven't slept for three days. Please forgive me. I need a bed."
Later that evening, Schneider and Rainer Calmund went to the MoMA to see Techno Pop live. In light of the fact that the medley 'Boing Boom Tschak/Techno Pop/Musique Non-Stop' had been the climax during every single one of the Kraftwerk's previous shows, both Schneider and Calmund were expecting nothing less than the outstanding. One word about Techno Pop: The album is sparse when it comes to melodies, but this actually is its greatest asset. On the A-side, Kraftwerk had begun experimenting with songs that are rhythmically in-synch, helping to introduce the dawn of a new DJ culture where one beat had to match the next. But this didn't spare the band from being critiqued for the album's lack of melody and subjective lyrics when it appeared in the mid-eighties.
While Calmund curiously left the MoMA before the set had even started, Schneider managed to witness the best Kraftwerk show of the retrospective so far. In his gut he could feel the group's desire to rewrite history. During 'The Robots' Ralf Hütter even did the robot – only slightly, but nonetheless.
After the show, Schneider once again found himself on the rooftop terrace of Rockefeller Center, this time surrounded by a swarm of small birds whose chirping seemed to strangely increase the strength of his Wi-Fi signal.
In Rio de Janeiro, Dylan had just finished the first concert of his South American tour. The set-list on his iPhone read as follows:
Leopard-Skin Pill-Box Hat
It Ain't Me, Babe
Things Have Changed
Tangled Up In Blue
The Levee's Gonna Break
Tryin' to Get to Heaven
Beyond Here Lies Nothin'
Desolation Row
Summer Days
Simple Twist of Fate
Highway 61 Revisited
Forgetful Heart
Thunder on the Mountain
Ballad of a Thin Man
Like a Rolling Stone
All Along the Watchtower
And then: linguine with salmon, ginger and green pepper in the loft on Grand Street.
Day Two
April 11, 2012

Ingredients:
California table wine
Water
Sugar
Concentrated juice
Natural fruit flavors
Citric acid
Sulfites
Carbon dioxide
The label read "Chateau Diana—Pinot Grigio California", but it didn't smell and taste like wine at all. V2 Schneider had to spit it out back into his glass. A bad aftertaste remained.
To get rid of it, he walked down Grand Street deeper into Chinatown to find fresh deep-sea scallops. But what he brought back was much more:
2 lbs. of scallops
3 bottles of Arneis
5 cloves of garlic
3 cloves of ginger
4 kasha knishes
1 bundle of coriander
2 bundles of red hot chili peppers
1 loaf of bread
1 bottle of olive oil extra vergine d.o.c.
1 package of sea salt
3 packages of DeCecco penne rigate no. 41
3 packages of DeCecco spaghetti no. 12
18 cans of Stella Artois
Later that afternoon, Schneider finally received the text message he'd been waiting for: confirmation of his accreditation for Kraftwerk's second show, Radioactivity. The procedure was ridiculous, to say the least: He had to arrive two hours in advance at the MoMA restaurant to sweet-talk the PR representatives and small-talk various assorted gonzo journalists going through that same procedure, all the while filling up on Japanese/Portuguese/Italian/Korean fusion fingerfood and warm white Chilean wine. From there he had to pass the photo ID counter, get fingerprinted and sign a form stating that he wouldn't tell anybody anything he'd see or hear backstage. He was then escorted by a middle-aged woman wearing a deep-blue Moschino skirt, elegant black Prada shoes and a matching Costume National jacket to the atrium in the second floor of the MoMA—now familiar to Schneider—to attend the concert.
Like the day before, Kraftwerk opened up with a powerful version of 'Robots'. Hearing it live for the second time, Schneider began to understand the patterns and the grids that formed the foundation of the band's musical architecture. Ralf Hütter and the new members Henning Schmitz, Fritz Hilpert and Stefan Pfaffe upgrade and update the music they revisit in the very moment they perform it. For example, Schneider noticed that Hütter always played the melodies from his console with a minimal delay, thus creating a brilliantly laid back narrative guide and, like every exceptional band leader, confidently relying on his uniformed sidemen to keep things unwaveringly steady. Instead of playing instrumental solos, the four musicians tweaked and positioned the individual sounds in the sonic spectrum with a wide variety of dubby delays, reverbs and filters. Scheider realized, that listening to Kraftwerk live challenged his listening habits. Unlike in jazz or rock, the improvisation had very little to do with soloing and everything to do with the abstract space of three-dimensional sound. He asked himself: Were Kraftwerk offering a vision of the future—again? Will 2012 be the birthyear of widespread non-linear listening habits?
-.- .-. .- ..-. – .– . .-. -.-
.. … / .. -. / – …. . / .- .. .-. / ..-. — .-. / -.– — ..- / .- -. -.. / — .
Durch stetigen Zerfall
Entstehen radioaktive Strahlen aus dem Urankristall
Nicolas Jaar works From Scratch in New York
Nicolas Jarr will be taking part in a five hour live, multi-discipline performance at New York's MoMA PS1 next month. From Scratch is presented in collaboration with Clown & Sunset Aesthetics, which is the "interdisciplinary culture house" Jarr runs with filmmaker Noah Kraft. The five hour show will see Will Epstein, Sasha Spielberg and Dave Harrington all collaborate with Jaar musically on stage, although exactly how is not clear. The show also features a dance piece by Lizzie Feidelson and sound & video art from CSA's resident filmmaker Ryan Staake.
Check out this video from the CSA website. Either Jaar has a supreme sense of irony, or he has not been paying attention to Richie Hawtin's more bombastic projects.
Untitled from NICO JAAR on Vimeo.
Pitchfork will present From Scratch On Sunday, February 5 from 1-6 p.m.