The Radio Sessions: P. Toile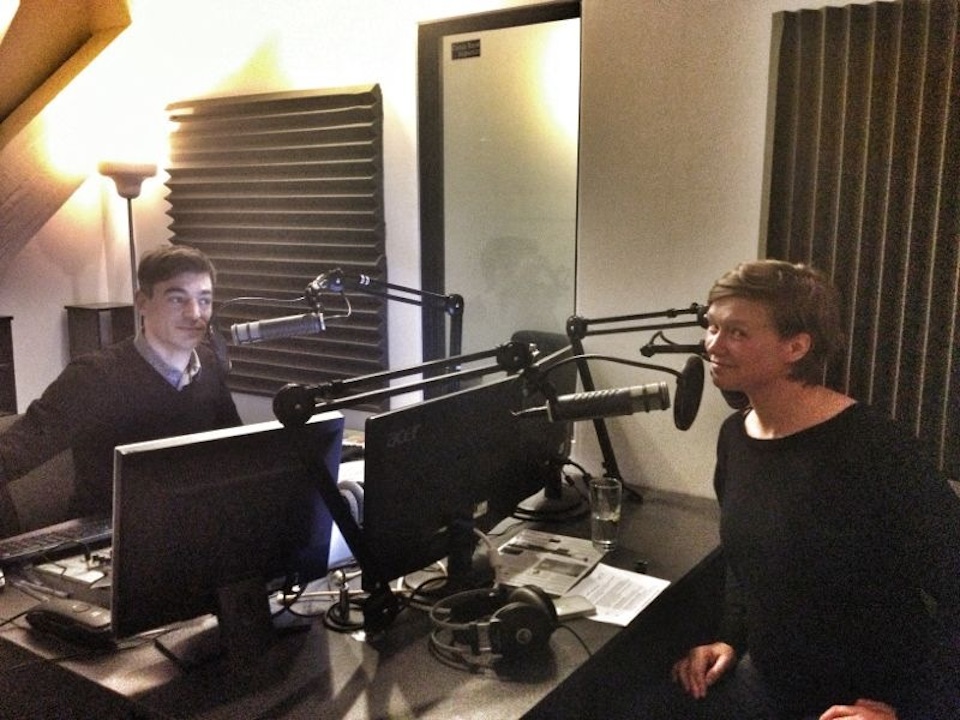 This week's studio guest on Electronic Beats On Air is Berlin-based DJ and producer P. Toile aka Claudia Marquardt.
Something of a journeywoman, she's played in clubs around the globe, honing her craft within the Parisian house scene before travelling to Beirut and from there establishing herself as an international techno DJ with releases on Trenton, Channel Records and Mothership—the home of her recent Piano Piano EP. She'll be chatting to Mathias Weck about her favourite tracks, combining partying and parenting, and providing an hour-long mix for the second half of the show.
Tune in to FluxFM tonight from 10 p.m. (CET). If you're outside Germany you can, like always, head to the stream.
Miss it eh? You can catch up with the first hour through FluxFM's on demand feature from Friday, while the DJ mix will be featured as our Mix of the Day on Friday.
My introduction to Russ Yallop was through one song, but I have the feeling that will be a case for a lot of other people too. Apparently a friend of Jamie Jones et al, he has released music on Leftroom and Mothership as Rustie James but it is his latest record – on Damian Lazuras' bastion of underground house Crosstown Rebels – that looks set to bring him out of the shadows.
'I Can't Wait' is the kind of club track I thought wasn't made anymore. Big room filter house that doesn't suck, using a sample that would 99 times out of 100 sound like the laziest sampling ever – The Mary Jane Girls 'All Night Long'. It's just been done to death. However, taught percussion and a relentless beat topped (bottomed?) with a monstrous bass line make this piece of 21st century dance-pop as effective as it was unexpected. A neat use of contemporary sounds, aggressive bass and crowd pleasing filtering mark out 'I Can't Wait' from the rock solid discography of Crosstown Rebels. A block of sunshine yellow amongst the Rebel's black and neon.
I don't however think that Yallop will be a one hit flavour of the month. Not only does 'I Can't Wait' stand out from much of his new label's output, it's stands out from much of his own too. Dark and brooding tracks like 'Stop Lying' and 'Harlem' are of a distinctly darker tone. They are also deep and very enjoyable – 'Wired' will appeal to fans of Ark and Jazzanova alike, which would not be the first thing to spring to mind when hearing 'I Can't Wait'. However, there are hints of colour and what's to come on tracks such 'Everybody's Talking' (as Rusty James) hidden amongst Yallop's discography
The undoubtedly massive success of 'I Can't Wai't, and a move closer to the cutting edge (though not too far) on his new label, marks a significant progression for a clearly gifted producer who has reached his 'moment' by doing his own thing and slowly finding his sound. Perhaps he has not quite got their yet – 'I Can't Wait' is markedly different to a lot of the deep and grooving house he has released so far and it still maybe too cheesy for some.
Whether this marks a new direction or an interesting diversion remains to be seen but either way, Russ Yallop is definitely someone worth watching if you are in any way interested in house music. Perhaps not one for the strictly purists, but then again who knows? Let's keep watching and find out.
A little while ago the lovely people at Crosstown Rebels released the debut 12" from their new signing Maceo Plex and ever since we have had trouble not listening to it on repeat.
Vibe Your Love is an incredibly deep and soulful house bomb that just about makes it impossible for anyone within dancing distance to stand still and not get locked into the track's infectious groove. The 12" also features a remix from Zev of Wolf + Lamb fame, which does something quite magical, almost spiritual, to the track.
Maceo Plex has in fact been around for a while now, just in some very different guises. Eric Estornel is the man behind the moniker as well as being behind Maetrik and Mariel Ito, releasing a plethora of musical delights on labels such as Cocoon, Audiomatique, Mothership and Dumb Unit.
Eric's new project Maceo Plex is decidedly different though, which is why we are happy to include him as a Ones To Watch. Previous incarnations for Eric have been largely centered on the darker sounds of house and techno, with his releases as Maetrik garnering most attention among the techno elite. Maceo Plex however is born out of a desire to create something deeper and more soulful than his other projects. "Life Index is my baby. It's all the soul music I've been holding inside and have been wanting to write," explains Maceo,
The result of which is Maceo Plex and his debut album Life Index, which Crosstown Rebels have slated as one the first albums to come out on the imprint.
It looks like it is going to be a good year for Eric Estornel's Maceo Plex.
Watch out.
Maceo Plex's Life Index is available on Crosstown Rebels February 7th.