Audioccult Vol. 3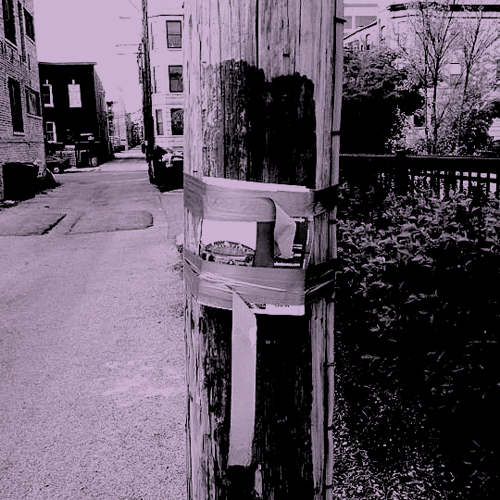 Light a candle. Draw the required sigils. Now, raise your arms above your head and slowly, gently, exhale your soul. You won't need it here. This is Audioccult, and it's time to get low.
My coworkers tend to think of me as not a particularly pop-oriented guy. This is true, up to a point; my brain has always veered toward left-field sounds. Still, there's a sort of pop-not-pop that trickles down into the underground and, subsequently, into my ears. Ghosted versions of Top 40 skewed in a way that makes them somehow more. Take London duo AlunaGeorge, for example. A liquid blend of repitched R&B vocals and 2step vibes is typical UK fodder these days, but when done well it still has the power to make my tendons twitch. Small wonder that Tri Angle have assimilated them into their roster. Trill beast Craxxxmurf does it even dirtier. Dude's latest mixtape for DIS Magazine is a corruption of hip-hop and dance music, dragged and industrialized sonic evil that would turn an Ibiza crowd into a pulpy mess…someone's been sneaking a peek at my seasonal wishlist. R.I.P., party people.
AlunaGeorge – Just A Touch
Craxxxmurf – R.I.P.
Mashups are another form of production (if you'd like to call it that) which, when done well, touch the reconceptualist destroya in me in a way that originals often can't. Both Grimes and Busta Rhymes are pretty beloved on different levels for me, but Lake Radio's Busta Grimes refix is seriously worth your time.
No, really.
I get you, naw, I feel you. I spent a few days myself being all, 'No. No way. Do not post this on my facebook. Do not put it on my blog's wall or I'm going to whip your posting lips off' but actually it's pretty enjoyable in a really goofy sort of way. You don't even have to be intoxicated to get down on this one, it's pure summer fun and Busta's vocals blend seamlessly with Claire's synthy bliss. Myrryrs' Fantom Doze', on the other hand, feels like one of those tracks designed for sizzurp drinkers. Take a listen and tell me honestly that you don't want a sip. The Nashville producer has freaked this bitch out slowwwww, a heavy juke-hop combination of stretched-out 808s, perfectly timed breaks, and down-low vocals that'll make any ghetto goth throw his crosses up and say damn. His I'm A State Of Mind EP is begging to drip into your music folders. Lil Jabba's new junt 'Spektor' lurks in the same grave, but as a shuffling mechanical haunting. Is the sound of death beautiful? I suppose it can be.
Busta Grimes – Dangerous Vs. Oblivion
Lil Jabba – Spektor
What the hell is up, Kloaks. Where's the 'Dreams Are Gone' followup? Do you know how much I've played that track, and do you understand how hard people freak out and beg for more every time I do? Now do you understand that was in June 2011, and you haven't released a single thing since then (unless you count 'Last Dance', which isn't even on your soundcloud anymore) and now the goth authorities are lobbying to change your name to Jokes. Okay, so this new NVR MND mixtape is pretty aight, I guess, but this is getting a bit OD. We want to love you, and we want to experience that black magick we felt when that chorus of 'Now that all of our dreams are dead/ a coffin or a bed' kicked in. Hands up, heads back, fog machine button taped down. Work it out, guys.
Hundebiss, on the other hand, have some serious output happening; particularly when it comes to videos. Earlier this year label boss Dracula Lewis' 'Spacies II' got a 3D render that's as hypnotic as his track, but the latest visual for the mighty Jaws is geared more toward disorientation. A fitting treatment, as Jaws' sounds are aimed toward a certain mutant segment who like their electronics raw and nihilistic. Me, in other words, and hopefully you too.
Kloaks – Distortion, Love Songs and Brain Damage
Jaws – Sufferer's Song
I was both surprised and pleased when Baku Shad-do asked to have my X-Files-soaked refix of Bestial Mouths' postpunk rager 'Gulls' for their latest compilation, alongside other audio pleasures like Men In Burka and ?AIMON. The…imprint? musician? persona?…actually, I'm not quite sure what to label Baku Shad-do, other than 'dedicated', perhaps. Regardless, there's real love here, an honest need to showcase sounds that they feel are worthwhile. Since that's essentially my job as well, I can connect to †PURRSSESSIØN† heavily. While not all 35 tracks are necessarily my cup of tea, they're all based around something that is: underground community, DIY aesthetics and a deep love of music. We see that dedication, babe.
On the subject of highly aggressive dubstep, I'm pretty much the only one in the office who actually enjoys it. Whatever, man. Parents just don't understand. DJ Skull Vomit's 'Antigoon' was already a heavy thrashpleasure for me, but Gore Tech's rework is just. Too. Good. The amount of vicious joy this remix gives me is hard to describe; possibly it can only be articulated in a series of capitalized 'A's and snarling goats-head pentagram emoticons, the HTML for which is currently nonexistent or incompatible on any browser in this mortal plane. But if you seriously can't get down with a track title like 'DJ Skull Vomit – Antigoon (Gore Tech's Gut Sucking Sluts Mix)', you're literally 2 Old 2 Live. True fact on Snopes.
If you're one of the cool readers who does enjoy stuff like this (virtual fist bump, by the way), may I also recommend a mix of my own? 'Witchburner' is a live set by my DJ alias BlackBlackGold, recorded at my collaborative PURGE party earlier this month. It's filthy and hard as heck, but there's more than just your basic dubstep droppage going on here. Since my background is based on darker sounds, this one is packed with intense refixes/remixes of Cocteau Twins, Dead Can Dance, NIN, and SALEM, amongst others. Perfect for dispelling good vibes.
DJ Skull Vomit – Antigoon (Gore Tech's Gut Sucking Sluts Mix)
PURGE IV: Witchburner (Live set recorded 4/14/12)
Finally, Beyoncé With Elongated Skull. It's how I spell culture.
Daniel Jones is a music promoter and creator of the subculture reconceptualization & aesthetics tumblr Gucci Goth.
Videodrome #25 – This week's best videos
New videos with L-Vis 1990, Soulwax, Crystal Fighters, Myrryrs and many more.
#0 Soulwax – Machine (directed by Saam Farahmand)
Soulwax recently dropped this amazing video to promote the group's current project, Radio Soulwax, a new website set to stream original Soulwax mixes and visuals 24-hours a day. Here's an interesting preview of things to come…and they're NSFW.
///
#1 Buffalo Moon – Moses Baby (directed by Karen Freire & Kevin Horn)
Buffalo Moon's Selva Surreal LP was just released some days ago via Moonglyph. Since then it's been on heavy rotation here in the office. File under Tom Tom Club meets Stereolab.
///
#2 Joker ft. Jessie Ware & Freddie Gibbs – The Vision (direcetd by Spunk Design)
Joker, the one-time "king of bass music" releases his first full-length album of dubstep and grime on November 8th. This visual for the title-track features vocals from Jessie Ware and a verse from hard-spitter Freddie Gibbs.
///
#3 Deptford Goth – Youth II (directed by Daniel Woolhouse)
Daniel Woolhouse a.k.a Deptford Goth recently released his debut EP Youth II on Merok Records. It's full of hazy goodness for all to enjoy. Check out the video for title track Youth II, it's pretty serene.
///
#4 Myrryrs – Blood of A Slave (direcetd by Iron Lung Studios)
Soooooo wet. Irish manipulators MYRRYRS' Blood of a Slave EP is out today on B.YRSLF division. And thank god they also came up with this cool video above.
///
#5 Casiokids – Det Haster! (directed by Kristoffer Borgli)
More obscure artistic strangeness in the form of music video this time for the Casiokids by Kristoffer Borgli, who recently shot this cool film for The Golden Filter.
///
#6 Art Department – I C U (directed by Crystalmafia)
We featured Art Department already here on Electronic Beats and it's obvious that we're pretty much in love with the rising duo. This new video is just the next proof of their greatness.
///
#7 Crystal Fighters – Champion Sound (directed by Ben + Lewis)
Crystal Fighters recently played live on stage during our Electronic Beats Festival in Vienna last month; now the catalan group came up with this entertaining video.
///
#8 La Femme – Paris 2012 (directed by Talal Kurdali)
No doubt, unofficial clips are the future! This one was made by Talal Kurdali for La Femme's 'Paris 2012' and it's all about La tour Eiffel and triangles, of course. Je le kiffe trop.
///
#9 Fostercare – Low (directed by Marc Jason)
If you want to pass the Acid Test, this video might be the adaquate companion. This ill music video was made by Marc Jason and features 3D Graphics by DV Caputo of Konnichiwa.
///
#10 Patten – Plurals (directed by Jane Eastlight)
No Pain In Pop just released this nice VHS-footage video for Patten's outstanding track 'Plurals', taken from their genre-bending GLAQJO XAACSSO album released earlier this year.
///
#11 L-Vis 1990 ft. Para One & Teki Latex – Feel The Void
Such a great tune from L-Vis 1990?s debut album Neon Dreams, which was released a few weeks ago. Now the track, which features Para One and Teki Latex, gets a black and white kaleidoscopic video.