10 x 4 – Occam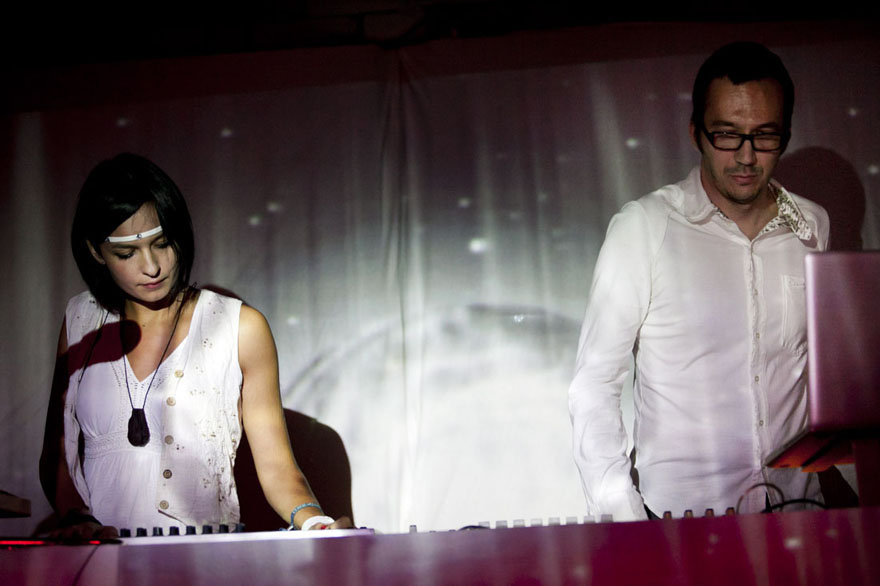 Last year Tibor Lázár aka Occam debuted with his solo album, the deep and enchanting My Rorschach. With his ten-year background as drummer of electronic band Zagar as well as several collaborations under his belt, he began his solo career exploring crossfields of ambient, dub, jazz and downtempo electronica. Discovering the voice of his fascinating muse and singer Enik? Hodosi, he's found the missing part of his deeply personal instrumental soundscapes. Recently Occam performed his debut album live (watch an exclusive video below) and came out with a single for the hypnotizing track I Was A Dervish featuring remixes from local producers like Subotage and Gábor Deutsch (aka Anorganik). We caught up with Occam for some 10 x 4.
First musical love?
I don't remember exactly. I've loved music since I was a child, though I think I didn't have any idols; rather I fell in love with music itself. In early times I was listening to all kind of music which I could find at home (in radio, TV or vinyls). When I was 11 I began listening to extreme metal, but I liked Dire Straits as well as Michael Jackson very much. Hip-hop and jazz came into my life at 15, afro-cuban at 17 and electronic and classical music at 19-20.
Last musical love?
That's much easier to answer. I love works of the Tunesian oud artist Anouar Brahem. Spirit and sophistication glow from his enchanting music. My favorite living musician.
Favorite part of the day to create?
I managed to create something interesting in all parts of the day, in the morning, in the night, even in Sunday morning. All depends on your state of mind and attunement. But for me the best parts of the day are late afternoon and evening.
A place to create?
I like studios with good acoustics as well as mood (and where you can work undisturbed), but I like mixing in my home studio because I'm familiar with all the equipment. Really it's not the place where you finalize your ideas that matters, but where you get inspired. I like travelling. Good ideas can show up while driving on the highway as much as walking in the woods.

Method or madness?
None of them. Intuition – the most important thing.
Favorite instrument?
On the one hand my drum kits, what I'm using for quite long time. On the other hand I'm in love with the sound of piano, probably the most important instrument for me. But I like the sound of double bass, accordeon, dulcimer, electronic and acoustic guitars, all the analog synths, even the plug-ins, too. I like all instruments. As for effects, I like Sherman filter and Space Echo.
One thing you cannot live without?
I don't know. I'm not dependent on things. My computer, if I have to say an object.
One thing you would live without if you could?
Bureaucracy. I hate it. All minutes are wasted spent on that.
Biggest disappointment?
I lost my father two years ago. I miss him. Life was much better with him.
Biggest surprise?
Enik? (Enik? Hodosi I'm working with). I'd have never thought of working together with her will be so great, and also that her voice is working so well in my music.
Eureka moment?
All the moments when I succeed in creating something without my mind, and using my unconciousness for music making.
Secret tip?
Listen to your intuitions, then use your mind. Then think ten times, what you let out of your hands as an output. Uh, and read a lot!
Listen to the I Was A Dervish EP out now on Pimodan Records:
Live photo: Balázs Mohai – mush.hu
2011 in Hungarian music and culture
This year in Budapest was a quite strange one. It started with a horrible disco accident in January that shocked the country and had long lasting consequences for the city's party culture. During the year the political and economic crises caused a lot of negative vibes. The closure of cult clubs like the Merlin Theatre and the open air Zöld Pardon also sent out shockwaves. But apart from the bad news, there were still many positive moments to be happy about instead. We're going to take a look at some of the more exciting moments from throughout the year in our Hungary section.
This year was the 200th anniversary for classic composer Ferenc Liszt (Franz Liszt) but there were also some big anniversaries in electronic music too. Budapest's underground electronic music community celebrated pioneer DJ and godfather of the scene Palotai's 50th birthday through the year on several occasions and Chi Recordings also had reason for celebration as they released a compilation for their 10th anniversary. We interviewed a lot of musicians this year, you liked the most Yonderboi on his return, 9b0 on his work processes, Jaffa Surfa on organic house music, ICR on his milestone double album, Sena on her solo project and emerging talent Mongoose on his career story.
It's interesting in Budapest that there are only a few good club spaces but several cool nights. Decknology by TEST completed their mission of pioneering the local electronic music scene with the project surviving for only one year. Not like the other future music-oriented night Space Is Called which was started by DJ Cadik and A38 Ship or the new hipster-magnet Selected Sounds by NVC with live acts such as Caribou, Gold Panda, Nosaj Thing. Electronic Beats had also three very successful sold-out gigs, a Live Special Launch Party and a Festival, followed by an EB Presents party. There were so many other highlights that made this year, gigs to remember by Lamb, Jamie Woon, Darkstar and Shigeto on A38 Ship, Kink in Merlin, Eskmo at Balaton Sound, Crystal Castles at Sziget, Xeno & Oaklander in Roham Bar and so on.
And so many other things like the new Blind Musician EP by the continuously changing abstract hip hop formation Realistic Crew, or My Rorschach by Occam, the electronic solo project of drummer of Zagar. There was another great solo debut of eclectic singer Judie Jay with her Harmony LP. Our new discovery is Berlin based Hungarian producer Dnte with his beautiful wonky debut EP Wake Me Up (listen here).
Glory Girl – Judie Jay/Harmony by judiejay
Two more scenes were growing up and started to establish in Budapest's underground, the lo-fi bedroom producers might have got more attention but there is a ghetto-tech community going strong, too. We're looking forward to seeing 2012, it will be great!