Electronic Beats Festival brings beats to Budapest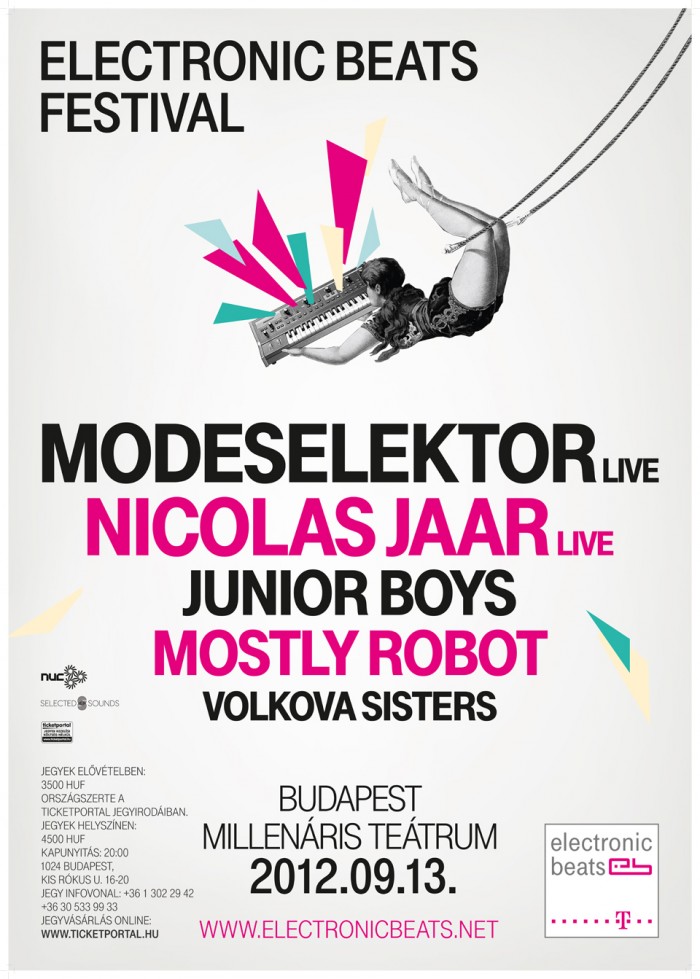 A few weeks ago, we dropped the first bit of news about the Electronic Beats Fall festival season, which has already kicked off with our showcase at Poland's OFF Festival. Our time in Poland was filled with fantastic shows and good times, and we're looking forward to spreading that love in other cities very soon. All you music fans in Budapest, for example, will soon be greeted by  Modeselektor, Nicolas Jaar, Junior Boys, Mostly Robot, and Volkova Sisters, as well as a few members of EB's editorial staff. Pay no mind to their drunken antics—remember, they're writers.
If you're still undecided about attending this year's Budapest-fest, why not have a look at some of last year's highlights? And make sure to grab tickets here.
Electronic Beats going OFF: Katowice Kaos
The Electronic Beats showcase for this year's OFF Festival was, I think, a surprise for many. First of all, the coordinators did a really great job. Like, reallygood. The venue itself, a strange and unexpected little place hidden by a glass dome, came complete with a T-Mobile photo booth (which saw heavy use as the night progressed and people got more and more WOOOOO with their booze) and dozens of those glowing EB cubes that you always see at EB events. The thing is, they weren't given any—they chose to source and make those themselves, and the venue looked fantastic. So kudos to them, and to my unlimited bar access.
After a hefty period (eww) of waiting, in which I slammed my weight in vodka and negotiated myself into a porn shoot, Bubble Chamber took the stage. I was pretty much going into this blind, so with a name like that I had expected a twee indietronic sort of thing. The three guys in Bubble Chamber were far from twee, however; not an ironic sweater in sight. In fact, their 'live dubstep' vibe, complete with drums, bass guitar and sample bank, had my body wracked with danceflow. There was an unfortunate bit of reggae jamming in the middle, but they picked it back up in the end. They were followed by The KDMS, and a finer wedding band I've never seen. With beats borrowed from 'This is Radio Clash', the London band had the crowd surging and clapping their hands faster than you can say 'We'd like to thank the bride and groom', though I found their vanilla-Gossip vibe unconnectable. Nevertheless, I didn't see a single unclapped hand by the end, so they obviously know their stuff when it comes to making a party their own.
A sizable portion of the crowd, a diverse cross-blend of Katowice's different alternative scenes (goth girl in the creepers, holla) had clearly been waiting for Chew Lips to take the stage…at least if I'm going by crowd reaction. A sea of surging limbs followed singer Tigs as she bopped across the stage, doing her damnedest to channel Patti Smith by way of sixties girl-groovers. I was musically less convinced then the crowd (the 'benefit' of a half-lifetime of promoter skepticism, perhaps) but there was no denying the energy that was filling the venue, nor the look of pure enjoyment on the faces of so many. It was a hell of a pleasant night, and I'm sure most there would agree with me. A toast, then, to the organizers, my lovely colleagues, the bands, the bride and groom, unlimited bar access, and this bed, which I'm going to climb into while I ignore the rising sun. Dobranoc.
Win a pair of tickets to Off Festival in Poland
Want to go OFF Festival in Poland which runs this weekend – 5-7th of August? Well you are in for a treat, as we have a pair of tickets to give away to the three day event which has an absolutely massive line up. Public Image Limited, Primal Scream, Hype Williams, Factory Floor, Matthew Dear, Warpaint, Omar Suleyman, How to Dress Well and Awesome Tapes from Africa are all performing across the festival's four stages and that is just for starters – there are well over 70 acts playing the event. The festival takes place in Katowice in Poland and all you have to do is get yourself there. The winner will receive one pair of tickets and one camping pass.
And to win ? Well that's easy just send the name of your favourite act playing at the festival to win@electronicbeats.net and we will choose one winner at random at six pm TODAY – Tuesday 2nd August!