For Sale 5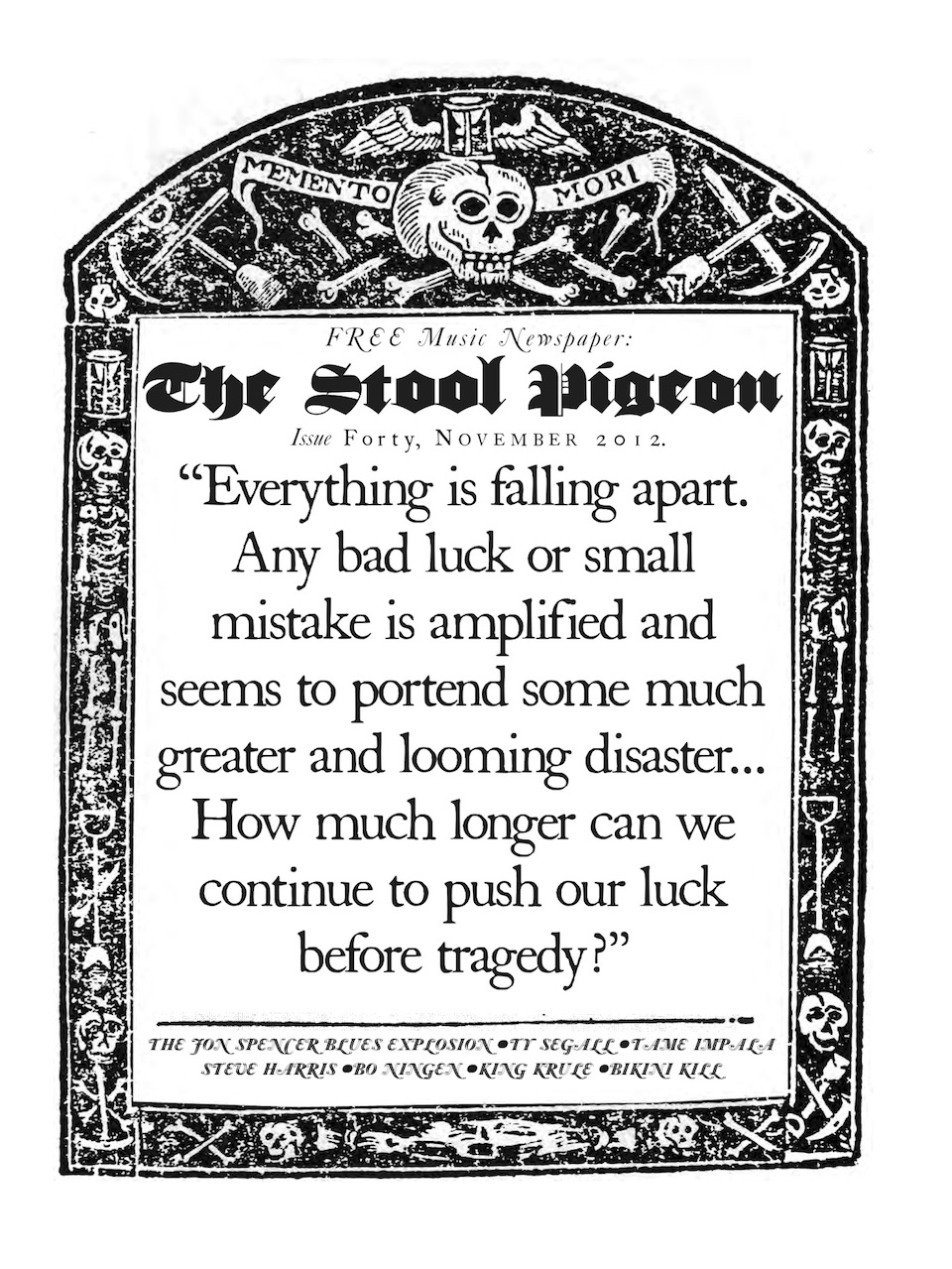 Anyone who knows me will also know that I can be fiercely protective over the art of music journalism—if something as ridiculously preening, unstable and populated by parasitical twats can be called an "art". As such there's always a part of me that crumples and dies when I see print journalism forced into an undignified game of catch-up against the internet. However, for people who are unable to let go there's still at least one reason to be cheerful: The Stool Pigeon. It's a newspaper, as opposed to a magazine, and has a reputation for its obstinate refusal to capitulate to hiveminds, buzz cycles or PRs. Its design is incredible—if willfully hard to read, sometimes—and it contains some of the best writing about music you can ever hope to read, produced largely by moonlighting writers from more established magazines eager to frolick in the freedom a fiercely independent magazine can bestow. It's hard to choose highlights—the Tyler interview? This cover? The Achingly Beautiful column? I didn't feel that I'd made it until I'd got my first Stool Pigeon byline—I can still remember the editor's strict instruction upon being told I was doing the interview with quite a big techno producer: "The album is bad. Call him up on it."
What's more, The Stool Pigeon is bucking the downturn in print magazines, shifting more issues in the UK than Kerrang and NME.  It wields power unheard of for other free, independent music magazines. However, that doesn't alter the fact that it's still put together by a small team in Stoke Newington who are doing it, truly, for the love. Therefore, if you actually care about shit like music and writing (and you obviously do because you're here) subscribe. A yearly subscription is £15.00 and they send all over the world. Need more persuasion? Check out their comics section.
Taizo Yamamoto does Shawarma
Mhmmm…Shawarma! Vancouver based illustrator Taizo Yamamoto has used his incredible talent to draw up some detailed images of delicious Arabic food on 11 x14 inch Bristol paper.
These hypnotizing meat sticks that we usually stare at on our way home from various nightly activities made us hungry for more. And more we can see here, including another recent highlight of the Canadian artist – the homeless's shopping carts.
Now, check out the crucial detail of those tasty Shawarmas!