Kompakt Pop-Up Store Berlin, full program announced!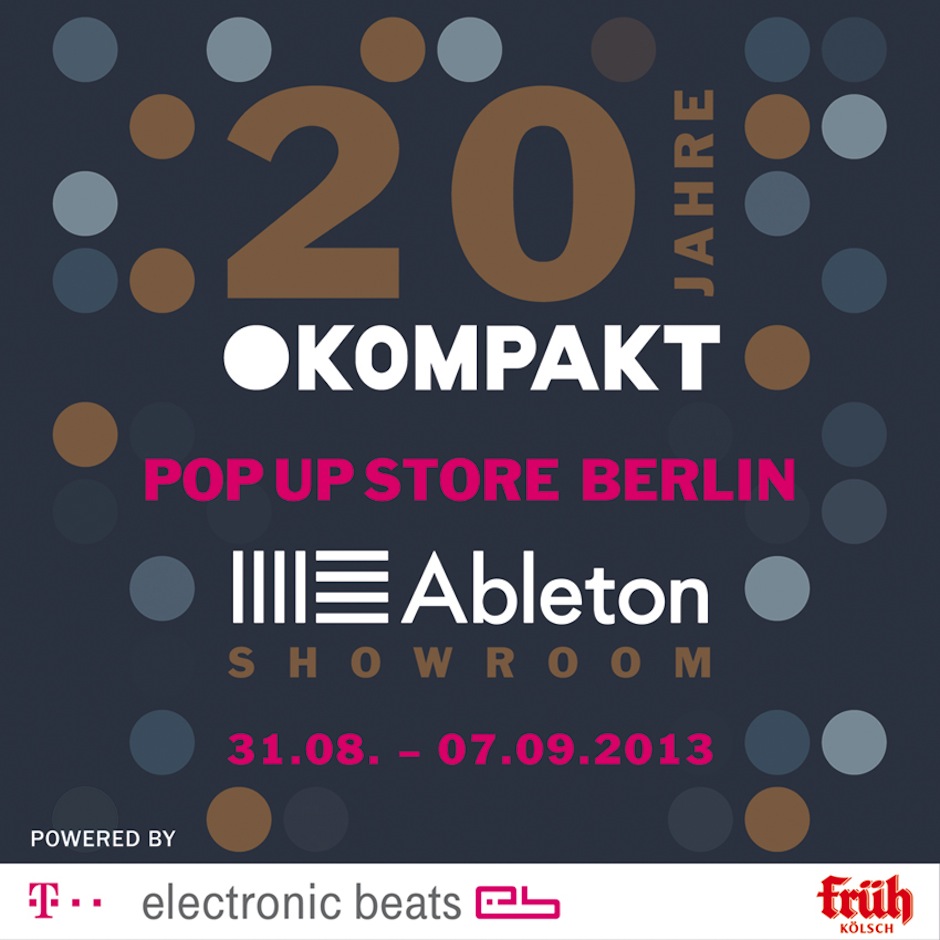 As you may have noticed, 2013 has seen the pioneering Cologne imprint Kompakt notch up its 20th year in the notoriously trend-led and fickle techno business. To celebrate this feat the label are setting up a pop-up store here in Berlin this Saturday with the local support of Electronic Beats (hi!) and one of music's most important technology companies, Ableton. This means that between August 31st and 7th September, between 2pm and 8pm (but closed on Sundays), Berliners will be able to trade their hard earned for exclusive records and merchandise marking the milestone year.
But we've already told you about that. What we haven't reported is the week-long program of activities that are being laid on to accompany it. Taking place in Ableton's showroom in Prenzlauer Berg (Schönhauser Allee 6-7, 10119 Berlin), they'll be the opportunity to take part in discussions with key producers and industry figureheads, get hands-on in digital music workshops and watch in-store performances. Highlights include a live in-store performance by The Field, a discussion between Ableton's co-founder Gerhard Behles and Kompakt co-founder Wolfgang Voigt and, of course, the 20 Years Of Kompakt party at Berghain/Panorama Bar which brings the project to a close on Saturday, September 7th. The line-up for that is stellar, with live performances by Justus Köhncke, John Tejada and Kölsch, plus DJ sets by Michael Mayer, Tobias Thomas, Blond:ish, Rebolledo, Stocksaur DJ Team and Dave DK.
The full program is below. For more information, check Kompakt's Facebook event page. What's more, it's a Kompakt Special on Electronic Beats On Air on Thursday. Lining up to discuss the cultural import of the label (and play some of the hits) are Kompakt founder Wolfgang Voigt, Sascha Funke, Julienne Dessange (introducing their new project Saschienne), Terranova, Ableton artist manager Olaf Bohn and Electronic Beats' Editor-in-Chief Max Dax. Tune into FluxFM this Thursday at 10pm CET.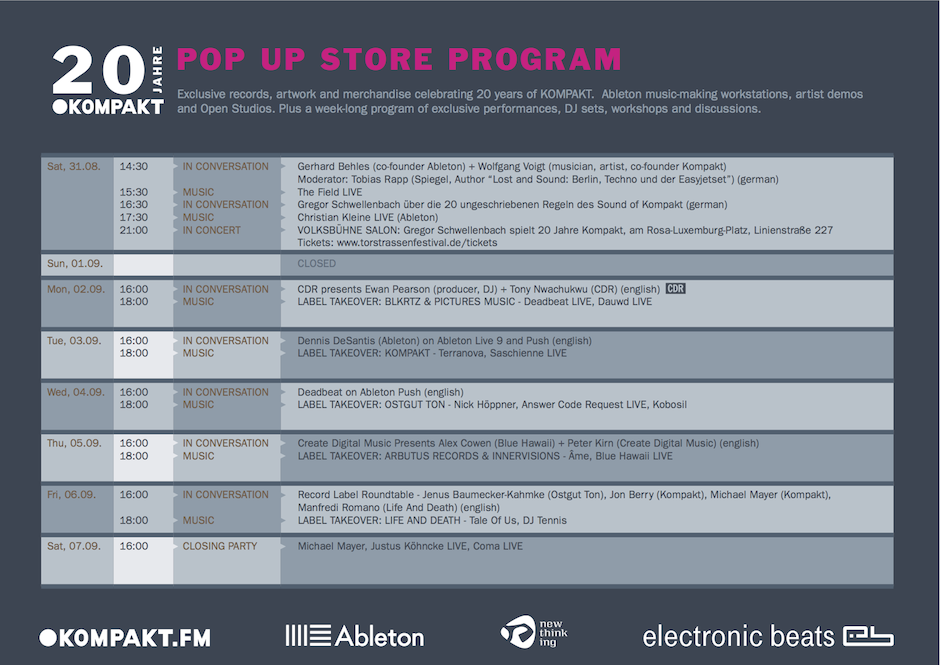 Kompakt Pop-Up Store is coming to Berlin, supported by Electronic Beats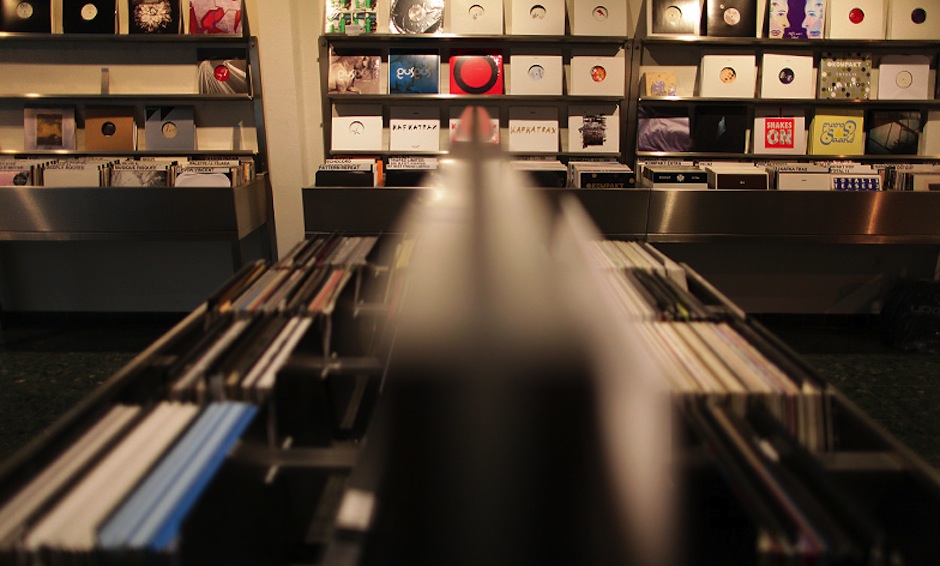 The 20th anniversary celebrations show no sign of relinquishing for Cologne's pre-emminent electronic music label Kompakt as their famous record shop is upping sticks and going on tour in recognition of making it to the big two-oh. The temporary store has already graced Geneva and Art Cologne and there are plans afoot for stop offs in Paris and Amsterdam before the year's over, but we're pleased to announce that next up on their itinerary is EB home city Berlin. They'll be setting up their pop-up store at Ableton's Prenzlauer Berg HQ on Schönhauser Allee 6-7, and we're thrilled to be supporting the project having already presented the 20 Years of Kompakt beach party in Barcelona earlier this year.
Opening on Saturday, August 31st to coincide with Torstraße Festival and will be open daily  between 2-8pm until September 7th all through Berlin Music Week. Fair warning Berlin-based Kompakt fans (and we know there's a lot of you), start saving your money now. There will also be a 20 years of Kompakt party at Berghain and Panorama Bar on September 7th to bid the Berlin stopover farewell—keep your eyes on Twitter for details about a ticket giveaway soon.
In the meantime, fancy winning 2o Jahre Kompakt Kollection 1 and 2 on vinyl? We're giving three sets away. All you have to do is sign up to our mailing list with your email in the field below. Good luck!
Pop-ups or temporary stores have become increasingly popular over the last few years, though not so much in Prague – yet. However things are gradually changing here largely thanks to Minty who organize various pop-up shops and temporary art, fashion and retail activities (check out their stylish photo gallery). Their latest endeavour will satisfy those with a sweet tooth. Candy Pop Up's raison d'etre is Hope and Greenwood, a luxury British brand sold at Selfridges, Harvey Nichols or Harrods. Available until end of summer at Minty Concept Club in Prague.
MINTY LOVES CANDY
Gallery by Minty Concept Club
Haštalská 1
Praha 1
+420 222 318 425