EB Listening: Monkey Marc – Monkey Marc vs. The Planet Smashers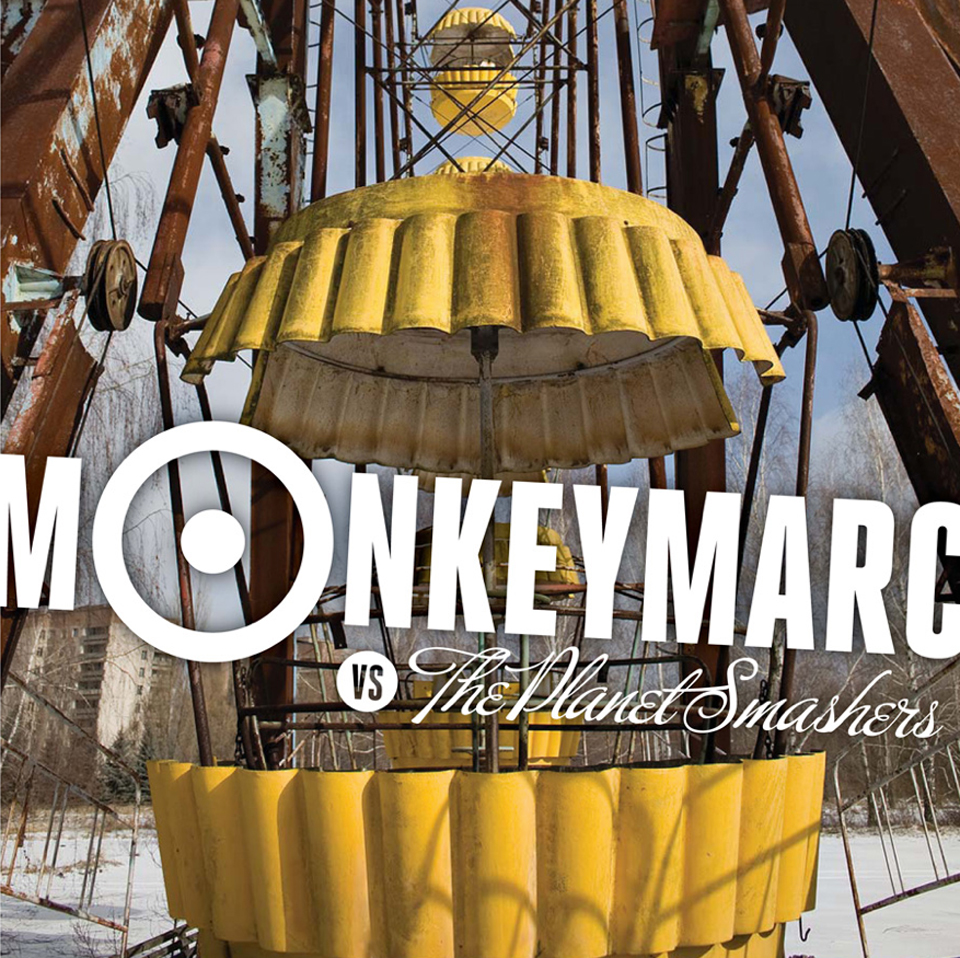 Germany's legendary, Leipzig-based underground label Jahtari is about to release Aussie reggae master Monkey Marc's Monkey Marc vs. The Planet Smashers EP. Monkey Marc, who comes with the byline "Melbourne's number one sampling warrior" has recently produced songs for Roots Manuva and UK rapper Jimmy Screech. Despite the fact he's just dropping his new EP now, Monkey Marc (never gets old) is already putting the finishing touches on his debut full-length, set for release in April this year. Besides dropping future-reggae under his solo monika, he's also member of Australian electronic outfits Labrats and Combat Wombat. Plug into Monkey Marc's deep frequencies below and go, um, bananas.
UPDATE, February 27: Streaming is over, buy the release instead.
Gareth Owen on Sun Araw & M. Geddes meet The Congos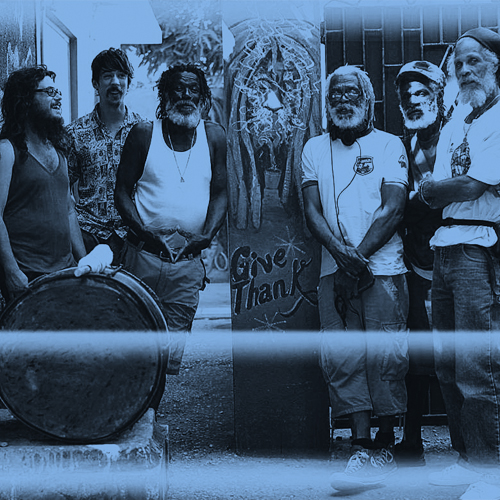 I was intrigued when I heard about about the ninth volume of RVNG INTL's experimental film and audio series FRKWYS (an allusion to the global-minded Folkways label that spans the generational gap between experimental musicians). To me the fragile and emotional musical collages created by US-based Cameron Stallones (Sun Araw) and M.Geddes Gengras had the potential to be a perfect fit for reformed dub-pioneers The Congos, and I looked forward to what I hoped would be more than just a dub album. ICON GIVE THANK is most definitely not just a dub album. Though it shares the genre's spacious sensibility, it feels very dense; dense with ideas and dense with a mixture of the strange and the familiar. On first listen it I found it confusing, a little overwhelming, suffocating even. And then soon after compelling. I am naturally drawn to music that forces a reaction, be it physical or mental, sour or sweet. Sun Araw & M. Geddes Gengras meeting with The Congos makes my mind race and yet fills me with a strange sense of calm. Not quite the album I was expecting, the more I listen the more intertwined I become with the musical strands, and the more I can enjoy the spaces in between.
As the two groups swing and sway between bombast and subtlety, light and dark, the meeting points become increasingly confused. Excluding the almost omnipresent references to Jah, it doesn't feel as if The Congos have stamped their authority over the music. Yet it sounds like nothing I have heard from Geddes or Stallones before. Refracting a washed-out tone through the prism of dub to show all of the colors within, ICON GIVE THANK is an album I can fully immerse myself in. Not constrained by technical and stylistic constrictions, and still appealing to the ON-U Sound, Upsetters and King Tubby fanboy in me, I find myself once more inspired at how expansive dub can be when it's the starting point and not the end result. For me the addition of two unlikely Americans has presented an unexpected and very welcome example of one way forward. I recommend you enjoy it in the most relaxed state you can manage… on the best sound system you can find. You will not be disappointed.
The Jahtari netlabel, established in 2004 by Jan Gleichmar is still in the ascendancy. The concept of netlabels has been floating around before, but nobody had done it as well as Jahtari with such a coherent outlook and music policy. Gleichmar – who is also releasing music under the moniker of Disrupt has formed an empire for digital dub lovers. Earlier this year he collaborated with two out of three memeber of King Midas Sound: Kevin Martin and Kiki Hitomi released their acclaimed Wonderland EP for their side-project Black Chow. Time to speak to Jan, how things are right now in Leipzig, why The KLF helped Jahtari in terms of graphic design and how King Midas Sound took over Jahtari:
Electronic Beats: 2011: how was it for you?
Jan Gleichmar: Very good! We are four people working here at Jahtari and for me this became a full time job. During the week I take care of all the administration and on the weekend I am currently touring with Soom-T. She released her album in 2011 on Jahtari and this is keeping me pretty busy. Until now, we have been all around the world, from Brazil, to France and Japan. Beside her I am also on the road with Solo Banton, an MC coming from London. And of course my own project disrupt I produce and play a lot, mostly non vocal, heavy bassline dub music. The label's delevopment is making me really happy, 2011 seems to be a good year for us.
How did you get to make all this happen? Where did you actually start with your music?
Well, when I go back to the very beginning, I started off at Hardwax. During that time I was listening to a lot of Detroit Techno, Basic Channel, Mille Plateaux, Force Inc, all this stuff. At Hardwax I found the Rhythm & Sound releases and the reprodcution of the whole Lloyd "Bullwackie" Barnes catalogue. That's how i got into off-beat tracks. There were no interesting Reggae releases during that time and I was more hooked by Dub, like different sounds shifting above each other, fading in and out in very slow-mo. There I felt really at home, that became my inspirational base. When I started to make my own music, I didn't have enough money to buy me expensive instruments and production tools, so I did it on the computer. I didn't worry too much about the fact to produce instrumental music with digital tools – it was the only thing available for me. And I was curious about making a classical Reggae track with different sounds. Out of this lack the Jahtari sound grew. Then I tried to look for a label, but it became very clear, that there are no labels releasing digital Reggae or Dub or whatever you want to call it. So I did one piece on a small Electronica netlabel, which convinced me to make a step forward and finally create my own label. Of course I didn't have a clue about how to run a label, how to produce, do the promotion and distribution. But with every little step I learned a lot and mainly from other, more experienced people, too.
The whole look of Jahtari seem to come from one aesthetical direction, can you tell me a bit more about this?
Well, I think, this is kind of the look I grew up with. The 8-bit graphics and Atari looks, obviously Pacman. The Jahtari sound is heavily influenced by those first generation computer sounds from C64 and the very early games. You even can make music with those old processors, like the ones from Commodore. I am just about to learn it, my parents recently bought me a soldering iron. It was just a logical thing to choose these kind of graphics. It is simple, I like it. Especially in Reggae and Dub the artwork and the cover art is very important – sometimes people only buy, because of the good look.
How is the Digital Reggae scene developing in Leipzig?
Here we have a pretty vivid underground scene. There are loads of parties in squats happening. And our club grew over the time very constantly and we have a good fan base now in Leipzig. Actually you could compare Leipzig to Berlin during the 90ies. The commercial side of club culture never really did it to Leipzig.
And how Kiki Hotori and Kevin Martin of King Midas became part of your roster?
Kiki has followed our activities for quite a while and was already kind of a fan from Digital Reggae and Jahtari. She got in touch with us first to ask us for a T-Shirt. And so I got to know Kevin, I sent him tracks to play in his DJ sets. After some time Kevin asked me, if he can send me music, he did with Kiki together under the name Black Chow. That was the track 'Wonderland', which was put on a Jahtari compilation. They were good, so we decided to release the EP. We still bump into each other from time to time, that's really nice. Maybe we will be able to start again with Black Chow in the future, but work is rowing up. King Midas Sound has my respect, it reminds me a lot f that dark HipHop style, which was pretty popular in the 90ies.
Jamaica documentary 'Journey To Jah' needs support
Directors Noël Dernesch and Moritz Springer have spent over six (!) years on their 'Journey to Jah' documentary which follows the journey of two reggae singers – German-born Gentleman and Italian-born Alborosie – on their search for faith and spirituality in Jamaica. The two foreign-born reggae artists found visions of a better world in the faith and rites of an originally black culture: in Rastafari and its counterpart, reggae music. The film also includes interviews with Jamaican artists such as Luciano, Terry Lynn and the late Gregory Isaacs.
The two directors are intent to finish their mission of showing the world how the positive power of Reggae and Rasta changes lives. They've already invested plenty of time, passion, money, and hard work, but they need more funding to finish the film. They recently started a Kickstarter campaign to raise the funds needed. If you're not familiar with the up-and-coming crowdsourcing possibilites, remember that Kickstarter is an all-or-nothing fundraising service, meaning your contribution will only be debited if the project reaches the required target.
So if you feel moved, visit their kickstartet page above, to become a part of the project. Your funds will help them rent equipment, design and mix the film, add English subtitles, pay for translation, and go towards a multi-city theatrical release in Europe and the United States.
Lee Scratch Perry – Live Stream
Lee Scratch Perry will be performing a 'live jam' tomorrow night live and direct from the Exil club in Zurich and you can catch it live here on Electronic Beats. Dub pioneer Perry has been a Swiss native for much of the last two decades, and apparently a weekly dancehall night which is held at the Exil club is his home away from home. What he has in store for tomorrow is anyone's guess however – the 75 year old is one of reggae music's last great mavericks
All you have to do to watch the performance – which takes place at 22.00 ( GMT +1 ) on Tuesday 12th July – is log on to Electronic Beats and watch the embedded player which you can find below. The concert is free to access.