BLK MGIK: Daniel Jones recommends Zebra Katz's <i>DRKLING</i>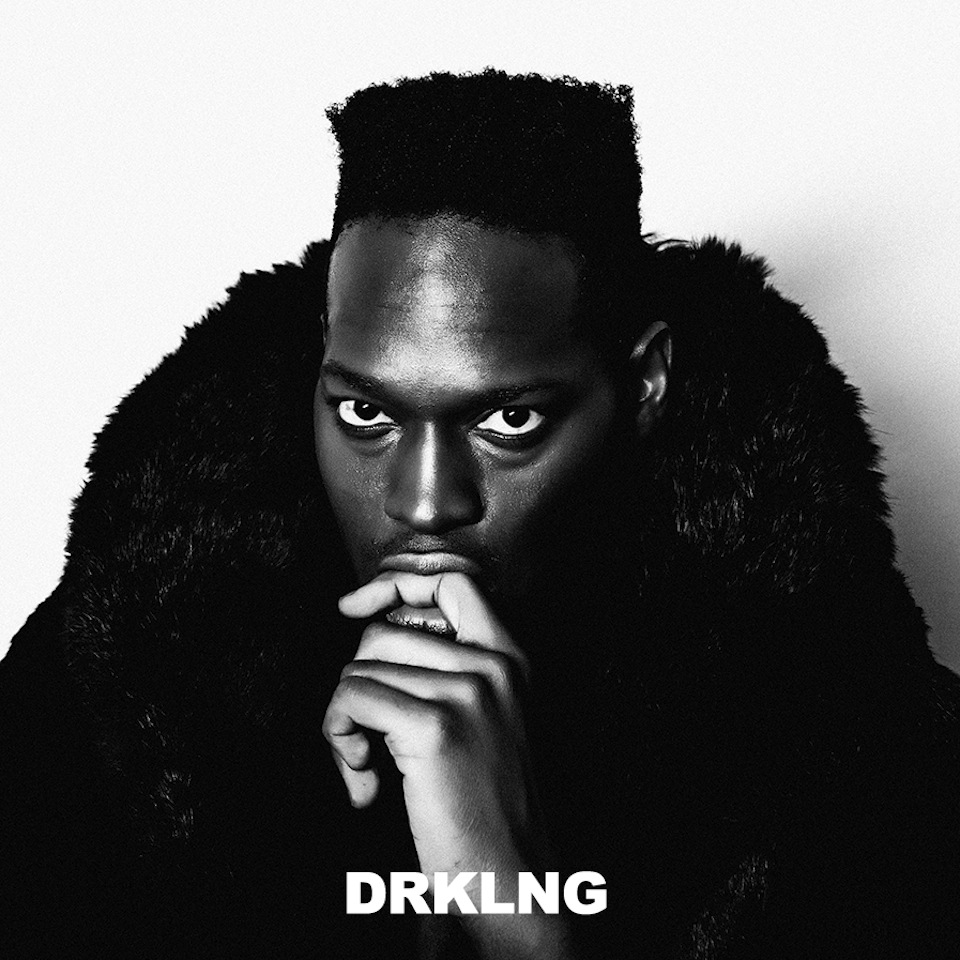 His latest mixtape sees the darkwave rapper more confident (and tongue-in-cheek) than ever before, expanding on and embracing the persona both he and the media have constructed around him, says Daniel Jones.
After an 11-minute version of his track "Ima Read" played during Rick Owens' Fall/Winter '12 runway show, Zebra Katz became the darling of both the fashion elite and the musically elitist. The menacing minimalism was a stark contrast compared to mainstream hip-hop's overproduced sensibilities, using monotones and repetition with similar phrasing to hypnotic effect. "You think about the word 'bitch', it's me trying to really desensitize it, trying to use the word 'bitch' so many times that if someone else said it, it wouldn't have that much context," Katz, aka Ojay Morgan, told me recently. "I want to own the term 'bitch', similar to what Missy Elliot did with her track "She's A Bitch" but take it another level. And with Njena Reddd Foxxx being on it, using the word 'bitch' and being empowered by it is such a great thing. I don't think people can pay attention to that, however, because they don't know how to talk about it." If there's one thing Katz has done it's make people pay attention, even if it's simply about the fact that he makes damn good tunes. His recent mixtape DRKLNG dropped less than a month ago, making the music press wet with 12 new tracks that further explore, expand on, and embrace the persona both he and the media have constructed around him.
Stylistically, DRKLNG sticks close to the aesthetics Katz is known for. "Josephine Effect" is maybe our first real audible look into the psyche of Katz: he's going off, but the idea of celebrity is still alien to him. Even after he's established himself as a modern icon in music and fashion, Katz's persona is still that of the perpetual outsider. As he name drops Rihanna, Grace Jones, and Jay-Z, amongst others, his backdrop is a void-blasted beat punctuated by refracting wooden clatters and the growls of beasts; a growl that soon becomes Katz himself on "Pulla Stunt". The typical puffed-chest braggadocio of gangster rap is present, but it's impossible to take seriously within the context—which is entirely the point. For all of the "darkness" in Katz's work, there's also a deliberate, tongue-in-cheek sensibility. "Ima pull a stunt, Ima fuck the cunt", his pitched-down vocals warn, and how can you help but laugh along with him?
DRKLNG has a lot of high points and plenty of guest names and other surprises to boost them higher: the rolling snares of the Triple Six Sound Club-produced "DRK WRLD", Mad Decent's Paul Devro bringing pumping bass levity to midnight lyrics like, "I'm having visions/we're tripping/whispers the voice of the heathen," the unexpected weirdness of Katz's cover of Tiffany's "I Think We're Alone Now". In fact, the format and smooth mixing ensure that your attention will rarely (if ever) waver. The mixtape's most celebrated moment, however, occurs six minutes in when a cheeky sample from Fame leads into a refixed version of "Ima Read" with no less than Busta Rhymes on the flow. As much as I love his generally untouchable spit, compared to Katz he feels a bit dusty in this element, and his claims to lead rather than read are, well, less than readable, and missing a lot of the undertones present in the original. Despite this, it's still more "oh, shit" than "what shit."
"I've always felt I was part of a novel as opposed to a 'scene'," said Katz. "I always prided myself on hanging out with some different motherfuckers; I hate hanging out with people who like all the same shit. I like to learn something different." DRKLNG stays true to this mindset: it's unmistakably Zebra Katz, but branching out into a few paths we haven't heard him explore outside of live performances and seeing him more confident than ever before. Besides which, it's also (to my knowledge) the first hip-hop mixtape to expound upon the natural beauty of being elbow-deep in zebra vagina. Some truths you just can't get from Gucci Mane. ~
Audioccult Vol. 41: The Geometry of The Serpent Dog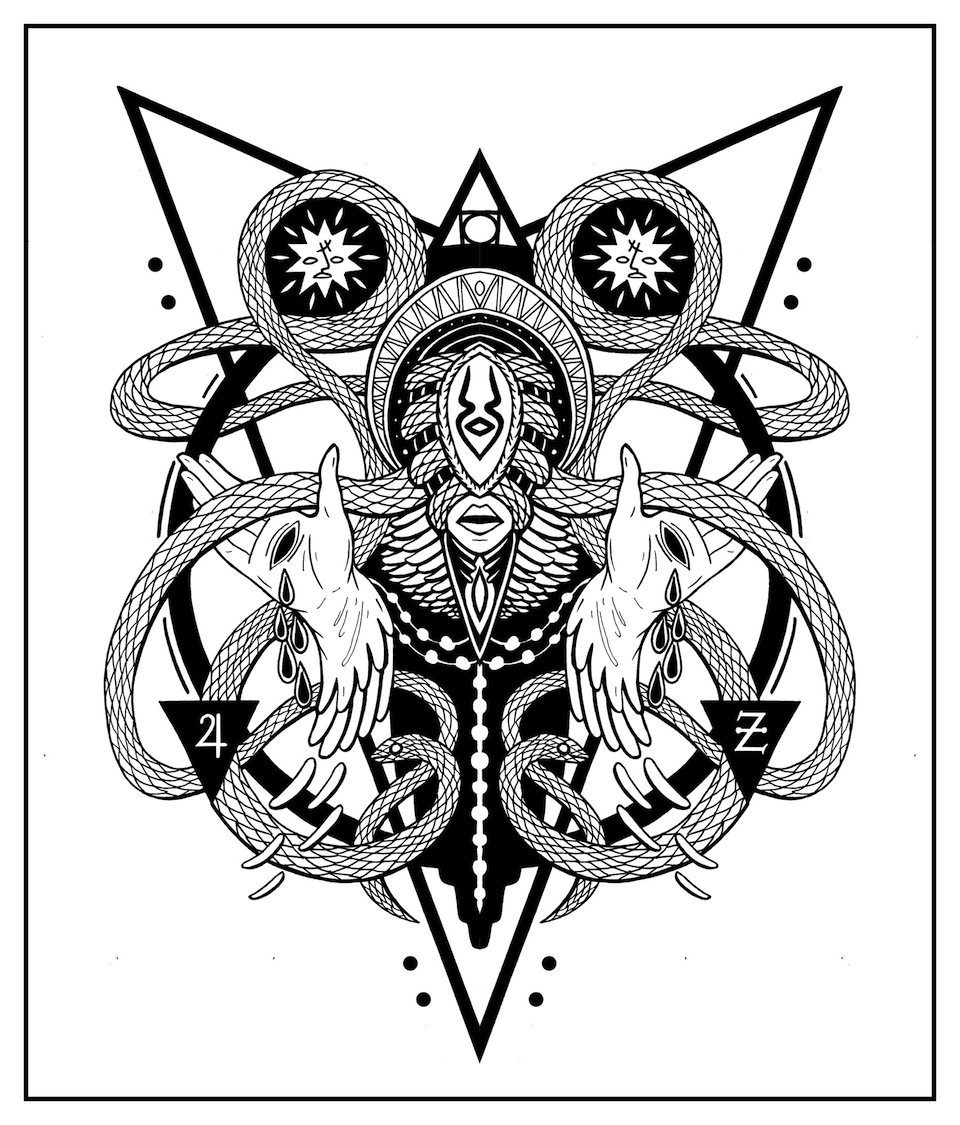 Light a candle. Draw the required sigils. Now, raise your arms above your head and slowly, gently, exhale your soul. You won't need it here. This is Audioccult, and it's time to get low. Illustration: SHALTMIRA
A weekend of promotion, DJing, bass, and Sunn O))) live has left me vibrating, my throat raw and oozing smoke. I am now equal parts salve, salvia, and salivation, consuming an endless karmic wheel of pizza, and it is something like bliss—exacerbated beautifully by the new My Bloody Valentine album. I never thought I'd see a feed made up entirely of the words 'MBV', 'Superbowl', and 'Beyoncé' but a bounty was given unto me and I'm reaping that pop star ballage. Bowl Ball doggin' time, so I turn to The Sports and a Rick Owens adspot hits me like a dog in a cloak on a t-shirt. "This is Rick Owens for Big Dog," gothdog Owens smiles, holding up an angular shirt with familiar baller pooch emblazoned affront. "THESE AREN'T DROP CROTCH PANTS," the drawing shrieks, as Big Rick flexingly flips to the back. "MY HUGE DOG DICK JUST TOO HEAVY." 1500€, buy it in Paris.
Sewn Leather collaborator DJ Dog Dick 's crunkpunk is pure mutant houndology, timeless weirdness that corkscrews beneath the skin. His new EP on HOSS casts surrealist snythglares of the lo-fi sort, as grimy as they are catchy: think drunk children with Casio keyboards, but ya know… really sick and cool, mannn. I saw this guy a few years back, and he was screaming and screaming and I just kept thinking, "I hope this isn't the whole show, I hope he does more than this," and it turns out he was just screaming, he wasn't even on yet, and he came up and shook my hand and told me how much cooler I was than everyone who made fun of me at school. This is from my Dream Diary, by the way. I've seen a lot of things in my time.
If you aren't following the godly Mutant Sounds, you're missing a lot of bizarre and fascinating music. Thanks to them, I've thoroughly soaked my brain in Igor Wakhavitch's incredible compositions for years now. A blend of classical orchestration and avant-garde electronics, Wakhavitch embodies that very 1970s spirit of noise-drenched psychedelia in which the roots of industrial, No Wave, and post-rock are all clearly present. Fans of such things would also be wise to seek out Cromagnon as well, for a wilder (but equally magikal) aural rite.
The Book's Cover: Dirtyflaws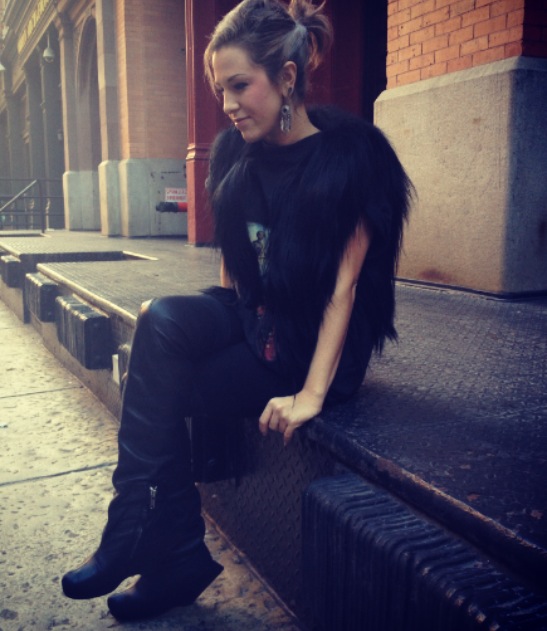 Every time we hear the phrase "Don't judge a book by its cover" we cringe. Though well-meaning, as an idiom it stopped making sense when most books (and people) ceased to be covered by whatever old piece of brown sacking happened to be laying outside the village weaver's hut. Of course you can judge something by surface appearance. That's why we have graphic designers. Rarely do people have time to read a book before purchasing to determine the contents; in the same way, who has the chance to read a person before having any thoughts on the subject? True, the contents are the most important things, but what makes you discover those contents in the first place? Your eyes; your sense of aesthetics. A good cover speaks volumes, and The Book's Cover gives voice to those who wear theirs well.
Since finding Dirtyflaws early last year, it has remained one of the most inspirational style blogs we know—and one of the few we visit on a daily basis. Through owner Nikki Moose, we've discovered beautiful independent labels like Sisters of The Black Moon, InAisce, and Bond, as well as a plethora of inspirational imagery. Moose's style is, of course, impeccable: black is the base, accented with silver, gray and white. And as for her stunning tattoos? "I've been getting tattooed for the last ten years by some of the raddest artists: Eric Eaton, Maxime Buechi, and Robert BonHomme. I feel really fortunate to have those dudes do my favorites pieces, including the large vulture head on my left outer thigh, the "infamous" Gareth Pugh sketch (a silhouette from his Spring '07 collection) on my inside left arm, and last but certainly not least that mother of a skull/geometry piece taking up 80% of my right leg." Not to mention she lives with one of the sweetest little beasts on blogland.
What's Nikki's ideal cover? Let's find out.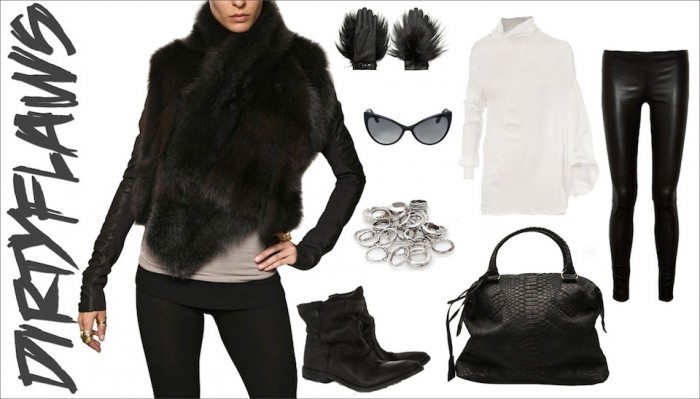 1. Rick Owens Hun – Leather & Fisher Fur Coat
"Fucking no-brainer."
2. Tom Ford Sunglasses
"I've always liked the style of the cat eye and rarely see a thin frame that pulls it off. These look both sultry and slick."
3. Gareth Pugh Mongolian & Fur Leather Gloves
"Two reasons. One: they are Gareth Pugh. Two: Mongolian and leather combo heaven. Although I can promise you if I lost one of these I wouldn't hesitate to just wear one."
4. Sara Samoiloff Sterling Silver Rings
"Sara Samoiloff jewelry is pretty much all on my skin: eight holes in my ears and they all contain her silver pieces, three or four necklaces I hang from my neck and now I am just working on getting my ring collection in order ."
5. Isabel Marant Leather Jenny Boots
"I own the Jennys in taupe and I love them – throw 'em on and you're out. If I have known that leather was in the works I probably would have waited, but oh well – guess I gotta get these guys so my taupe ones have a friend in the closet!"
6. Number Nine Python Bag
"I've been obsessed with this bag since I spotted it last week (I know, one week and I'm already losing my shit over something I really don't need) – you could look like absolute shit, but if you have this python tote in hand you're going to rule the streets."
7. The Row Moto Stretch Leather Skinny Pants
"Leather Moto pants? Really?? FUCK yes."
8. Ann Demeulemeester Asymmetrical Drape Top
"Tried to channel that inner lady in me with this Ann D top. Her pieces are always so beautiful, and a little white with an all-black wardrobe really breaks everything up."
Audioccult Vol. 26: Ren-Trap Shit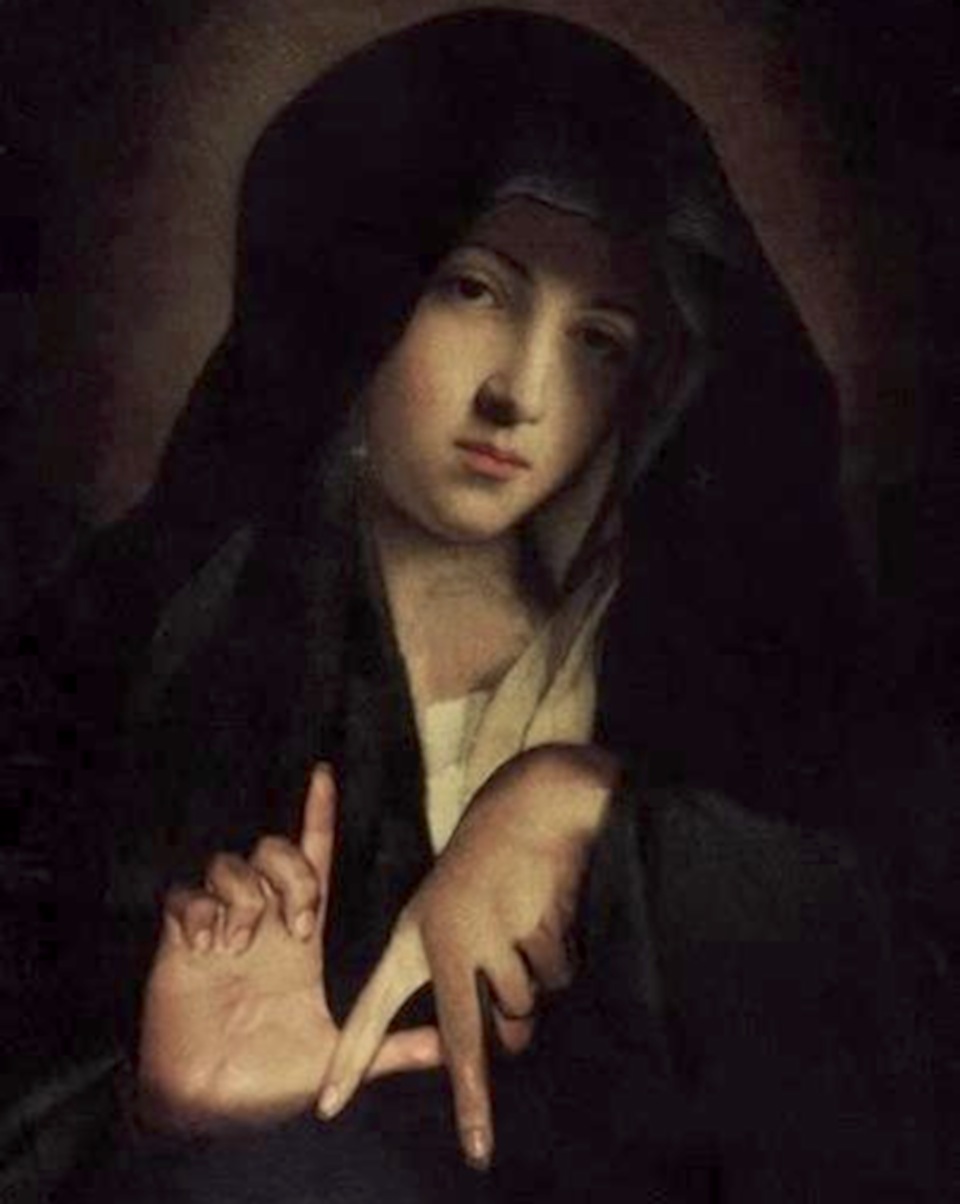 Light a candle. Draw the required sigils. Now, raise your arms above your head and slowly, gently, exhale your soul. You won't need it here. This is Audioccult, and it's time to get low.
Trap music and Renaissance art in the same setting might make art (or, possibly, music) purists yell 'Suffering saviors!' in a funny Sylvester the cat voice, but from my perspective, it's a perfect fit. Of course, unlikely combinations have always been very much my bag, baby, and all those rolling snares and bombastic samples combined with depictions of waxy-ass saints have been giving me extremely weird inspiration lately. I'm not exactly a virgin adoring the Host, but if someone could come do a reproduction of 'Saint Catherine Drinks the Blood of Christ' on the side of my cool party van, that would be awesome. If you could incorporate the giant Garfield sticker somehow too that would be nice.
Airhorns and autumn aren't always good bedmates; sometimes you want to gather gloom about you rather than disperse it. Not to be a patripassian about it or anything, but there's nothing like a dose of audio suffering when everything around you is dying. Those with a passion for heavy meds and heavy vibes will find solace in Youth A.D., Infection and Black Sheep Screaming; certainly it's a tone appropriate for the looming elections in the US. And with Roseanne reaping 100% of the Trill vote, which slouching King will receive the Bleak Ballot? Money's on Romney, but there aren't any winners in that bet.
Of course, all this personal focus on religious art is 'just for fun'. We're damned, son! Where'd you find this?
Rick Owens is a god. Say the name and fashionistas worldwide bow their heads in supplication, his black, beautiful creations elevated to religious status. See that lovely, hunky book hanging out right above these words? That there's his bible.
Rick Owens by Rick Owens is a chronicle of the legendary designer's rise to fame, a large-format beauty featuring images selected by Owens himself as well as contributions from curators Francesco Bonami, Maria Luisa Frisa and Purple magazine co-founder Olivier Zahm. If you've ever wondered what's topping our Christmas wishlists, wonder no more; religion, after all, is the reason for the season.