The Secret Sadness of the 21st Century: Mark Fisher recommends James Blake's <i>Overgrown</i>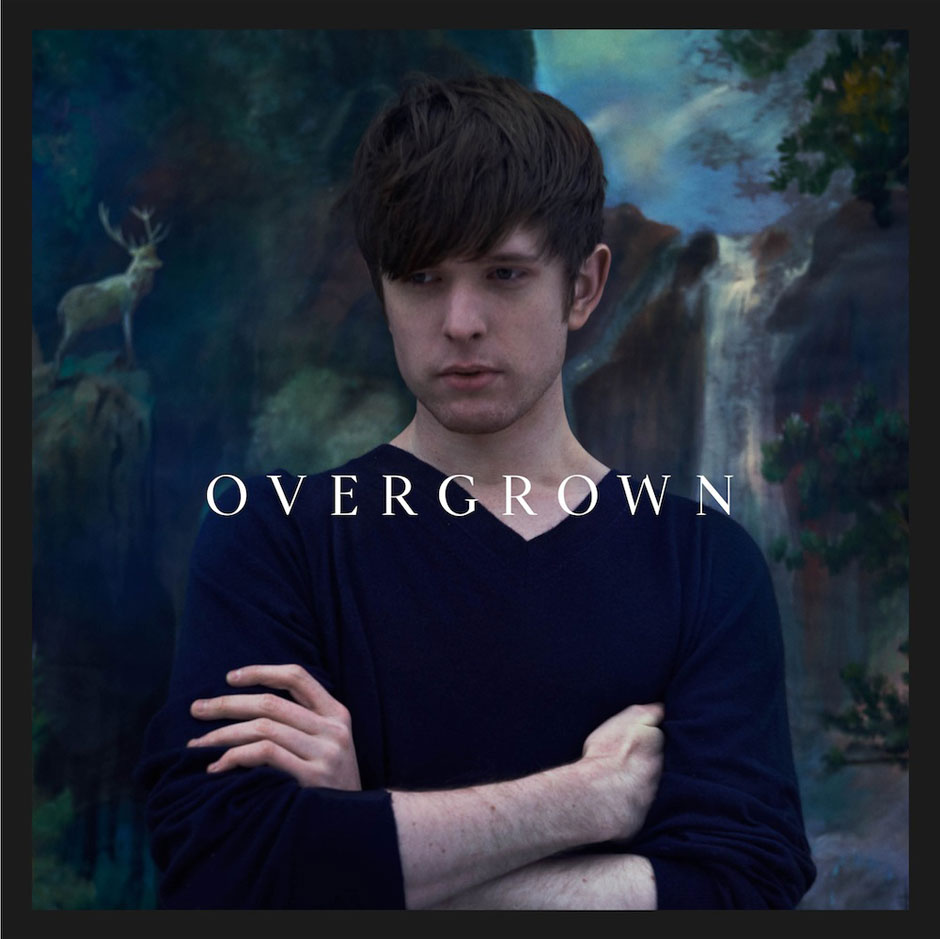 In this essay based around themes he'll touch on in his upcoming book Ghosts of My Life, Mark Fisher—the noted blogger known as K-Punk and the author of Capitalist Realism: Is There No Alternative?—finds the veiled melancholy of 21st century pop through James Blake, Kanye West, Drake, and Darkstar.

A certain trajectory seems to have come to an end with James Blake's new album, Overgrown. Blake has gone from digitally manipulating his own voice to becoming a singer; from constructing tracks to writing songs. The initial motivation for Blake's early work no doubt came from Burial, whose combination of jittery two-step beats and R&B vocal samples pointed the way to a 21st century pop. It was as if Burial had produced the dub versions; now the task was to construct the originals, and that entailed replacing the samples with an actual vocalist.
Listening back to Blake's records in chronological sequence is like hearing a ghost gradually assume material form; or it's like hearing the song form (re)coalescing out of digital ether. A track such as "I Only Know (What I Know Now)" from the Klavierwerke EP is gorgeously insubstantial—it's the merest ache, Blake's voice a series of sighs and unintelligible pitch-shifted hooks, the production mottled and waterlogged, the arrangement intricate and fragile, conspicuously inorganic in the way that it makes no attempt to smooth out the elements of the montage. The voice is a smattering of traces and tics, a spectral special effect scattered across the mix. But with Blake's self-titled debut album, something like traditional sonic priorities were restored. The reinvention of pop that his early releases promised was now seemingly given up, as Blake's de-fragmented voice moved to the front of the mix, and implied or partially disassembled songs became 'proper' songs, complete with un-deconstructed piano and organ. Electronics and some vocal manipulation remained, but they were now assigned a decorative function. Blake's blue-eyed soul vocals, and the way that his tracks combined organ (or organ-like sounds) with electronica, made him reminiscent of a half-speed Steve Winwood.
Many who were enthusiastic about the early EPs were disappointed or mildly dismayed by James Blake. Veiling and implying an object is the surest route to producing the impression of sublimity. Removing the veils and bringing that object to the fore risks de-sublimation, and some found Blake's actual songs unequal to the virtual ones his early records had induced them into hallucinating. Blake's voice was as cloyingly overpowering as it was non-specific in its feeling. The result was a quavering, tremulous vagueness, which was by no means clarified by lyrics that were similarly allusive/elusive. The album came over as if it were earnestly entreating us to feel, without really telling us what is was we were supposed to be feeling. Perhaps it's this emotional obliqueness that contributes to what Angus Finlayson, in his review of Overgrown for FACT, characterizes as the strangeness of the songs on James Blake. They seemed, Finlayson says, like "half-songs, skeletal place-markers for some fuller arrangement yet to come." The journey into 'proper' songs was not as complete as it first appeared. It was like Blake had tried to reconstruct the song form with only dub versions or dance mixes as his guide. The result was something scrambled, garbled, solipsistic, a bleary version of the song form that was as frustrating as it was fascinating. The delicate insubstantiality of the early EPs had given way to something that felt overfull. It was like drowning in a warm bath (perhaps with your wrists cut).
On Overgrown, the post-rave tricks and tics have been further toned down, and the album is at its weakest when it limply flirts with the dancefloor. Piano is still the lead instrument, but the chords hang over a backing that is almost studiedly anonymous—a luxuriantly warm pool of electronics where the rhythm is propelled more by the gently eddying bass rather than the beats. Like James Blake, though, Overgrown repays repeated listening. As with the first album, there is a simultaneous feeling that the tracks are both congested and unfinished, and that incompleteness—the sketchy melodies, the half-hooks, the repeated lines that play like clues to some emotional event never disclosed in the songs themselves—may be why it eventually gets under your skin. Blake has said that, by contrast with his debut, Overgrown sounds like the work of a man who has experienced love. For me, it is as emotionally enigmatic as its predecessor. The oddly indeterminate—irresolute and unresolved—character of Blake's music gives it the quality of gospel music for those who have lost their faith so completely that they have forgotten they ever had it. What survives is only a quavering longing, without object or context, Blake coming off like an amnesiac holding on to images from a life and a narrative that he cannot recover. This "negative capability" means that Overgrown is like an inversion of the oversaturated high-gloss emotional stridency of chart and reality TV pop, which is always perfectly certain of what it is feeling.
But what is the faith that Overgrown has lost? Blake's development has paralleled that of Darkstar, who similarly moved from the tricksy , tic-y vocal science of "Aidy's Girl is a Computer" to the chilly melancholia of their first album, North. Their new record News From Nowhere has a brighter, dreamier feel, but, as with Overgrown, it is notable for its lack of designs on the dancefloor. In a discussion that Simon Reynolds and I had about UK dance music, Reynolds argued that the "emotional turn" represented by Blake and Darkstar was an implicit acknowledgement that "dance music no longer provides the kind of emotional release that it once did, through collective catharsis." The music doesn't have to be explicitly sad for this to be the case—there is a melancholia intrinsic to the very turn inward. As Reynolds points out, the idea that '90s dance music was unemotional is a fallacy. This was a music saturated with affect, but the affect involved wasn't associated with romance or introspection. The twinning of romance and introspection, love and its disappointments, runs through 20th century pop. By contrast, dance music since disco offered up another kind of emotional palette, based in a different model of escape from the miseries of individual selfhood.
In the 21st century, there's an increasingly sad and desperate quality to pop culture hedonism. Oddly, this is perhaps most evident in the way that R&B has given way to club music. When former R&B producers and performers embraced dance music, you might have expected an increase in euphoria, an influx of ecstasy. Yet the digitally-enhanced uplift in the records by producers such as Flo-Rida, Pitbull and will.i.am has a strangely unconvincing quality, like a poorly photoshopped image or a drug that we've hammered so much we've become immune to its effects. It's hard not to hear these records' demands that we enjoy ourselves as thin attempts to distract from a depression that they can only mask, never dissipate.
A secret sadness lurks behind the 21st century's forced smile. This sadness concerns hedonism itself, and it's perhaps in hip-hop—the genre that has been most oriented to pleasure over the past 20-odd years—where this melancholy has registered most deeply. Drake and Kanye West are both morbidly fixated on exploring the miserable hollowness at the core of super-affluent hedonism. No longer motivated by hip-hop's drive to conspicuously consume—they long ago acquired anything they could have wanted—Drake and West instead dissolutely cycle through easily available pleasures, feeling a combination of frustration, anger, and self-disgust, aware that something is missing, but unsure exactly what it is. This hedonist's sadness—a sadness as widespread as it is disavowed—was nowhere better captured than in the doleful way that Drake sings, "we threw a party/yeah, we threw a party," on Take Care's "Marvin's Room".
It's no surprise to learn that Kanye West is an admirer of James Blake's. Meanwhile, this mix that was doing the rounds a couple of years ago made parallels between Blake and Drake. There's an affective as well as sonic affinity between parts of Kanye's 808s and Heartbreak and My Beautiful Dark Twisted Fantasy and Blake's two albums. You might say that Blake's whole schtick is a partial re-naturalization of the digitally manipulated melancholy Kanye auditioned on 808s: soul music after the Auto-Tune cyborg. But liberated from the penthouse-prison of West's ego, the disaffection languishes listlessly, incapable of even recognizing itself as sadness. Unsure of itself, caught up in all kinds of impasses, yet intermittently fascinating, Overgrown is one more symptom of the 21st century's identity crisis.~
James Blake's Overgrown is out now via ATLAS/Polydor and he plays live at Electronic Beats Festival in Cologne on May 16th.
"Doubt is a very important word for me" – Mark Stewart Interviewed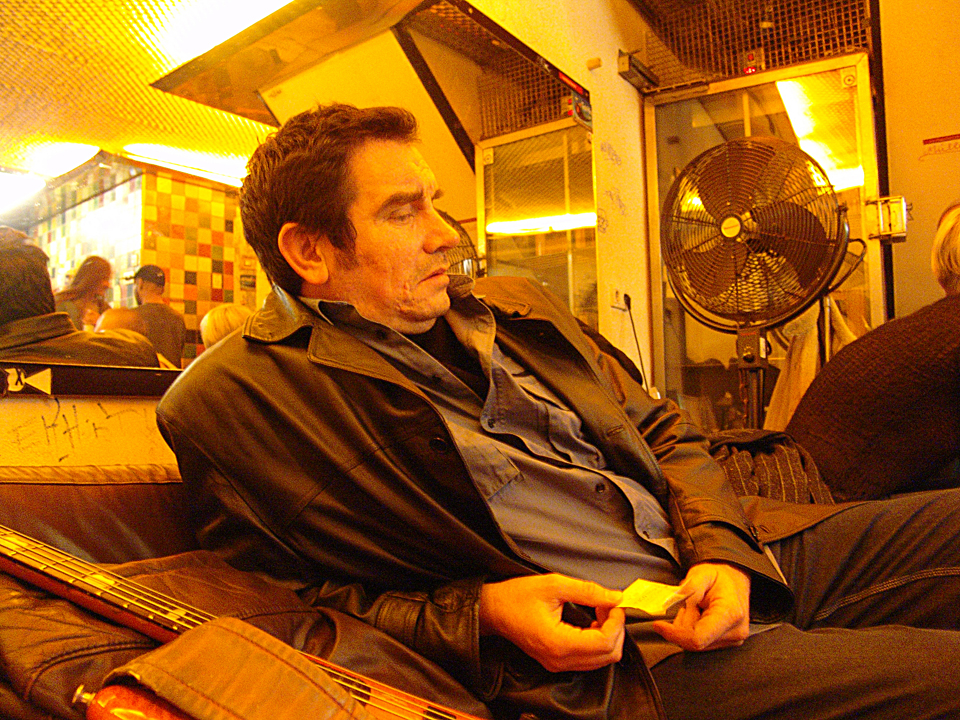 Mark Stewart is a formidable thinker. He talks quickly but his brain is almost definitely moving even faster. To engage him in conversation is to become entangled in a dense web of references, names and concepts, the conversational topics ricocheting from one to the other at an intimidating velocity. That's OK though, we've come to expect that of the man that helped bring us Bristol post punk politicos The Pop Group. With their agitprop approach and DIY sensibilities they helped vocalise the anger and apathy that defined 80s Britain hobbled by a Thatcher government. While few would have predicted that they would ever reform, this year saw the band working on an album of new material.
There's more to Mark Stewart than The Pop Group, however. A fervent online activist and solo artist, his recent album The Politics of Envy (released via Future Noise) affirmed his influence as he drew upon his friends and peers for collaborations – Kenneth Anger, Primal Scream, Richard Hell and Lee "Scratch" Perry all signed up. Still, for all his old guard status, he still resonates with a whole new generation and today sees the release of his collaboration with Nik Void of austere industrialists Factory Floor for new single 'Stereotype'.
A good a time as any, then, for Electronic Beats editor-in-chief Max Dax to pick the his brains. Hold tight.
Max Dax: I've recently been thinking a lot about the role of protest in music, going back to the 1960s when it was a very real entity. I assume that you don't consider what you are doing as protest music, but there is this very conscious aspect to the music you make – how would you relate to that term?
Mark Stewart: Personally I don't separate politics from reality. I think every move you make is political – when you pick up the cup and the cup is made from tin from a death belt in Africa, or your trainers are made with slave labour in China. Everything is political. People say my music is political, so is everyone else in the world blind when they look at the obscene inequalities in the way the corporations are raping the world's resources?
You are referring to this Joseph Beuys idea, that everything you do, everything you say, has a political component?
Yeah, they have a saying in Bali: "We have no art, we do everything well". The Greek root of the word politics is just "gathering" or "people". How come that since the Medieval times a small amount of people have convinced the rest that they are not in control of their actions, that it's up to kings or queens or politicians. That's rubbish. Why should pensioners in Greece or Spain be blamed for a banking scandal in America when millionaire bankers ripped off each other? It's all a big confidence trick. I see capitalism as a mirror that is beginning to crack. I mean, Guy Debord, one of the founders of the  Situationist International, wrote this book called "Society of the Spectacle" and I think we've been under the spell of the spectacle, we've been zombie workers for too long. Even in Tunisia with Tunileaks, in different parts of Africa people are realising that what they've been told is complete bullshit. The media is owned by the slavemasters.
Do you consider your music and your role as an artist as an opportunity to spread ideas, concepts and doubts?
Doubt is a very important word for me. The concepts of doubt and the fire of nihilism has been driving me since the beginning of punk days. With my last record "The Politics of Envy" I was collaborating with people like The Raincoats, The Jesus and Mary Chain, Keith Levene from Public Image Limited, Killing Joke and the Slits and it really reminded me of the D.I.Y. messthetics – as Simon Reynolds called it – from back in the day with Rough Trade. When we tried to control our means of production and we were just constantly doing protests rallies. I think at the moment all you can share is a sense of community across the world. Friends of mine are fighting on the front line of Burma, and yet other friends are fighting against loggers in South America. Music is like an umbrella which can give you a little solace and make you feel like you're not the only lunatic or the only outsider in the world. We thought from punk that everybody was equal, the people on the stage were no more important than the people in the audience. I see my role only as important as someone making a carpet or fixing an engine or putting a shoe on a horse, it's part of the continuous process.
You just mentioned the importance of friendship, of exchanging and formulating thoughts. One of the irritating facets of the 21st century is how the term friends seems like it's owned by Facebook. How do you see this shift in how we talk about issues like friends and gatherings?
I feel that across the world people are beginning to see through the lies. There's a generation of people who've been fed by music and radical ideas, from the Occupy movement to Tibet to people on the streets in Thailand. Everywhere I travel people are really beginning to question what we're being told. Whether they use Twitter to organise a demonstration, whether they organise Occupy protests or hacktivist symposiums, I think the speed of the hypermedia helps. My community now lives online. Back in the day you could say I'm a punk, I'm a goth, I'm into reggae and you'd gather at certain concerts but now there are people like the Electronic Frontier Foundation and other groups and there's a space where people with shared interests can gather – online. It seems that there are punk secret agents from our generation throughout different levels of our society like The Simpsons creator Matt Groening, to the head of a big Japanese media conglomerate. I've got a lyric on the new album: "bankrupt ideologies litter the dealing room floors" – I think we've really got to keep open minds and keep our antennaes open and not moan and not judge things by the past and use the new tools to build something new. It's a time of hyperchange and we can't keep judging it by morals and ideals from the 1950s.
Another ideal, not from the 50s but the 80s, a result of punk, was the foundation of Rough Trade Records. They considered themselves independent from the market and from the media. Then Rough Trade went bankrupt and now when you talk about indie rock, it seems to have become a genre of music but it's not filled with political context any more. How do you feel about this word Independency being stolen?
It would be a ten page conversation about so-called independent record stores or record labels. My only feeling is when we were kids we built up the tendrils that stretched across the world from Japan, to Survival Research Laboratories in the States, to Rough Trade America to cool protest groups in South America, bands in Japan. What I've found in the last couple of years with my friends, my comrades, they're Chinese artists, people behind Tunileaks, they're aboriginal people, it's a much wider thing than just music. I call these people sympatico, maybe we argue over the specifics and maybe somebody's got the wrong concept of economics … But music is one small corner of this group. There's a global underground and I'm finding that people on the electronic frontiers have the most imagination at the moment. The discussions we're having is reminiscent of the old salons in Vienna where mystics, alchemists, scientists and politicians did gather. People at the bleeding edge of new technologies, new political concepts and experiments in art and music are all gathering together. That's how I found Kreuzberg in Berlin, with people like Bruce La Bruce. It's possible for bright minded people to meet like they did in the Cabaret de Voltaire and create new things. My father was a great scientist – so I grew up with mad people coming to the house anyway!
Do you see your new record as a manifesto for this?
A personal manifesto. All I'm doing is that I'm going through notes of what I'm interested in, notes of what I think is wrong and what I think is right, interesting things I see in the world, be they political, mystical, artistic, sexual or politics. And often it's just questions. For me my new album is like a personal letter from my front line. If I have to be a poet in this situation I should be allowed to deal with any subject in the world. Why should we be censored in music to just sing about cars and girls?
You say it's a personal letter, but normally you write a letter to a certain person you have in mind – and not an anonymous mass of people.
It's a jumble of my mind. I remember talking to Allen Ginsberg once about how he wrote, and it's just the way my mind thinks and it's the way my mind's been thinking since I was 14. I'm not saying anything is right or wrong but these are the things I find interesting. Other people obviously find it interesting to sing about bottoms or breasts or Ferraris. But I don't, sorry.
How have you felt about The Pop Group's comeback so far?
The strangest thing happened when Matt Groening curated ATP and he asked Iggy to reform the Stooges and me to reform The Pop Group. I thought it was a stupid idea. I thought it would be like necrophilia. Then, suddenly, with my art projects I've been flown to Vancouver and been told to collaborate with a fat Korean artist who works with lard and some shadow puppet maker from Thailand. I keep trying to decondition and question why I'm making certain judgements: One side of my brain said why are you negating this thing, why can't you just treat the reformation as a new commission. So I thought OK I'd walk into this with new eyes and I just said to the other members "let's see if we can make something new". Immediately when me and Gareth Sager started working something really bizarre happened. There's these alchemical beasts called golem, and golem appeared in the room. It's nothing like anything from The Pop Group, it's nothing like anything me or the other guys have ever made, they're like these huge French chansons with string arrangements and these things are running off with a life of their own. I'm shocked. We've just control of our back catalogue so next year there's going to be a classic box set and we're going to produce a brand new Pop Group album called The Alternate. The thing's got a life of its own. It's interesting for me, I can stand back and watch, it's like a firework. I don't understand how these things work but from hanging around with Kenneth Anger last year in Portugal I learned that if magic happens you just have to stand back and watch. You don't try and control it.
But somehow you control it by having different outlets, you have the Pop Group, you have The Maffia [his band which releases material on On-U Records] your internet activity, how do you know what's going to come next?
I don't. It's random procedures that we learnt from oblique strategies and from the beatniks: You can do these strategies of refusal where you deny your past and break a habit. A lot of it is chance procedures, but those chance procedures create sparks. Over the years when I've taken a chance and clashed different genres people have said that I invented industrial or trip hop or whatever but that's because I deliberately negated a normal procedure and something strange happened and I let it happen and I was man enough to stand back and not say no that's wrong. Some of the best things in science are when people think in a lateral way and in juxtapositions. I think Kenneth Anger's juxtaposition in Scorpio Rising, of that homoerotic biker footage and that religious imagery he got through his letter box by chance. I would go that far to say that these random juxtapositions are the most important things of our generation. Then there is a chance for something new without our conditioning. Basically we're all the constructs of our condition.
How far does it go back? You said it was the beatniks were the first to use this random, anti-cyclic process of putting things together – also called cut-up.
I didn't say they were the first, I've got some old Arabic grimoires and I think it goes back to the beginning of time. As a human being you've got to realise, Tricky had this project called Product of the Environment. Basically we've got to realise that since we're born, it's like the Enigma of Kaspar Hauser, if we were raised in the forest we'd have different ideas to those we have. Part of my thing is to always keep on questioning why I'm doing something. ~
I guess 2011 must have been a good year for underground pop music, not least due to the fact that this was the year, and I think for the first time at least since I've started dealing with this stuff, that the music community finally had found something to actually talk about. Now don't get me wrong, it's not that there's not usually a good deal of blathering and chattering about all kinds of things peripherally related to music, but usually it's not really about popular music itself. This year though, the music community, or at least the more reflective part of it, suddenly revolved mainly around itself after Simon Reynolds had published his book Retromania, postulating on some 500 pages that contemporary popular music is facing total creative stagnation in consequence of collectively being trapped in backward-leaning nostalgia. The impact of the rather simple thesis was astonishing, virtually everyone felt the need to respond – mostly in defence of the current scene. There were some rather fierce reactions, like Not Not Fun's Amanda Brown bluntly stating that "the Simon Reynolds perspective is the least modern attitude one could have toward art", and some more subtle, witty ones. But be it as it may, at least there was something to talk about, an opportunity to pause and to deliberate, and well, that's a good thing, innit?
For me, one piece stood out of the bulk of Retromania-related articles though, Adam Harper's essay "Borne Into The 90s" on Dummy, in which he thoroughly discussed the creative possibilities of the latest incursion of nostalgia into pop, the inevitable 90s revival. And indeed, many things in this year's underground pop that obviously had that decade as their most obvious reference point were way too clever and sophisticated to be considered merely "retromaniac". Take London via Tallinn artist Maria Minerva for instance, who had a stream of exciting releases in the last twelve months on Not Not Fun and its dance offspring 100% SILK. Everything in her music screams "EUROTRASH", but it's all so damn astutely constructed (or, rather, deconstructed) that there can be no doubt that this is a fresh, new, innovative thing.
Maria Minerva – California Scheming from Not Not Fun on Vimeo.
Another project whose point of reference (albeit more subtly and even more ironically) in 90s mainstream pop culture is of course London duo Hype Williams, who also had a very prolific year, although I'm rather unsure if they still manage to live up to the expectations set by their first releases dropped in 2010. More precisely, the full-length One Nation on Hippos In Tanks is among the best releases of 2011, while the subsequent Kelly Price W8 Gain Vol. II EP on Hyperdub was rather disappointing to be honest, and I couldn't help but sense a commencing creative exhaustion. Anyway, One Nation's track "Businessline" is a true highlight of this year:
businessline by Hippos In Tanks
In any case, both members have embarked on very worthwhile solo endeavours, and what they've put out on their own this year not only shows a terrific amount of pop sensibility but also no sign of exhaustion whatsoever. Especially Inga Copeland's untitled 12", sold out within a few days, includes some of my favourite underground pop tunes of 2011.
Inga Copeland – Notitle by Sound Injections
The question posed by Reynolds in his book was of course basically, "How innovative do we have to be?", and though this was supposed to challenge contemporary pop music in general, I guess it's safe to say that the part of it that usually wouldn't object to be labelled "experimental" naturally does care a lot more about these things. Now let's be reminded that neglecting classic song writing structures and using some vintage analogue synths has never been either a sufficient or even necessary condition to be justifiably considered avant-garde – still, the most compelling response to Retromania was given by a guy who'd always been doing exactly that: James Ferraro's Far Side Virtual is so very 2011 that the claim that the current pop underground was lacking innovative forces seems almost absurd. Though of course we could discuss if a work like this should still be considered a piece of music in the strict sense of the term.
James Ferraro – Earth Minutes by Hippos In Tanks
My absolute favourite of 2011 however was a rather unobtrusive cassette released by the tiny Californian label and artist collective Brunch Groupe. The self-titled tape by KWJAZ, the solo project by label founder Peter Berends, is just perfect in its pure, effortless hypnagogic bliss and has remained on heavy rotation all year long. After being sold out on cassette, the piece was reissued on 12" vinyl by Not Not Fun, and by the way, Reynolds and I apparently agree on this one– and so the circle is complete.