EB Premiere: Curses — "Heartbeat"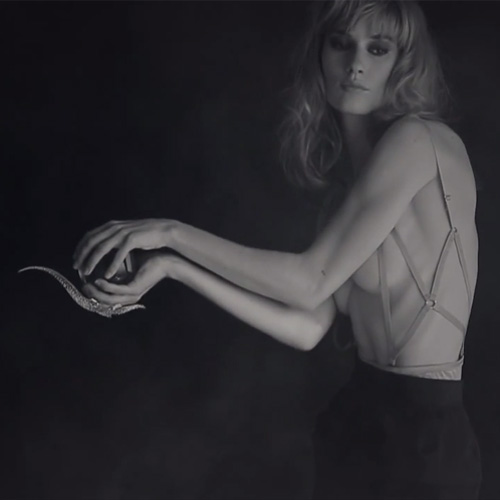 For over a decade, Luca Venezia has built a name for himself as Drop The Lime, a bass-heavy and party-rocking producer/DJ. Earlier this year, however, the New York City stalwart introduced a darker and more house-oriented project called Curses with records on local NYC labels like Throne of Blood and Let's Play House. His latest Curses EP, Heartbeat, recently dropped on Safer At Night, an imprint under Venezia's Trouble & Bass outpost. The latest development involves the video we've embedded above, which features a cast of chic ladies in designer outfits styled by the likes of Sian Hoffman, Joji Kojima, and Anna Koros. It's the clip for "Heartbeat," a brooding stomper with a screwed-down vocal and paranoid arpeggios.
Daniel Jones recommends Strange VIP's <i>No Future</I> EP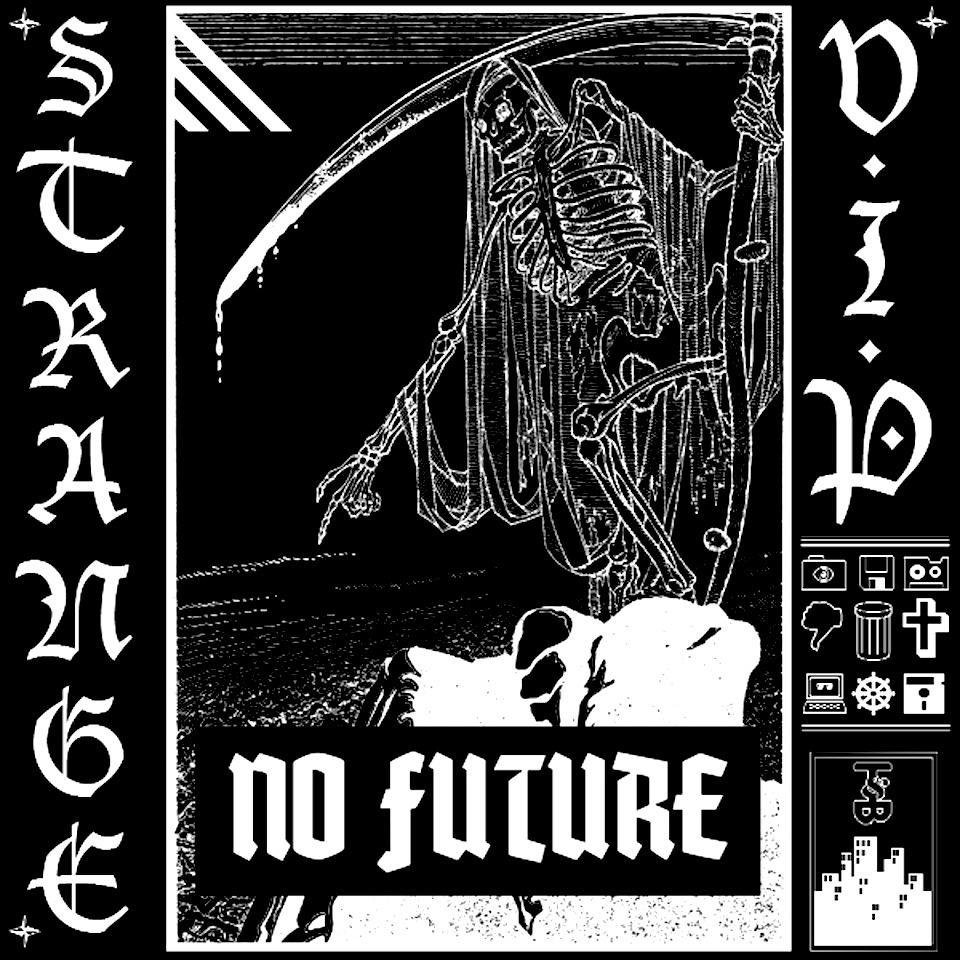 2012 was the year when the term 'trap' replaced "probably don't bother" in the popular lexicon. A handful of rolling snares and a couple of basic samples seemed to be the key ingredients in most productions, leading to an ever-devolving series of sound-a-like songs and bog-standard remixes. With such an array of Real Crap Shit being cast onto Soundcloud seemingly every minute, is there any reason to take note anymore? Strange VIP thinks so and judging by his No Future EP, he could be on to something.
What makes this release from the Trouble & Bass lad (also known as The Captain 666, a few evil notches above most of the other Captains) interesting is that he uses trap as a starting point rather than an end. Kicking off with a refixed version of the X-Files theme is a cheeky move, as this particular trope has certainly been mined before—again, however, it's merely referential, a mood-setter to imply a delving into the otherworldly (or perhaps he's just as big a Scully fanboy as I am). "Back To H3LL" is better, a bumping slice of cinematic evil that perhaps drops the title sample a bit too much. "Take Me From Heaven" is where things really start to pick up. Strange injects layers of black metal guitars, stabs of growling and shrieking, and chopped-up choirs into the mix, removing most of the hip-hop origins entirely. I appreciated this; too often it feels as though trap producers stick too closely to their source material, but it's divergence rather than purism that make tired genres breathe again.
The final two pieces in this short ride are perhaps the best, but then keep in mind I do have a fetish for choirs. "When I Die" is packed with a touch more subtlety, some lovely moodiness and what may be the "Damn Son" sample of 2013 (though thank Christ none of those are to be found). Like the album's finale "No One Left", it feels not only grandly symphonic but also more complete somehow. No Future isn't perfect by any means, nor is it particularly the freshest kid on the block. It plays its strengths a bit too heavy-handedly, which make their frequent use a bit tiring; keep in mind this is a fairly short album, so the tenth spoOoOky laugh feels more like the fiftieth. What it is is a promising selection of brief, highly enjoyable instrumentals that lend a nice change of pace to a genre that's been played to death. Undead Trap? Bela Lugosi just might approve.
EB Premiere: Deathface – Body Count (feat. Star Eyes)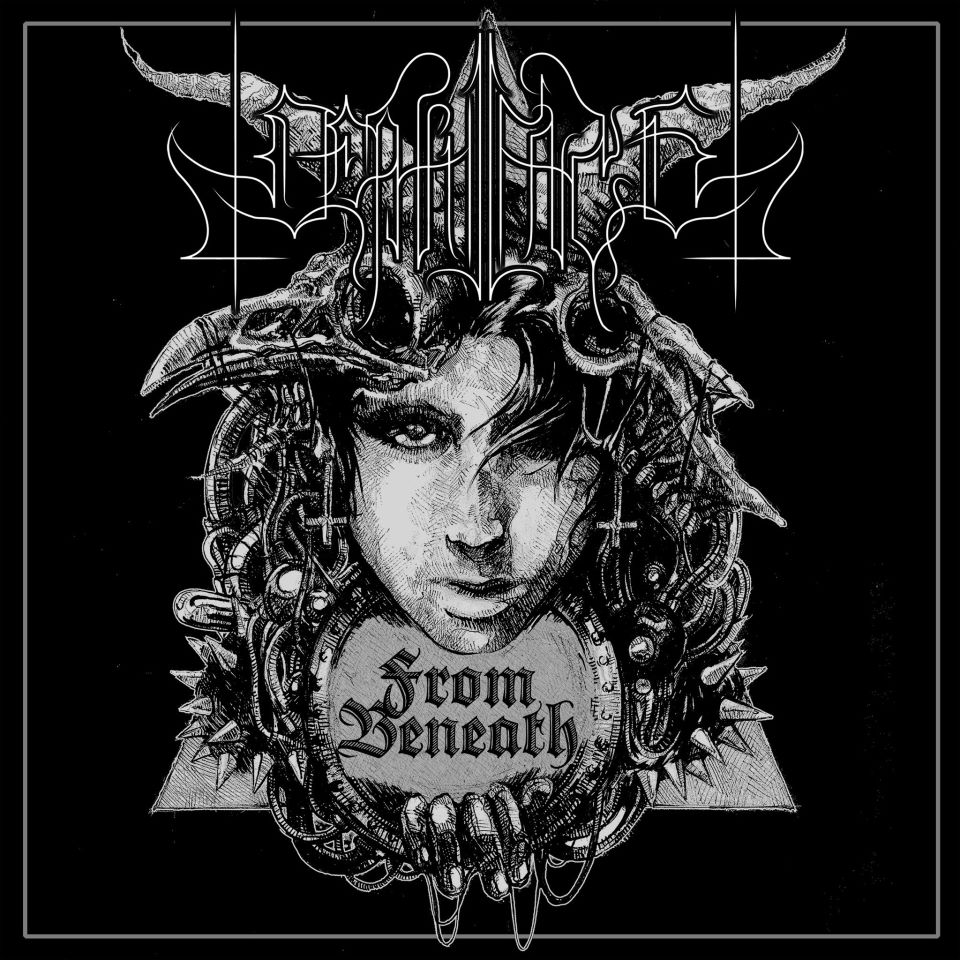 Deathface never fails to make us sweat. Having recently acquired the vocal talents of Effy, his latest work goes harder than anything he's done before. The eight tracks on the From Beneath EP amp up the aggression levels beyond bloodraves and into a realm closer to the bruise-inducing fury of the pit, the adolescent hunger of hardcore punk melded to the crunch of hardcore digital, with just a touch of filthy dub. The result comes across as an unholy lovechild of Atari Teenage Riot and White Ring (who'll be playing a show with Deathface today, in fact), a combination we're all too happy to share.
Fill your eyes and ears with the debut stream and teaser video for 'Body Count', the latest sneak peek at From Beneath and the final track on the EP. Featuring T&B queen Star Eyes, concrete-bleak beats euthanize while Vivian Host's vocals self-euologize. From Beneath drops July 17th on Trouble & Bass; head over here to stream more.
IN HIS NAME.