Fast Food 14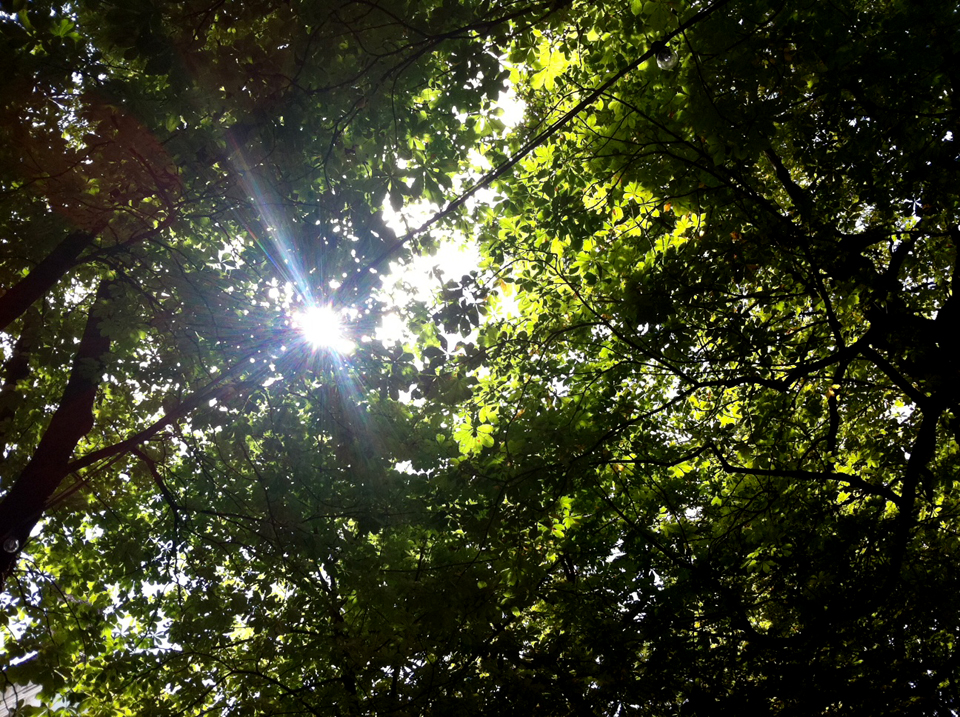 This week's installment of Fast Food covers thoughts on the concept of the Bavarian Biergarten as well as why we shouldn't be too angry with McDonald's. Fast Food is a weekly blog about cooking and the micropolitics of dining by Thomas Schoenberger and Max Dax. The photo was taken at Hofbräu Biergarten in Munich under the chestnut sky. ~ Photo: Max Dax
Read previous episodes of Fast Food here.
Dax: The funny thing is that in a McDonald's restaurant nobody would ever place a special request.
Schoenberger: McDonald's is a very good example of a system that is stronger than everything else. McDonald's—or Burger King for that matter—is like a dictatorship: Nobody has any rights—neither the guests nor the people at the cashpoint. You want more ketchup? That's 20 cents extra. A seller at McDonald's probably gets fired if he or she doesn't ask every guest, and I mean every single one without any exception, if they could consider ordering the full menu instead of a plain burger. That's how they maximize the turnover.
Dax: You cannot order your burger rare or medium rare at McDonald's. This would already bust the system. A perfect system by the way, don't get me wrong. It would never occur to me to really have "dinner" at a fast food restaurant such as McDonald's, but I am certainly willing to give props whenever appropriate.
Schoenberger: Yesterday night, I was having dinner with my ex-officer Werner Geyer at the Paris Bar in Berlin Charlottenburg. We got served a steak that tasted like rotten meat and squishy French fries. It was just horrible.
Dax: That's interesting: Claude Lanzmann was equally disappointed having dinner at the Paris Bar the other day. I had to invite him to Grill Royal to get him back on the tracks.
Schoenberger: Funnily enough, going to the toilets I met Rolf Eden on his way out.
Dax: So you at least caught a glimpse of what the Paris Bar used to be.
Schoenberger: What I'm trying to say is: If you've got a working system, don't you ever dare changing it. That's why I want to pay my tribute, too, to McDonald's—because they would never change their laws, regardless of what you could criticize, ethically or otherwise.
Dax: I can see real beauty in perfectly functioning systems. It occurred to me the other day when I went to have a late night dinner at Adana Grillhaus in Manteuffelstraße after a Wolfgang Müller exhibition opening at Künstlerhaus Bethanien. This is probably the best Turkish restaurant in Berlin, if not in Germany—open 24/7. Many dubious low-life and backstreet people seem to gather there during the night shift. Some of the regular customers are musicians. Sometimes they start to play Turkish music there at 4am in the morning.
Schoenberger: What are they specialized in?
Dax: We went there once or twice together. They have an open wood charcoal grill—in a way it looks just like the Themroc as the grill is visible for all the guests. They offer lamb chops, shish and adana kebaps and many other grill dishes. Actually the adana kebap is their special dish, thus the name of the place. Kebap in Turkish means 'spit'. You must not mix it up with the fast food of the same name.
Schoenberger: I remember. You'd order an adana kebap there and drink ayran.
Dax: It's basic traditional Turkish food, but they've brought their dishes to perfection. Of course, they don't serve pork. But they do serve grilled gilthead if you happen to be a vegetarian. I could eat there every night. I don't know why, but strangely I don't even feel bothered by the TV set that is running there all the time. They are only showing süper lig football matches and traditional Turkish music programs anyways.
Schoenberger: The German equivalent to these kind of perfect gastronomic structures would probably be the concept of the Bavarian Biergarten.
Dax: Nothing compares to a lazy afternoon in a Munich Biergarten under the chestnut trees, boozing Bavarian lager and enjoying grilled sausages or Schweinshaxn.
Schoenberger: True that. But let's focus on the enormous quantities of beer and food being sold there on any lovely afternoon. On a good day the big beer gardens in Munich such as the Hirschgarten or Chinesischer Turm sell hundreds of hectoliters of draught lager and thousands of meat dishes— they have seating capacities of more than 7,000 each. The system has proven efficient over the centuries, so the system works out very smoothly. As a customer you usually have to queue to get your Maß of lager at one of the enormous dew points. In some of these traditional places you even have to flush out your Maß in deep barrels of ice-cold water on your own in order to get your refill.
Dax: There we go again: McDonald's didn't only copy the concept of the French brasserie, but also that of the beer garden. You have to queue at the counter to get your food and drinks.
Schoenberger: No gastronome would ever challenge this concept. It's like a mathematical formula, like Sudoku. Especially when it comes to sausages and Schweinshaxn. Point is, you can prepare endless amounts of these kinds of dishes if you know there is a demand. Brez'n and Weißwürste, baked Leberkäse and Obatzda served with fresh cottage loaf. You can literally prepare thousands of Bohemian dumplings that are kept warm in meat broth in enormous copper pots—if you have the logistics ready. If somebody wants a plate of these Knödel, you just fish out one or two of the broth with a skimmer and put them on a plate. Once everything is prepared you just bang the dishes out one after another. I have been fascinated all my life by logistics like this.
Dax: Obviously, you can't order à la carte in a Biergarten. The Bavarians probably invented the self-service restaurant.
Schoenberger: Exactly. I know a small beer garden in Berlin—the Berghain Biergarten—where they tried to serve sophisticated food. It was a nice try, but it went down the drain. You just can't put carré of lamb cooked à point on the menu when the goal is to serve as many hungry lost souls as possible. I was there and I immediately had to think of Don Quixote.
Dax: The system is the challenge. It's like a matrix you can put on any setup. The Themroc is a different setup compared to the Schönberger or the Chinesischer Turm. It's less a question of the selection of dishes you offer than knowing what is doable. The setup defines the terms and conditions. At the end of the day people want to have the best food the system allows. And to make this clear: They have a right to get the best food. Regardless if they are willing—or capable—to spend ten Euros or 100.
Schoenberger: Let me explain something: It is a huge misunderstanding to offer a large variety of differently cooked dishes just to please any possible consumer's wishes. Wrong. You need an army in the kitchen and the according logistics to offer various modes of cooking things correctly from the same stove. Of course you have to do your job well. But if you do so, it's enough to offer variations on the same method. The pizza is the best example for this: You can offer forty different pizzas—but it's still always a piece of dough that will be baked and delivered with a variety of toppings.
Fast Food 8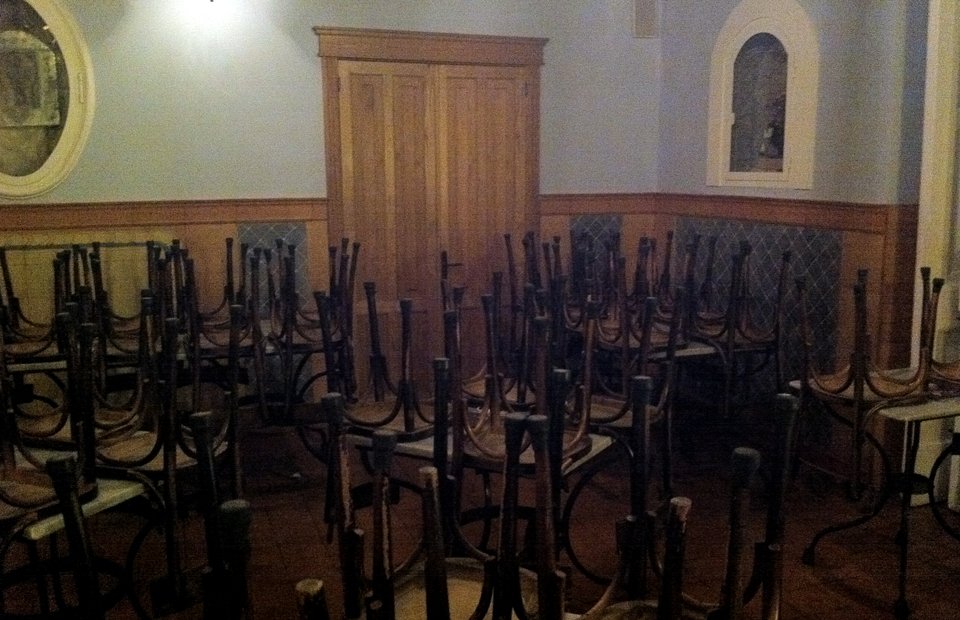 This week's installment of Fast Food brings to light the military organization required to run a restaurant. Find out how Miles Davis, Nino Rota, the Mafia and Dante connect to a certain structured lifestyle. The photo was taken by Max Dax and shows the upper dining room of the world famous pizzeria Sorbillo in Naples.
Read previous episodes of Fast Food here.
Dax: You were referring to codes that you can read when you scan a restaurant. This, to me, reads like an invisible agenda. There are obvious things that pop up immediately such as the look of the place, the kind of people that are dining there, or the congruity of the menu. But there are less visible codes as well. In this context I want to know more about the organization chart of a well-run restaurant. You mentioned the existence of storm troopers in a kitchen. But if there are storm troopers, there must be officers and generals too. I want to especially bring in the term 'Offizierskasino' — in English: 'officer's mess'. The term describes the executive lounge where the people in charge meet to discuss pending issues and to plan campaigns. I always call the officer's mess the 'war room'. Did the Schönberger have such an Offizierskasino?
Schoenberger: Of course we did have an Offizierskasino. It is one of those strange but fascinating aspects of the German language that you can use a term that defines a space to also describe the existence of an inner circle. Few people ever admit it, but that's the way it is: If you don't run a restaurant in a strictly hierarchical way then you are doomed.
Dax: How many people were involved and on which occasions did you gather?
Schoenberger: Generally speaking, an Offizierskasino in a restaurant is responsible for synchronizing the chain of command and the supply chain. It's all about organizing the storm troopers  — the mobile infantry who serve the guests — and the brigades in the kitchen on a daily basis and connecting them with the leadership circles, i.e. the officers and generals. At the Schönberger the Offizierscasino consisted of me as the owner of the restaurant as well as Kent Hansen, the Chef de cuisine. We two were the generals. In the officer's rank you'd find, among others, Ernest Allan Hausmann who was in charge of the bar.
Dax: What's the difference between the bar and the kitchen in a restaurant?
Schoenberger: Not every restaurant has a bar where you can hang out after you've had dinner. Many restaurants just have a position where the waiters would prepare the drinks. But one day, Ernest Allan Hausmann approached me because he had an idea how to utilize an adjoining room that we at that time hadn't renovated yet and that we were using as a storage room. I told him that he had all the freedom in the world and that he should deliver. So, during the following weeks, Ernest did clean up the room, did do all the necessary electric adjustments and renovated everything. Finally, one night he installed a pair of turntables and a mixing console and solemnly declared the bar open by putting the needle on Miles Davis' Live Evil album. From day one this bar provided a clandestine late-night hiding place for the guests as it generated quite some turnover in cash for the restaurant.
Dax: I remember. The point was: Soundwise, you had both. You had the cacophony of voices, cutlery and clinging glasses in the main restaurant room and you had assorted dark jazz music at the bar. It didn't mix. You were either dining or hanging out in the bar. I recall a lot of people who were baptized by the music that was played in the bar. This counts for me, anyways. For the first time I connected the — for me back then, abstract and difficult to approach — jazz music with a desirable lifestyle. But Ernest was also spinning records by Nino Rota, John Coltrane and other eternal heroes of his. Of course, smoking was allowed everywhere. Those were the times. Nowadays you need to open a private supper club to allow people to smoke in a restaurant.
Schoenberger: One day I took my Opinel knife and cut my favorite poem from Dante's Inferno into the door frame: "Lasciate ogni speranza que' entrate qui" — in English: "All hope abandon, you who enter here". And above the door, I carved the sentence "Gli amici degli amici" — in English: "The friends of the friends".
Dax: The latter sentence cites a famous Mafia saying. In other words: By carving these phrases you made a promise. You were basically communicating to your guests: "You belong to a particular kind of people, you who enter here".
Schoenberger: Not only that, by defining the bar as a space where everything can happen I also made clear that the Offizierskasino of the Schönberger was the addresser and the guests the addressees of important messages.
Dax: Understood. But let's come back to the organization chart. Between the generals and the storm troopers you have the officers. As I understand, Ernest Hausmann was an officer. Who else was an officer and what gave these people their rank?
Schoenberger: Early squad leaders included Werner Geyer and his sister. Werner Geyer is a born gastronomer. Nowadays he runs the infamous Muschi Obermeyer bar in Berlin's Torstraße — right next to the aforementioned Themroc restaurant. But back in the days he owned the enormously successful Café Geyer on Hein-Hoyer-Platz in St. Pauli as well as the Bar 439 in Hamburg's then hip Eimsbüttel quarter. He did run the Bar 439 together with the legendary Hamburg caterer Matts Unvericht. And yet another officer at the Schönberger was Steffen Hellmann who also owned the Restaurant Nil on Neuer Pferdemarkt, also located in Hamburg's St. Pauli quarter.
Dax: That's of course tacit knowledge.
Schoenberger: Yes and no. In the art world it belongs to the field of daily scientific necessities to assure you can track every single person involved in the process of creating and exhibiting art. I insist that we at least sometimes have to be specific in the field of gastronomy as well. A side aspect of mentioning the likes of Werner Geyer, Ernest Hausmann, Matts Unvericht and Steffen Hellmann is that they all have been successful on culinary territory ever since. At the Schönberger, they were tough officers. If a waiter happened to be late, they would immediately substitute the gap without discussing whatsoever. Of course, the waiter would get grilled later at night when the shift was over. The main quality of an officer is to always oversee situations and to act accordingly whenever appropriate. They completely understood the potency of the Schönberger.
Dax: Are you still in contact with your officers?
Schoenberger: Gastronomy is like war. If you happened to have fought and survived battles together you become veterans. Just like all the veterans of World War II or the Yom Kippur War people who have suffered together often have stronger connections than people who are mostly content.