X-MIX returns to Berlin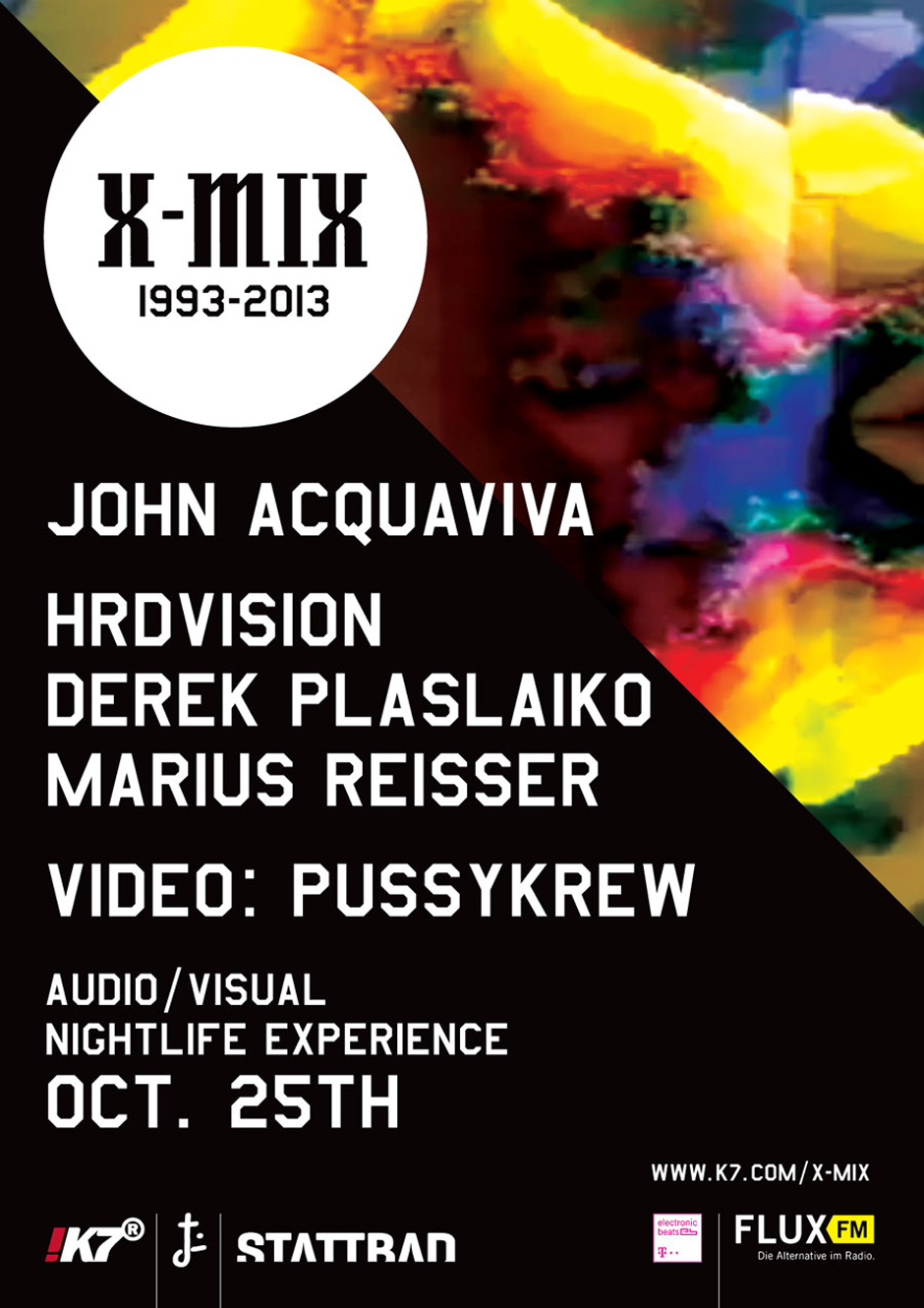 Fans of audio/visual dance delights, rejoice: X-MIX, the iconic and influential VHS series that melded the DJ mixes of some of techno's finest with accompanying films and helped revolutionize the clubbing experience, is returning to Berlin. Helmed by the label !K7, the new X-MIX combines the heritage of the old series with the innovations of a new crop of emerging artists, paying respect to what came before with an eye on the the future of electronic music and digital art. Two separate events herald this rebirth: one on October 25th featuring John Acquaviva, Hrdvsion, Derek Plaslaiko, and Marius Reisser, and another on November 22nd featuring Dave Clarke, Objekt, and Marius Reisser (again). Both take place in Wedding at the city's favorite party-pool and Boiler Room sweathouse, Stattbad, and both featuring visuals by Pussykrew, the DIY experimentalists who comprise some of Berlin's most intense video weirdos. We want you to be there to experience it all—past and present colliding, bodies and bass, vision and voice—and that's why we're giving you the chance to get in for free.
You can win five pairs of tickets (that's ten total) on our Facebook page!
Back to School: X-Mix 1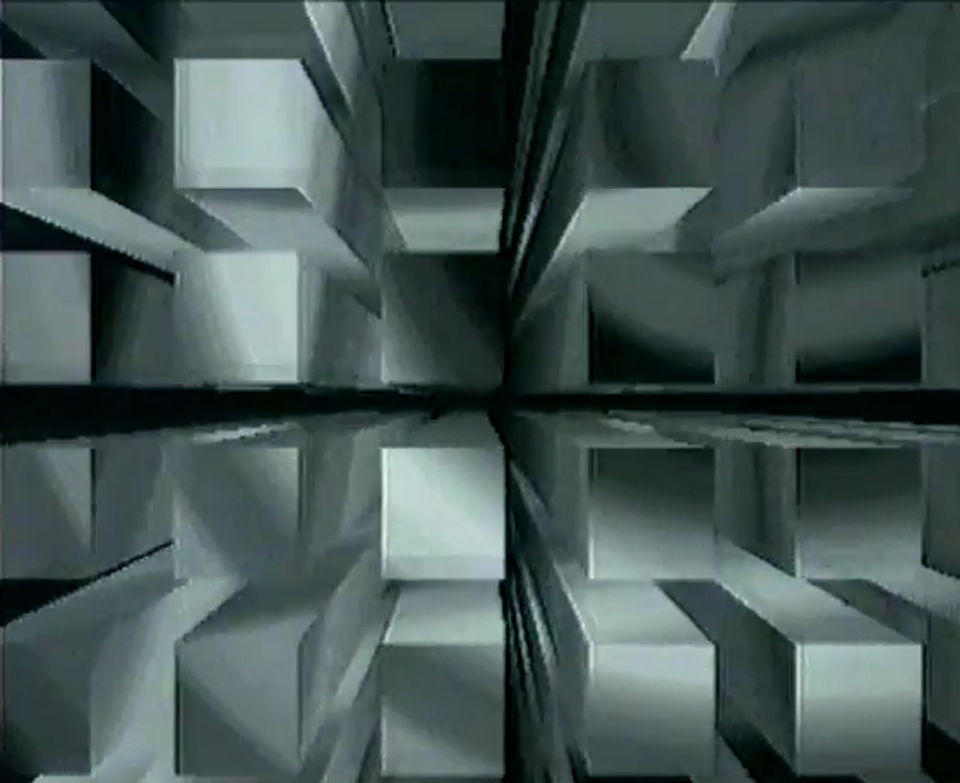 Today we begin a reappraisal of a very important piece of dance music culture. Electronic Beats has teamed up with !K7 to host the label's mind-bending X-Mix series, originally screened in the early 90s. When these videos first came out I was still at school and it wasn't easy to find many associates who were willing to watch proto-screensaver visuals accompanied by this new music called techno. That all changed, of course, and before I left school almost everybody had a soft spot for this uplifting, alien music. Without a doubt, these X-Mixes—which I still have in my old school VHS collection—were ahead of their time. Now you can see their visual language co-opted by a new generation, whose post-DIY videos featuring primitive graphics and laced with VHS grain pop up on YouTube and Tumblr every day. But I want to return to a time when these images traded in something other than nostalgia; that's why we sat down with !K7 label-boss Horst Weidenmüller to learn a bit more about a very specific period in history, when these X-Mixes represented something truly groundbreaking.
What gave you the idea to start releasing these audio mixes onto VHS?
It started in the late 80s when I became aware of this techno movement in Berlin. In those days !K7 was an independent video label that released documentaries and videos of underground punk and rock bands like Einstürzende Neubauten and Nick Cave. We were completely independent, because to me it was always clear that innovation and new sounds always come out of niches. People became so independent themselves that they didn't even need record companies anymore; they just made the music themselves, pressed the record, and put it out there. I was completely amazed by this DIY way of releasing music to the market, and it was my desire to find a way to present videos for this music.
So how did you bring this idea of VHS music to these early techno-heads?
By that time we already had a global distribution network, through which we distributed our independent videos. The distributers were all very sensitive about new sounds and new directions in independent music. One also specialized in distributing dance and techno music, so it was a very good fit for us to be with them.
How difficult was (and is) it to curate the musical selection, in terms of licensing audio? Do you do that yourself?
With X-Mix, there was the idea to give the entire project to a DJ and let them decide what they want to do musically. They created two mixes: one for the video, and one for the CD.  Because of the video format, the mix came with special requirements, like quick fade-in/fade-out so that the producers know where to start and stop the segments of video.  Each track could also be no longer than six minutes, due to the amount of visual production required per track. Other than that, people were completely free to do what they liked. Because this music was coming from underground and independent channels, there was never a real problem with licensing.
Tracklist:
1.a Alien Nation – Intro (0:30)
1.b Gemini 6 – Skysoaring (6:0
2 True Love – Breath Of Stars (3:23)
3 Effective Force – Diamond Bullet (2:42)
4 Cosmic Baby – Cosmikk Trigger I (5:09)
5 Cosmic Baby – Oh Supergirl (4:39)
6 Microglobe High On Hope (3:30)
7 Voov Strobe Light (2:13)
8 Futurhythm Transmanic (3:15)
9 Cosmic Baby The Space Track (7:03)
10 Humate Love Stimulation (Lovemix) (5:25)
11 Cosmic Baby Heaven's Tears (3:59)
12 Visions Of Shiva, The How Much Can You Take? (Physical) (5:01)
13 Cosmic Baby Sweet Dreams For Kaa (2:42)
14 Loopzone Natural High (4:14)
15 Visions Of Shiva, The Perfect Night (4:10)