The 10 Cassette Labels Keeping Tapes Alive in Germany
The cassette has played a significant role in international music and culture since Germans invented the means to mass produce them in the 1960s. Although tape manufacturing scaled back as other mediums rose to prominence, the cassette has remained an integral medium, especially for independent artists and especially in Germany, where a scene of cassette-only record labels has blossomed. Michael Aniser, founder of the Berlin-based radio show, party series, tape imprint, and "anti-curatorial" music kulturhaus Noisekolln, compiled a short summary of some of the country's most exciting tape outposts and artists.
Sameheads is the current hotspot for Neukolln art types. It's a bar, night-club, artist collective and studio space that local musicians like Bintus of the hard techno crew Power Vacuum call home. Part of its popularity derives from its prime location in Berlin's trend capital, Richardstraße. After years of throwing parties in underground locations around the city, Sameheads decided to mark their vibrant and volatile endeavors with physical mementoes distributed by their own in-house label. Its inaugural release comes courtesy of Andy Votel and, according to label head Nathan Dukes, there are a lot more on the way.
Mansions & Millions honchoAnton Teichmann told me he chose to release cassettes because he likes dubbing an outdated medium with new content. CDs are pretty much irrelevant and vinyl is too complicated to produce, so his label aims to capture the leftfield post-indie scene of the Berlin-Montreal axis (yep, that's a thing) on cassette. The first offerings come from dream rap  outfit Magic Island and weirdo-pop artist Antoine 93.
If you like super faded drones and chill experimental stuff, or if you occasionally burn some incenses next to your Juno 60, then SicSic might have just the soundtrack for you, friend. With a catalog that's cranked out over 70 releases, the Frankfurt-based label has shaped the magnetic German underground for quite some time. Check out the Alpár/S Olbricht split as a starting point into its world.
Tapes are not just a cheap means of production; they're beautiful works of art! Well, some of them are, like every release from Camp Magnetics. The boutique label's carefully crafted packaging recalls the golden days of Cologne minimal house and techno. Erdbeerschnitzel, Popnoname and the label owners themselves helmed its first releases.
https://soundcloud.com/lucalozano/grafiti-tapes-2-nug/s-6bTux
Grafiti Tapes is "a new concept" from Berlin's Klasse Recordings crew that's "primarily concerned with the real deal underground vandalisms" by combining street art and heavy beats. The first cassette came from Stilleben boss and wacked-out electro stalwart Luke Eargoggle, but I'm especially into the second release, which features Swedish spraypainter NUG, my favorite street artist ever.
Although Mannequin Records doesn't release cassettes, but its work is integral to the tape scene. As the label head, Alessandro Adriani has unearthed many forgotten Italian New Wave and minimal gems, especially limited edition copies, demos and failed attempts to "make it" and brought them back to life via re-releases.
Breakcore fans worship at the alter of Berlin-via-Japan label Small But Hard. Releases from Scotch Bonnet (AKA DJ Scotch Egg) and Walter Gross push the limits of what you might perceive as "music." You have been warned.
Elia Bulletti is probably the most DIY person I know, and I know a lot of DIY people. His label Das Andere Selbst evokes that vibe you get when you're hanging out in the park with some artists and someone dabs a beat on a crate of beer while the fire crackles quietly, and then it starts to rain so you go into someone's studio and listen to some hardcore beats.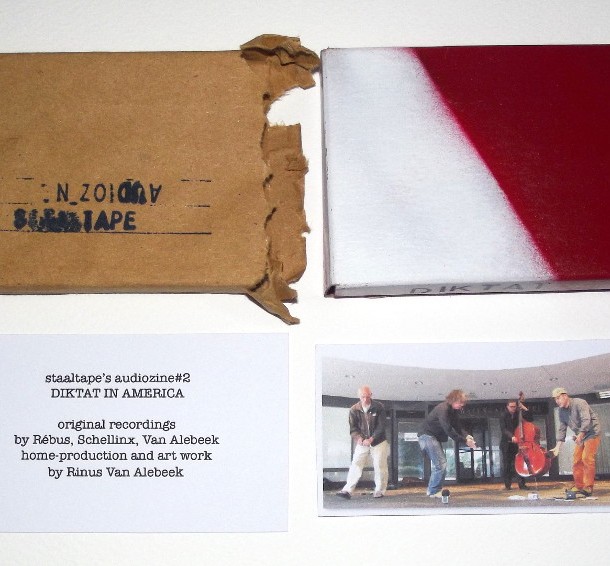 Berlin has a lot of high-profile record stores, like Hardwax, Spacehall, the Record Loft, Bass Cadet, Audio In, Mitte Musik, and so on. Although Staalplat isn't necessarily one of the most famous shops, there would be no European noise or experimental underground without it. If you ever wanted to know what's going on with harsh noise at the moment, or if you thirst for some field recordings, then this is the place to look. In the early days, when the retailer was based in the Netherlands, they established a cassette label that went the way of the dodo as the medium disappeared. But, as curator Rinus van Alebeek wrote in this introductory post, "they are both back again."

One of my favorite Berlin record stores, OYE, launched a ten-part tape series to "support the Cassette Tape as a great medium for Music still in 2015" [sic] and give its knowledgeable employees a platform to showcase their favorite records. Each tape is limited to 30 copies, and if you collect them all, the pictures on the jewel cases make a picture, which is pretty cute.