The Alphabet According To Gilles Peterson
Read Gilles Peterson's ABC column before it's published in the forthcoming issue of Electronic Beats Magazine for a chance to win tickets to his performance at the EB Festival in Warsaw.
BBC Radio 1 DJ Gilles Peterson filled out the latest ABC column for the next issue of Electronic Beats Magazine, which drops next month. We're publishing it a little early to give you guys the chance to snag a pair of tickets to the first EB Festival of 2015, which takes place next Friday, February 27 in Warsaw. This one's a two-parter; one of the shows stars Metronomy and takes place at the Palladium, and the other's an after hours dance/jazz blowout at Basen with Peterson and Motor City Drum Ensemble. To enter the ticket giveaway contest, comment below with your favorite tune from Gilles' label Talkin' Loud and make sure to enter your email in the form so we can hit you back. Our esteemed judges will determine which entrant chose the best tracks and pick the winners. The contest ends this coming Monday, February 23 at 17:00 Berlin time.
A as in Abarbanel, Tsvia:
If you're talking about sound quality, the best nightclub in the world is probably the Block in Tel Aviv. One of my favorite moments last year happened during a set I played there when I dropped a 7-inch by an artist named Tsvia Abarbanel. The record is an amazing hybrid of traditional Yemenite singing and Western jazz funk. It was recorded in 1970 but never had a proper release, so it was rare as hen's teeth. Lucky for us, an Israeli re-release label called Fortuna pressed a reissue. I like to mix the intro into a track by Acid Arab called "Samira." It's a special combination.
B as in Body clock: I'm lucky in the sense that I'm a master of the power nap. I can quite happily do twenty minutes here or there. As my wife tells me, I can fall asleep at the drop of a hat, and it's been a saving grace in my career. It's an art.
C as in Censorship: In 1990 I lost my show on Jazz FM for speaking out against the first Gulf War. I think I learnt my lesson, so now I just stick to the music. Funnily enough, I was the first media victim of that war in Britain; there were articles in the paper and everything. It actually helped my career because it added a certain subversive aspect to my character. Now that I'm on the BBC I have to be very careful about what I say.
D as in Dingwalls: Dingwalls was home to one of my most renowned and enjoyable residencies. I was there at a mad, exciting period before acid house and acid jazz exploded. I'd had quite a lot of residencies before Dingwalls but it was the club that shaped my musical ethos. Putting on live music, mixing genres together—that's something that came to its climax at that club. A lot of people think of it as a jazz club, but it wasn't really. We'd play hip-hop, house, soul, and disco. It was also a club where a lot of the DJs who'd been playing the night before would come after their sets, so it became the after party spot for a lot of people. It incorporated a lot of different aspects of the London scene.
E as in Electric Ballroom: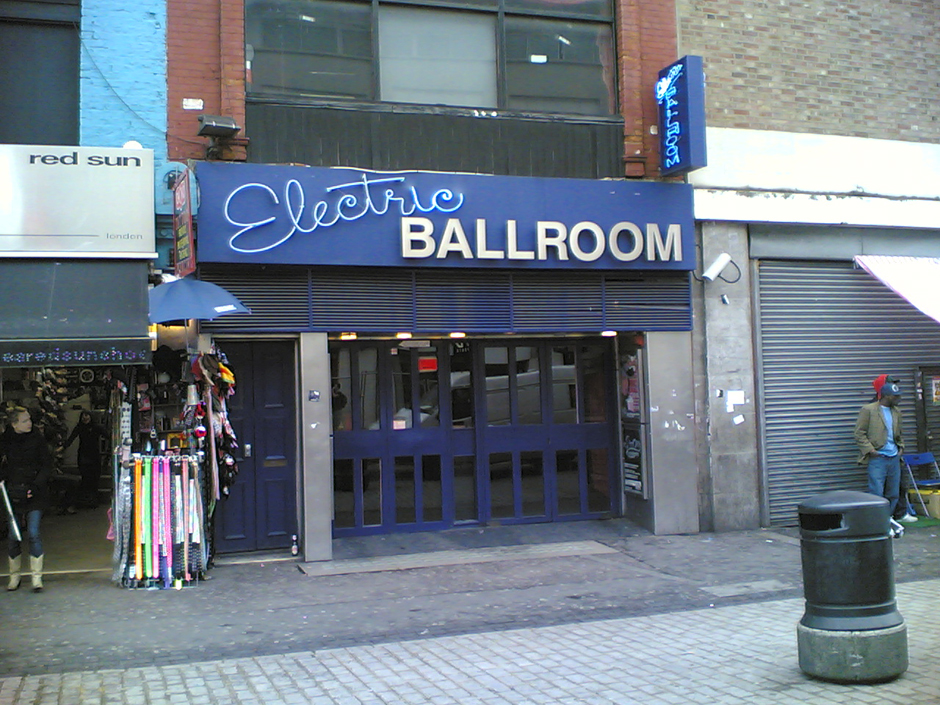 Electric Ballroom was another London club but it was strictly about heavy jazz and Afro-Cuban music. I'd play upstairs on a Friday. Downstairs there was Paul Anderson's party holding about a thousand people, but 50 or 60 dancers would end up battling upstairs on my floor. The music I'd have to play in that environment was hardcore, fast, furious, Afro-Cuban fusion, and these dancers would battle at high intensity for five hours at a time.
F as in Fusion:
Fusion music in its purist sense comes from the '70s—it's those records that are electric but jazzy, and a little bit improvised. "Liberated Fantasies" by George Duke or "Shiftless Shuffle" by Herbie Hancock. That's jazz fusion. It was such a big part of what made these clubs so intense for dancing.
G as in Gang Starr:
Guru rest in peace. I was so sad when he died. Younger MCs like Joey Bada$$ and Kendrick Lamar are finding the Q-Tips, the Phifes, and the Gurus, which is great to hear. Actually, Guru and Premier used to come to Dingwalls; I've got a picture of them there. I used to help out Premier, and I still do. One year he was in London and he had to do a remix for the Dream Warriors. He was like, "Oh my god, I haven't got any samples," so he came and borrowed records from me. He took Black Byrd by Donald Byrd and made a track out of it. "Jazz Thing" was such an important tune for Gang Starr. It has that whole Spike Lee New York vibe going on.
H as in Hardcore Continuum: For me, English dance music goes back to sound systems. It's sound systems that made England special in terms of the culture and music it created—it's what set us apart from other countries in Europe. The Jamaicans brought that sound system culture which became a big part of the heritage for people living in London and Birmingham. That's obviously had a big effect on the evolution of dance music in the UK. It unites everything from happy hardcore, to jungle, to garage, to grime—so I do agree somewhat with the idea of the Hardcore Continuum. This British musical heritage and evolution is one of the reasons I find it hard to leave London as a base, because for me, everything comes through here. London is still constantly fostering growth in the music. If I was living in Berlin, it's all very techno and very narrow. In England we've got hybrids of different aspects. It's another sort of fusion.
I as in Ibiza:
The depressing thing about Ibiza is that a lot of people see it as the nirvana. It's like Las Vegas, commercial nonsense. Everything I despise about capitalism is there in Ibiza. However, I still feel that it's important to go if Carl Cox asks me to play at Space. I think back to when I was fourteen and one of the few people in the back room of the club where you'd hear the DJ play something freaky, a cool track you wouldn't have heard if you were in the more mainstream room. So in that sense you can't close Ibiza down, but if I had the option I'd rather not go.
J as in Jersey club music: Whether it's Baltimore club, footwork or any of those types of hybrids, I always get really excited about it. Everyone throws terms at this stuff, but I don't know the difference between deep house and hard house. I've lost it. I just play music now. I probably play Jersey club, it sounds like the kind of thing I'd spin.
K as in Kuduro: Kuduro is a genre that's a lot easier for me to understand because I've been quite tuned in to it. My trips to Portugal showed me a lot of that broken sound. It can be a little bit dancehall, or like broken beat with a tropical twist. It's very big for me, stuff like Buraka Som Sistema. The other thing I enjoy about what I do is that I end up playing on a lot of different circuits and many different scenes. So one day I'm off to Lisbon and suddenly I get a big dose of kuduro. It's great that it gives producers and DJs something to focus on and a way create their own history. It's a positive thing.
L as in London club crisis: In a way, London is the best place in the world to go clubbing. Yet it's the only place in the world that doesn't have a good club at the moment. London is about pop-ups and one-offs. People who are into music are a bit sick of the commercialism of clubbing. They don't want to spend thirty pounds to go see a DJ. The other reason I find Ibiza awful is because you spend a hundred quid in five seconds. It's not fair. A club like Output in New York, or the Block in Tel Aviv, or Air in Tokyo doesn't exist in London.
M as in Mala:
I think Mala represents everything that's great about London. His sound system, his ethos, and what he's given to music as a producer could only have happened in London, though he's living in Antwerp now. It was a great experience to work together in Cuba on his album, and now he's got a new LP of recordings he's made in Peru coming out soon.
N as in Northern Soul: Northern Soul is very much part of my culture. It takes me back to those younger days when I was looking for something secret and special to do with my friends, something that other people didn't know about. We'd find these little rooms blasting Art Blakey records and full of eccentric people coming up with these bonkers dance moves. There was a lot of range in the music, but sometimes that led to the DJing being more about rarity than quality. On the whole though, I thank god for these odd little scenes because they unearth nuggets of great music.
O as in Ocarina:
The ocarina is a properly ancient instrument that I haven't come across so much, but I've seen a lot of thumb piano recently, which is of a similar vintage. It's been in the hands of Stanley Cowell, the pianist and co-founder of the fiercely independent jazz imprint Strata-East. I've seen him on the thumb piano quite a bit because we're putting on a night of Strata-East music at the Barbican in London.
P as in Pirate Radio:
I got my start and made a name for myself on pirate radio. At the age of seventeen, I had my own little radio station called South London Broadcasting. It was a two hour broadcast—one hour from me and the other by my next door neighbour. We'd record it on cassette, then my dad would drive us to Epsom Downs in South London. We'd connect the cassette player to a transmitter, plug in an aerial, and power it all with the car battery. Then we'd go listen to see if anyone phoned us on the local phone box. We'd get one or two phone calls and be buzzing off it for weeks. One day this other station gave me a call. It was Invicta, the first pirate black music station in London. They got busted and had their transmitter confiscated, but they heard there was some young boy in South London with a replacement. I was that boy. So when they asked if they could borrow it, I said yes—on the condition that they give me a radio show.
Q as in Quo Vadis?: Where am I going? I'm continually looking for new places and going outernational. There's talk of making a record in Indonesia. I'm going back to Cuba. I've been asked to perform my Brazilian record Sonzeira: Brasil Bam Bam Bam at Rock in Rio, which is just insane. There's so many things happening, so many different places to make records.
R as in Retirement: I'm enjoying this too much to stop, and I don't know when a DJ stops DJing. I always thought that I didn't want to be that old bloke playing records, but here I am. There are plenty of older guys who still inspire me. I had Francois Kevorkian sitting in the booth with me when I last played in New York. He's like the professor, and he's still teaching.
S as in Spiritual Jazz:
Contrary to popular belief, there's loads of modern spiritual jazz. There's an album coming out by an artist called Kamasi Washington who signed to Flying Lotus' label Brainfeeder. It's spiritual jazz all the way. I consider Flying Lotus part of the spiritual lineage. I remember going to see him a few years ago when he was playing with a drummer and Dorian Concept on keyboards, and it was like going to see an Albert Ayler concert in 1968. Spiritual jazz is very much alive.
T as in Talkin' Loud: Working on that label was a learning experience. I had to get to grips with how the global music industry machine works. We made some records that I'm very proud of from artists like M.J. Cole, Roni Size, Carl Craig, and The Roots—we had an amazing period there. I didn't really appreciate it at the time because I was zipping through it at such speed that it was hard to take stock. In the end I had to get out because it was too intense.
U as in Universal language: I buy into the cliché that "music is a universal language." As Albert Ayler said, "Music is the healing force of the universe." I totally accept and believe that. Music is something that gives us all hope. There aren't enough people in the world who listen to music. You don't need therapy when you've got a record collection.
V as in Vertical integration in the music economy: In the old days, each link in the music supply chain was relatively autonomous and separate. Now anyone can be a producer, label, and distributor. Once upon a time, the majors and their distribution partners controlled everything, but now it's wide open. In terms of art and creativity, it's very exciting.
W as in Worldwide Festival: It's the best thing I do. Over the years it's become a meeting point for all my friends and everyone I meet around the world. Plus, we've got a gorgeous location in the South of France. I was tired of going to festivals where there was always something missing. I wanted to create a festival that provides a well produced, great experience, whether it's a live band performing or a DJ spinning. You can't put on a festival like that overnight. It's the culmination of my thirty years in the music industry.
X as in X-Ray Spex and late seventies punk:
I liked X-Ray Spex, but in 1977 you were either into jazz funk or punk music. I loved punk and the clothes, but I was a soul boy. I remember one day coming back from an all-dayer on a bank holiday. I walked out of the party with my mate who was wearing a pair of pegged trousers from a shop called Jones on the Kings Road. A punk from our school saw him walking out and beat him up. I did a runner. Whatever tribe you were from, it was a passion. You had to be careful, you had to defend yourself, you were part of a gang, and I loved that. Whether you were a mod, a soul boy, a casual, a ted, or a punk, you had to make that decision. I don't think there's enough of that these days in music.
Y as in Young Fathers: I was quite impressed when they won the Mercury Prize last year. I was there, actually. I didn't think they were going to win it. My money was on Kate Tempest.
Z as in Zouk: This is a traditional carnival style from Guadeloupe and Martinique that was supplemented with synths and modern technology in the eighties. I have a residency at La Bellevilloise in Paris where I play loads of these sounds from Guadeloupe and Martinique. I've been playing a lot of stuff from the Reunion Islands, too. There's so many great little variations in the styles coming out of the Caribbean, and people go mental for them.
This article will appear in the Spring 2015 issue of Electronic Magazine, which comes out in March. Gilles Peterson will DJ at the Electronic Beats Festival in Warsaw on February 27. You can buy tickets to the event here.
Published February 18, 2015. Words by EB Team.