The History of Subverting Gender in Berlin Subculture
For the ninth installment of our Berlin Experiment series, Danielle de Picciotto—an artist, musician associated with Gudrun Gut's Moabit label, designer and co-founder of the Love Parade—takes us through three decades of gender experimentation in the German capital's subculture.
West Berlin in the '80s had an air of apocalyptic melancholy about it, which went hand in hand with an attitude that radically questioned everything. Speed and heroin were the drugs of choice; on speed you could stay up for nights on end, while junkies delved into the introverted and darkly blissful spheres of mental introspection and intellectual self-analysis.
Men tended to be soft and androgynous in manner and appearance. Their look was feminine and their orientation bisexual. Everyone was bisexual back then, really. People didn't distinguish between the male and female portions within themselves, so everybody screwed everybody else, regardless of gender.
The scene's women pulled off a tough, militant look without forfeiting their femininity. A typical Berlin vamp wore white foundation, bright red lipstick and combat boots. As one of the central lessons of feminism, this new type of woman rejected any kind of cattiness. Women did not compete with each other—especially not for men. If you desired someone, you just came out and asked: "Hey, is it okay if I sleep with your guy?" Solidarity and supporting women was essential for men and women alike. For the first time, I got a glimpse of what a world without misogynistic discrimination could possibly look like.
Toward the end of the '80s, there was a palpable sense that something new was coming, in Detroit or London as well as Berlin. In mid-1989, [Planet resident DJ] Dr. Motte and I organized the first Love Parade. We wanted to finally leave those dark basements with their melancholy stink behind us and move out into the open air to celebrate life. This was the prevailing mood when suddenly, in November of 1989, the Wall came down and plunged Berlin into an altogether new situation. So began the triumph of techno.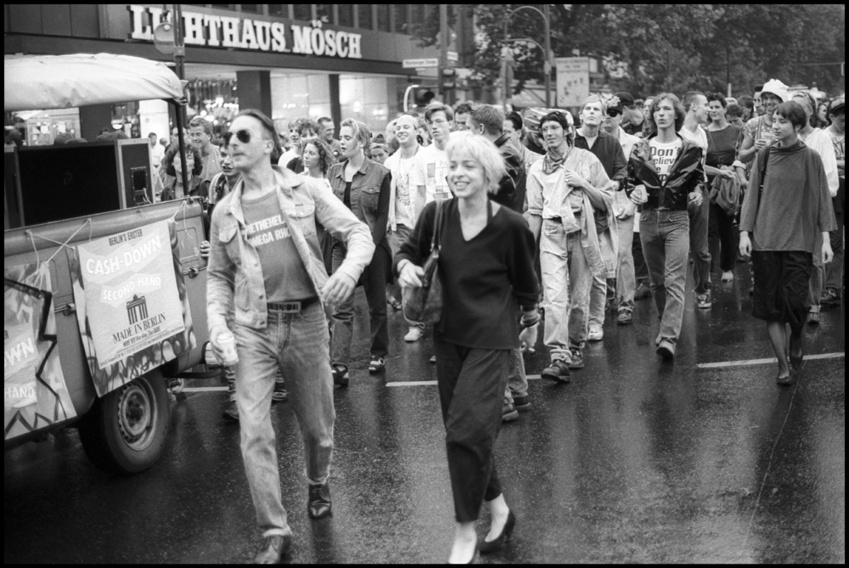 Techno was an entirely new kind of music and a whole new culture that broke away from the '80s paradigm. More extroverted types of drugs like ecstasy and coke became more popular than heroin. Ecstasy made you want to dance all night instead of having long philosophical discussions, and when a whole club is on coke and ecstasy all inhibitions go out the window. All those after hours parties started to meet the need for group cuddling; people just wanted to keep hanging out together, snuggle up with one another, to relax and celebrate the community. It was not about sex.
Techno gave gender a neutral unisex surface where everyone was the same and wore casual clothes made for comfortable dancing. In the beginning there were many women DJing and running clubs, as the spirit of equality had been carried into the new era. That changed, however, around 1995, when Berlin became popular and more people. Step by step, stereotypical gender roles came creeping back in. Cattiness made a comeback.
Around the mid-'90s, women started to disappear from the scene's creative hubs. That changed again in the early 2000s as show and performance gained more importance and a decidedly feminine yet snotty kind of glam associated with queerness became popular. Alexander Hacke and I organized the regular techno event Badabing at Big Eden, which covered such a wide array of musical styles that people from lots of different scenes came together. We always had three bands, DJs, VJs, and performance art.
In 2003, we invited Michelle Carr from Velvet Hammer in L.A., which was one of the first burlesque troupes in L.A., and the one where Dita von Teese started. It was Berlin's very first burlesque show. People thought we were doing strip shows, but burlesque is something different; it's a cabaret show with music, magicians and homemade costumes that play with eroticism. Burlesque appeals to all sexes and transcends heteronormativity.
White Trash became the most important venue for the new scene because nothing could compare to its blatant craziness. Girls stripping on the bar, drag queens performed with bananas in their asses. There were also some amazing events at Maria with Peaches, for instance. Inspired by these developments, Steve Morell started the Berlin Insane movement. For the first time since the '80s and early '90s I got that feeling again: a sense of adventure.
Unfortunately, this energy was restricted to just a few clubs and dissipated toward the end of the decade. At the same time gentrification became more obvious and extreme. Berlin became the hipster metropolis, and masses of people streamed into the city because it's considered hip. During the '80s Berlin was practically nonexistent on the world's cultural map and therefore uninteresting for business. But today Berlin is an industry role model; it's a party city drowning in tourists, part of a synchronized global development, yet in many areas, like architecture, it is far behind. For those who have experienced Berlin the way it used to be no other place will do—not even Berlin itself.
Click here to read more installments from the Berlin Experiment series, including Danielle de Picciotto's memories of the first Love Parade. Her album Tacoma is out soon on Gudrun Gut's label Moabit Musik.
Published March 27, 2015. Words by Robert Defcon, photos by Ben de Biel.