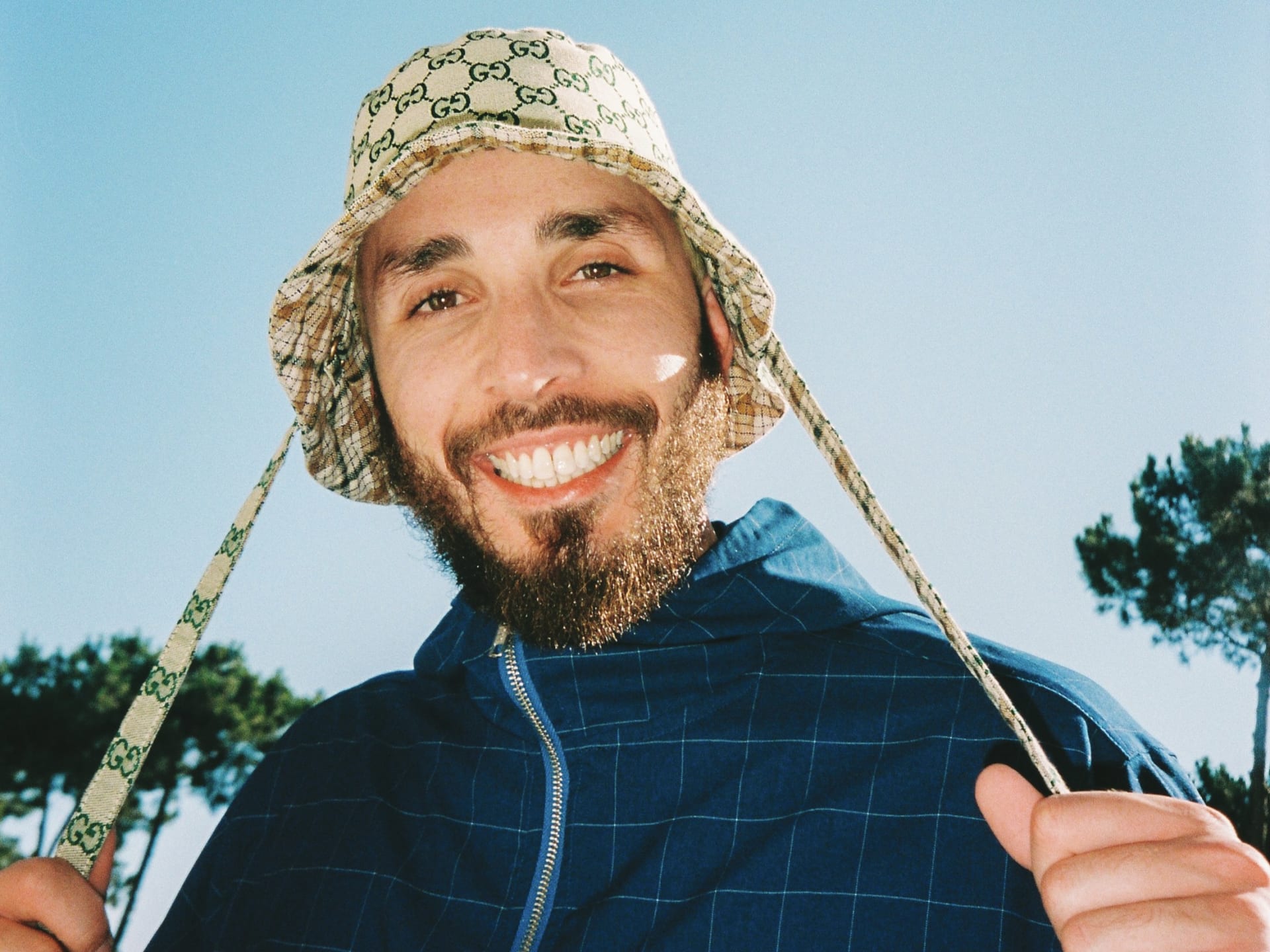 The Journey: Folamour talks pandemic, social media and bucket hats
Elegance and extravagance in dress and sound
During the pandemic, frequent-flying French DJ and producer Folamour was forced to slow down and recharge his creative batteries. And that was a good thing. Full of energy but unable to travel, the FHUO label owner reset his sites on recording new music and recruiting new musicians. The result was a widely-praised album of jazz-inflected groove, house and nu-disco, including title track "The Journey", which featured Zimbabwean funk master Zeke Manyika on vocals. The album not only put Folamour on the cover of Mixmag last year, it also kickstarted his current breakneck touring schedule. Along the way he has launched the new video series For The Fam, which offers fans a raw, unadulterated glimpse into life on the road. Following a DJ set at Moga Festival in Lisbon and ahead of his AV show Power To The PPL at Sonar in Barcelona this Saturday, he sat down to answer some questions about the lasting impact of the pandemic, social media and the omnipresent bucket hat.
You recently launched For The Fam, an online video series documenting your touring, gigs, label and time traveling. It's an especially intimate look into your process and life. Do you think that because Instagram has become such a professionalized that people have become more interested in this kind of more direct, honest and no-bullshit representations of artists?
It's hard to tell because the truth is it will always depend on who uses the digital tools. Instagram is just a way to share things – what to share will always depend on the artist. But I think that overall, artists are not very inclined to share the other side of what they do these days. Most just want to do what they do. I understand this, but I've always been pushing for more transparency, as well as more involvement of my people in what I do. I want to keep that special link and FOR THE FAM is meant for this.
Your label FHUO is on Bandcamp but has a pretty idiosyncratic approach: essentially without offering previews of the tracks. How does this work for your label? And to what extent do you consider Bandcamp a form of social media for underground musicians? 
The truth is, as a label manager, I've never used Bandcamp. My goal as a label is to push artists into the lights and to get their music to everyone who might love it. I think Bandcamp is great for the money, to dig, and so on. And as a DJ I use it a lot but, I don't think it helps pushing artists' music. It's not meant for this purpose. But I like their values and what they do for artists to get the money they're supposed to earn on their music. It's great!
You play quite a bit of African boogie, funk & house. Who are some African artists, records & labels that you love to play? And do you think these artists are recognized enough on European dancefloors?
I do actually, and I've always been listening to African music my whole life. When I was a kid, I was obsessed with Fela Kuti, Amadou & Mariam, Salif Keita, Ali Farka Touré, Manu Dibango and others. From there, I started digging more and more the diverse musical movements from the last 50 years in Africa and discovered there is so much to listen to, from the bubblegum movement in South Africa to Nigerian funk – it's endless! As for records, I love playing artists already named but also Don Laka, Yta Jourias, Orlando Julius and many more.
I think there is a lot of respect for African music nowadays in the club scene and minds have been opened to dancing to Afrobeat, dancehall, zouk. Witnessing this is beautiful, as so much comes from there. The African music influence on modern electronic music and pop is huge, so it's great to go back to the roots to show the link.
What are some of the most important and most fun cities for you to play music in and why? You're from France but lived in London, you also play a lot in Ibiza – do you still consider it a club mecca? And how does Berlin fit into the picture?
To be honest, I think every city can be the most fun and great, but the opposite is also the case! It depends on the night, the venue, the crowd, my mood. I think some of my favorite cities to play are London, Amsterdam, São Paulo, Toulouse, Melbourne. But I had amazing moments in so many more, it's hard to pick. I think Ibiza might be considered a club mecca but not a music one. Same with Berlin. I think we mix clubs/parties and music too often. For me, Berlin and Ibiza are party meccas with amazing clubs that are trend-setters. They have a worldwide influence on how to make clubs and parties but I think music has, far too often, been forgotten in the whole picture. But I love playing for my Koffaïn friends in Berlin, always a special moment to bring funk, soul and African music there.
How does social media influence your persona as an artist? Do you see the pandemic having made a lasting impact on the music industry or on you as an artist?
I think social media allows me to stay in touch with my people on a daily basis and I love it. I can see how they felt about this or that set or certain songs – these insights are helpful to me. At the same time, being judged and witnessing such judgments everyday kind of pushed me to feel more free and to not negotiate on what I do, no matter what. I stand by my music. But yes, the impact of the pandemic is real. Many clubs won't reopen and at the same time, many friends from the industry have totally changed their lives and jobs. I feel that clubs have taken a hit, festivals too. But music and being together will always win.
What is the relationship between your music and fashion aesthetic, particularly hoodies and bucket hats? Do you see a connection between sampling in production and doing fashion?
I don't link my music and how I dress in my mind but I like to feel free in both. I'm not complying with any rules – I wear pajamas on stage sometimes. I just do as I feel.
Bucket hats have been a signature for quite some time now so it's been funny to see more and more people wearing them not only at my shows but also in the streets and … pretty much everywhere. A few years ago, it was considered bad taste to wear one. Now I think these days are gone. I do see the connection, picking different styles of clothes to match them together and create something different, I like this. Also, mixing old school and new clothes, it's the same. I love brands that are trying to be different: in the colors, in the technical details, in the styles. I'm really into flowery clothes, so of course Casablanca, Jacquemus, Gucci too but I also love more street wear vibes like Hélas, Daily Paper, Adidas and othersetc. I have to feel a certain way in the clothes I wear: a mix of comfort, feeling good, elegance and extravagance (laughs).
Your DJ and production style is a mix of classic-sounding disco, boogie, jazz, funk and house. Do you consider your music to be both retrospective and future-facing?
I think it's both ways, yes. I think that trying to do my own sound, without caring about inventing something will always be rooted in all the music I listened to throughout my life, from 60s jazz and soul, to funk, house music, pop and R'n'B. I try to make songs that I never heard but which are mixing everything in my very personal way.
Published June 17, 2022. Words by Alex Samuels, photos by Pedro Leote.