The Waiting Game: An interview with Vladislav Delay
As Vladislav Delay and Luomo, Sasu Ripatti has been an important figure in multiple strands of electronic music—a position underscored with his new eponymous label and project, Ripatti. Above photo by Ari-Pekka Auvinen
For almost 15 years, Vladislav Delay has been the primary vehicle for Finnish musician and electronic producer Sasu Ripatti's ideas, although he's equally famous for his now-defunct alter-ego Luomo and a handful of other names, as well as numerous collaborations. Where Luomo exploded the boundaries of house music, Delay's experimental explorations have been described by Ripatti himself as "ambient"—although they take on a life of their own that surpass any genre expectations.
For the past five years, Ripatti has been living on an island off the Finnish coast—where he and his partner Antye Greie-Ripatti (herself an accomplished electronic musician operating under the name AGF) moved to after seven years together in Berlin. Living with their young daughter in a house the couple built themselves, complete with a custom-built studio, its construction meant a slowdown in sounds, but its completion has meant time not only for new material, but also a new eponymous label and project—Ripatti. While he was back in Berlin for a performance at the Atonal festival—one of the highlights of the event—Electronic Beats met Ripatti for an extended, face-to-face discussion of his work, new and old.
Tell me about your new label.
It'll be a kind of studio diary of mine, a chance for me to follow and observe progression over certain time. The music will be my own stuff as well as some collaborations with people who've come over to my studio: so far Max Loderbauer and Finnish producer Teeth.
I decided not to release digital files, only vinyl—at least to begin with. There will be vinyl rips, but they won't come from me and I don't think they'll be amazing quality. I'm not like, "I hate digital," or, "I love vinyl." I don't even like vinyl much, I don't even have a turntable, I'm not a DJ, I hate the fact that it's hard to make it sound good. I just want to get away from this all over the place, full-on, digital everywhere.
Why are you starting a new label instead of reviving your old label, Huume?
[Back then] I had a totally different perspective on things; I have changed, the music world has changed, the world itself has changed. Back then I had a friend who had distribution, he just offered to do my label. I had problems with Mille Plateaux, I didn't know what to do. I had to release music and there was the chance to do it myself, and then you could sell CDs and actually make some money out of it. It was just the wise choice then. And it was the wise choice to stop when the whole system started going down and people started going bankrupt.
And now, because nobody's selling anything and I've had not so great experiences with, I don't know, the fifteenth label I worked with. [laughs] In the end it's more work, because all the time you're chasing down the details and miscommunication—especially because I live so far away—and I'm a control freak, so I think it's much better if I do everything by myself. I don't have to argue with anyone, I can blame myself, and I can do what I want when I want. Also, because it's low-key—we're talking about a minimum number of copies—and it's no money, at least I'm going to make sure the concept is exactly what I want.
All the bullshit, I don't care about. I feel like nowadays it's so little about music and it's about fashion and hype, weird things to sell music or book shows or something. But maybe I'm getting a little bit older, or maybe it's the location of where I live, or maybe I always should have done it this way. I just really had to think what I want to do and it just all came down to this. I didn't do this in a rush—I thought about it for some years.
So these are limited runs? Limited to what?
I do it in close collaboration with Boomkat so I decide on the music issues, artistic direction, but I don't want to be involved in the business side. I've never sold vinyl in my life. I don't know DJs. I have, maybe, a less than great opinion of DJs and the DJ market. I stay in as long as it feels good—which is to produce, mix and master the music—and then I leave it to them. But I think they're talking about a maximum of 500 copies, I don't know what they're selling nowadays. It seems like the numbers are dropping all the time. I don't want to try to sell much, it doesn't make sense. I mean, it's no difference if we sell 300 or 700.
I want to have them in very limited runs and have them out and make a catalog. There's a little concept, I'm not using any track names, they're only hashtag and a number—#24, for example. I'm going to go from double zero to 99, randomly but in the end it's going to be a hundred—same cover always but with a unique sticker and hopefully good sound—and something I can live with a long time. I mean, I've done so much stuff, kind of half serious, which is fair enough; I couldn't do it better, I really tried hard, but there were so many other things going on. I had a hard time focusing and really being aware of what I wanted to do, and I'm not technically taught, I had to learn everything and I am so stubborn, I accept no help. But now it's getting more and more clear what I want to do and how, and I think I'm getting better at it, also. I want to do something now which doesn't sound like a compromise after a while.
When you say you felt like some things were half-assed and it took you a really long time, are you talking about all of your music in general? Or just this most recent stuff?
All. And nowadays less. I think I have more control and more audio sense. More than when I did the records I'm most famous for, probably. I thought they were the most half-assed. [laughs] I don't have much connection to them; I accept them, I made my peace with them, but I wouldn't listen to them. I haven't had them for years—Entain, Multila, Vocal City, all those. I don't have a single copy of those records.
This always somehow becomes a heated issue, because there are some people who think that Multila or Vocal City is the greatest thing I've done and all the rest is shit. Fair enough, we all have opinions. I feel the same with Tricky's Maxiquaye or Massive Attack's Protection—some music I liked personally. But what I do, I really don't care what anybody else thinks. And I truly think I'm getting better; the first things I really didn't know what I was doing, I wasn't in control. Sometimes it brings the best results, but I don't like this kind of accident. I mean, I very much believe in accidents and improvisation and mistakes in music, but I also have concrete ideas of what I want to do. I already had them then, the vision really hasn't changed much, actually.
Because you're using a new name, does that mean anything about the music that's contained? It used to be that you could tell that each of your most prominent pseudonyms had a distinct sound.
For me, it was always only Delay and Luomo. The rest were always more around Delay or around Luomo without vocals. But now there's Ripatti, the music project, I guess it's my new dance stuff. Heisenberg is me and Max [Loderbauer], so that's a new name, also. I have a new name with Antye, RyJ. I'll keep the Delay, the third EP is Vladislav Delay. But that's changed, it's not so ambient anymore, either.
So you've killed Luomo?
Yes.
Was Luomo an albatross: it's always there and you don't even want it to be there, but it's become a burden to you?
It became a burden. I like the music, I'd still like to do it, but all the nonsense around it somehow took interest away from it. I think when the minimal music thing started I was quite active with Luomo and it just went such a different way. I wanted to do full music, they wanted to not have anything but the bass drum and ketamine. Somehow, they're not correlating—it's too difficult to play, in this vibe, my kind of music, which is not even dance music to begin with. It's some kind of music to move to, but not functional dance music. It just went too far. But I like house stuff. You want to hear some stuff?
Yes. I want to hear the Ripatti stuff first because you said it's your new dance project. [pause] This is really good. This is going to do well for you, probably. You're going to get a lot of gigs out of this.
I don't want to play gigs.
Why? This sounds really live.
Yeah, but I want to do studio stuff. That's what I've been trying to do this year. I'm doing quite a bit of production in the studio.
For other people?
I try not to. I'm doing a few pieces for the Museum of Modern Art in Helsinki, a commission, but I also produced one guy I don't want to mention—not music-related, but a designer who wanted a few tracks. And I'm producing an album for a singer-songwriter from Finland called Mirel Wagner. She's quite folky, famous, sold quite a bit, and now she's been signed and I'm producing that album now. She made her first album with only guitar and voice. She comes with songs and then I add to them.
You're really affecting the sound of the record?
I'm making the sound, yes. They hired me to bring the Vladislav Delay sound, but not electronic at all—just the vibe.
That's crazy, because I think of your music as electronic music.
Yeah, but I come from a band background, and jazz and these things.
And you're completely self-taught in all aspects in the studio.
Yeah. And I skipped school, I didn't finish high school properly.
Tell me about your life now.
I have a daughter, I live in a small community. There's like a thousand people living there, an agricultural place, but there's been artists there for ages. Like fine artists—that's how I know the place, because my parents used to be fine artists and many Finnish people from the south, like Helsinki, have their summer residencies and studios, ateliers there. Even though it's been agricultural and it's very closed and somehow old-fashioned, there's always been tolerance for people because it's a close community: farmers and artists living together. Nobody really cares what you do. They know I'm more popular abroad than on the island, but they don't care.
I don't talk about my work ever, with anybody. What I hate is talking about this kind of thing. Here in Berlin it was always about this, "Where did you play? How much did you get paid?" This kills me. It's not really how I want to live my life, coffee table talk. that's taken away, having a studio and working place there, all this external noise is gone. It's amazing for me. I really like cities; now I'm sitting here and I can do the city thing, but if you want to create and do your thing, big cities—at least for me—are not the place.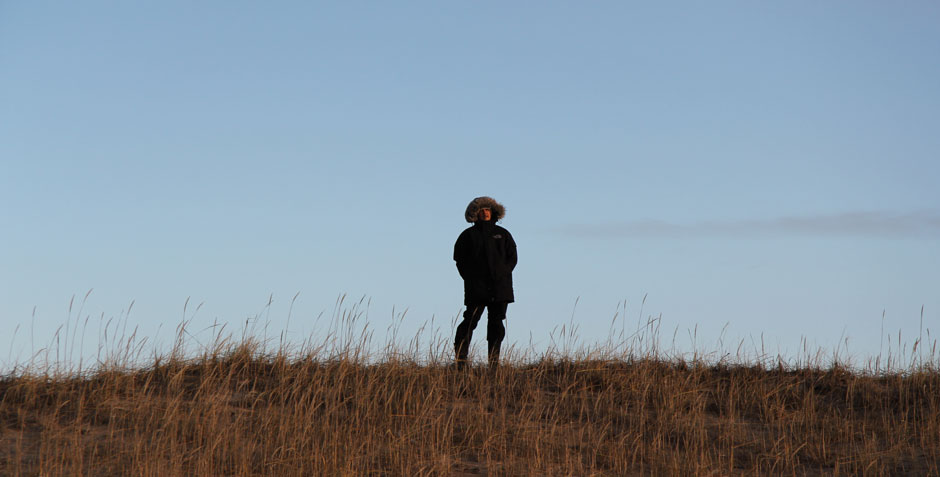 Photo by Antye Greie-Ripatti
Did moving away from Berlin affect your music?
Very much.
What were the changes? I'm thinking about the timeline, and I have an assumption, but you tell me.
How it affects technically how this or that release might sound, I don't know and I don't care. I think it's quite simple: I didn't feel very good here, personally. I knew I wasn't in the right place.
How long were you here for?
Seven years. And I never came here for the music, I just wanted to get out of Helsinki and it was either Antye coming to Helsinki or I move here. But if you are not feeling good, I don't think you can produce well. It sounds like you're not focused. I felt like I was all over the place with myself and with music. Now it's more focused; I know a little bit more about what I want to do and it's easier to see things. I think that's reflected in the music.
So this goes back to what you were saying earlier about how you felt some of the music that you're best known for, you didn't have that much control over.
I don't even remember how I made them, how I even went there. I was pretty out of it. I had quite bad problems then. But music has always been there, in parallel, and is what kept me going. I'm not so fond of thinking about it too much. It is what it is, but I don't want to celebrate that too much or stay in that mindset. Music, at least for me, is very personal. For me, music is the highest of what I have and what I care for, besides my daughter. I just think and eat and breathe music all the time, to the point of exhausting myself, but I would not choose it any other way. I really like putting everything I have in this. But it has to bear fruit. And I can see now, from maybe looking at ten years, there is some coherent progression for me. I know, with two feet on solid ground, that it's the right direction. And I enjoyed myself and I stand behind it.
But I find it a shame nowadays. The sheer amount of stuff being pushed all the time, they become like fast food commodities. People don't remember albums anymore, they don't have time to listen to albums. It's just like semi-chaotic consumption, over-eating. It's not very respectful to where it comes from, but also I think it's much worse if that reflects the maker. I was reading an interview recently with somebody else who also started a label. I realized I have quite different opinions and arguments behind doing the label than he has. He wanted to do something hot and popular. I don't think like that at all about my label and the music I make. And this interview showed a little bit the current mood of labels and music and clubs. He didn't talk much about musical things, it was tons of other stuff that makes a story. Something you can sell and get attention with. And it makes sense. You have to do that if you want fame these days.
You don't want to play dance music live, but you're making dance music. You yourself described it as a more dance project. And it's obviously not straight dance music.
Yeah. Maybe because of Luomo, I'm not so interested in trying to convert people or struggle with things I love, getting resistance and all that. Playing live, at least for me—being a rather shy person—is quite a sensitive thing, and if I don't feel right about it, I'm not going to do it. I'm not an entertainer or a professional dance music producer, I'm the opposite of that, I guess. The whole notion of those few words—along with the word "client", maybe—is something that bothers me more than most things. I'm not in the service industry, I have to accept that I'm not good in that, I'm not into that. But I'm happy to produce any kind of music I feel good about, including danceable music of my own kind.
But the main thing is, if you travel, you're away from the studio. And for me it's an exhausting thing. I drive half an hour, I wait for the ferry, I take a half-hour ferry, I drive another half an hour. Then I park, check-in at Oulu airport, then I fly to Helsinki, I wait there most likely some time, and then I fly one or two flights more to arrive at the destination. Not having slept—usually I leave on the first plane, so I leave home at 4 a.m. Then to get back there somehow reasonably, I usually barely sleep the night of the show, fly back. I can't handle it anymore. I stopped drinking this year—even without drinking, traveling with no sleep, it's pretty heavy. And if you do that constantly…
Last year I was too exhausted to be really good in the studio. And you must see that, also; any artist who makes a great first record, who starts to get booked, gets good fees, shows, plays all over, he/she hardly makes good music anymore. It's quite a common pattern. Or the music changes a lot, they buy lots of new gear, but they don't know what to do with it. It's not how they did it in the first place. That's the argument that many put on me also: that the first thing is best. That's fair enough, but I still want to try more. I don't want to give up.
How much of other people's music do you listen to?
I listen to lots of music, do you mean current music?
I mean mostly your peers and people who are playing the same festivals you are. That kind of thing.
When I travel to play live shows, I listen a little. But to be honest, I don't listen at all to any of it, none. It's a conscious decision, also. I listen to everything but electronic music, basically. From classical to rock to metal to hip-hop, to reggae, world music, pop music, indie. Anything, really anything. But mainly jazz and hip-hop, either or. And the rest is momentary: "Hey, now I need some African or classical." When I travel, I listen to classical.
New hip-hop somehow still entertains me a lot. Something like Rick Ross' album, God Forgives, I Don't, I really listened to it a lot. And somehow it hit my soul. This music is so superficial and whatnot, but also honest in a certain way. I think it was amazing how they did this, they incorporated music I truly hate: fusion jazz. I find it disgusting. I had some deep trauma, because as a drummer when I was young I was more into old jazz. But Rick Ross, on almost every track they have this kind of track I would hate, but somehow I'm totally loving the combination of production and then he's rapping over the top. I was totally blown away—I could not believe it. And it's quite subtle, at first I didn't even realize what they're using there. And then I started thinking, "Wait a minute, I know this from somewhere. What the fuck? He's using stuff I hate and I'm super digging this." It's quite amazing.
How long have you followed current hip-hop?
Actively, at least ten years.
To me, that's not evident in most of your music.
No.
And I think that's really interesting. The jazz thing makes more sense, actually. Especially with Delay.
Yeah. The hip-hop is partly soul and attitude for me, but then there's the side of it, it crosses over to R&B and commercial. And for professional reasons, I'm very much a studio fiend regarding technique and mixing, mastering, learning. Even though I do very crappy sounding stuff at times, Delay stuff I deliberately do trashy sounding stuff, but at times I'm very much a hi-fi freak. It's my challenge to learn everything I can about audio and studio and how I can control sound and produce it, mix it. So I follow that music; I buy shitty CDs just to listen to how they're mixed. And I force myself to listen to crap just to analyze it. Mostly I just listen to it once or twice—just for professional reasons. I also listen to lots of R&B music I would not usually, I mean, some R&B I like, but mostly after a while I can't stand it, it numbs me. You can hear that in some of the more commercial things I've done like Luomo. There I was inspired by all of the commercial production stuff, but I wanted to do it in my way.
Yes, that stuff sounded really high-end.
So, maybe that's the only connection to that music I could think of, but it's more R&B than hip-hop. But I'm waiting for the right moment to do the hip-hop. It's definitely on my mental wish list, but I don't see the point in hammering out some beats, sending them out everywhere and wishing some rapper picks them up. That's not what I want to do. I want to have a concrete thing. And I don't like instrumental hip-hop. I need a strong rapper. I get bored listening to instrumental hip-hop after a while. Actually I never listen to it, I don't like it at all.
Personally, I love the idea that you might one day make hip-hop and work with rappers.
I would love to, yeah. But I would not like to do some underground stuff that goes nowhere. That's not my interest in hip-hop. I would like to do something that pops out of 16 million speakers, but not having my name anywhere nearby. But that level is polluted. It's pretty disgusting what choices are being made and on what basis. And I don't want to start sending out tapes. I'm not going to move to L.A., either. So, I'm not expecting. I wait. There was some talk with this guy Zebra Katz, I tried talking to his manager, because I heard Zebra had liked my stuff. But the manager didn't even respond to my mails. It's purely financial stuff, as far as I can see it. But still, one day I would like to do it, if a good possibility comes around.
Musically, it sounds as though you are doing things now that I hadn't heard from your before.
I'm moving in many directions, and I really like that. I like to bounce off different things: doing some singer-songwriter production, trying to respect that tradition, to my Delay stuff, some club stuff or collaborations, pop, whatever. I could not imagine that I would be some electronic sub-genre producer for ten years. It's not an option, it sounds like a terrible prospect. For me, it's so natural, it's like food. I cook a lot, there's so many different foods, why would you stick to one? If you eat too much of one, you just get fed up with it, right? I see the same with the music I listen to and the music I produce. Or it's like my bookshelves. I have a huge library of books—I'm a book fiend as well, maybe because both of my parents were authors—and the best books on my shelves are the ones I haven't yet read. Same with music. I'm super excited about the stuff I haven't yet managed to do and all the challenges they'll bring along. I hardly read the books I have twice. Life is way too short to repeat yourself or fall into patterns. ~
The first EP on the Ripatti label, by Ripatti, is released on September 16th and will be available from Boomkat.com. You can listen to a 2009 Mix of the Day by AGF/Delay here. 
Published August 21, 2013. Words by Lisa Blanning.